A Leap from Personal Live Streaming Technology to Revolutionary Multi-Camera Live Streaming Solutions
In a monumental advancement of AI smart imaging technology, OBSBOT launched its Kickstarter campaign for Tail Air on September 5th. As the pioneering AI-enhanced live streaming camera, Tail Air marks OBSBOT's strategic pivot from personal video streaming to cultivating a comprehensive multi-camera live streaming ecosystem — a significant step towards reshaping the landscape of smart imaging technology.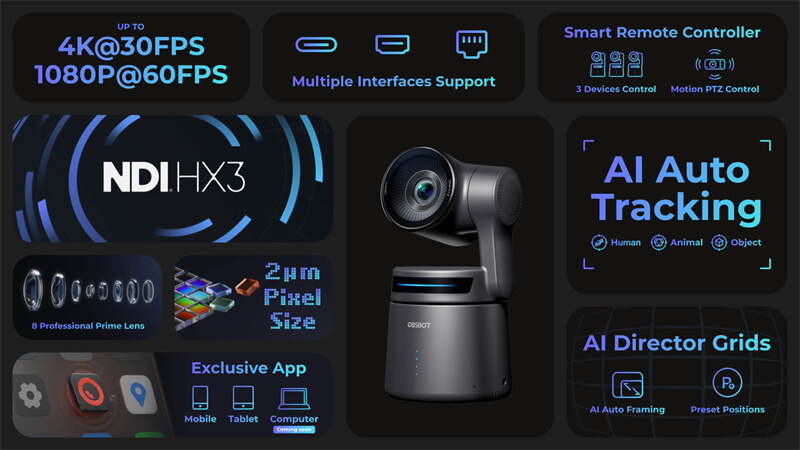 Debuting at the 2023 NAB Show, Tail Air instantly made an impression. As a potent enhancement tool for multi-camera operations and a standalone device for solo content creators, it sparked widespread interest. Its targeted market positioning and commitment to a comprehensive live-streaming ecosystem have captured the spotlight from media and consumers alike. Staying true to the sharp 4K quality inherent to OBSBOT's flagship products, Tail Air introduces groundbreaking core technologies. Its AI-driven auto-tracking, backed by a unique proprietary algorithm, seamlessly tracks subjects - from humans and pets to objects, ensuring stunning visuals for dynamic content. With the incorporation of the NDI|HX3 format, Tail Air stands to offer unparalleled streaming quality with near-zero latency.

It's essential to highlight the role of Obsbot Start in the Tail Air ecosystem. This dedicated mobile application, designed for seamless integration with Tail Air devices, makes intricate operations straightforward. The AI Director Grid, central to OBSBOT Start, allows creators to fluidly segment and transition between live scenes. Be it sporting events, cooking shows, musical performances, or podcast interviews, the combination of Tail Air and OBSBOT Start is set to redefine content creation and delivery. This integration ensures a cohesive multi-camera streaming experience, spotlighting content with professional-grade angles. OBSBOT Start's range of real-time functionalities, paired with the AI Director Grid, amplifies user control, and cements the app's critical role in the Tail Air ecosystem, raising the bar in live streaming excellence.
With a Kickstarter target of a hefty $1.5 million, Tail Air's introduction reinforces OBSBOT's commitment to continuously innovate in smart imaging technology, highlighting its promise in multi-camera live streaming.
About OBSBOT
Founded in 2016, OBSBOT is an innovative imaging technology and hardware brand dedicated to using new technologies such as AI to inject new vitality into the videography market.
Learn more about OBSBOT: https://www.obsbot.com/ or check out: https://www.obsbot.com/store.