Great news for content creators! The OBSBOT Tiny and Meet series webcams now support Elgato Stream Deck products thanks to an exclusive plugin developed by OBSBOT.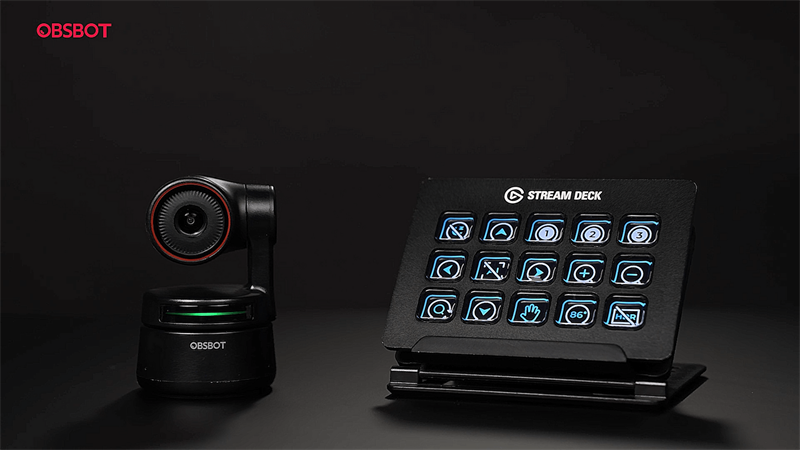 This integration allows for even more seamless control over your live stream. You can switch and control up to 4 devices at the same time, change the views, and adjust settings with the touch of a button, giving you the ability to control the powerful PTZ feature and reach the preset positions on the Tiny series and the AI Auto Framing feature on the Meet series, among others.
The OBSBOT Stream Deck plugin aims to elevate the efficiency and economize the workflow of content creators. It is user-friendly and allows for full customization of the buttons on the Stream Deck. It offers four different color themes for the Tiny series and the Meet series, making it easy to distinguish between the interfaces and avoid confusion.
The OBSBOT Tiny and Meet series webcams are already known for their advanced AI capabilities and high-quality video capture. With the added compatibility with Elgato Stream Deck, content creators can take their live streams to the next level.
Whether you're a professional content creator or an amateur, the OBSBOT Tiny and Meet series with Elgato Stream Deck compatibility offer a powerful and easy-to-use solution for your live streaming needs. Try it out and see the difference!
About OBSBOT
Founded in 2016, OBSBOT is an innovative imaging technology and hardware brand dedicated to using new technologies such as AI to inject new vitality into the videography market.
Learn more about OBSBOT: https://www.obsbot.com/ or check out: https://www.obsbot.com/store.