One of the most well-recognized design awards - Good Design Awards 2022 has announced the winners recently. OBSBOT's AI-powered webcam Meet 4K and AI auto-tracking phone mount Me were both selected as winners in the Camera and peripherals category.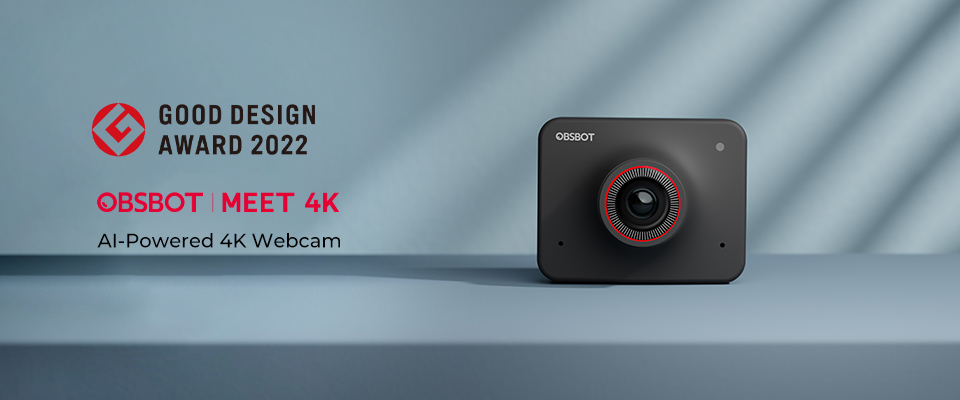 The historic Good Design Awards - the global industry standard for the 21st century, honors the latest, most advanced products and designs for their innovation and invention from Fortune 500 companies, manufacturers, start-up companies, and the world's most renowned designers and architects.
The honor of receiving this distinguished accolade serves as proof that our products and solutions continue to meet the needs of consumers and that our persistent efforts in innovation have paid off. The award-winning OBSBOT Meet 4K webcam and OBSBOT Me phone mount reflect the competitiveness of OBSBOT's design identity in the global marketplace.
COVID-19 has greatly affected the way people work. Remote collaboration has become a daily need at work, and demand for webcams has continued to grow. The video conference also brings people privacy concerns. OBSBOT Meet 4K can protect users' privacy with a virtual background. No Apps are needed. Simply click the button on it, and it can embed AI Auto framing and background-protecting Al features inside.
Not only the workplace has changed, but also the way how people share their life.
There's been an explosion of growth in video and live streaming on social media in recent years.
Inheriting the strong tracking ability of the OBSBOT family, OBSBOT Me always stably and smoothly tracks the person in the center of the video frame. Without extra Apps and Bluetooth, just some simple gestures and users can use their phone to document the wonderful life or show themselves best on air.
OBSBOT's range of intelligent products delivers superior performance across a wide variety of scenarios, from working or studying from home to live streaming and vlogging.
For more information about the award-winning OBSBOT Meet 4K and OBSBOT Me, please check the following link:
https://www.obsbot.com/obsbot-meet-4k-pc-camera
https://www.obsbot.com/obsbot-me-auto-tracking-phone-mount
About OBSBOT
Founded in 2016, OBSBOT is an innovative imaging technology and hardware brand dedicated to using new technologies such as AI to inject new vitality into the videography market.
Learn more about OBSBOT: https://www.obsbot.com/ or check out: https://www.obsbot.com/store.