AMSTERDAM, Netherlands – September 15-18, 2023 – leading smart imaging firm, OBSBOT, showcased its latest products at the esteemed IBC International Exhibition. The lineup included the innovative 'Tail Air' AI live-streaming camera and the acclaimed 4K smart webcam 'Tiny 2'. The company's multi-camera live demonstration drew significant attention from industry specialists and live-streaming pros.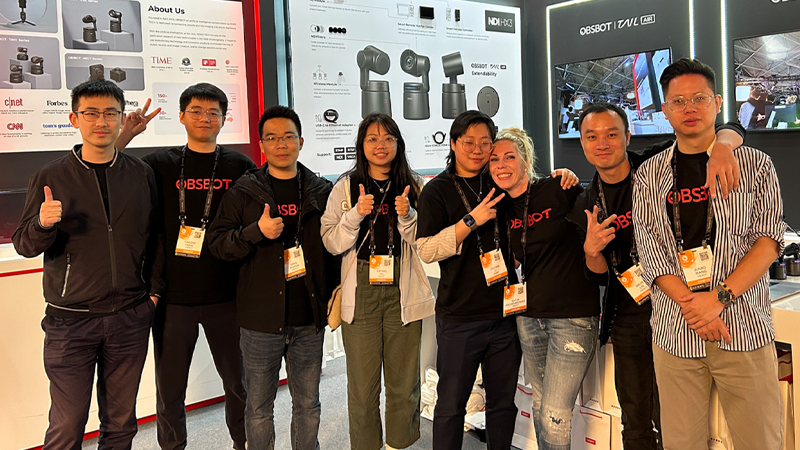 The IBC event, recognized as an annual hub for entertainment content experts, is backed by international broadcasting giants including IABM, IEEE Broadcast Technology Society, and The Royal Television Society, among others. This year's event highlighted advancements in the broadcasting, film, and live imaging industries.
A focal point for OBSBOT was the recently crowdfunded 'Tail Air'. Its earlier appearance at the NAB Show had already generated industry buzz. Utilizing the NDI protocol's HX3 streaming format, the Tail Air ensures top-notch broadcasting, suitable for both standalone and multi-camera setups. Given its superior video quality and rapid transmission, it's quickly emerging as a preferred choice for live events, video production, and conference recording.
Also showcased was OBSBOT's AI-driven 'Tiny 2', an integral part of their live-streaming ecosystem. Already acclaimed by numerous media outlets and users in the past, this exhibition offered attendees a hands-on experience to delve deeper into the video conferencing and content creation prowess of Tiny 2.
Additionally, OBSBOT's debut camera crane product, the 'Light Camera Crane Robotics', made a notable splash at the exhibition.
About OBSBOT
Founded in 2016, OBSBOT is an innovative imaging technology and hardware brand dedicated to using new technologies such as AI to inject new vitality into the videography market.
Learn more about OBSBOT: https://www.obsbot.com/ or check out: https://www.obsbot.com/store.