OBSBOT Tiny 4K
has been officially confirmed as
Zoom Personal Workspace Certified Hardware
.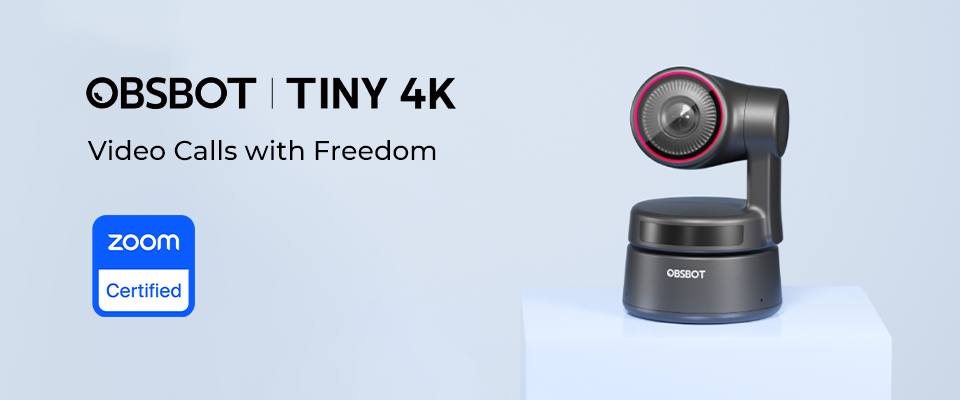 The Zoom Personal Workspace Certified Hardware is a professional certification set for camera and speakerphone hardware. To gain accreditation, all hardware must undergo comprehensive testing and review by Zoom and its third-party laboratories, to prove that it provides a seamless communication experience. At present, most recipients of this certification are from well-established tech companies. The Zoom certification shows that OBSBOT Tiny 4K is widely recognized by partners and consumers as an excellent functional personal workspace webcam.
Besides Zoom, Tiny 4K is compatible with multiple video-calling software like Google Meet, Microsoft Teams, etc. As a game-changer in the webcam space, Tiny 4K's crystal clear 4K resolution, innovative auto tracking, and auto-framing offer consumers a high-quality, smooth, and smart video experience. It is capable of 4K/30 fps and 1080p/60 fps videos, while its auto-tracking and auto-framing technology allow it to follow users' movements, regardless of whether they are standing or sitting. There are many more features for users to explore with OBSBOT Tiny 4K like gesture control and Face AE function.
OBSBOT's range of intelligent webcams delivers superior performance across a wide variety of scenarios, from working or studying from home to live streaming and vlogging. Now officially Zoom-certified, users can enjoy the Tiny 4K's ultimate smart webcam experience to elevate their experience anywhere.
For more information about the Zoom-certified OBSBOT Tiny 4K webcam, please check the following link: https://www.obsbot.com/obsbot-tiny-4k-webcam
About OBSBOT
Founded in 2016, OBSBOT is an innovative imaging technology and hardware brand dedicated to using new technologies such as AI to inject new vitality into the videography market.
Learn more about OBSBOT: https://www.obsbot.com/ or check out: https://www.obsbot.com/store.