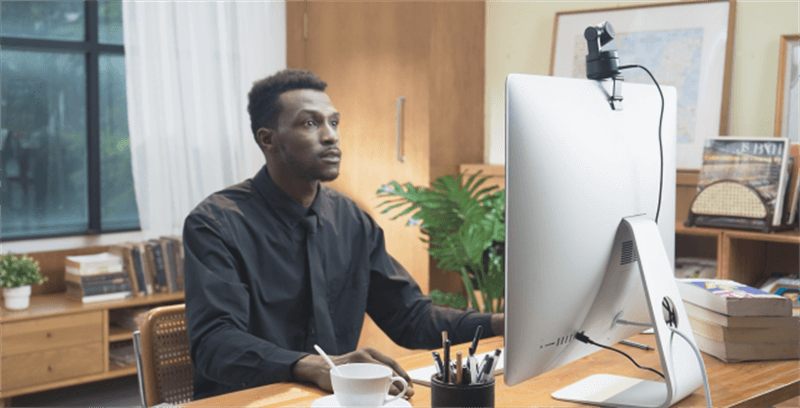 Zoom is the top-most popular video conferencing platform in the world. Do you often participate in online video conferences or webinars with Zoom? The culture of working from home after COVID-19 has increased the number of video meeting sessions. Most people use Zoom for business or family communication during the lockout. When you are at work or participating in a video conference, a webcam is a practical tool to portray a digital picture. It incorporates optical sensors that can virtually build a digital image and correctly capture your actions when streaming video or recording movies.
However, since there are so many different webcam models available, selecting the best one among them may be a challenging and time-consuming endeavor. Therefore, we've created this guide to help you find the best webcam for your Zoom meetings.
FAQs about Best Webcams for Zoom Meetings
1. Should I Get a Webcam for Zoom?
Whether you should install a webcam for your Zoom depends on your current setup and needs. If your built-in webcam provides satisfactory video quality for your Zoom meetings and you don't have problems with low light or autofocus, an external webcam may not be necessary. However, if you are using Zoom for professional purposes or have specific quality requirements, investing in a good external webcam can improve video clarity and presentation effectiveness.
2. Can You Use Any Webcam with Zoom?
Yes, you can use most webcams with Zoom. Zoom works with many webcams connected to your computer. When you plug in your webcam, your computer should recognize it and Zoom can usually find it. Just make sure the webcam is compatible with your computer, and you can adjust Zoom's settings to select the right camera.
3. What to Look for When Choosing a Webcam for Zoom Meetings?
When purchasing a good webcam for Zoom or any other program that supports live streaming or video conferencing, these are the features you should pay attention to.
Video Resolution
This will affect how clear the video is when measured in terms of pixel width x pixel height. The resolutions of 1280 by 720 pixels/720p (HD Ready), 1920 by 1080 pixels/1080p (Full HD), and 3840 by 2160 pixels/4K (UHD) are the best often used for webcams.
Field of View (FOV)
This parameter refers to the breadth of the region measured in degrees and recorded by the camera. When you increase the field of view (FOV), you will capture more of the surrounding area in the image. One of the essential features of a webcam is the ability to adjust the field of view (FOV) from wide to narrow.
Plastic Lens Vs. Glass Lens
If you wish to utilize your webcam for video streaming in 2K or 4K resolution, you will need a webcam that has a glass lens rather than a plastic lens since the glass lens will provide a higher level of clarity. Glass lenses are an essential component of any high-quality webcam, yet these lenses come at a premium price. The video quality will suffer somewhat as a result of this change.
Frame Rate (FPS)
FPS is the number of still images (frames) captured by your webcam in one second. A higher frame rate results in a more fluid experience while streaming. The top webcams can all broadcast videos at a rate of thirty frames per second or higher.
Auto Focus
Webcams should concentrate on the person or topic in the frame. Better models should be able to follow or lock on focus, giving the impression that a cameraman is shooting you.
Low-light Level Adjustment
It expands the dynamic range of many of the most excellent webcams thanks to low-light enhancement capabilities that can restore information to the picture regions in the shadows. The end result is better exposure and clarity when working in low light.
Overall, there are several benefits to replacing your laptop's built-in camera with an external webcam or buying one of the models we've tested and put on our list.
The Best Webcams for Zoom Meetings/Video Conferencing
Here are our picks for the best webcams for Zoom meetings and other video conferencing platforms. The webcams listed below are for optimal performance regardless of whatever platform you use, also great at streaming videos to places like Google Hangouts, Facebook Live, YouTube, and Twitch.
1. OBSBOT Tiny 2 - B
est Webcam for Video Conferencing
OBSBOT Tiny 2 4K webcam is the ultimate solution for conference video calls. With an ultra-large 1/1.5'' CMOS and OBSBOT camera calibration technology, this webcam delivers sharper detail, higher dynamic range, and more natural colors than ever before. Its dual native ISO technology ensures exceptional imaging in any lighting condition, while its USB 3.0 port provides faster transmission speed and broader bandwidth for uncompressed video. OBSBOT Tiny 2 takes video quality to the next level, providing a vivid and authentic experience for your audience. Say goodbye to mediocre video and hello to the new standard in video performance.
Features of OBSBOT Tiny 2:
It comes with an ultra-large 1/1.5'' CMOS sensor.
Dual native ISO technology with PixGain HDR.
All-Pixel Auto Focus and 4x faster focusing.
Intelligent Auto Tracking with Auto Zoom.
Advanced Voice Control and Gesture Control.
It features Zone Tracking and even Hand Tracking.
There are Group Mode, Desk Mode, and Whiteboard Mode.
Pros of OBSBOT Tiny 2:
With the second largest CMOS in a webcam, it has an even better video quality than almost all the webcams in the market.
It can automatically switch between the two native ISO based on the lighting situation, delivering great performance even in dim light.
Thanks to the All-Pixel Auto Focus technology, Tiny 2 has a 4x faster focusing speed.
With the USB 3.0's 10x faster data transmission, it still looks great after data go through the cable and is displayed on your screen.
It can even auto-adjust the zoom setting during tracking.
You can just use your voice or gesture to control it.
Cons of OBSBOT Tiny 2:
It's a little more expensive than the others, but it's worth it.
2. OBSBOT Meet 4K Webcam - B
est Webcam for Zoom Meetings
OBSBOT Meet 4K is the world's first 4K AI webcam with background-protecting features. It's also certified by Zoom as one of the best cameras for Zoom meetings on Windows and Mac, The startup of OBSBOT Meet 4K requires just a single touch. You don't need any additional apps and will have the ability to change or blur the backdrop of your video talks.
Features of OBSBOT Meet 4K:
In any light, the Meet 4K camera makes the image look professional.
With AI auto-framing, it's an excellent solution for video calls at home and in the office.
The webcam has a built-in privacy shutter.
It has customizable virtual background features.
4x digital zoom.
Up to 4K UHD resolution and HDR.
4K@30 fps and 1080p@60 fps are all possible.
Portrait video capture with a foldable mount and built-in mic.
Pros of OBSBOT Meet 4K:
Compatibility with numerous video conferencing programs.
It works very well in remote group sessions.
The Upper Body Mode involves your upper body and is thus great for presentations.
When you enable the Group Mode, the picture grows or shrinks as individuals enter or depart the frame.
Face Focus softens the backdrop and helps you shine out, while Auto Focus maintains the focal point on you.
Cons of OBSBOT Meet 4K:
It is a brand-new camera. Hence there are few reviews online.
3. Elgato Facecam
Due to design decisions that make it a niche product that benefits content makers, we suggest it if you need a good webcam for Zoom meetings exclusively for broadcasting or creating YouTube videos. The choice to lack a microphone and focusing capabilities will make the camera look inferior to those merely wanting a webcam.
However, for those streaming on Twitch and YouTube, these features are often more trouble than they're worth. Thus, the Facecam is beautifully set up for the streaming community and has some of the best software we've ever seen for a camera.
Features of Elgato Facecam:
There is an optimized fixed focus feature.
Adjustable clip for attaching to monitors or laptops.
Pros of Elgato Facecam:
It has an excellent Sony sensor.
This best camera for meetings has a 1080p 60 fps display.
It has unique software, compatible with popular streaming software such as OBS and XSplit.
Cons of Elgato Facecam:
There is no microphone.
No auto tracking and autofocus.
4. Logitech Brio 4K Webcam
Logitech Brio 4K is also one of the best Zoom meeting cameras for your workplace video conferencing needs, with its ultra HD resolution. Furthermore, it is flawless for professionals and enterprises that demand durable tools. The visual quality on regular computers, particularly business laptops, is better than on anything else. In addition to its three fields of view and omnidirectional microphones with noise-canceling technology, the camera has a few other exciting features.
Features of Logitech Brio 4K:
It has a broad dynamic range (HDR) with Right Light 3.
It is Windows Hello compatible.
There are three predefined fields of view (FOV).
Pros of Logitech Brio 4K:
It provides 4K options.
Brio uses a tripod screw mount.
It is easy to implement.
Cons of Logitech Brio 4K:
No optical zoom.
It features a clip attachment method.
5. Monoprice PTZ Conference Camera
The Monoprice PTZ conference camera is adaptable to conference rooms ranging from small to medium in size. It is the best camera for Zoom calls, suitable for online gatherings with six to ten attendees. This 5.5-inch camera comes with a wireless remote that gives you the flexibility to pan and tilt the camera as necessary and the capacity to store preset angles and zooms. It makes recordings in 1080p, connects to your computer through a regular USB 2.0 port, and has a 10x optical zoom.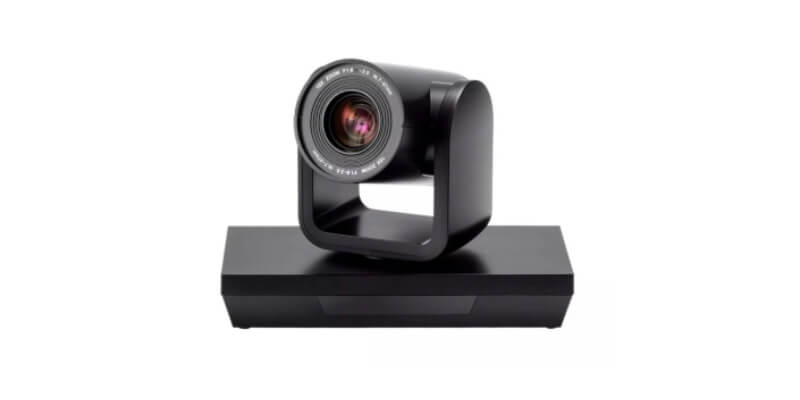 Features of Monoprice PTZ Conference Camera:
PTZ provides power, video, and audio through a USB 2.0 link.
Make use of well-known video conferencing software that runs on the Internet.
Includes a wireless remote control for the pan, tilt, and zoom functions of the camera, with the option to preserve preset angles and zooms.
It includes mounting hardware.
Video capture resolution: 720p.
Pros of Monoprice PTZ Conference Camera:
Developed for use in teams of medium size and conference spaces.
There is no need to install drivers using Windows, macOS, Chrome OS, or Linux.
Cons of Monoprice PTZ Conference Camera:
It uses manual focus.
It has a loose monitor mount.
For optimal results, we recommend an external microphone and speaker.
6. Razer Kiyo Pro Webcam
The best camera for video calls is another 1080p option with an adaptive light sensor, which can adapt to the lighting condition in any environment, guaranteeing professional-grade clarity and quality. It appears to be a wide-angle digital camera lens, with a cylindrical design and a ridged segment that likely controls zoom or focus.
Features of Razer Kiyo Pro:
It comes with a resolution of Full HD 1080p.
Adjustable FOV with a wide-angle lens.
It includes HDR as well.
Pros of Razer Kiyo Pro:
It uses a resolution of 1080p with a frame rate of 60 frames per second.
There is HDR (High Dynamic Range) mode.
It performs very well in low-light conditions.
Cons of Razer Kiyo Pro:
The Autofocus feature is a bit wonky.
It has straightforward adjustments but does not have a ball joint swivel.
Lacks auto-tracking.
7. Logitech C920 HD Webcam
Logitech C920 uses Logitech's Right Light 2 technology, which enables you to customize the lighting settings and the brightness and contrast level. Although you can only set it to record at 30 frames per second, the camera has a resolution of 1080p.
Features of Logitech C920:
Full HD 1080p video calling and recording at 30 fps.
The stereo sound gets captured by two microphones - to record conversations and videos with authentic audio.
Advanced capture software - Logitech Capture makes creating and sharing video material simple.
Pros of Logitech C920:
It has a sturdy and trustworthy structure.
With Autofocus.
Cons of Logitech C920:
There is no variable FOV.
The frame rate is limited to 30 fps.
8. Logitech Mevo Start Wireless Webcam
The Mevo Start from Logitech is a wireless live-streaming camera that produces footage of professional quality in spectacular 1080p HD resolution. This best webcam for Zoom also enables users to broadcast live from any location so long as Wi-Fi, Ethernet, or even a smartphone is available to them. You can generate exciting content with Mevo to share with just a few clicks on networks such as YouTube, Twitch, Facebook, and more.
Features of Logitech Mevo Start:
It connects up to three Mevo Start cameras to provide broadcast-quality feeds from diverse perspectives.
The built-in microphone allows you to record clean, clear sounds and connect additional audio sources for more complicated settings.
With Webcam Mode, RTMP, and NDI|HX protocols, Mevo Start fits smoothly into any configuration.
Pros of Logitech Mevo Start:
It is wireless.
It is easy to use.
Cons of Logitech Mevo Start:
It can get hot.
It has a maximum frame rate of 30 fps.
9. HuddleCamHD PTZ Conference Camera
HuddleCam's 1080p PTZ HD conference camera has 3x optical zoom (upgradable to 10x) and a USB port for wireless connection to your PC, Mac, and Chromebox. You may change the pan, tilt, zoom, and other options. You can even mount this best Zoom meeting camera backward! This remote-controlled gadget is ideal for Zoom, GoToMeeting, WebEx, Skype, YouTube Live, and Facebook Live.
Features of HuddleCamHD PTZ Conference Camera:
PTZ Full HD with up to 10x optical zoom.
2.1MP 1/2.8" CMOS sensor for medium/large conference rooms.
Up to 1080p resolution, USB 3.1 Gen 1 output, IR remote control, and RS-232/RS-485 control.
Pros of HuddleCamHD PTZ Conference Camera:
Up to 10x optical zoom.
Cons of HuddleCamHD PTZ Conference Camera:
The image quality is quite low.
The controls and menu options are not user-friendly.
10. Microsoft LifeCam Studio
The LifeCam Studio is an inexpensive webcam built for business conferences and presentations. Consequently, it is not the most attractive option accessible. However, this best webcam for Zoom video calls is not for aesthetics but for business and work calls.
It has 1080p recording, 720p video calling, and a wideband microphone for pristine audio. Not bad for a low-cost camera. This increases the overall quality of your footage and illuminates your surroundings regardless. If you want to inject humor into your meetings, you may add visual effects and augmented reality elements to your live broadcast.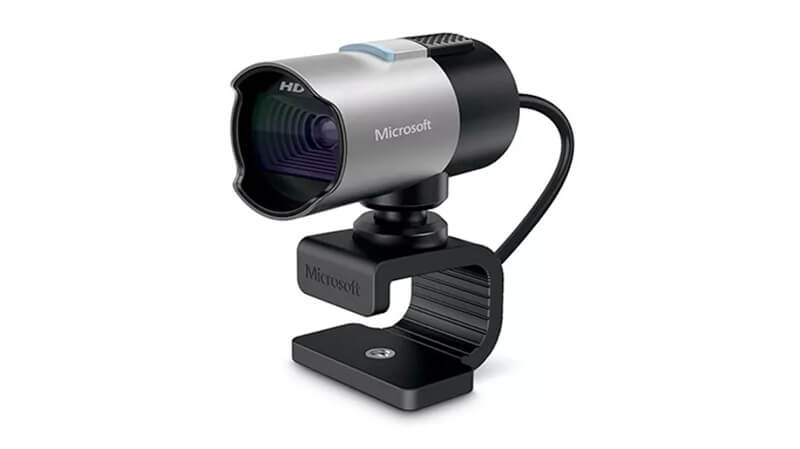 Features of Microsoft LifeCam Studio:
LifeCam Studio adopts TrueColor technology to keep your face properly exposed.
It includes a high-fidelity microphone.
It comes with a high-precision, wide-angle glass element lens.
Pros of Microsoft LifeCam Studio:
It offers a broad perspective all around.
It comes with a wideband microphone.
Cons of Microsoft LifeCam Studio:
Unreliable Autofocus.
Not portable.
Conclusion
A good webcam is always helpful when you need to attend a webinar or video meeting with Zoom. It will always keep you focused. The webcams described above will undoubtedly assist you in obtaining this. If you are looking for the best webcam for Zoom, you can pick out one of the options above, such as the OBSBOT Tiny 2. It has a 4K ultra HD display and is compatible with PCs, laptops, and Mac devices.