Many companies are encouraging working from home due to the COVID-19 outbreak, so they need good laptops for the home office. Although this new working mode has shown to be surprisingly productive, employees should choose the finest laptop for working from home. Many variables, like your line of work, matter when selecting a decent laptop for business. A strong CPU is a must for creative tasks like graphic design, but remote employees who teach or participate in numerous virtual meetings may want to consider the webcam's quality.
Laptops for working at home should be robust and portable so you can carry them around. There are several styles available, each with advantages and disadvantages. For instance, a two-in-one laptop may be used as both a tablet and a laptop, giving artists more fantastic options for drawing. No worries if you don't want tablet functionality, as plenty of alternative options exist. It's crucial to select a laptop that matches your needs, regardless of the kind of work you do or where you do it. Thus, here are the best laptops to work from home for your information.
What to Consider When Choosing the Best Laptop for Working from Home
Are you prepared to begin looking for the best WFH laptop? It might be difficult to distinguish between what is productive and what is a gimmick with multiple products on the market and more launching monthly.
Here are crucial elements that you should consider, i.e., work-from-home laptop requirements.
Size
One of a laptop's finest qualities is to fit into a laptop bag and go with you wherever you go. The best option is to look for laptops with small screens and thin and light designs. Observe the term "Ultrabook" in marketing these laptops.
RAM
Random access memory (RAM) is essential to computer efficiency if you often multitask, such as editing images, writing Word documents, and browsing the web simultaneously. The more RAM your laptop has, the speedier it can access data, and the more smoothly you can run many apps simultaneously. The bare minimum is 4 GB of RAM. You should go for 8 GB or more if you often utilize high-powered applications.
Display quality
You'll likely spend hours each day looking at your laptop screen. Therefore, remember that screens with more gloss tend to reflect light from the environment. In addition, consider the advantages and disadvantages of touchscreen laptops with glossy screens. The screen resolution of your laptop will also be crucial, depending on how you want to use it. A full HD screen is 1920 by 1080 pixels. You'll get excellent picture quality and plenty of space to keep your windows visible.
Power source
Again, battery life is something to think about if mobility is essential to you (even if that means carrying your laptop from your workplace to your bed!). The battery life of a laptop often differs significantly from what is stated on the box. The battery life depends on several factors, including the brightness of the screen and the kinds of apps you use. Look at the battery's rating in Watt-hours (Wh) or milliamp-hours instead of the manufacturer's stated number of hours (mAh). The battery will last longer if the number is higher.
Storage
You should also think about the kind of storage in addition to the quantity. Hard disk drives were the preferred technology in the past. Hard disks are less common as laptops become lighter and smaller. Instead, many laptop customers choose solid-state SSDs, which are more costly, quicker, and quieter.
USB ports 3.0
If you wish to hook in and utilize auxiliary devices like external hard drives, mice, and keyboards, modern laptops should feature USB 3.0 ports: some recent gadgets, notably the new Macbook Pros, lack USB 3.0 connectors. So, think about this before making a purchase.
---
Bonus Tip: Best 4K PTZ Webcam for Working from Home
If you frequently attend video conferences while working from home, it is beneficial to have an external webcam to improve your experience. OBSBOT Tiny 2 is a recommended option for this purpose. Experience exceptional image quality with the large 1/1.5'' CMOS sensor. This sensor allows for superior light capture, resulting in sharper, clearer visuals even in challenging lighting conditions. Its gesture control, which can recognize three different actions, has to be its most notable feature. The auto track lets you pan the camera around. You can hold your hand in an "L" position away from your face to zoom in and out. What's more, Tiny 2 adds a voice control function so you can use voice commands to control it even if your hands are full.
OBSBOT Tiny 2 inherited the strong AI tracking power from the OBSBOT family, with the 2-axis gimbal, smoothly and stably tracking the target and keeping you in the center. The HDR feature provides a professional look in any bad lighting. No more wasting time in a light setting. Besides, you can activate the Beauty Mode feature on OBSBOT WebCam software to smooth your skin and have a more beautiful face with one click.
---
The 10 Best Laptops to Work from Home in 2023
Laptops are becoming increasingly necessary as there are more remote and hybrid jobs in the workplace. You can run your company from anywhere in the globe, thanks to laptops. While working remotely has many advantages, like more flexibility and freedom in terms of hours, it may also be challenging if you lack the necessary tools.
Thus, we will cover the best laptops for working from home, from compact, portable solutions to reliable equipment that can tackle more challenging work and its advantages and disadvantages.
Let us start with a chart of the specifications for quick understanding.
Model
Processor
RAM
Display
Storage
Battery Life
Weight

Apple MacBook Pro

(16-inch, 2021)

Apple M1 Pro/Apple M1 Max
16/32 GB

16.2‑inch

3456 x 2234

512 GB/1 TB SSD
Up to 21 hours
2.1/2.2 kg
HP Pavilion 15
Intel Core i7
16 GB

15.6-inch

1920 x 1080

1 TB SSD
3.5 hours
1.91 kg
Apple MacBook Air M1
Apple M1
8 GB

13.3-inch

2560 x 1600

256 GB SSD
Up to 18 hours
1.29 kg
Google Pixelbook Go
Intel Core i5
8 GB

13.3-inch

3840 x 2160

128 GB SSD
Up to 12 hours
1.04 kg
Samsung Galaxy Book S
Snapdragon 8cx
8 GB

13.3-inch

FHD TFT (16:9)

256/512 GB SSD
Up to 23 hours
0.96 kg
HP Pavilion Plus 14"
Intel Core i5
8/16 GB

14-inch

2240 x 1400

256/512 GB SSD
9 hours
1.35 kg
Acer Swift 3
Intel Core i5
8 GB

14-inch

1920 x 1080

512 GB SSD
10.5 hours
1.25 kg
Dell XPS 13 (2022)
Intel Core i5
8 GB

13.4-inch

1920 x 1200

512 GB SSD
Up to 16 hours
1.17 kg
LG Gram 16-inch
Intel Core i7
16 GB

16‑inch

2560 x 1600

512 GB SSD
Up to 22 hours
1.19 kg
Lenovo Chromebook Flex 5
Intel Pentium Gold 7505
4/8 GB

13.3-inch

1920 x 1080

128 GB eMMC
Up to 10 hours
1.35 kg
Now, we shall move to the details so you can get the best laptop for your work-from-home needs.
1. Apple MacBook Pro (16-inch, 2021)
The new MacBook Pro is the best-performing laptop for working from home if you're looking for a top-of-the-line laptop to handle just about anything. It's Apple's most powerful laptop, with a large Retina display, fast processing speed, and all the features you need to get work done (and then some). The 16-inch MacBook Pro has five options with differences in the chip, SSD storage, and GPU.
For graphic designers, video editors, and other creative workers who want a powerful device that is simple to use, the Apple MacBook Pro would be an excellent option. Because of the straightforward, streamlined, and fashionable macOS and the superior creative software (like Final Cut Pro) that runs on Apple devices, Mac is often the preferred platform for professional creatives. Despite the high cost, a MacBook Pro is an excellent option because of its strength and adaptability.
Pros:
Powerful graphics card and processor
Liquid Retina XDR display with excellent quality and resolution
Considering the caliber and resolution of the display, the device is light and slim
Cons:
Too pricey
Slow scrolling performance
No RAM upgrades are possible after purchase due to soldering
2. HP Pavilion 15
The HP Pavilion 15 is the best HP laptop for working from home, thanks to its reasonable price and high-end components. The 1 TB hard drive and a touchscreen FHD display are just a few of the features of this mid-range laptop. The laptop body is nonetheless sleek and well-designed, seeming more costly than it is, even if it isn't as thin as a MacBook Air.
Business professionals looking for a device that won't break the budget but yet does the work might consider the HP Pavilion 15. It's enough for daily desktop tasks like working on documents, simple picture editing, streaming movies, and online surfing.
Pros:
Reasonable price with a powerful CPU and graphics card
A budget-friendly, mid-range laptop
Many ports
Cons:
No backlit keyboard
High power use and limited battery life
Under-load fan noise is unpleasant
3. Apple MacBook Air M1
Apple's MacBook Air is the best laptop to work from home, a more cost-effective choice with many capabilities for remote workers. With Apple's M1 CPU, the MacBook Air has little trouble doing online surfing, document processing, light picture and video editing, and most gaming. However, hardcore gamers and video editors may want to research before purchasing since more than you need the processing power for demanding games or film projects.
Although it has a little less power than the MacBook Pro, the Air nevertheless features a stunning Retina display and quick processing. Additionally, it is very lightweight, thin, and portable, making it ideal for those who often travel for business or want to put it in a bag to work while on the move.
Pros:
Performance-enhancing processor and graphics card M1 chip
Tiny and transportable
Dependable battery life
Speedy and looks beautiful
Cons:
Pricey
You need to back up on iCloud to save data
Two USB-C ports only
4. Google Pixelbook Go
We should first discuss Chromebooks in general before getting into the Google Pixelbook Go specifically. In contrast to other computers, Chromebooks offer certain distinctive benefits (such as being inexpensive, lightweight, sturdy, and speedy) but also have some significant drawbacks. Because of their limited offline functionality, they work best while connected to the internet.
The Google Pixelbook Go is dependable, quick, and portable, making it the best laptop for WFH. Even remote employees seeking a basic, stripped-down laptop without any features they won't need may find the "restricted capabilities" to be an appealing alternative. With a steady internet connection, remote employees who use Chrome or other Google apps for daily jobs will have all they need.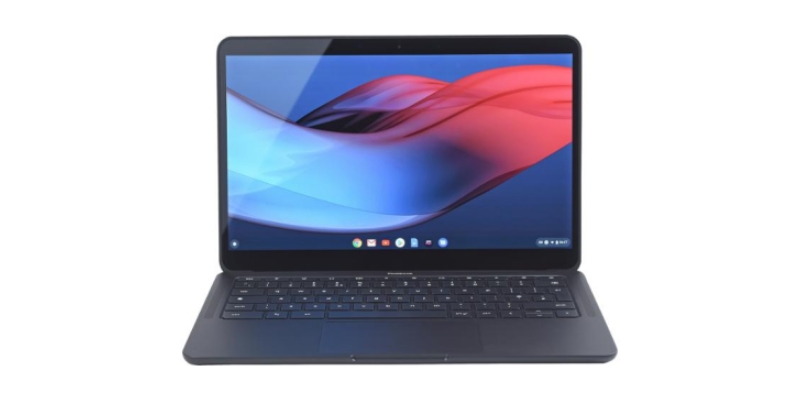 Pros:
Easily transportable, light, and reasonably priced
Long battery life
A touchscreen
Cons:
No fingerprint reader
16:9 screen can feel cramped
No expansion for microSD storage
5. Samsung Galaxy Book S
For a few reasons, the Samsung Galaxy Book S is an honorable mention on our list of the best laptop for home business:
It has a unique 4G LTE connection that is built-in.
The battery life is almost all-day (23 hours). These two advantages make it a desirable choice for remote professionals who often travel.
It is the first laptop with an integrated S Pen with a very accurate pressure level sensor.
As the most recent Windows on Snapdragon laptop, Samsung Galaxy Book S combines the portability, battery life, and speed of a smartphone with the functionality of a typical laptop. It successfully matches a smartphone's mobility, battery life, and connection and does it well. However, those advantages come at a cost (beginning at $999), and in terms of performance, it isn't the most powerful laptop on our list.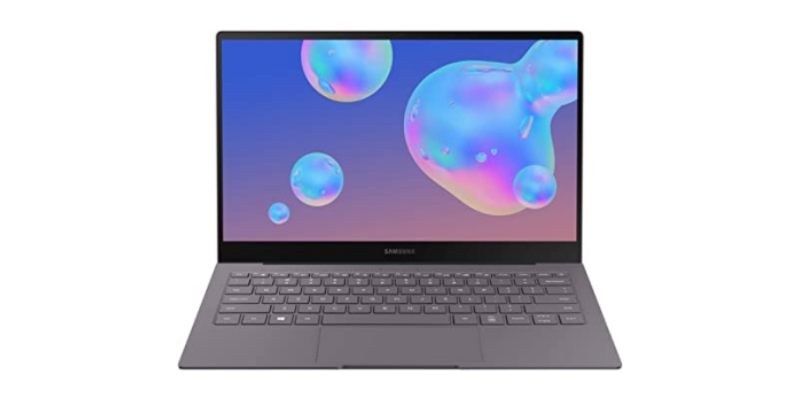 Pros:
Unbelievable 23-hour battery life
S Pen and touchscreen
Slim, elegant style
Cons:
Slender keyboard
Software compatibility problems
Anti-glare displays
6. HP Pavilion Plus 14"
This is one of the best affordable laptops for work-from-home offers available for Windows. A laptop should have a low beginning price, speedy components, excellent build quality, and preferably (for those with larger budgets) the ability to scale up when ordered to be considered the best choice for most customers. The typical consumer can seek a little further for a fast, portable, and hassle-free method. It's exceptionally accommodating to people with budgets who can go above and beyond the low beginning price for quick and luxurious upgrade possibilities.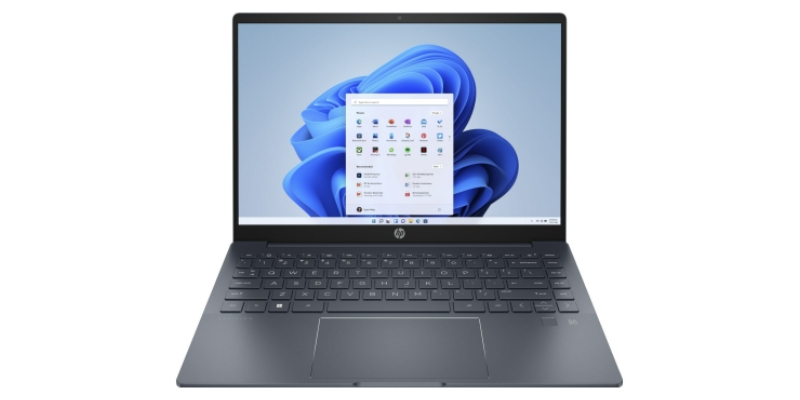 Pros:
Stellar 2.8K OLED display option
Thin and light
Good array of ports and a 5-megapixel camera
Cons:
Under-10-hour battery life
7. Acer Swift 3
It's time to "say hello to the all-new pick-up-and-go", the best budget laptop for working from home, according to the Acer website. This laptop boasts a touchpad, a backlit keyboard, a fingerprint reader, and affordable pricing, given its size. The Acer Swift 3 is a solid option if you're searching for a large laptop with a big screen that works well for multitasking for daily work.
There are certain compromises involved with its midrange cost. While the battery life is excellent (10+ hours in testing), there are performance issues with demanding programs due to the camera and display brightness. The Swift 3 is a fantastic notebook with broad appeal despite its drawbacks. It's ideal for folks who write, are students, or work remotely and have places to go and people to visit.
Pros:
Good at multitasking
Excellent value for the money
Includes a fingerprint reader
Cons:
Lack of power compared to some of the other laptops on our list
Dim display
Speaker quality is poor
8. Dell XPS 13 (2022)
The Dell XPS 13 (2022) is "everything we want in a tiny laptop", according to an Engadget review. Given its bigger keyboard, ultra-portability, sleek design, and narrow display bezels, it's simple to see why experts have given it such high marks. An Ultrabook is a laptop smaller than 0.8 inches thick and less than 3.1 pounds, like the XPS 13. The XPS 13's thin, light design rivals Apple's MacBook Air.
According to experts, the Dell XPS 13 is the best Dell laptop for working from home, but is it ideal for you? It could be the perfect luxury laptop for you if you want all-day battery life, reliable performance, and a stunning design.
Pros:
Sleek, opulent style
More minimal display bezels
Bigger and improved touchpad
Cons:
Low-quality webcam display
More costly than the previous
9. LG Gram 16"
The LG Gram 16-inch laptop is one of the thinnest, best-quality, and highest-resolution laptops for working from home (as the name suggests). In reality, it is the 16-inch laptop that is lightest, according to Guinness World Records. The LG Gram 16 could be the right laptop for you if you seek a lightweight laptop with an excellent connection. Working on a laptop near as light as a notepad will appeal to freelance writers.
Pros:
Featherweight
16:10 large screen
Up to 22 hours of all-day battery life
Cons:
Expensive
Inadequate speakers
10. Lenovo Chromebook Flex 5
The Lenovo Chromebook Flex 5 is a 2-in-1 Chromebook that features a versatile design that allows you to use it as both a laptop and a tablet. It's a lightweight and portable device that's suitable for both personal and professional use.
This affordable laptop for working from home is a great option if you're searching for a cheap laptop. For remote professionals who want the bare essentials, like web surfing and Google applications, Chromebooks are fantastic.
Pros:
Thin and light, a 360-degree convertible design that supports a digital pen
Inexpensive laptop
Wonderful for video conferences
Cons:
Fewer ports
Some users may need more RAM or storage
FAQs About the Best Laptop for Working from Home
1. Which processor is best for working from home?
When looking for a processor that's suitable for working from home, a good balance of performance, power efficiency, and cost is the key. A processor like Intel Core i5, i7, or AMD Ryzen 5,7 are suitable for most people's needs. But always, it is advisable to check your specific needs, usage, and budget before making a decision.
2. What RAM do I need to work from home?
When working from home, the amount of RAM you need will depend on the types of tasks you'll be performing on your computer. Simple office tasks or webcam usage shouldn't need more than 4 to 8 GB of RAM, and many affordable solutions could be enough. However, you should consider 16 GB if you operate in an area where several processes would run simultaneously. Remember that getting a cheap laptop with 16 GB of RAM will take work.
3. Which brand of laptop is most reliable?
Nearly everyone can agree that Apple's MacBooks are dependable, dependably high-quality, and they endure a long time thanks to upgrades that support older laptops long after other companies have fallen by the wayside.
Conclusion
In short, you should have a good work laptop that meets your demands as a creative professional if you work remotely. Since many excellent models exist, we understand it could be tricky to decide the best laptop for remote work. Thus, we hope our list will assist you in selecting a good laptop for working from home, an essential requirement for many professionals.