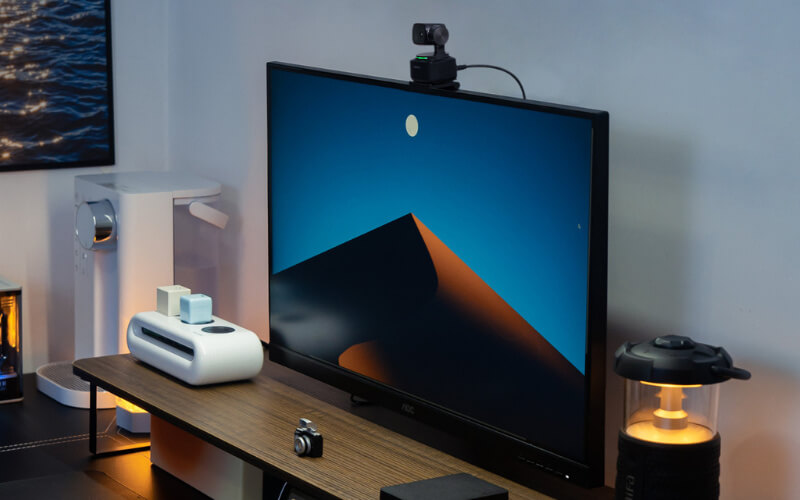 Many people may also continue to work from home for an extended period following the epidemic. The following are some work-from-home setups you need to take to ensure that your home office is conducive to your work and does not harm your body in the long run. Select the appropriate pieces of furniture and make a few little adjustments to the room's decor, and you will have no trouble transforming it into a productive space. Therefore, get to work and utilize your new workplace as soon as possible.
Creating an environment conducive to productive work can be challenging when you're not in a traditional office setting. And when you're working in a room that serves more than one use, like your kitchen, living room, or bedroom, it's simple to become sidetracked and lose concentration. Your home office setting should be where you can achieve the highest human productivity possible. A dedicated home office area, even if it's just a little corner of your apartment, can help find a better balance between work and life and make you more productive. Consider creating one if you still need a dedicated home office space. Even if you don't have much space, you can still make your home office functional by following these best home office setups.
The Best Home Office Setup for Maximum Productivity
A home office that you want to utilize for a longer time should ideally be in a distinct section of your home that is well-equipped for work. You strived to do as many of the activities listed below to make your working environment more secure and productive over the long term. The following is a checklist for the best home office setup for productivity.
1. A Laptop or PC
Most employees who can do their jobs from distant locations use laptops. They can do their responsibilities at any time or place and from any area because of this. Suppose you are a freelancer or want to use the space for your interests. You may incorporate a desktop computer in your home office setup configuration.
2. Home Office Desk
Desks for WFH setup are available in a wide variety and the amount of money you have to spend and the function they will serve should direct your choice. Do you demand a large space to move? Consider acquiring a more extensive desk. Get a standing desk or a converter. A standing desk converter is also portable, meaning that you can have a standing desk in any office space you work in by simply carrying the converter with you wherever you go. This gives you the flexibility to work in various positions during the day.
3. Home Office Chair
Invest in a chair that provides enough support to reduce the time you get up and walk freely throughout the day. Find a chair for your office setup in your home that fulfills your needs and can be stowed below it, whether it rolls or reclines. This will allow you to maximize the space you have available. Several seats on the market are uncomfortable, and sitting in one of these chairs while using a computer for a long time might result in an injury. For instance, dining and deck chairs don't often have the ideal height, and sitting in them typically does not encourage erecting posture.
4. Computer Monitor
When you have to stoop over your laptop to view the screen, it may be a real pain in the neck (literally). Thus, buy a computer monitor and arrange it so that the screen's top is the same height as your eyes. This will assist in preserving your posture at the home office setup. If feasible, you should provide your home office with a huge monitor (or maybe even two), just like you would at the firm's main office.
Monitors ranging from 25 to 27 inches in size produced by Asus and Acer have proven to be the most reliable for me. However, high-quality displays are readily accessible from almost every major manufacturer. Avoid purchasing the most miniature costly monitors if at all possible. Prolonged use of these displays may induce eyestrain owing to the lower resolution and, consequently, more fuzziness. If at all feasible, you should avoid purchasing these monitors.
5. Webcam for Video Conferencing
Getting the most out of your minimalist work-from-home setup will need you to invest in a camera capable of producing high-quality video conferencing. The OBSBOT Tiny 2 webcam is a user-friendly all-in-one camera that will make it simpler for you to hold effective meetings from the comfort of your home office.
OBSBOT Tiny 2 is a small webcam with a built-in subject identification system, the ability to utilize hand gestures to operate the camera, and remote software controlling its pan, tilt, and zoom capabilities. Additionally, the camera adds voice control, offering a more friendly and easy-use experience. It is compatible with various online video services and has a connection that you can plug into a host computer, Zoom, Microsoft Teams, Facebook, and YouTube are just a few of the platforms that fall under this category. The Tiny 2 model is an enhancement over the previous Tiny model because it upgrades to 1/1.5" CMOS, and adds new voice control.
Tiny 2 can record videos at resolutions of up to 4K 30 fps or 1080p 60 fps, and it can connect to a host computer using its USB Type-C to Type-C adapter to transmit power and data. The software control helps pan to an angle up to 150 and tilt down to 90 degrees at rates up to 120 degrees/second in each direction. You will adequately expose your photograph in sharp focus thanks to the lens's autofocus, autoexposure, and auto-white balance capabilities.
Its two omnidirectional microphones capture voice from any direction. You may put the camera on your laptop, display, or even a table by using the camera mount included with the purchase of the device. In addition, an interface measuring 1/4 inch is on the bottom of the camera, which you may use to mount to a tripod.
6. Keyboard & Mouse
Without a keyboard and mouse, your cool home office setups just aren't going to finish. Switching to wireless technology can help you declutter your workstation by getting rid of wires and other items that aren't required. If you don't have a gentle keyboard on your hands and fingers, being productive when working remotely is next to impossible. If you do most of your work on a laptop, purchasing a separate mouse may help improve the accuracy and speed of the job you perform at home.
7. Multi-port Hub
A USB port hub is a tiny adaptor with multiple additional ports to its primary port. Use a USB port that can often accommodate between three and seven other ports, thus increasing your productivity in the home office setup.
8. Noise-canceling Headphones
Do you have the best office setup, but it is in an area shared with other people? Consider investing in a headset to take part in online conference calls while simultaneously reducing the amount of noise that enters your home office and disrupts the activities of other people who may be working, sleeping, or attending classes, among other things.
In addition, you should never drape a mobile phone or landline telephone over your neck while setting up the home office for remote work, a very unsafe practice. If you use a traditional desk phone, purchase a headset designed for that phone and an adapter of 3.5mm to 2.5mm. This will allow you to connect the 2.5mm phone headset plug to your computer's 3.5mm audio jack. If you do not use a traditional desk phone, you should purchase a headset designed for a mobile phone.
Note: Before assuming that your computer, monitor, or dock supports audio output, check whether they also support two-way audio (microphone and headset).
9. Lighting
A well-lit workstation might give the impression that the room is brighter, which can affect your mood and get you the best home office setup for productivity. Employ a floor light or a desk lamp to brighten the area where you do your job. It is easy to underestimate the influence that the environment in which you work has on the amount of productive work you can do throughout the workday.
In most cases, lighting is an aspect that individuals need to consider more. In a perfect world, your area would be illuminated by an adequate quantity of indirect lighting, making it simple to read documents and make out the details of physical items. Most of the time, the optimal lighting form is overhead illumination, such as that produced by a lamp suspended from the ceiling.
10. Internet
A quick internet connection is something that is a must. When holding a video conference in a remote work setup with your colleagues, you will want to ensure that you have a dependable internet connection so that there are no disruptions in the visual or audio transmission.
Most urban and suburban areas have at least one high-speed Internet service provider. The bare minimum speed you should aim for is 50 megabits per second (Mbps), and the more people using the Internet simultaneously, the more critical it is to get a service with a higher bandwidth.
How You Can Set up a Home Office for a Small Space?
You should also be able to transform a practical home office out of a little corner, laundry room, closet, living room, or any other place in your house with some planning, exercise your imagination, and put in the necessary effort. Here are six suggestions for a work-from-home desk setup in limited space.
1. Examine your immediate environment
Need help deciding on where to locate your home office setup? To begin, you should survey the area. Where exactly in the house can one find the quietest? Where will you have the most success in completing work-related responsibilities? If you live in a place that has more than one bedroom, consider converting one of those rooms or one of the walk-in closets into a home office.
2. Put some distance between yourself and the children
When you are trying to get work done in a work-from-home setup, on a conference call, the last thing you need is for noisy noises like children yelling to interfere with your concentration. You established boundaries with the other family members, both physically and emotionally, to achieve the required level of productivity. Establish the office in a part of the house outside the children's reach and other family members.
3. Invest in a workstation that makes the most of your space
If your house has no built-in desk setup at home option, you must purchase a solid stand-alone desk to accommodate your computer, printer, and other essential office equipment. Look for workstations that help you the most in your workplace. Whether you're looking for a writing desk that can push up against the wall, an L-shaped desk that can fit in the corner of a bedroom or a floating desk that frees up floor space, be sure to get the desk that will function the best in your house.
4. Think about using one of your current tables as your workstation
Need a place for a desk? Think about using one of the tables you already have as a workstation. You may use a variety of tables already in the home for makeshift or permanent workstations. Some examples of these tables are dining tables, coffee tables, consoles, and nightstands. When you operate out of a tiny house, the most effective way to conserve space (and your sanity) is to have a piece of furniture that simultaneously serves many purposes. You can even try an outdoor desk setup option.
5. Focus on peaceful corners
Some households have no additional bedroom or space to use as an office. Focusing on quiet nooks, such as a walk-in closet, a kitchen nook, or a lovely corner under the stairs, is the best way to set up a productive home office setup in a limited location. Your business and personal life will be easier to keep separate if you locate your office in a secluded corner rather than in the heart of a highly trafficked room. This will help you concentrate better and get more done.
6. Get your act together
Emphasizing organization is the most beneficial thing you can do for yourself while in a homework setup. When working out of a constrained location, increasing your productivity and maintaining your sanity may be accomplished by decluttering, organizing, and organizing your home office. You began by arranging your office's documents, files, and supplies. Aim to convert as much of your work as possible into digital format and keep all your data on your computer or a shared drive.
Home Office Tips to Help You Be More Productive
Here are work-from-home office setup tips to help you be more productive.
1. Keep your home office separate from the rest of your house
Maintain a separation between the primary living rooms of your house and your home office setup. Having a distinct area is necessary for maintaining that delicate balance. You may achieve a healthy balance between your professional and personal life by designating a space in your house specifically for work.
2. Plan for your time
In the same manner that you should divide your working hours from your non-working hours by using distinct places, you should also separate your time in the same way. Working excessive hours may lead to burnout, which in turn can have a severe influence on one's health and sleeping patterns.
3. Make sure your area is clean
I don't know how your work-from-home table setup is, but towards the end of the week, mine has the propensity to become somewhat disorganized. How about yours? The mail begins to build up, and the drawers in my desk get disorganized. Clutter in your environment may be a source of distraction and can raise your stress levels.
Conclusion
If you cannot schedule your day so that you may work from home, it won't matter how well you organize your small office setup or how nice the furniture is. One of the issues that individuals working from home experience is keeping themselves motivated and focused on the things most important to them in their jobs. This article explains the best work-from-home setup to ensure you are productive.
The best home office setup checklist:
A Laptop or PC
Home Office Desk
Home Office Chair
Computer Monitor
Webcam for Video Conferencing
Keyboard & Mouse
Multi-port Hub
Noise-canceling Headphones
Lighting
Internet