For video creators, struggling with low lighting while using webcams is a common challenge. But fear not; there's a solution! Light-correcting good low-light webcams are the way to tackle these issues and get superior image quality.
While built-in webcams on laptops and tablets are okay for video chats, they do not serve the purpose during indoor shooting. Thus, to overcome this, invest in a separate camera with a built-in low-light correction function.
So, join us as we delve into the top 10 best low-light webcams 2023 for video content creators!
Part 1: What To Look For in the Low Light Webcam
When selecting the best webcam for low light conditions, you must check a few key aspects, like Max Resolution, Built-in Lights, Aperture, Auto Focus, etc. Here's a breakdown of what to look for:
1. Max Resolution
A higher resolution distinguishes between your subject and background objects better for a professional-looking stream. So, ensure the webcam's resolution is at least 1080p for the best video quality. Even if you're not a streamer, a higher-resolution webcam prevents any potential headaches caused by low-quality recordings. Be sure to check the maximum resolution of the webcam when making your purchase decision.
2. Built-in Lights
A built-in ring light becomes crucial for the best low-light webcam to excel in low-light conditions. A webcam with a surrounding ring light illuminates the camera lens, producing vibrant images. Moreover, with an adjustable ring light, you can fine-tune the brightness according to the lighting environment for optimal visuals.
3. Aperture
A larger aperture brings in more light to the sensor, resulting in brighter images with greater details. Conversely, a smaller aperture restricts light intake, leading to darker images. A webcam with a larger aperture captures clear and detailed visuals in low-light conditions.
4. Auto Focus
Autofocus ensures the image remains sharp and focused, even in challenging lighting situations. Additionally, a webcam with Auto Focus will complement clear audio capture from the microphone for an overall enhanced recording experience.
An auto-focus low-light webcam in your selection can ensure exceptional visual clarity and audio performance in any low-light setting.
5. Field of View
A higher FOV means better flexibility in adjusting image quality without compromising clarity.
Commonly, webcams offer fields of view ranging from 65 to 90 degrees, with the middle range typically around 78 degrees. Some models go beyond 100 degrees also, which is impressively wide. Broader FOV makes the image appear closer to the camera and gives an immersive experience for the viewer.
6. Mounting and Privacy
First, check the webcam's mounting capabilities for an easy and secure setup. Additionally, consider privacy features such as a privacy shutter to secure your privacy when the webcam is off.
So, these are the six factors you must look for while going for a low-light USB camera.
Part 2: Top 10 Low Light Webcams in 2023
Now that you know the checkpoints while picking up a good low-light webcam, let us move on. Here is our list of the top 10 low-light webcams of 2023.
1. OBSBOT Tiny 2
The OBSBOT Tiny 2 - one of the best low light streaming cameras in 2023 stands out with its advanced AI technology. It can intelligently track your movements and keep you in the frame without manual adjustments. With 4K resolution, OBSBOT Tiny 2 promises stunningly detailed and crisp visuals. Also, the webcam is easy to set up due to its user-friendly metal mount that securely attaches to your laptop, monitor, or tripod. This webcam is a top choice for content creators and video conferencing.
Features:
Dual Native ISO: Shift between high and low ISO circuits automatically with OBSBOT Tiny 2's dual native ISO. This feature ensures you get crystal clear images with no image noise in low and high lighting conditions.
Ultra Large 1/1.5'' CMOS: The large CMOS sensor of OBSBOT Tiny 2 lifts the video quality to newer heights, leaving behind the feeling of standard images.
All-Pixel Auto Focus: The advanced All-Pixel Auto Focus Technology achieves 4X faster and more accurate focusing, even in low-light conditions, so you get sharp and precise images.
Beauty Mode: The unique Beauty Mode smoothens your skin and brightens your eyes with a tap. It eliminates the need for makeup and gets you camera-ready in an instant.
Voice and Gesture Control: OBSBOT Tiny 2 offers voice and gesture control 2.0 to efficiently operate and access several features hands-free. For example, select/cancel target, change positions, zoom in/out, etc.
Dual Omnidirectional Mics with Noise Cancellation: The dual omnidirectional microphones featuring noise cancellation promises clear audio in video calls and recordings.
Thus, these unparalleled features and performance make OBSBOT Tiny 2 the ultimate choice as a top-tier low-light USB camera.
2. OBSBOT Meet 4K
OBSBOT Meet 4K is the best low light conference camera that delivers stunning video quality. Step into the future of video calls with the OBSBOT Meet series web cameras, equipped with powerful Auto-framing and Auto Tracking. Get ready to explore unknown territories of stunning visual clarity with the integrated Sony 1/2.8" OBSBOT Meet 4K PC camera sensor. Capture details and crystal-clear images, even in low-light environments. With an expansive field of view of up to 86°, see more and wider and make every frame life-like.
Features:
Immerse yourself in ULTRA HD video with support for up to 4K at 30 fps and 1080p at 60 fps. This delivers super clear and fluid video images, ensuring your every move is smooth and delightful.
Keep a Perfect View of "YOU" from the ULTRA-wide FOV camera and advanced AI algorithm. The AI Auto-framing feature provides an extraordinary video call experience for single and multiple-person situations.
Single Mode: Enjoy four different single modes in one Meet 4K.
Experience precise video calls with the default Landscape Close-up mode, where the image automatically tracks your face and adjusts accurately to your actual situation.
Switch to the Landscape Upper Body mode for a natural ratio, perfect for presentations during video calls.
The Portrait mode's real-time calculation ensures a perfect ratio, with you centered and ready to stream on the trendiest social platforms.
Open the inner power of your OBSBOT Meet and experience the magic of technology for exceptional video call quality.
3. Logitech C920
The Logitech C920 Webcam is your gateway to a remarkable Full HD resolution (1080p at 30fps). Whether you're working from home or in a professional setting, the Logitech C920 makes a strong impression with its fixed 78° field of view, producing perfectly framed images in full HD at 1080p/30fps or 720p/30fps. The C920 is good at video meetings and allows you to customize your presentation with the Logi Tune webcam software, adjusting settings like zoom and field of view to showcase your best self in video meetings.
Features:
The automatic HD light correction using Logitech's RightLightTM 2 technology adapts to various lighting conditions for bright and contrasted images, even in dim settings.
The five-element glass lens guarantees razor-sharp images and vibrant colors.
The total HD glass lens and premium autofocus guarantee clear, razor-sharp visuals for high-definition conference calls.
It seamlessly integrates into the Logitech G HUB software ecosystem, offering a single portal to optimize and personalize all your supported Logitech G gear.
With the C920, elevate your video calls and work smarter for top-notch performance and superior quality in virtual interactions with this excellent low light webcam.
4. Razer Kiyo Pro
Razer Kiyo Pro Webcam is an exceptional FHD USB webcam designed to meet professional streaming and video conferencing standards. Its high-performance adaptive light sensor ensures crisp and clear quality in any setup and lighting condition for an unparalleled viewing experience. Superior to 4K webcams in two key areas - light sensor and pixel size - the Razer Kiyo Pro offers exceptional visual fidelity regardless of your normal, streamer, or low-light lighting setup.
The larger Type 1/2.8 ultra-sensitive CMOS sensor featuring STARVIS™ technology adapts to its surroundings for picture-perfect clarity every time. Experience uncompressed 1080p 60fps video with sharpness and smoothness in your content. Activate HDR at 30fps for more bright colors and improved stream dynamic range.
Features:
The wide-angle lens with adjustable FOV showcases your setup or captures more people in your shot, giving you flexibility and versatility.
The Corning® Gorilla® Glass 3 promises image quality, durability, and scratch resistance for long-lasting performance.
The Kiyo Pro offers a flexible mounting option - tilt it to the perfect angle on your monitor or table or detach it for a tripod setup.
With a powerful USB 3.0 connection, this webcam delivers a 5GB/s camera signal to your stream, maximizing video performance with no compression.
Use the Kiyo Pro cover that protects the webcam's lens when not used for added privacy.
Purchase directly from RazerStore and enjoy up to 1 year of warranty and reliable tech support. Plus, the benefit of a risk-free 14-day return policy.
So, elevate your streaming and video conferencing with the Razer Kiyo Pro Webcam.
5. Insta360 Link
The Insta360 Link webcam ensures you look your best in stunning UHD 4K resolution for office and live streaming. Even in low-light conditions, its best-in-class 1/2" sensor captures lifelike detail and offers excellent dynamic range. The Link perfectly balances highlights and shadows with standout HDR mode, so your background remains clear. Say goodbye to blurry shots with Link's Phase Detection Auto Focus (PDAF), faster than other webcams and auto exposure that maintains natural-looking video.
Features:
Stay in the center of attention with Link's 3-axis gimbal design and robust AI tracking algorithm that automatically follows your movements with zooming and framing.
Engage your audience with innovative AI technology and versatile modes:
Whiteboard Mode: Enhance online classes and presentations with AI-enhanced whiteboard views for a clearer audience experience.
DeskView Mode: Present effortlessly during video calls with automatic adjustments to display your tabletop.
Overhead Mode: Capture perfect bird's-eye views for unboxing, playing piano, or sketching floor plans.
Portrait Mode: Level up your live streaming and social media with uncropped 9:16 footage for better mobile viewing.
Manage a few commands with simple hand gestures, like AI tracking, zoom in/out, and Whiteboard Mode, without any clicks.
Built-in privacy protection points the lens downward within 10 seconds of inactivity.
The intelligent noise cancellation with dual noise-canceling microphones and automatic gain control boosts your voice.
Control your shot with manual adjustments for brightness, exposure, and gimbal position via Link Controller desktop software. The 1/4" mounting point allows easy compatibility with universal accessories for seamless mounting options.
Experience the Insta360 Link Webcam, where 4K clarity meets intelligent technology.
6. Logitech Brio 4K Webcam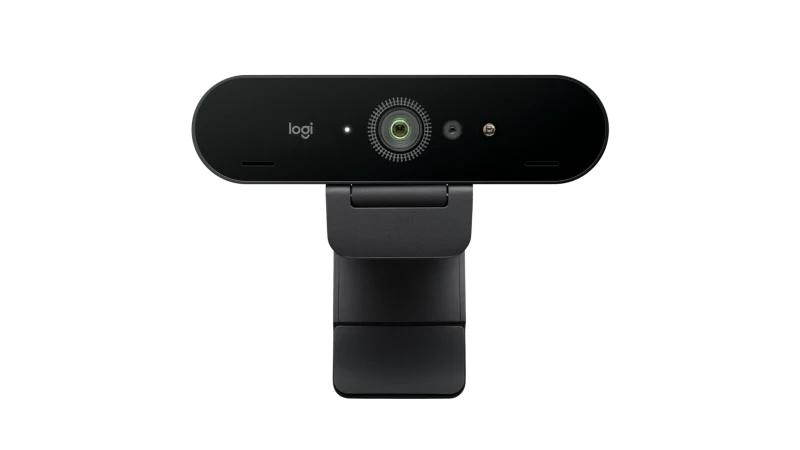 Introducing the Logitech Brio 4K Webcam, the ultimate video meeting solution, is the new standard for ultra HD video collaboration excellence. Due to the latest technologies, the Brio delivers crystal-clear clips with superb resolution, color, and detail. Enjoy 4K UHD video @30 fps, HD 1080p @ 30/60 fps, and HD 720p @ 30, 60, or ultra-smooth 90 fps. With Brio, you can customize your video frame with three adjustable field of view (FOV) presets:
Focus on You: 65° diagonal preset for optimal eye contact and face-to-face conversations.
Balanced Frame: 78° diagonal preset for a fuller glimpse into your setting while maintaining good eye contact.
Full Context: 90° wide-angle preset ideal for showcasing physical objects and whiteboard content on camera.
Features:
This best webcam for low light conditions make you pretty in any lighting situation with its RightLight 3. The high dynamic range (HDR) automatically adjusts to highlight the central subject - you.
Brio records professional audio quality with dual-integrated omnidirectional mics and noise-canceling technology. It captures clear audio up to one meter away without amplifying background noise.
With Brio's optical and infrared sensors, enjoy fast and secure facial recognition for Windows Hello. It is a password-free login experience for Windows 10; just look at the lens.
Use high frame rates (up to 90 fps) in any lighting condition, perfect for slow-motion or smoother video streams. Get high-quality recordings, asynchronous presentations for Teams, and fluid gaming broadcasts.
Control the Logi Tune Desktop app, and customize it, including zoom in/out, color presets, manual focus, and firmware updates.
It is a certified webcam for Skype for Business, Microsoft Teams, Zoom, Google Meet, and more.
Logitech Brio 4K Webcam is the best desk solution with the performance tools you need to excel.
7. Elgato Facecam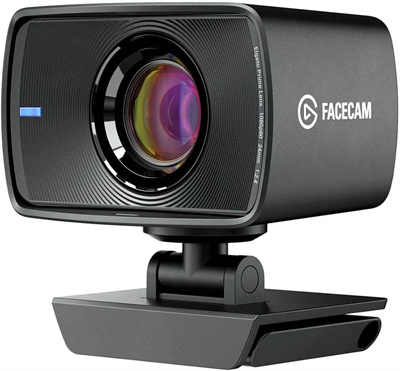 The Elgato Facecam is a powerful webcam that delivers studio-quality video for content creators and professionals. With a sleek black color and compact form factor, this webcam offers exceptional performance and features for optimal video capture. Equipped with an all-glass Elgato Prime Lens, it features an f/2.4 aperture and 24mm focal length for stunning image quality.
Features:
The Sony STARVIS Sensor is optimized for indoor use, ensuring excellent low-light performance. Experience true FHD 1080p resolution at 60 frames per second while capturing your content with incredible clarity and detail.
The advanced image engine processes maximum data quickly, providing uncompressed video without artifacts.
Enjoy a wide field of view, up to 82 degrees, so you can make full-frame or wide-angle shots to suit your needs. The fixed focus range ensures you stay focused during your presentations or video content.
Use this best low light USB camera with a USB 3.0 interface to transfer image data with the lowest latency for lag-free video output.
Customize brightness, exposure, and more settings, tailoring your video to your preferences with the Elgato app.
Additionally, save your preferred settings directly to the camera, ensuring a consistent setup every time you use the Facecam.
Perfect for professionals, content creators, and streamers, the Elgato Facecam is a top-notch webcam offering premium image quality and exceptional performance for all your video needs.
8. Cisco Desk Camera 4K
The Cisco Desk Camera 4K is a high-performance low light HD USB camera with compatibility with personal computers, laptops, external monitors, and tripods. It delivers 4K UHD video quality with outstanding clarity, rich colors, smoothness, superb resolution, and frame rate for a professional video. Also, the Desk Camera 4K is an IT-managed asset with centralized device management and insights for smooth integration into the changing workplace environment.
Compatible with Windows and MacOS PCs, the webcam works seamlessly with any Cisco or non-Cisco meeting applications.
Features:
The webcam excels in all lighting conditions, and its autofocus ensures you get fast, clear, and sharp focus during video conferences.
Customize the field of view to suit your environment, providing flexibility and optimal framing.
Use the built-in privacy shutter when needed with the video streaming on/off control, guaranteeing video turns off entirely via a software switch.
Enjoy crystal-clear audio with two omnidirectional microphones featuring background noise reduction.
The webcam automatically adjusts to keep you centered in the frame, while facial recognition certification with Windows Hello allows secure login through the IR sensor.
The USB C-to-A and USB C-to-C cables are for flexible PC connections and offer various placement options with the camera clip and tripod screw thread.
9. Microsoft LifeCam Studio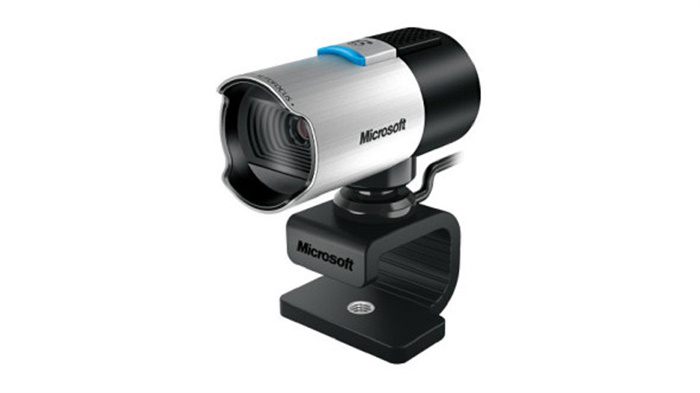 The LifeCam Studio, a high-definition best webcam for low light for Reddit, elevates your video chats and Skype calls to a new level of clarity and color. When physical presence is impossible, this webcam provides the closest experience to being there, capturing important life moments with exceptional resolution and brightness. Thanks to TrueColor Technology, the LifeCam Studio automatically adjusts to any lighting condition, ensuring your face remains appropriately exposed for the best video call quality.
Say goodbye to the hassle of adjusting your laptop's position for the right view. Enhance your workspace and productivity with Microsoft accessories designed for comfort and efficiency.
Features:
With a 360-degree pivot feature, easily point the camera in any direction.
The built-in tripod thread allows you to mount the webcam on a tripod, recording extended video captures from various angles.
The ultra-wideband microphone ensures superior sound capture, picking up audio from around the room, not just in front of the camera.
With the Full 1080p HD Sensor, enjoy superior sharpness and image quality for crisp, detailed video calls.
The High-Precision Wide-Angle Lens provides advanced optics with a wide-angle glass element lens.
The ClearFrame Technology ensures smooth, detailed videos with enhanced frame rates.
Experience the ultimate video calling experience with the LifeCam Studio and stay connected with friends, family, and colleagues like never before.
10. AVerMedia Live Streamer CAM 513
The AVerMedia Live Streamer CAM 513 is your ultimate tool for seamless connectivity and high-quality content creation. Its built-in premium 4K all-glass lens and Sony® Exmor™ technology capture astonishing 4K 30fps video. It delivers highly sharp and crystal-clear images in 4K UHD.
Broaden your creative horizons with the 94-degree ultra-wide-angle lens and capture more content while streaming or more participants during video chats or conferences. Experience the power of CamEngine, exclusively developed for the AVerMedia webcam series.
Features:
Unlock AI Auto-Framing, ePTZ, and Noise Cancellation to auto-adjust camera composition with digital zoom. Customize PTZ positions, and eliminate unwanted ambient noise for enhanced video production.
For creators, the exciting VTubing feature allows you to share your virtual game world as your very own VTubing character. Seamlessly integrate into the AVerMedia ecosystem and bring a brand-new experience to your viewers.
Enjoy hassle-free setup with USB 3.0 plug-and-play connectivity, compatible with Windows, Mac OS, and mainstream streaming software like OBS.
Your privacy is protected with the swivel-arm privacy shutter design when your webcam is not in use.
Adjust shooting angles with the Live Streamer CAM 513's 360-degree swivel design to suit your needs. The built-in flexible mounting clip and 1/4" thread for tripod attachment provide versatile setup options.
Connect and collaborate effortlessly with compatibility across all popular video collaboration platforms, including Zoom, Microsoft Teams, Google Meet, Skype, OBS, and more.
Step up your content creation game with the AVerMedia PW513 4K Webcam for top-notch image quality and powerful features.
Thus, that was our list of the top 10 webcams, including some of the best USB C webcams for Mac, for amazing quality output for all your streaming needs.
Part 3: FAQs about Low Light Webcam
Q1: What is the best low-light camera for streaming?
The OBSBOT Tiny 2 is the best low-light streaming camera because of the following reasons:
Its Dual Native ISO automatically switches between higher and lower ISO circuits depending on the lighting conditions. In dim lighting, the camera uses the higher ISO circuit to produce clear and colorful images without any image noise.
The OBSBOT Tiny 2 has an Ultra Large 1/1.5'' CMOS to better video quality beyond what you call "good enough."
Unlike traditional phase-detection auto-focus (PDAF), the All-Pixel Auto Focus of Tiny 2 uses every pixel on its 50-megapixel sensor surface. The result is accurate and swift focusing, even in low-light conditions.
Q2: How can I make myself look better on my webcam?
Experience the ultimate convenience with OBSBOT Tiny 2's Beauty Mode! This new feature effortlessly smooths your skin and brightens your eyes in one second, saving you from the hassle of applying makeup. With just one click, you're camera-ready to face the world confidently.
Beauty Mode offers a variety of filters as per your preferences to achieve the perfect look without the need for troublesome makeup. Adjust the filter intensity and highlight your stunning features with just one tap. Adopt the simplicity and efficiency of OBSBOT Tiny 2's Beauty Mode, ready in a breeze!
Q3: Why are some cameras better in low light?
Some cameras perform better in low-light conditions due to specific factors:
Pixel Size: Larger pixel sizes, typically 3µm or larger, collect more photons, resulting in better low-light performance. However, this may lead to reduced resolution or increased sensor size.
Signal-to-Noise Ratio (SNR): Cameras with higher SNR minimize noise, like dark current and transistor noise, producing better-quality images in low light.
Lens Aperture: A larger lens aperture allows more light to reach the sensor, enhancing low-light image capture. However, it may impact the depth of field.
Sensitivity: High camera sensitivity efficiently converts low light into detailed images, making it essential for improved low-light performance.
The flexibility of these factors makes a camera excel in challenging lighting conditions.
Conclusion
Thus, upgrade your webcam experience and bid farewell to low-quality built-in webcams on laptops. In 2023, we've handpicked the top 10 best webcams for low-light conditions. These cutting-edge devices offer unique features to adjust lighting and deliver brighter, clearer images. So, whether you're into video calling or video creation, these low-light webcams will meet your needs. Also, elevate your video communication and content creation with our recommended top-notch best low-light streaming camera - the OBSBOT Tiny 2!