Videography captures moving images to convey a story, message, or emotion. So, if you wish to aim at engaging social media content or begin a cinematic journey, having the perfect 4K video camera is essential.
In this guide, we'll consider cameras with impressive 4K capabilities catering to photography. These cameras offer versatility and performance at a fraction of the price compared to professional cinema cameras.
Part 1: Is a 4K Camera Good for Video?
4K camera video recording is undoubtedly the current leader in image quality. 4K is the new stand for television and video recording. It surpasses the older standards like 'standard definition' or even '1080p' Full HD. While 1080p HD looks excellent, 4K takes it further with double the horizontal pixels and four times the total pixel count. In short, staying ahead with 4K technology can future-proof your content and ensure your work stands out in an increasingly high-resolution landscape. So, investing in a 4K recording camera can be a smart move for your video projects, even if you are just beginning.
Part 2: Which Camera Records 4K Video?
We will share the seven best 4K video cameras from different brands, their prices, and cons. Also, we will post a table so it's easier for you to pick the best one based on your budget and needs.
The groundbreaking OBSBOT Tail Air is an AI-tracking 4K video recording camera. With an impressive tracking speed of 120°/s, it seamlessly follows subjects, whether humans, pets, or objects. Gesture Control 2.0 lets you easily manage zoom adjustments and more during recording.
Pros:
True 2μm large pixel size and ƒ1.8 aperture excel in low and bright-light conditions.
The OBSBOT Start App allows image parameter adjustments from anywhere.
Pre-set recording signals for quick content sharing.
Remarkably, the best 4K video camera, budget-friendly at under $500.
Price: $499.00
2. DJI Pocket 2
Introducing the DJI Pocket 2, a marvel of compact technology that packs a punch as our list's cheapest 4K video recorder. With lightning-fast startup, it's ready to snap photos and record videos instantly. Sound quality is impressive, with four microphones offering directional sound recording, Audio Zoom, and SoundTrack for enhanced audio. Glamour Effects, an AI Editor for content creation, and compatibility with many smartphones make the DJI Pocket 2 a versatile and powerful tool for content creators and enthusiasts.
Pros:
It offers an impressive 140 minutes of battery life for a budget.
Weighing just 116 grams, this pocket-sized wonder fits snugly in your hand and captures moments on the go.
High-quality imaging via its upgraded 1/1.7-inch sensor captures 64MP photos and 4K video.
The 20mm f/1.8 lens for a wide and vivid cinematic look.
It has motorized stabilization through a 3-axis gimbal for steady footage while moving.
Stability extends to capturing crisp photos, even in low-light conditions.
Price: $235.37
3. GoPro Hero 11 Black
With this 4K camera video recording, work with an extra-large canvas for your creative shots. Zoom in, crop, experiment with digital lenses, or adjust aspect ratios in footage rich in textures and sharpness. Its flexible video ISO, ranging from 100 to 6400, and photo ISO, ranging from 100 to 3200, allow you to adapt to various lighting conditions. The camera's in-camera sensor and software stabilization earned it a 2021 Emmy. Features like Horizon Lock, improved stabilization for 4:3 aspect ratio footage, and AutoBoost for maximum stabilization with minimal cropping keep your action shots incredibly steady.
Pros:
The widest FOV on a HERO camera with 27MP resolution and a maximum video bit rate of 120Mbps.
The exposure control gives you more creative control over your shots.
This camera can handle temperatures from -10º C to 35º C, suitable for diverse shooting environments.
With 5.3K video, it offers 91% more resolution than 4K and a staggering 665% more than 1080p.
The water-repelling lens cover eliminates lens flare, etc., so your photos and videos are stunning, even in challenging conditions.
Price: $339.00
4. Panasonic Lumix GH5S
The Lumix GH5S 4K HDMI recorder has a 10.2-megapixel Micro Four Thirds sensor, offering a larger photoreceptive surface per pixel. This translates to an ultra-wide dynamic range for capturing professional-grade photos and videos. Additionally, the Dual Native ISO feature ensures you can achieve ultra-sensitive video capture with impressively low noise, even in challenging lighting conditions. The Lumix GH5S features several connectivity options, including a 3.5mm mic jack, a 3.5mm headphone jack, a 2.5mm remote socket, an HDMI Type A Socket, and a USB-C 3.1 Socket.
Pros:
Its durable magnesium alloy body can take a beating and is freezeproof down to -10 degrees Celsius.
Splash dustproof construction and weather sealing on every joint, dial, and button for various environmental conditions.
Support to C4K at 60p/50p in 8-bit, 30p/25p/24p in 4:2:2 10-bit, and 4K at 60p/50p in 4:2:0 8-bit.
High-speed recording of 1080p at up to 240fps and C4K at 60p Variable Frame Rate (VFR).
The 4K Anamorphic mode interchangeable lens camera system combines high performance, durability, and mobility.
Twin SD Card slots that are UHS-II U3 compatible for ample storage.
Price: $828.84
5. Sony A7S III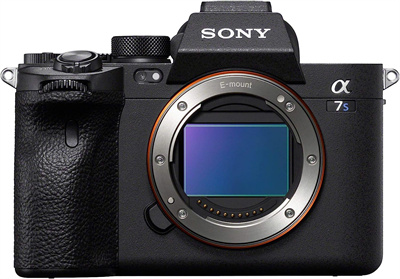 The Sony Alpha a7S III is a remarkable mirrorless digital camera that sets new sensitivity, speed, and image quality standards. Its enhanced processing capability captures video up to 120p in stunning 4K 10-bit 4:2:2 quality with full pixel readout in all recording modes. What you get is breathtakingly detailed and lifelike videos and images. The Alpha A7S III is the best 4K video camera for photography and video content that makes capturing the perfect shot easier.
Pros:
The 12.1MP Exmor R sensor promises 4K video, sensitivity, and speed.
The sensor delivers ultra-clean low-light images at ISO levels of up to 409,600 with an impressive dynamic range of 15+ stops.
Moreover, it minimizes rolling shutter effects up to 3 times for smooth and distortion-free images.
Powered by the new BIONZ XR processing engine, this camera boasts a staggering 8x increase in processing power.
Fast hybrid autofocus, with 759 phase-detection AF points, works even in challenging shooting conditions.
Price: $3,498.00
6. Canon EOS R5
The EOS R5 has a brand-new 45-megapixel full-frame CMOS sensor, ensuring exceptional image quality. Whether you capture portraits, landscapes, or wildlife, this camera delivers stunning results. The camera features Dual Pixel CMOS AF, which covers approximately 100% of the frame with a remarkable 1,053 AF area. It's also compatible with the RF5.2mm F2.8 L Dual Fisheye lens, expanding your creative possibilities. Firmware 1.8.1 or later offers an IBIS High-Resolution shot mode for 400-megapixel (approx.) files in-camera without external software. This feature is handy for art reproduction and detailed signage photography.
Pros:
Seamless operation in temperatures ranging from 32–104°F / 0–+40°C and under humidity of 85% or less.
The ISO range of 100-51200 (expandable to 102400x1) gives the best shots even in challenging lighting conditions.
The mechanical shutter can shoot at 12 fps, and the electronic (silent) shutter achieves 20 fps.
It's fast and precise and utilizes deep learning technology for subject tracking, including people and animals.
The dual memory card slots give ample storage for high-resolution photos and 8K videos.
In-body image stabilization allows sharper shots in various shooting conditions.
Price: $3,449.00
7. Blackmagic Pocket Cinema 4K
The Blackmagic Pocket Cinema Camera has a high dynamic range, exceptional low-light performance, and the power of Blackmagic RAW. These features combine to deliver cinematic images with precise skin tones and vibrant, organic colors. On the back panel, you'll find controls for adjusting shooting speed, magnifying the image for precise focus, accessing setup menus, and reviewing shots quickly. The front and top of the camera feature dedicated buttons for record start/stop, still photo capture, iris, ISO, white balance, and shutter speed.
Pros:
This camera sports a 4/3 image sensor with 4096 x 2160 resolution and one MFT lens mount.
Utilize compact, lightweight, and cost-effective lenses for even the most challenging shooting locations.
Crafted from a lightweight carbon fiber polycarbonate composite, it has an elegant design with a multifunction handgrip.
Recording, ISO, white balance, and shutter angle are conveniently at your fingertips.
It offers professional features essential for blogs, YouTube videos, and more such video recordings.
Price: $1,279.99
Part 3: FAQs about 4K Video Camera
Q1. Is 4K the best video resolution?
4K offers increased clarity and editing options, but better options exist. 8K resolution, which is four times the pixels of 4K, takes video quality further. An 8K TV's 7680 x 4320 resolution delivers unmatched detail and clarity. The choice between 4K and 8K depends on project needs and the precision required. Both resolutions empower content creators in different ways.
Q2. What is the difference between 4K and UHD camera?
The main difference between 4K and UHD is due to their resolutions. UHD stands for Ultra High Definition with a 3840 x 2160 pixels (8,294,400 pixels total) resolution, four times more than Full HD. 4K has a resolution of 4096 x 2160 pixels in the cinematic world. In the display market, 4K is often used interchangeably with UHD. However, 4K in digital cinema is slightly wider than UHD.
Q3. How much memory is required for a 4K video?
The memory required for 4K video varies based on the bitrate. For example; if you have 128GB storage, you can store over 8 hours of 4K footage at a low 35 Mbps bitrate or approximately 44 minutes at 400 Mbps bitrate. For 256GB storage, you can store over 16 hours at 35 Mbps or about 1.5 hours at 400 Mbps. Regarding RAM, 16GB is suitable for multitasking and editing 1080p or basic 4K projects with minimal effects.
Conclusion
Thus, that was all about the camera for 4K video recording. We shared a list of the top seven best 4K video cameras, their specs, pros, and price. We hope this will ease your trouble surfing the Internet for a long as we also mentioned how a 4K camera is suitable for video. And answered some basic FAQs you may come across while researching.
Ultimately, we would again recommend the new Tail Air 4K video recorder from OBSBOT with the wholesome features you would need. Also, look out for 4K HDMI recorders, the go-to for videographers due to their ability to record ultra-high-definition footage.