"I am new to Facebook live but want to make it big in the media industry. Can you help me know how to FB live?"
Facebook is a giant in the field of social media, with over 2.8 billion monthly active users as of 2021. With a massive user base, Facebook has become a popular platform for live-streaming events, webinars, and product launches. Facebook Live, the platform's live streaming feature, allows users to broadcast live video to their followers, who can watch and interact with the stream in real time.
Facebook Live is a popular way to engage with friends, family, and audiences online. Thus, knowing how to do Facebook Live will benefit you as an individual, business, and organization to promote your products or services and grow your online presence.
So, let us learn how to live stream on Facebook in our article below.
Preparing for Live Streaming on Facebook
To answer how to go live on Facebook, the first step is ensuring you have the proper preparation. After all, you want to connect with your audience and share your message without hiccups. This section will review two vital things you should have before starting a live stream.
Equipment Needed
You'll need essential equipment to stream on Facebook, including a webcam, microphone, and computer. When it comes to the perfect live stream camera, we recommend the OBSBOT Tail Air, a compact and portable option that offers high-quality 4K resolution and AI-powered tracking and framing.
Key Features:
AI-Powered Tracking: OBSBOT Tail Air utilizes advanced AI technology to automatically track humans, pets, and objects, ensuring smooth and precise tracking during video recording.

4K UHD Resolution: The camera is capable of capturing videos in stunning 4K UHD resolution, providing crisp and high-quality footage.

Live Streaming Compatibility: OBSBOT Tail Air is compatible with popular live streaming platforms, making it easy for users to share their videos in real time with their audience.

Multiple Connections: OBSBOT Tail Air supports USB-C, HDMI, NDI, and Wi-Fi connection, allowing you to seamlessly integrate it with various devices and accessories for an enhanced shooting experience.
Internet Connection Requirements
A stable internet connection is essential for live streaming on any social media platform. Thus, go for the fastest Internet service near you. Facebook recommends a minimum upload speed of 3 Mbps for optimal streaming quality. Remember, if your connection is slower, you will experience buffering or lag during your stream, which can frustrate viewers.
Note: A wired internet connection can ensure a more stable and reliable connection than Wi-Fi.
Choosing a Location
The location you choose for your Facebook livestream must be well-lit, quiet, and free from the hustle-bustle of crowds and traffic.
Keep the background clean and clutter-free if you're streaming from a home office or studio. You can add visual interest to your stream using props like plants, decorative imagery, or backdrops. Obtain any necessary permissions beforehand if you're streaming from a public location.
Setting up a Live Stream on Facebook
Now that you have your equipment, internet connection, and location, it's time to set up your live stream on Facebook. Let us walk through how to set up a live stream on Facebook and share it with your audience.
1. Create a Facebook Page
Before you can start live streaming on Facebook, you'll need a Facebook page. If you already have one, you can skip this step.
To create a new page, follow these steps:
Go to Facebook.com/pages/create.
Choose the kind of page you want to make (e.g., Business or Brand, Community or Public Figure, etc.).
Enter your page name and other details, and follow the prompts to create your page.
Once you have your Facebook page, you can start setting up your live stream.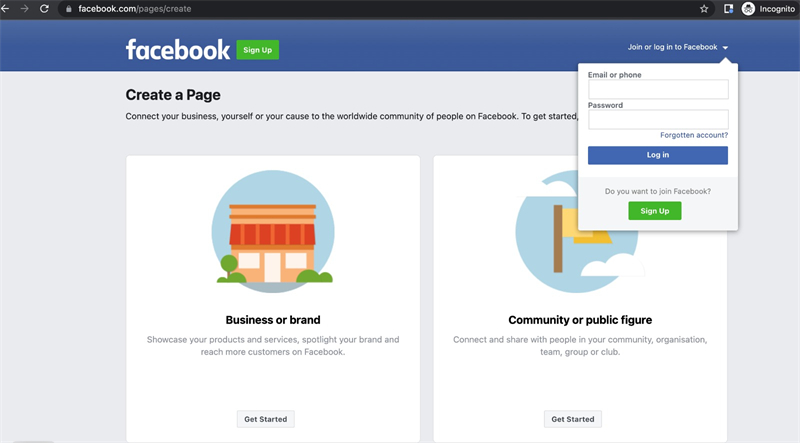 2. Go Live on Facebook
To go live on Facebook, follow these steps:
Open your Facebook page and click the "Live" button in the status update box.
Choose your webcam and microphone from the drop-down menus.
Write a description for your live stream, and choose any additional options, such as adding a title, location, or tags.
Click the "Go Live" button to start your stream.
Once you start your stream, you'll see a preview of your video and options to add filters, effects, or captions. You can also interact with your viewers by responding to comments or questions.
3. Customize Your Live Stream on Facebook
Facebook offers several customization options to help you create a more engaging and professional live stream. For example, you can add overlays, such as your logo or a call-to-action, or use Facebook Live Producer to switch between multiple cameras or add text overlays.
Facebook Live Insights can help track your viewership and engagement metrics so you can adjust your broadcast based on the data.
4. Sharing Your Live Stream on Facebook
To share your stream with your audience to maximize your reach, you can follow the points below:
Share your live stream on your Facebook page or profile.
Share your live stream in Facebook groups relevant to your topic or industry.
Insert your live stream on your website or blog.
Promote your live stream through paid Facebook ads.
Engaging with Your Audience
Engaging with your audience is crucial to understanding how to broadcast live on Facebook. By interacting with your viewers, you can create a more engaging and authentic experience, build a community around your brand, and increase your audience's loyalty and trust. Here is how to engage your audience during your live stream.
Responding to Comments
As viewers tune in to your live stream, they may leave comments or questions in the chat box. Responding to these comments is a great way to show your audience that you care about their feedback and are listening to their concerns. Monitor the comments section throughout your stream, and respond to as many comments as possible. If you can't respond to a statement in real time, try to answer it later in the stream or after the broadcast.
Encouraging Viewer Interaction
Another way to captivate your audience is to encourage them to interact with your content. This can include asking questions, conducting polls, or encouraging them to share their experiences or opinions. You can also give shoutouts to viewers who are mainly engaged or active during your live stream, which can create a sense of community and appreciation.
Keeping Your Audience Engaged
Finally, keep your audience engaged throughout your live stream using a variety of visual and audio elements, such as graphics, music, or sound effects, to break up the content and keep things interesting. You can also use quizzes or games to keep your audience engaged and entertained.
Another way to keep your audience engaged is to create a sense of urgency or exclusivity around your live stream. For example, you can offer a special promotion or discount for viewers who tune in or provide exclusive content or behind-the-scenes access only available during the live stream.
After learning how to make a live video on Facebook, these three tips can create a more interactive and rewarding experience for your viewers and build a stronger and more loyal community around your brand.
Best Practices for Live Streaming on Facebook
Still, trying to determine if your Facebook live stream will go viral? Here are some extra tips to help you make the most out of your Facebook live-streaming experience.
1. Keep It Short and Sweet
When it comes to broadcasting on Facebook, shorter is often better. Viewers have a limited attention span and may quickly lose interest if your stream is long. Keep your live stream to a maximum of 30 minutes, and focus on delivering high-quality content that is engaging and informative.
2. Promoting Your Live Stream
Promoting your live stream involves:
Creating a teaser video or graphic.
Posting about the stream on your social media channels.
Sending out email reminders to your followers.
Give viewers enough notice so that they can plan to tune in, and consider offering a special incentive or promotion to encourage them to watch.
3. Testing Your Equipment and Internet Connection
Before you proceed with how to go live on the FB page, testing your equipment and internet connection is essential. This can involve checking your camera and microphone, ensuring your internet connection is solid and stable, and ensuring your software and settings are in line. By testing your equipment and connection in advance, you can avoid technical difficulties during your live stream and provide your viewers have a seamless and high-quality viewing experience.
4. Planning Your Content in Advance
Finally, it's essential to plan your content. So, create an outline or script for your live stream, plan out any visuals or graphics you want to use, and ensure that you have all the resources you need at your fingertips. By ideating your content, you can ensure that your live stream is informative, engaging, and well-organized and that you can deliver a high-quality viewing experience to your audience.
Conclusion
Thus, we learned how to live stream on Facebook, a powerful way to connect with your audience and build your brand. Following the tips outlined above, you can prepare for your live stream, set up your Facebook page, and engage with your audience. We also listed some best practices for a successful streaming experience. Additionally, we highly recommend the OBSBOT Tail Air webcam for its exceptional video and audio quality, especially an excellent option for Facebook live streaming.
So, creators, now that you are aware of how to make live videos on Facebook, get the proper preparation and equipment to create compelling and engaging live streams that help you connect with your audience and achieve your business goals.