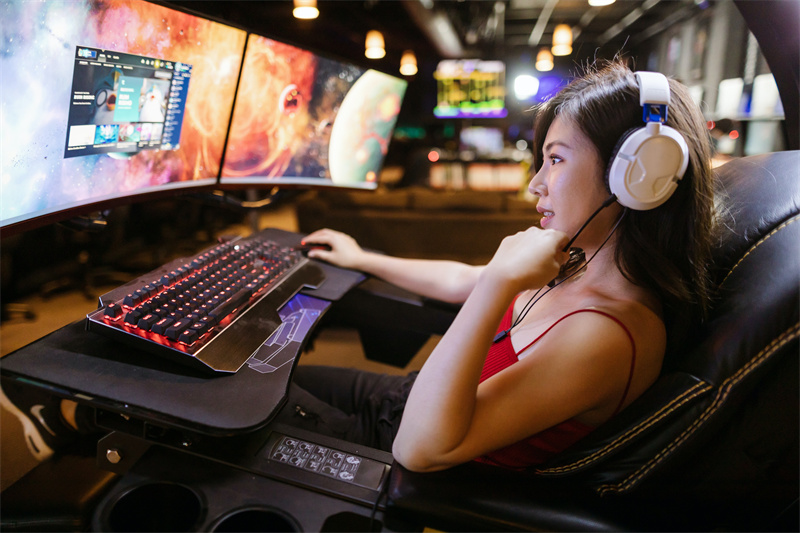 Twitch has become a powerful platform that connects millions of viewers with their favorite online entertainment content creators. Creators want to deliver the highest quality content to their viewers, but they must also consider the many Internet speeds that their audience might have. The key to success is the perfect match between a visually appealing stream and a seamless viewer experience.
This article delves deep into the best Twitch bitrate and provides practical steps and tips to help you adjust your settings between quality and accessibility.
Part 1: What Does Bitrate Mean for Twitch Streaming?
So, what is a bitrate Twitch? If you already know this, you can skip to know the best bitrate for Twitch streaming.
In simpler terms, bitrate is the speed at which digital information travels through the Internet. It's like the number of tiny data pieces sent or received every second, usually measured in bits per second. However, it is also referred to in terms like kilo, mega, giga, and tera to describe the speed's size.
For example, when people discuss the quality of an audio file, you might hear something like "320kbps," which means the audio file has a speed of 320 kilobits per second. In streaming, the bitrate directly affects how good the video looks and sounds. Twitch suggests using a bitrate of around 3500 kbps to 4500 kbps for 720p streams for a high-quality viewing experience.
Thus, ingesting bitrate refers to the data you send to Twitch while streaming. A higher bitrate uses up more of the Internet bandwidth available to you. Bumping up your bitrate can enhance your video quality, but there's a limit to how much it helps. Twitch-tested bitrate settings ensure your video quality looks excellent without using unnecessary bandwidth.
---
Bonus: Best Twitch Stream Camera - OBSBOT Tail Air
The OBSBOT Tail Air is an advanced Twitch stream camera with the power of AI to track humans, pets, and objects at an impressive speed of 120°/s. This feature ensures that every dynamic moment of your daily activities is captured flawlessly. The OBSBOT Tail Air has an advanced camera system, superior optical craftsmanship, and lens configuration. Elevate your live streaming to the next level with the OBSBOT Tail Air's exceptional 4K streaming performance. Its advanced pixel size and aperture ensure stunningly detailed footage in any lighting scenario.
Key Features:
AI Director Grids: This automatically divides your video into distinct grids. Select a grid to assess and broadcast the desired video signal for better quality and precision of your live Stream.
4K Resolution:

Offers stunning 4K resolution, delivering incredibly sharp and detailed video footage. Capture every moment with exceptional clarity and precision, bringing your content to life like never before.

Gesture Control: The added dynamic gestures enable seamless and accurate zoom adjustments, enhancing creative possibilities.
NDI|HX3 Support: OBSBOT Tail Air delivers high-quality, low-latency live streaming video through Wi-Fi and Ethernet. Whether USB-C, micro HDMI, or PoE-supported Ethernet cable, your Tail Air integrates into your livestream solution.
Easy Use Mobile App: Experience wireless control as the OBSBOT Tail Air's real-time video signal on your mobile devices. Adjust the parameter easily, and capture incredible shots from various angles.
Durable Battery: Extend your OBSBOT Tail Air's endurance to over 7 hours with the 360° rotation charging base. This feature ensures you capture incredible shots from every angle.
---
Part 2: How to Choose the Best Bitrate for Twitch?
Here are a few factors that you should check while picking the best Twitch kbps.
1. Minimum Upload Speed for Twitch
For a smooth Twitch experience, a 3-6 Mbps upload speed is a starting point. Luckily, most Internet connections surpass these basic needs today, so your link should easily meet this requirement unless you're in a far-off place with weak signals.
For starting, you'll want a minimum speed for your Internet connection that lets data flow when you browse or stream online.
However, remember that your connection can sometimes go up and down even though your Internet provider might promise a certain speed. So, it's wise to check your speed regularly to ensure you're up to date.
2. Stream Resolution
Ultimately, the best speed for your Stream depends on how clear you want your video to be and how fast the images change. Many Twitch streamers prefer 1080p (1920 x 1080 pixels) at 60 fps for top-notch quality. But sometimes, you might need to adjust one or both of these numbers to fit your situation. If most of your viewers watch on smaller screens, a 1080p stream might look better. In those cases, a 720p stream will give them a similar experience without putting too much pressure on your Internet and computer. However, if you're streaming something like a discussion panel, the higher 1080p resolution will be more pleasing for the viewers.
3. The Right FPS
The next factor is selecting the proper frame rate. When streaming action-packed games like racers or fast shooters, a frame rate of 60 fps works best. For many games, a resolution of 720p looks excellent as long as the frame rate stays steady. If you're streaming a game where it's important to see small details prefer a resolution of 1080p and 60 fps.
However, if your Internet isn't strong enough for the needed bitrate, lower the frame rate to 30 fps. Many gamers find that starting with a resolution of 720p and 60 fps is a safe bet. Also, 720p at 30 fps for content with less fast movement usually works well.
4. Hardware Capability
When your streaming speed is high, your CPU might face challenges. Make sure your hardware can handle the demands of your streaming setup.
Even if your Internet connection is strong, a less powerful CPU might require you to decrease the bitrate. Ignoring this may result in long-term distortion of video frames.
Thus, the perfect Twitch streaming bitrate is flexible and varies based on your hardware, Internet connection, and output settings. If you're new to streaming, it's wise, to begin with video quality that matches what your current setup can handle. Those with some experience can tailor settings based on the streaming content.
No matter where you are on your streaming journey, it's all about learning as you go. With the proper knowledge, you can continually enhance your Stream to achieve the best outcomes.
Part 3: What is a Good Bitrate for Twitch?
Twitch guides us in choosing the suitable bitrate based on resolution and frame rate. The most common options are 1080p and 720p, with 60 or 30 fps.
Here are the Twitch bitrate requirements:
1080p @ 60 fps: 6000 kbps
1080p @ 30 fps: 4500 kbps
720p @ 60 fps: 4500 kbps
720p @ 30 fps: 3000 kbps
Note: Twitch doesn't support 4K streaming. So, for setting up your Stream, prioritize a stable stream over the highest quality picture. If your Internet connection can't handle 1080p @ 60 fps without risking interruptions, it's a good idea to switch to 720p.
Once you realize your Internet speed, you can match the ideal bitrate that matches your chosen resolution and frame rate.
Keep in mind that these recommended bitrates are the minimum requirement. For instance, if you engage in a graphically intensive 1080p stream at 60 fps, the bitrate could reach 10,000kbps or more. Likewise, streaming 720p at 30 fps consistently demands a steady bitrate of 3000kbps or higher.
Stay attentive to these numbers to adapt, fine-tune, and adjust as needed.
Part 4: How to Set Bitrate on Twitch
There is no best Twitch bitrate universally, as it largely depends on your Internet speed and computer capabilities. However, the Twitch Studio application provides a way to determine the best settings for your system.
Step-by-Step Guide:
Step 1: Go to Settings
Launch Twitch Studio. Locate and click on the Settings option located in the lower-right corner.

Step 2: Reoptimize Settings
Tap, Stream, and then reoptimize Settings.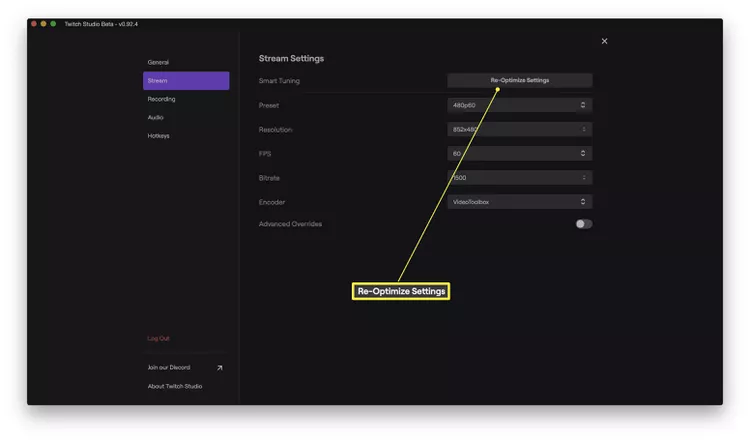 Now, wait till the test is over.

Step 3: Apply Settings
Finally, choose Apply Settings and then pick the optimal settings for your Twitch device.

Part 5: FAQs for Twitch Bitrate
Q1: Is 6000 bitrate too high for Twitch?
No, a bitrate of 6000 kbps is not too high for Twitch, but it is recommended for the best quality when streaming at 1080p and 60 frames per second (fps). However, ensure that your Internet connection can support this bitrate, as Twitch's requirements suggest an upload speed of at least 3-8 Mbps for broadcasting in HD.
Q2. What bitrate is 1080p 30fps Twitch?
The ideal bitrate for streaming on Twitch at 1080p plus 30 frames per second (fps) would range from 4,500 to 5,000 kbps. While you can manage with a lower bitrate of around 3,500 kbps, the higher range will improve visual quality. Remember that regardless of your chosen resolution and fps, the optimal bitrate will ultimately depend on the capacity of your Internet bandwidth.
Q3. What is the bitrate for 720p 60fps?
For streaming at 720p resolution, the recommended bitrates are 4500 Kbps at 60 frames per second and 3000 Kbps at 30 frames per second. According to their Internet connection, Twitch streamers can use the adaptive Streamlabs bitrate encoding within Streamlabs Desktop.
Alternatively, you can use StreamingVideoProvider for an excellent viewing experience, minimizing buffering and supporting resolutions of up to 4K.
Conclusion
Thus, our article on choosing the perfect Twitch bitrate ends. We learned how to set Twitch stream bitrate and select the best bitrate and also answered a few FAQs. Besides, we listed the recommended bitrates for various settings on Twitch. We hope this article serves you well while planning your Twitch videos and makes you a successful streamer.
So, start with your latest recording with the Twitch max bitrate today.