As the digital landscape evolves, platforms like YouTube have amassed a staggering 5 billion video views daily on a single platform. At its core, vlogging aims to share visual narratives with insights into content creators' everyday lives or educate them on specific subjects. But why integrate a YouTube camera with 4k for vlogs? Well, quality matters, right?
So, in the following sections, let us uncover the benefits of a 4k vlogging camera, its features, and the ten best cameras you must try out.
Part 1: Compare Chart
This section will list the 10 best 4k vlogging cameras and their pricing which we will discuss in detail in Part 4 of this article.
Part 2: Key Features to Consider When Choosing a 4K Vlogging Camera
While you need the ideal camera vlog with 4K, here are six checklists that you must pay attention to for the right choice:
1. Image Quality
Go for a vlogging 4K camera with high-resolution sensors and advanced image processing for exceptional quality. Evaluate low-light performance by examining the camera's ISO range and noise-reduction technology.
2. Camera Type
DSLRs are versatile and professional, while mirrorless are compact and lightweight. Smartphones and point-and-shoot cameras are viable for those on the move and tight on budget. They provide handheld convenience and mobility.
3. Video Content
For vloggers, opt for cameras capable of recording in 4K resolution to achieve high-definition videos—additionally, stabilization features for smooth and polished footage. Built-in stabilization systems or stabilized lenses help during camera shake.
4. Connectivity and Others
Look for Wi-Fi or Bluetooth connectivity, simplifying content sharing. An articulating touchscreen is valuable for capturing self-portraits and vlogs. Another vital feature is weather sealing for durability when shooting in bad weather conditions.
5. Future Use
For interchangeable lenses, see the availability and cost of additional lenses. Compatibility with your camera and future content requirements is essential to stay flexible to adapt your vlogging gear as your creative needs evolve.
6. Your Budget
Determine and adhere to your budget while exploring camera options. While aspirational equipment exists, focus on the latest models within your budget. Alternatively, consider previous versions of cameras that offer similar capabilities at a lower price.
Part 4: Top 4K Vlogging Cameras for Content Creators
After learning about the factors that affect a vlogging 4K camera and its benefits, let us know about the top 10 4K camera models we found out for you.
1. OBSBOT Tail Air
The OBSBOT Tail Air is a revolutionary AI-powered PTZ camera designed to elevate your video recording and live streaming experience. With advanced AI capabilities, it offers features that enhance tracking, video quality, and control, making it an ideal tool for new vloggers and professionals.
Key Features:
Exceptional AI capabilities enable it to track humans, pets, and objects at an impressive speed of 120°/s.
Managing your OBSBOT Tail Air is effortless with intuitive gestures, simplifying video shooting.
It supports NDI|HX3 for high-quality, low-latency live streaming via Wi-Fi and Ethernet, enhancing connectivity options for your live-stream workflow.
Outstanding 4K video performance.
Low-light video quality with reduced noise, ensuring your footage remains clear and detailed even in challenging lighting conditions.
Challenges:
Price: $419
2. Vjianger 4k Digital Camera
Measuring a compact 532 inches, the lightweight and portable design of the Vijanger 4K Digital Camera makes it an excellent choice for amateurs, beginners, kids, teens, students, and the elderly. Though designed with simplicity in mind, it offers convenience and functionality. This camera is a thoughtful gift for family, friends, and leaders, perfect for festivals, sports events, weddings, parties, and meaningful life milestones. It's also an ideal graduation gift for capturing precious youth memories.
Key Features:
4K Ultra HD & 48MP video resolution.
Manual focus function.
Pause and record while charging.
Challenges:
Colors may not be accurate in some situations.
Price: $168.20
3. Sony ZV E10 4k
Experience a new dimension of content creation with the Sony ZV E10 4K, where intuitive operation, creative freedom, enhanced video capabilities, and exceptional audio quality redefine your storytelling possibilities.
Key Features:
Quick and intuitive operation.
Limitless creativity.
4k recording at up to 30p and full HD slow-motion at up to 120p.
A 3-capsule directional microphone.
Challenges:
The USB-C connection can only stream 720p to a PC.
Price: $699.99
4. Vetek 4k Digital Camera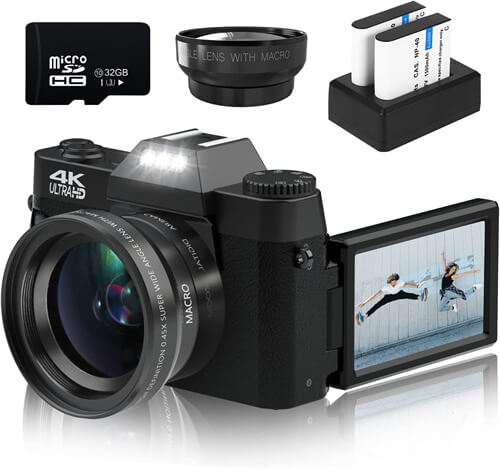 Unveiling an array of features that redefine photography and videography, the Vetek Digital Camera is a comprehensive choice for beginners and enthusiasts, presenting an array of functions that elevate your creative endeavors.
Key Features:
4K video capabilities and an impressive 48MP photo resolution.
Capture broader with the wide-angle lens.
Transform your 4K vlogging camera into a PC for video chats or live broadcasts by connecting it to your PC via USB.
Unique pause function that enables continuous recording in the same file, eliminating the need to start new files.
Tailored for entry-level users.
Challenges:
Given the camera's recording capabilities, a 32GB SD card is insufficient.
The built-in microphone quality remains subpar, so invest in a microphone for better audio recording quality.
Price: $139.99
5. Sony ZV-1 4k
The Sony ZV-1 4K is a small but powerful vlogging camera with unique features like the automatic exposure (AE) functionality that expertly tracks faces. It ensures consistent illumination, guaranteeing well-lit subjects even in varying lighting conditions.
Key Features:
The large aperture 24-70mm1 F1.8-2.8 ZEISS Vario-Sonnar T lens ensures impeccable image quality, setting the stage for your creative endeavors.
Achieve remarkable sound quality with the forward-directional on-board microphone and the detachable windscreen.
Optimizes color representation and skin-tone reproduction, producing captivating visuals with true-to-life color accuracy.
Enhanced autofocus.
Versatile LCD screen.
Bokeh modes and settings.
Challenges:
The move from outdoor to indoor environments reveals a notable drop in performance, showing its limitations in handling varying lighting conditions.
Price: $649.99
6. Monitech Digital Camera
Designed for entry-level users and perfect for beginners, the camera package includes camera x1, 32GB TF card x1, USB cable x1, rechargeable lithium-ion battery x2, manual x1, and charger x1. They commit to excellent service so your questions are promptly addressed, with free replacement and refund services available for three months.
Key Features:
Versatile Photography and Video Capabilities.
Precise Manual Focus.
Travel-Friendly Kit.
Seamless Connectivity.
Challenges:
It falls short for professional use due to subpar video quality, poor sound reproduction, and underwhelming overall performance.
Price: $109.80
7. Ossyl Camera
The Ossyl vlogging camera for YouTube serves as a webcam for live streaming for diverse content creation needs. Time-lapse, loop video, and slow-motion features enhance creative possibilities. Compact yet potent, it's an ideal travel companion, and we provide a 32GB TF card and an extra battery for uninterrupted shooting convenience.
Key Features:
High-Bit-Rate 4K Vlogging Experience.
Effortless Point and Shoot.
TruView Wide Angle & Macro Lenses.
Seamless Sharing and Video Editing.
Challenges:
The battery on this camera ran out in 3 hours.
The captured visuals were unimpressive among users.
Price: $139.99
8. Panasonic Lumix G100 4k Mirrorless Camera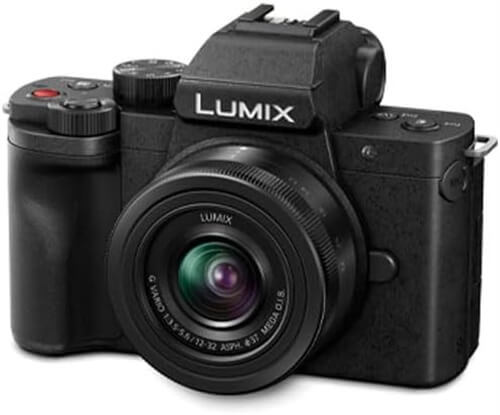 The Panasonic Lumix G100 4K mirrorless camera combines exceptional quality and creative flexibility in a lightweight design ready to accompany you throughout your journey. The G100 features a 3" Free-angle LCD touchscreen for vlogging. It provides real-time visibility of your captured content, enhanced by features like the selected Recording frame indicator and frame markers. These tools ensure precision and composition in both horizontal and vertical shots.
Key Features:
The camera's Video selfie mode auto-activates when you flip the screen to yourself for vlogging.
Immersive Audio Experience.
Advanced Stabilization.
Shoot in 4K or Full HD, with various frame rate options.
Challenges:
The digital zoom functionality only offers a 2x magnification, and the extended teleconverter zoom requires menu adjustments.
Price: $497.99
9. Canon Powershot G7x Mark iii Digital 4k Vlogging Camera
Another best 4K YouTube camera is the G7X Mark III from Canon. This 5-star rated vlogging camera is a must-watch for all content enthusiasts.
Although with a few limitations, you will experience high-class image and video quality for all recordings for beginners and professionals alike.
Key Features:
Exceptional 4K Video Quality.
Intuitive Touchscreen for Vlogging.
High-Resolution Photography.
Versatile Lens and Zoom.
Connect to networks effortlessly and live-stream.
Challenges:
The camera lacks a headphone or microphone jack, limiting the ability to monitor audio and achieve high-quality sound recordings.
Price: $929.00
10. Xiaomi 90fun Capture 1
The Xiaomi 90fun Capture1 camera's incredible capabilities will empower your vlogging and content creation endeavors. With a host of advanced features, this camera offers a new level of convenience and innovation.
Key Features:
Empowered by a robust chip, the Capture1 makes editing a breeze.
Experience smart tracking that locks onto subjects flawlessly.
Shoot in mesmerizing 4K/60fps ultra HD quality with a maximum bitrate of 100mbps.
Enjoy 5x digital zoom for a broader perspective, delivering crystal-clear videos and photos.
The 360° rotating camera eliminates blind spots, capturing all faces seamlessly.
Challenges:
The small size may not always result in wide-angle capturing.
It has battery heating issues, common in most small-size cameras and gimbals.
Price: $349.99
Part 4: Benefits of Using A 4K Vlogging Camera
The sequence of frames in a 4K video format is ideal for capturing moments like a bird taking flight or a baby's joyous smile. The continuous frames ensure that you never miss the perfect shot. 4K lets you reveal natural, unguarded moments that may go overlooked in traditional photography. But there's more to 4K camera vlogging.
Benefits of Vlogging in 4K
1. Enhanced Resolution
Shooting in 4K provides 3840×2160 imagery; the resolution is quadrupled compared to Full-HD. Even when exporting your project at a lower resolution (like 1080p), the surplus resolution from 4K enables flexibility in editing. You can crop shots, introduce subtle zoom effects, and retain quality, even in the final output at a lower resolution.
2. Color Grading
The heightened resolution of 4K produces more pixels representing colors in your scenes. This advantage translates into cleaner and more precise color grading, allowing for better color separation. Additionally, the increased pixel density makes cleaner green screen keys achievable.
3. Ample Pixel Data
Higher resolution means abundant pixel information. This abundance proves beneficial in post-production tasks like 3D tracking and stabilizing shots. 4K's pixel-rich data is handy for shots involving extensive visual effects (VFX), making it an ideal choice for intricate post-production work.
4. Online Compression
Online platforms automatically compress videos for faster streaming, and 4K videos fare exceptionally well after compression. Compared to smaller formats like 1080p, 4K videos maintain quality and detail even after compression. Platforms like YouTube employ tailored compression techniques for 4K videos, preserving more intricate details.
5. Stabilization Benefits
4K's additional pixel margin is advantageous when applying editing software for hand-shake correction. The extra 8 megapixels offer a cushion to prevent image degradation.
6.4K Photo Function
Many 4K vlogging cameras offer the 4K Photo Function that captures spontaneous high-resolution images by cropping designated frames from 4K videos. These moments can be extracted and printed as 8-megapixel-equivalent images
Conclusion
Thus, 4K camera vlogging isn't just about sharing moments; it's a tool for engaging with your audience, showcasing your life or work, and spreading your message. With the ability to capture attention through visual and auditory elements, vlogging has become a significant part of content marketing strategies. In a world where people prefer watching videos over reading text, the significance of a vlogging camera becomes clear.
So, pick the best 4K YouTube camera that suits you in terms of budget and features to start your day with the perfect video content for your subscribers.