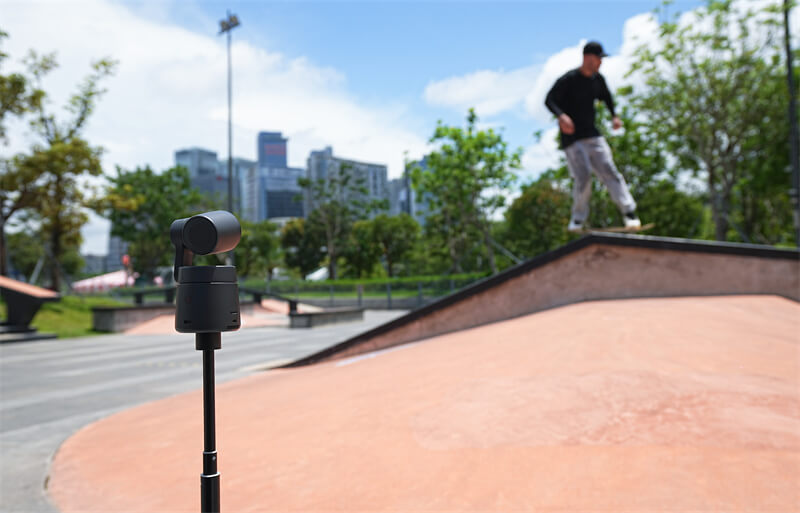 Are you an aspiring videographer or filmmaker looking to start your video production career with a low-cost, user-friendly camera? With so many specifications and features, selecting the correct camera might be overwhelming. As an independent filmmaker, I am aware of the difficulties. Thus, we've got you covered with our top 10 beginner video camera list.
This article will streamline the process, assisting those just starting or looking to boost their game with the best beginner camera for photography and videography.
Part 1: How Do I Choose a Video Camera?
Anyone who wants to get into filmmaking must first make a beginner camera for videography selection. The selection process might be intimidating, given the number of options on the market. Take into account the following significant criteria to make an informed choice:
1. Identify Your Need
Before anything else, decide your primary use for the camera. Are you preparing to record interviews, trip videos, sports footage, or other types of videography? The kind of camera you should think about will be greatly influenced by the use you have in mind.
2. Camera Types
There are several distinct types of video cameras, each of which caters to varied demands and levels of expertise:
Camcorders: These are easy to use and small, making them great for beginners. They are great for filming events, interviews, and family films and have built-in lenses and simple controls.
DSLR and Mirrorless Cameras: These adaptable models are preferred by filmmakers and videographers. They enable interchangeable lenses, giving you more artistic control over your photographs. DSLRs and mirrorless cameras have great image quality and work well with many different types of filming.
Action Cameras: If you enjoy documenting sports or adventure, action cameras like the GoPro are small, tough, and built to resist harsh environments. They are ideal for capturing fast-paced events.
Cinema cameras: These are more expensive and sophisticated options frequently utilized in professional filmmaking. They offer superb image quality, exact controls, and many customizing options. Consider them if you're serious about making films.
3. Resolution
The quality of the video is essential. Aim for at least 1080p (Full HD) resolution for high-quality videos. Many current cameras provide 4K (Ultra HD) or even 8K possibilities for more clarity and detail. Your budget and the planned usage of your footage will influence your decision. Note that greater resolutions could necessitate more processing power and storage space.
4. Budget
Set up a feasible budget before hitting the market. Knowing your budgetary limitations can help you narrow down your alternatives because video cameras come in a wide range of prices. There are affordable cameras with good video quality suited for amateurs and high-end devices that offer unique features.
So, for selecting the best beginner camera for photography and videography, you must carefully evaluate your requirements, financial constraints, and desired features. You'll be well on your way to producing stunning videos that reflect your creativity once you have a good starter camera for video.
Part 2: What is the Best Video Camera for Beginners?
Here is a list of the best video cameras for beginners. We advise you to look into our list in detail and research their reviews before purchasing any.
1. OBSBOT Me+Smartphone - Cheapest and Efficient Choice
OBSBOT Me ensures you never miss a beat with 120 minutes of continuous operation on a full battery. Whether you're vlogging, filming, or holding conference calls, its endurance will not fail you. OBSBOT Me, specializing in tracking, allows you to free up your hands and concentrate on your creativity in contrast to hand-held gimbals. You may use it with a powerful device like the iPhone 14 Pro or the newly launched iPhone 15 to create material that will soar to new heights. Every video created with OBSBOT Me is a work of creativity, every phone call is a business discussion, and every opportunity is a chance to shine.
Key Features:
It works seamlessly with top-tier smartphones like the iPhone 14 Pro and others.
Pocket-friendly and efficient.
It operates seamlessly with its built-in wide-angle camera and AI image processor.
No complicated Wi-Fi or Bluetooth connections are required; simply clip your phone in, and you're ready.
Its outstanding human tracking capabilities are one of its most distinctive characteristics.
It effortlessly keeps you in the spotlight and simplifies creating content.
Price: $129
2. Tail Air - Best Video Camera for Live Shows and Live Streaming
With advanced features such as 4K resolution, AI-powered tracking, and seamless connectivity, the Tail Air elevates the live streaming experience, ensuring each frame is a masterpiece. Whether it's concerts, events, or live broadcasts, this camera redefines visual storytelling, making every live moment unforgettable.
Key Features:
Amazing recording via 2μm pixel size, 4K UHD resolution, and iconic low-light shooting.
Track humans, animals, and objects accurately at high speed, encounter obstacles, long-range, and steady in low light with AI tracking.
OBSBOT Tail Air supports NDI|HX3, enabling superior quality, and low-latency live streaming, even in bandwidth-limited environments. This feature ensures high-quality, low-latency streaming, optimizing performance even under constrained network bandwidth.
The OBSBOT Tail Air provides exclusive software support during real-time video streaming and recording, with multiple connection options like NDI, WiFi, Micro-HDMI, and USB-C.
The Gesture Control 2.0 helps lock/unlock the target, zoom in/out, start/stop recording, and dynamic zoom in/out.
The accessories of Tail Air, like a smart remote controller, 360-degree rotation base, USB-C adapter, and ND filters provide additional support during recording.
Price: $329
3. Panasonic Lumix G100 - Beginner Video Camera for Photos and Videos
Its intelligent auto mode is for perfect shots and the manual modes are for honing your skills. The Micro Four Thirds system is compatible with all LUMIX lenses, making it ideal for any adventure. You can unleash your creative potential with the Panasonic LUMIX G100, an advanced and the best entry-level video camera with more features than your smartphone. The LUMIX G100 is your adaptable companion whether you're documenting memories, producing content, or participating in online communication. The LUMIX G100 was created for one-handed Recording, ensuring that your photography and videography endeavors are high-quality, simple, and practical.
Key Features:
Captures 4K 24p/30p video with advanced audio quality.
Seamlessly connect the G100 for crisp, bright, professional web calls, live streams, interviews, and media presentations.
Features frame markers for social media aspect ratios, facial recognition, blur-free dual image stabilization, and V-Log
Easily upload content to your smartphone.
Advanced 360-degree sound with tracking audio auto-adjusts to record crystal-clear sound.
The Lumix G100 is lightweight and thus user-friendly for quick videos and shots anywhere.
Price: $497.99
4. Nikon D3500 - Best DSLR Video Camera for Beginners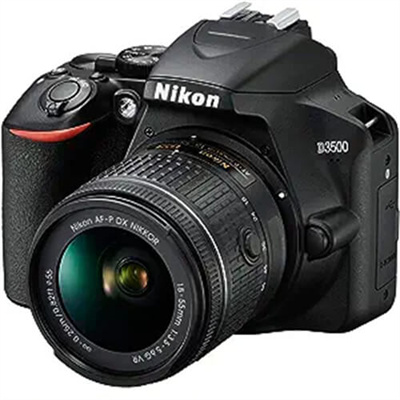 Nikon D3500 is a good beginner camera for video that goes beyond capturing moments; it preserves the emotions and stories that make them unforgettable. The D3500 doesn't let you miss a beat. It's fast, responsive, and incredibly user-friendly. No more fumbling with controls—just point, shoot, and share your fantastic photos effortlessly. Whether you're a photography novice or a seasoned pro, the D3500 welcomes all with open arms.
Key Features:
Its Auto Mode ensures remarkable results in various conditions.
It's fast, responsive, and incredibly user-friendly. No more fumbling with controls—just point, shoot, and share your fantastic photos effortlessly.
It fits perfectly in your hands. It's lightweight and balanced, even with telephoto lenses.
Nikon's SnapBridge app bridges the gap between your camera and your smartphone or tablet.
Larger image sensor, providing sharper, richer photos with intricate details.
Although expensive, the D3500 from Nikon makes an excellent buy for new videographers.
Price: $649.95
5. Insta360 X3 - Best Video Camera for Travel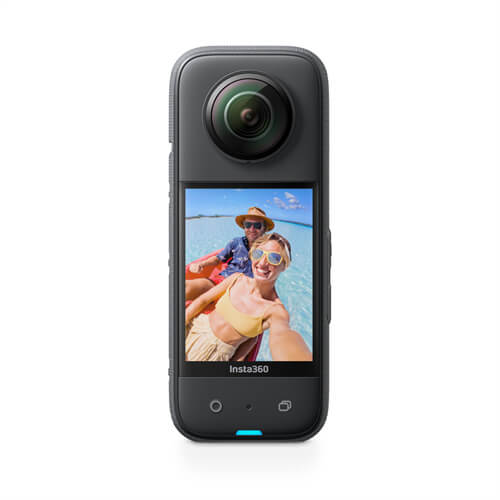 The Insta360 X3 is not just an action camera; it's a creative powerhouse that empowers you to capture moments like never before. With features like Me Mode and Invisible Selfie Stick, it's your ticket to redefining action cam excellence. The X3's advanced stabilization technology smooths your videos even on bumpy trails and turbulent waters. With many cutting-edge features, this beginner videography camera empowers your creativity and delivers unmatched performance.
Key Features:
Experience epic slow-motion videos in Me Mode at 60fp.
Capture impossible third-person perspectives and aerial angles, creating stunning visuals that rival a 360-action cam without requiring a drone.
360° Horizon Lock: Take action cam stabilization to the next level; no matter how extreme your adventures, your videos stay level with this innovative feature.
Create breath-taking 360° timelapse videos in stunning 8K quality.
Price: $516.99
6. GoPro Hero 11 - Best Video Camera for Sports
With the innovative action camera GoPro HERO11 Black, you can unleash your inner explorer and up your content creation game. You can produce cinematic masterpieces that will wow your audience using the GoPro HERO11 Black. This best starter camera for videography goes beyond simply recording memories.
Key Features:
It offers stunningly immersive footage and photographs.
Shoot in impressive 5.3K60 and 2.7K240 video resolutions.
Its built-in Horizon Lock feature guarantees level footage at all times.
Night Effects allows you to explore creative possibilities after dark.
Easy cloud upload and highlight videos
Built tough and waterproof up to 33ft, the HERO11 Black is ready to accompany you on any adventure, from underwater excursions to extreme sports.
Price: $349.99
7. Fujifilm X-T30 II - Best Mirrorless Starter Video Camera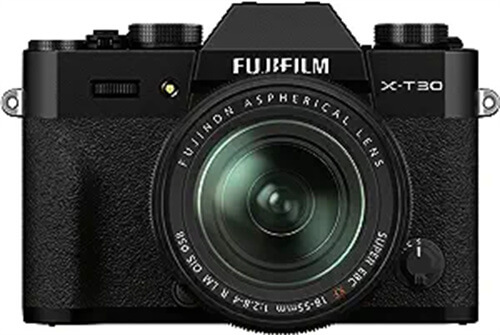 The Fujifilm X-T30 II is the best beginner camera for photography and videography, offering a rich array of features to elevate your creative pursuits. Its blend of advanced technology and user-friendly design empowers you to capture stunning visuals and high-quality videos effortlessly. The Fujifilm X-T30 II combines exceptional imaging capabilities with user-centric features, making it the perfect choice for photographers and videographers seeking versatility and top-notch performance.
Key Features:
Live adjustments on the EVF and LCD touchscreen make it easy to create and save presets.
Advanced autofocus with densely arranged phase detection pixels and lightning-fast algorithm.
High-resolution 4K footage oversampled shot from a 6K signal.
Supports DCI format for a cinematic look.
18 Film Simulations, including ETERNA/CINEMA, to infuse your footage with distinct looks.
Seamlessly connect your smartphone or tablet with the FUJIFILM Camera Remote App.
Price: $899
8. Sony ZV-1 -Best Entry Level Video Camera for Vlog
The Sony ZV-1 is your ultimate companion for crafting exceptional selfies and vlog content. Every aspect of its design focuses on empowering you to create inspirational videos effortlessly. The Sony ZV-1 is more than just a camera; it's a content creation tool that caters to your every need, ensuring that you can focus on what matters most—producing outstanding videos and captivating your audience.
Key Features:
The vari-angle LCD touchscreen is an excellent add-on to this best entry-level video camera.
Optimized grip for conventional shooting and stability for vlogging or selfies, reducing fatigue during extended shooting sessions.
Compatible with the Sony Bluetooth wireless shooting grip GP-VPT2BT, the ZV-1.
It allows cable-free control over Zoom, Recording, and more. It can also transform into a mini-tripod for hands-free stability.
Capture pro-quality images and videos, even in challenging conditions like night views from high-rise buildings.
Streamline your content-sharing process, making it quick and hassle-free.
Price: $648
9. Sony ZV-E10 – Best Budget Video Camera for YouTube
The Sony ZV-E10 is the ultimate companion for creative vloggers seeking an artistic edge. This interchangeable lens camera covers the technicalities, allowing you to focus on your content. The Sony ZV-E10 is your ticket to a vlogging experience that's hassle-free and elevates your content to a professional level. Whether you're a seasoned vlogger or just starting, this camera has everything you need to make your vlogs stand out.
Key Features:
Interchangeable lenses enable you to capture the perfect shot for every moment.
It has a high-resolution sensor.
Directional 3-capsule mic: delivering clear and directional sound.
With a large APS-C sensor, it's your ticket to professional-quality vlogs without the hassle.
A wide ISO range option for both photos and videos.
Capture more with approximately 440 shots on a single charge.
Price: $698
10. Canon Vixia HF G50 - Beginner Camcorder for Videography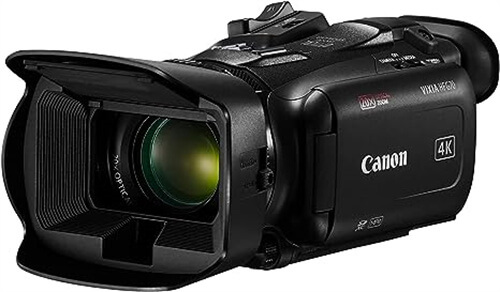 The Canon Vixia HF G50 is your best bet in capturing cinematic-quality videos effortlessly. Whether you are a seasoned pro or an aspiring filmmaker, this camcorder delivers the tools you need to bring your creative vision to life. Packed with cutting-edge technology and user-friendly features, this best camera for beginner videography helps capture stunning moments with unparalleled clarity.
Key Features:
4K UHD 30p Recording
Full HD image quality, ensuring your videos stand out.
Intelligent 5-axis image stabilization mode keeps your shots steady, even at long focal lengths.
8-bladed circular aperture for creating stunning background blur with circularly blurred points of light.
Price: $1599.99
Part 3: FAQs about Video Cameras for Beginners
Q1. What cameras are best for recording videos?
The best cameras for recording videos depend on your specific needs. For beginners, options like the Tail Air, Canon Vixia HF G50, Sony ZV-1, or Panasonic Lumix G100 offer excellent video quality and user-friendly features. Advanced users might prefer DSLRs or mirrorless cameras like the Fujifilm X-T30 II.
Q2. Should I buy an expensive camera as a beginner?
It's not necessary to buy an expensive camera as a beginner. There are affordable options with impressive video quality that cater to newcomers. Start with a camera that suits your budget and gradually upgrade as you gain experience and specific needs.
Q3. How much should you spend on a beginner camera?
The amount you should spend on a beginner camera depends on your budget and goals. The best entry-level video camera can cost anywhere from $200 to $800, offering good value for beginners. Consider factors like resolution, features, and the type of videography you plan to pursue when determining your budget.
Conclusion
Thus, if you are on your path to becoming a filmmaker, choosing the best starter video camera is an essential first step. Finding the ideal balance between your needs and desired qualities is key. There is a camera on our list for everyone, whether you enjoy vlogging, sports videos, trip documentaries, or working as a professional filmmaker. If you are looking for the best video camera for beginners on a budget, we suggest you use the Tail Air or the OBSBOT Me and use it with your existing smartphone.