Many affordable and best-budget cameras for videography are available, but that only sometimes means that they offer acceptable image quality, design, and performance.
Our goal is to assist you in finding a camera that matches your needs, whether you're an enthusiast looking to capture fantastic films or a blogger looking for something more than a smartphone.
We've chosen the top and cheapest video cameras for you to choose from in this guide.
Part 1: How Much is a Decent Video Camera?
A good, affordable video camera costs between $200 and $700. The table below states the cameras for 2023 which are compared based on their price, camera type, year of release, and key features.
| | | | | |
| --- | --- | --- | --- | --- |
| Camera Model | Camera Type | Release Year | Main Features | Price |
| Tail Air 4K | PTZ camera | 2023 | 4K AI streaming camera with auto tracking and auto zoom | $419 |
| GoPro Hero 10 Black | Action Camera | 2021 | 5.3K Video and Hyper Smooth 4.0 | $249.99 |
| DJI Pocket 2 | Pocket Vlogging camera | 2020 | 4K Video and 3-Axis Stabilization | $349 |
| Panasonic LUMIX G100 | Mirrorless Camera | 2020 | 4K Video and V-Log L Compatibility | $497.99 |
| Canon EOS M50 Mark II | Mirrorless Camera | 2020 | 4K Video and Dual Pixel CMOS AF | $599 |
| Sony Handycam HDR-CX405 | Camcorder | 2015 | Full HD Video and 30x Optical Zoom | $298 |
| Canon R50 | Camcorder | 2020 | 4K Video and Dual Pixel CMOS AF | $799 |
| Panasonic G85 | Mirrorless Camera | 2016 | 4K Video and 2. 5-Axis Dual IS | $597 |
Note: The prices can vary based on configurations and locations.
Part 2: Key Features for Best Cheap Video Cameras
1. 4K Resolution
It goes without saying that 4K video technology produces extraordinarily detailed, high-quality content. 4K offers more clarity, and resolution, along with editing options when it comes to post-production. Enjoy spectacular 4K images with a resolution of 3840 x 2160, which is four times higher than Full-HD. As a result, even on large-screen TVs, images appear realistic and clear rather than pixelated.
2. 60 Fps
Frame rate and visual quality must coexist in the games you like playing. At 60 frames per second, the action will be delightfully fluid, but a slower frame rate will produce excellent visuals. You have a choice, however, 45 fps is a reasonable standard if you want a constant balance. Some digital movies and videos are shot at 60 frames per second, which produces hyper-realistic-looking content when viewed at standard speed. Video that will be replayed in slow motion is captured at frame rates of 120 fps, 240 fps, and higher. High frame rates, including 60, 120, and 240, are used in slo-mo.
3. Auto Focus
Autofocus (AF) refers to a camera's capacity to focus on a target automatically. This feature is present in the vast majority of common digital cameras. The AF methods that are available to you will depend on the brand and type of your camera. Depending on the environment or subject you want to photograph, use a variety of techniques.
4. Low Light Preference
A camera's ability to capture images that are comprehensible even in low-light conditions by preserving fine details and minimizing noise in the final image is referred to as low-light performance. Low-light cameras may capture beautiful pictures even in extremely low light.
5. Microphone
Because a camera's built-in microphone is designed to pick up a variety of sounds, the sound quality is typically subpar. Additionally, the camera has a built-in microphone that can pick up other camera noises as well as the sound of the autofocus motor. This microphone is often situated close to the lens.
Part 3: Cheap Video Cameras Under $700
This budget videography camera - PTZ (Pan Tilt Zoom) has an internal 4K sensor and can record or live stream from any location. With a hand gesture, you can start creating new videos with OBSBOT because all their cameras include AI tracking. Its range in price is $499. Tail air camera is also known as the best budget cameras for video.
Its main key features are:
An advanced AI system is built into the OBSBOT Tail Air. Within the camera's area of vision, the tracker can monitor humans, animals, and projects. You can use OBSBOT AI Auto Tracking with any object that rotates 120 degrees per second.
Multi Connectivity Techniques
Tail Air supports Bluetooth, WIFI, HDMI, USB (2.0), and RTSP protocols to pass through to other devices. This is the best cheap camera for videography. You can use the integrated stereo microphones or connect a microphone to a standalone device.
Unlock exceptional streaming quality and versatility with the OBSBOT Tail Air's NDI function. Seamlessly integrate it into your setup for pristine video and audio transmission, perfect for content creators and live streamers seeking professional results. Elevate your production game effortlessly with this game-changing feature.
2. GoPro Hero 10 Black
The GoPro Hero 10 Black may now be the flagship model, but the GoPro Hero 11 Black may still offer greater value for the majority of users. If you don't require vertical video or 10-bit recording, this gives the majority of the same features for less money as the Hero 11 Black. It is a more streamlined, user-friendly version of its predecessor and features additional slow-mo frame rates, snappier menus, and minor image quality enhancements over the Hero 9 Black. As a result, it is a wonderfully fun, waterproof companion for outings and b-roll videos. But its competitors now come with bigger sensors and cheaper prices.
Advantages:
Quicker menus and interface
Excellent GP2 processor
Fun new 4K/120p mode
3. DJI Pocket 2
DJI Pocket 2- Even while the DJI Pocket 2 isn't ideal, it excels at being a little vlogging camera better than anything else on the market. The addition of a wireless microphone and other essential tools for video production in the more expensive Creator Combo bundle is great, and the larger sensor over its predecessor is also much appreciated. With object tracking, in particular, for vloggers moving and conversing around a space, it particularly shines. In the end, it's an excellent image tool that may easily integrate into a videographer's or vlogger's process.
Advantages:
The most portable
reliable camera available
The ideal creator package for bloggers
Excellent tracking function
4. Panasonic LUMIX G100
For studio video, the Panasonic G100 is adequate. Whether you're recording in FHD or 4K, it produces amazing video quality under more controlled lighting. However, in low light, the quality noticeably declines. Sadly, it does not have a headphone connector but includes a microphone jack and a micro-HDMI port.
Advantages:
Easy connection to PC
The microphone and audio quality performance are great
Compact, versatile, and high-quality photos
5. Canon EOS M50 Mark II
This is the best cheap camera for videography and makes a respectable travel camera. The included kit lens is quite convenient for travel and fits into most small camera bags. It generates images of outstanding quality and has a reliable autofocus system that can follow moving objects with reasonable accuracy.
Advantages:
Offers clear auto focus and precise composition
Auto lighting optimizer to even out images and modify contrast lighting
Full HD videos
6. Sony Handycam HDR-CX405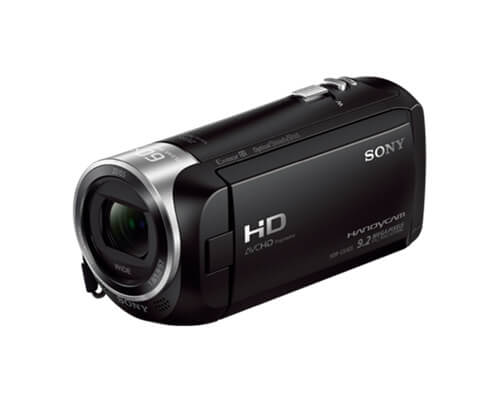 This is the best affordable camera for videography. The Sony HDRCX405 Handycam is a condensed version of the Sony CX330 that sacrifices a number of capabilities, such as Wi-Fi and NFC, for an incredibly low price. The LCD screen on this small camcorder can be turned around. It also comes with excellent picture stabilization, is very lightweight, and has good face detection because the 26.8mm wide angle lens is not fixed, it is encouraging to see a video camera in this price range achieve a reasonable 27x optical zoom. It also includes a 54x digital zoom in case that isn't enough.
Advantages:
Easy to use and easy to carry
Image stabilization and smooth zooming are a plus
The video and photo quality are awesome
7. Canon R50
The Canon R50 is a very portable camera. Its lightweight and small body makes it convenient to carry wherever you go. The Canon EOS M50 Mark II is comparable in size and weight, but it has a larger lens mount and a chunkier handgrip. Overall, for an interchangeable lens camera, it is still fairly portable.
Advantages:
Provides great shots even when the settings are difficult
Makes things fun for its lightweight and convenience
Detects and tracks subjects automatically
8. Panasonic G85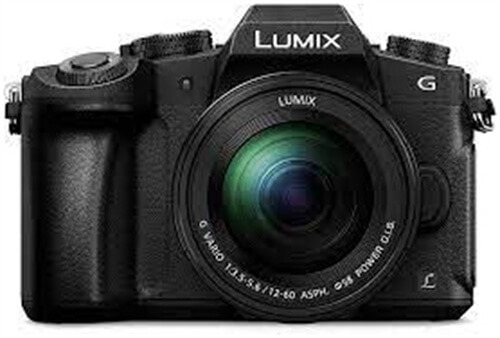 The latest DSLR-style mid-range mirrorless camera from Panasonic, the G85 delivers a wealth of high-end capabilities and draws heavily from the GH4 flagship model. The G85 has several noticeable improvements, particularly to the camera body and 4K footage, but keeps the same mid-range price as its predecessor. Both still photographers and videographers will appreciate the power of this feature-rich mirrorless camera. This is the best budget camera for videography.
Advantages:
Very good dynamic range and high ISO performance; lovely image quality
Excellent 4K video recording quality and features; quick and precise autofocus
Waterproof and dustproof
Conclusion
Here are our recommendations for the top videography cameras at various price points. In conclusion, finding an affordable yet capable video camera in 2023 is certainly achievable. Whether you're a budding filmmaker, vlogger, or simply looking to capture special moments in high-quality video, there's a budget-friendly camera on this list for you. Keep in mind that while these cameras may come at a lower price, they still offer impressive performance, ensuring that you can capture your creative vision without breaking the bank. So, go ahead and explore these options to kickstart your video-making journey without compromising on quality.