Online communication for audio-video meetings and seminars is made possible by software designed specifically for video conferencing. These video conferencing platforms include chat, screen sharing, and recording features, which facilitate communication over long distances or across international borders, improve teamwork, and cut travel expenses. Employees at any level within an organization can use software conferencing tools to host or attend virtual meetings with other employees, company partners, or customers, regardless of where the attendees are physically present. These virtual meetings can be with anyone, including other employees, company partners, or customers.
Virtual meeting platforms remove the need for in-person attendance in quick scrums and essential meetings, improving client relationships, ensuring open and consistent communication between teams, and adding convenience to daily schedules for all parties involved. This article explains the top free video conferencing app available in 2023. If you're working on it, that should help you.
The Best Video Conferencing Software for 2023
The most effective teleconferencing software makes it uncomplicated and uncomplicatedly easy to connect online with friends, family, and coworkers. Because of advancements in cloud computing, dependable video conferencing has become more easily accessible and reasonably priced, making it ideally suited to the needs of today's workplaces. During the current pandemic, this has taken on an even greater degree of significance.
1. Zoom
Zoom is a virtual conferencing software that is available for desktops and as an app for mobile devices. Its primary goals are to be very fast and straightforward to set up, and it provides a wide variety of features that can be scaled as needed. Not only does it offer video and audio in high definition, but, even though large-screen monitors are probably more appropriate for events with such a large number of attendees.
Along with the ability to save meetings locally or to the cloud, Zoom meeting software users can save searchable transcripts of the sessions. In addition, the software can allow participants to share their screens and collaborate to provide their notes when necessary.
Features:
It can support 1,000 participants at the same time and as many as 49 videos on a single screen.
Users also have the option to save searchable transcripts of the meetings.
It is available on different platforms.
It has a user-friendly interface.
There is a free offering tier available.
2. Google Meet
Google Meet meeting recording software was formerly known as Hangouts Meet and simply Google Hangouts. It is a service offered by Google that enables anyone to participate in enterprise-level video conferences. Because of it, you and your team can hold closed meetings whenever you like, and on any device you choose.
The quality of the video and audio transmissions in a video call is of the utmost importance. You don't have to worry about this when using Google Meet. The solution takes a different approach to solving the problem. It adjusts to your network speed so that you can have high-quality calls even if your internet connection is spotty, even though it does this automatically. Because the application uses AI techniques to lessen the impact of background noise during meetings, you won't need to wear headphones that cancel out noise.
Features:
It is safe to use and easy to set up.
This conferencing software has an AI noise-cancellation feature.
Integrating Google Workspace into the system.
Easily reached and uncomplicated.
Best price.
3. Microsoft Teams
Users of Microsoft Teams video collaboration tools can schedule audio or video meetings with a single participant or an entire team, all from within the same application. In addition, administrators can organize large meetings and webinars with up to 10,000 participants. Full integration with Microsoft 365 makes scheduling calls and distributing invites throughout the organization easy. Additionally, guests from outside the organization can join the call through their web browser rather than having to download the application.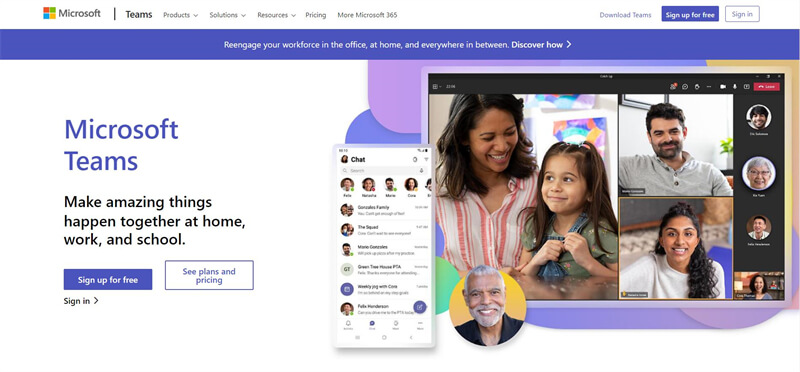 Features:
Extremely flexible and versatile.
Integrated to a high degree with the other Microsoft Office applications.
A multitude of possible combinations for integration.
Windows 11 and business accounts for Microsoft 365 come with it by default.
Allow for up to 10,000 attendees at your event.
Schedule invites.
Captioning in real-time.
Microsoft web conferencing software has a background blur feature.
4. Zoho Meeting
Zoho Meeting is a minimal-expense online conferencing software that is generally valuable if you've proactively gotten involved with the more prominent Zoho environment. It's better in certain areas but also needs video recording and high-level manufactured intelligence highlights.
Features:
It allows up to 25 simultaneous video feeds.
This video conferencing software supports virtual backgrounds.
It includes users' reactions.
It is affordable for large meetings.
It has an intuitive user interface.
5. GoToMeeting
Despite some characteristics and exclusions, GoToMeeting incorporates many devices that make it a helpful video conferencing application, especially if your organization currently puts resources into the GoTo ecosystem system.
It is a stand-alone video conferencing program known as GoToMeeting, which the company provides. As might be anticipated, it supports both audio and video conferencing in addition to screen-sharing. GoToMeeting is mobile-friendly, one of the points that set it apart from other large-brand software. This means that you can organize and begin a conference from your smartphone, which is something that other large-brand software would have difficulty doing. Besides, there are settings to improve the quality of calls and images. It also invites people to join meetings and chats with just the tap of a button.
Features:
It works on all platforms.
It has a useful smart assistant.
This free conferencing call app has unlimited cloud recording.
It allows for annotation during screen sharing.
It is mobile-friendly.
GoToMeeting has a good range of workable apps.
The VoIP is upgradeable.
6. BlueJeans
BlueJeans software for video calls does not provide a free tier of service but a free trial period of 30 days. There are three different pricing tiers, the lowest of which allows for up to 50 attendees who can connect from any computer, iOS, or Android device. Additionally, dial-in numbers are included in all meetings.
Some plans include additional features, such as extra recording hours, a room system, and calendar support. BlueJeans supports Dolby's voice and provides free phone audio in more than 40 countries worldwide. Users who are more concerned about the quality of the video they are watching as opposed to the number of features that come with the platform could benefit from this.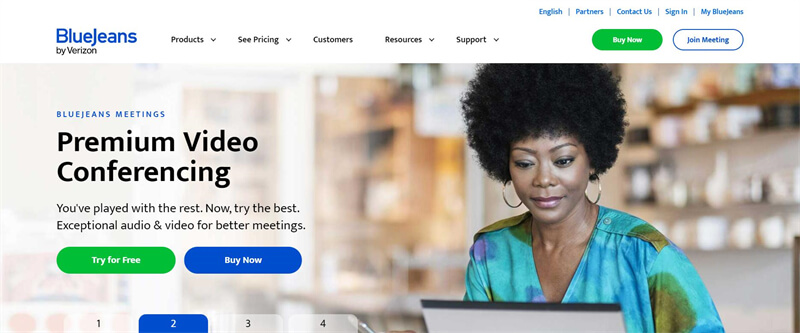 Features:
It is equipped with a directional audio system for Dolby.
It is equipped with sound-enabled rooms as well as hardware.
The M-Score tool provides statistics regarding the quality of meetings and feedback.
It is compatible with desktop, mobile, and browser-based platforms.
The transcription of the conference also includes break-out rooms.
There is a 30-day free trial.
The free video call service has extensive analytics on offer.
7. Skype
Because Skype is now practically a household name, there is a good chance that a lot of people will sign up for the service. This Microsoft's web conferencing tool is a little more than a way of keeping in touch with close friends and family. However, the cross-platform app also supports group video calling for as many as fifty individuals. You can also use Skype in a browser, which is convenient for chatting with people who do not have the app installed on their devices. All you need to do is invite them to join the conversation using their email address.
Features:
It allows for landline and mobile calls.
You can record your call.
It allows for collaboration tools.
It offers cross-platform support.
It supports a web browser.
It allows for live subtitles.
It is limited to 50 participants per meeting.
8. Cisco Webex
It is not surprising that customers have high expectations for Webex, conferencing application, given that Cisco is behind it. Fortunately, it lives up to those expectations. Although there are several plans for Webex to choose from, the free version should be sufficient for most use cases. You will also be able to take advantage of features such as screen sharing and private chat rooms and host high-definition video conferences with as many as one hundred participants.
When you sign up, you will obtain a unique URL that you can use to manage all of your meetings, schedule video conferences, and access recordings that you have created. You can also use this URL to share recordings with other users.
Features:
Enterprise-grade capabilities for all.
Adaptable solution.
Seamless switching.
Ready-to-go integrations.
Ready for the hybrid reality.
It includes 1 GB of cloud storage.
It allows up to 100 participants.
It allows for screen-sharing options.
9. Slack
Slack is the best free video conferencing app for other small business team members. People tend to think of Slack as a platform for chatting and text-based collaboration. However, it also includes a video calling feature that enables users who are logged in to the platform to call each other for video chats without the need for reservations or prior planning.
Many companies already have this video conference platform but are unaware because Slack is a popular collaboration tool for small businesses. The fundamental tools provided include screen sharing, audio, and video.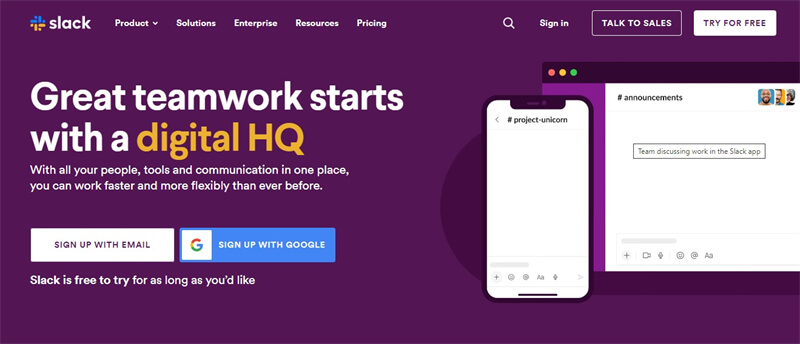 Features:
Launch calls with other team members in a flash from a platform they may already be using.
Video calling has been integrated very closely with broader.
Offers communication and collaboration tools.
The requirements of a good number of small business teams ought to be satisfied by the free tier.
Slack has several video-calling features.
10. Whereby
Whereby is a less-known and smaller piece of online meeting platforms for free. Due to its moderate cost, ease of use, ability to be customized, and valuable features for hosting meetings, it is an excellent choice for sole proprietors and other independent workers who frequently convene groups of clients or coworkers.
Whereby is the platform we recommend most highly to freelancers and sole proprietors because it enables users to organize meetings without requiring additional downloads. This makes it possible for anyone to join those meetings by clicking on their link. Participants are not required to register or download anything extra to take part.
Features:
It is easy to use.
It does not require login to use.
Launch meetings and invite attendees without requiring them to download anything.
Get your link that is simple to remember for every meeting that you host.
Plans that require payment are obligatory for groups with more than 100 participants.
How to Find Your Ideal Video Conferencing Software
It is possible for virtual meeting software to completely do away with the need for in-person meetings, which would result in a significant increase in convenience for both professionals and customers, as well as in the maintenance of consistent communication and the development of customer relationships. Given all of these undeniable advantages of web conferencing tools, you should replace the question of whether or not you should adopt video conferencing technologies with one about how you should do so.
In this part, we have a list of considerations to consider when selecting the best online meeting platforms to ensure that they will fulfill your company's specific objectives and requirements. Let's dive deep into each.
Features
In today's fast-paced digital environment, the ability to load up a video conference with just one click is an excellent feature. There are situations where you will require more than just a connection that takes place in person. In addition to the high image and audio quality, it is essential to investigate the video conferencing provider you use to determine whether or not they offer any additional features that can increase both productivity and efficiency.
Advanced Capabilities
When it comes to your conferencing applications, do you have access to virtual assistants? If so, how committed is your service provider to experimenting with the newest tools available on the market? Is it possible to integrate AI into your video conferencing experience so that the camera immediately recognizes you when you walk into a huddle room and sets itself up according to your preferences? Can you have faith that a virtual assistant will accurately transcribe your conversation or record the various aspects of a meeting for you so that you can look back on it later and find information that could be useful?
Video Quality
The video quality produced in our various conferencing environments continuously improves. We have already seen the introduction of 4K video conferencing and new endpoints that deliver more detailed pictures to everyday users developed daily. If all of that weren't enough, the emergence of 5G as a new connectivity standard means that we could also look forward to more aesthetically pleasing meetings conducted on mobile devices.
So, these are the ideal features that you should look for in video conferencing software. In the next section, we shall reveal the perfect video call equipment. Yes, it will be your go-to video conferencing tool.
Don't Forget the Video Conferencing Equipment
With its advanced AI auto-tracking and auto-framing capabilities in 4K resolution, OBSBOT Tiny 2 is the most powerful 4K PTZ webcam available with the above video conferencing software. It will be your best option if you perform a lot of video work online, such as video calls, live streaming, vlogging, or other similar activities.
Shoot with the Resolution 4K 30 fps and 1080p& 60 fps
AI auto-tracking and Auto-framing
Gesture Control
Voice Control
Omnidirectional Microphones with Noise Reduction
Conclusion
When deciding which of the top video conferencing tools to use, the first thing you should do is think about the needs that you have. For instance, a person who wants to talk to a few people casually might discover that a free option is the most cost-effective and provides all the necessary fundamental tools required.
On the other hand, if you intend to use free video conferencing for professional or business purposes, particularly with a large number of people and consistently, then you will most likely want to look into the higher-end options available. Moreover, you can use the OBSBOT Tiny 2 webcam for the best video conferencing software you choose.