Live streaming has become immensely popular in the gaming industry in recent years. As a well-known interactive live-streaming platform, Twitch attracted 140 million unique monthly active visitors in 2022. Everyone can participate in it. If you want to try your luck on Twitch, a good camera/webcam is essential.
Whether you're just beginning your streaming career or looking to refresh your equipment, the webcam you choose will significantly impact the viewing experience and, ultimately, your number of followers and subscribers. If you're considering buying a new camera, here's a list of the best cameras/webcams for Twitch for your reference.
Top 8 Best Twitch Streaming Webcams
If you prefer to find a webcam to stream, below are 8 top webcams you should try.
1. OBSBOT Tiny 2:
New Era of Webcam for Twitch Streaming
OBSBOT Tiny 2 is a new upgraded streaming webcam that offers 4K 30 fps & 1080p 60 fps resolution, it adds an ultra-large 1/1.5'' CMOS so you can provide clearer and more vivid videos to your viewers. Also, it adds a beauty mode that automatically smoothes your skin and brightens your eyes, so you don't need to put on makeup over and over again, just use Tiny 2 with one click. In addition to video, your voice will also be noticed, the dual omnidirectional microphones will help reduce noise and your every word will be heard clearly.
Features of OBSBOT Tiny 2:
Resolution: Up to 4K Ultra HD at 30 fps and 1080p Full HD at 60 fps

Ultra large 1/1.5'' CMOS in webcam and dual native ISO

Dynamic Gesture Control

Voice Control

Dual omni-directional microphone with noise reduction

4x Faster Focusing

AI Tracking with Auto Zoom

PixGain HDR
2. Razer Kiyo Pro
Razer Kiyo Pro is a streaming webcam designed for streamers and content creators. It features a high-resolution camera, a high-performance adaptive light sensor, and advanced video processing technology to enhance image quality and color accuracy. Though it might not be the best-budget webcam for Twitch, its superior low-light performance will show you in the best light even in darker environments.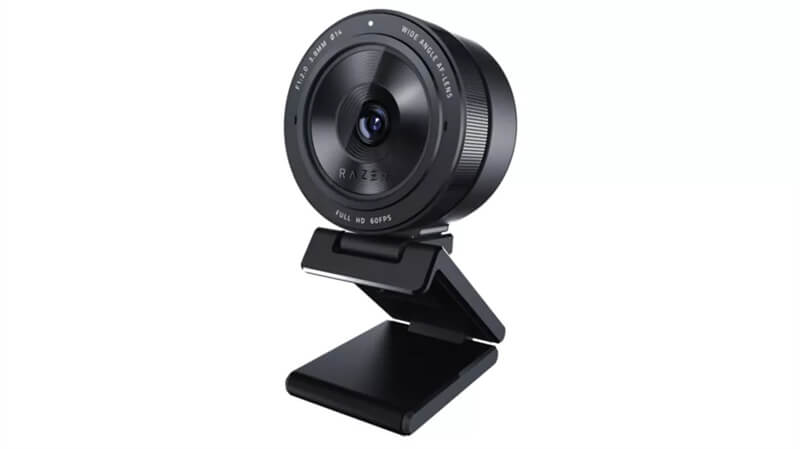 Features of Razer Kiyo Pro:
Resolution: Up to 1080p at 60 fps
Focus: Autofocus
High-performance adaptive light sensor
Wide-angle lens with three FOV options
HDR-enabled
Built-in Omni-directional mic
Streamlabs is certified and works with popular platforms like OBS, XSplit, Twitch, etc.
3. Logitech C922 Pro
When seeing the C922 Pro model, it becomes evident why. Streaming is available in 1080p at 30 frames per second and 720p at 60 frames per second. The camera has two microphones for stereo recording, performs well in low light, and comes with an adjustable Logitech stand. However, the C922 Pro is not a faultless Twitch streaming camera. There is no privacy shutter to cover the lens physically. The background removal function needs third-party software, so utilizing a green screen is preferable.
Features of Logitech C922 Pro:
Resolution: Up to 1080p at 30 fps
Focus: Autofocus
Built-in dual stereo mics
1.2x digital zoom
Tripod-ready universal mounting clip
4. Logitech StreamCam
Streamers are the primary users of the Logitech StreamCam. It features excellent video quality with 1080p streaming and 60 frames per second. In addition, there is a well-functioning face-tracking functionality and outstanding low-light performance with intelligent exposure. This camera is competent in every way, including the ability to convert between portrait and landscape settings by just rotating it. It is not the cheapest camera available, but its focus on live streaming justifies its price. StreamCam is among the best streaming webcams for Twitch, YouTube, Facebook, and other streaming sites.
Features of Logitech StreamCam:
Resolution: Up to 1080p at 60 fps
Focus: Autofocus
Built-in dual Omni-directional mics with noise reduction
Auto-framing and intelligent exposure
5. Logitech Brio 4K
Logitech Brio 4K is the ideal camera for streaming in ultra-HD definition and for your business video conferencing requirements. As one of the best cameras to stream on Twitch, it is capable of recording videos in 4K resolution, which provides a sharp and detailed image. Additionally, the camera features RightLight 3 technology, which helps to improve the appearance of images taken in low-light conditions.
Features of Logitech Brio 4K:
Resolution: Up to 4K at 30 fps
Focus: Autofocus
5x digital zoom
RightLight 3 and high dynamic range (HDR)
Three FOV options
Built-in dual Omni-directional mics with noise-canceling capability
6. Elgato Facecam
Elgato Facecam is also one of the best webcams for streaming on Twitch. Its design makes it a niche purchase for content creators. This Twitch streaming webcam offers 1080p resolution at a smooth 60 fps, though there is no microphone. The 82-degree field of view allows you to show more of your surroundings, which is useful for streamers who want to include their gaming setup in their videos.
Features of Elgato Facecam:
Resolution: Up to 1080p at 60 fps
Optimized fixed focus
4x digital zoom
Fantastic DSLR-like software controls
7. Microsoft LifeCam Studio
Microsoft LifeCam Studio is an inexpensive webcam built for business conferences and presentations. Consequently, it is not the most attractive option accessible, but a good option for novice streamers. It was pretty disturbing since it resembled a CCTV camera from a dystopian nightmare. However, this good camera for Twitch streaming offers 1080p recording, 720p video calling, and a wideband microphone for pristine audio. Not bad for a low-cost camera.
Features of Microsoft LifeCam Studio:
Resolution: Up to 720p at 30 fps for streaming
Built-in wideband microphone
360-degree rotation for an all-around view
TrueColor technology with auto face tracking
8. Dell UltraSharp WB7022
The Dell UltraSharp WB7022 is another professional-grade 4K UHD webcam designed for live streaming on Twitch, video conferencing, and video recording. It features AI-powered auto framing and HDR in addition to 4K streaming. An adjustable field of view can go up to 90 degrees, allowing you to capture as much as you want.
Features of Dell UltraSharp WB7022:
Resolution: Up to 4K at 30 fps and 1080p at 60 fps
Focus: Autofocus
5x digital zoom
Three FOV options
AI Auto-framing
HDR-enabled
Facial Detection Auto Exposure (FDAE)
Tips & Tricks for Live Streaming on Twitch
Over the last several months, many people have approached us for advice on creating a live-streaming channel on Twitch. Therefore, here are some essential tips and tricks for Twitch streaming for your information.
Plan ahead: Before you start streaming, make sure you have a clear idea of what you're going to stream, what games or activities you're going to play, and how long you plan to stream.
Optimize your settings: Make sure your streaming software is set up correctly and that your webcam, microphone, and other equipment are working properly.
Invest in good equipment: A good webcam and microphone will help improve the overall quality of your stream.
Interact with your audience: Engage with your viewers by responding to comments and questions in the chat.
Promote your stream: Share your stream on social media, forums, and other online communities to attract more viewers.
Create a schedule: Consistency is key to building an audience. Set a schedule and stick to it, so that your viewers know when to tune in.
Be yourself: Be true to yourself and be confident in front of the camera. This will help to build a strong connection with your audience.
Use overlays and alerts: Make your stream more visually appealing by adding overlays and alerts, like new followers or subscribers.
Use background music: Background music can help set the tone and mood for your stream, but be sure to use music that is copyright-free.
Have fun: Streaming should be fun, so don't put too much pressure on yourself. Remember to enjoy the process and your audience will too.
Conclusion
In conclusion, there are many options available for webcams to use on Twitch. The OBSBOT Tiny 2, OBSBOT Tiny 4K, Razer Kiyo Pro, and Logitech StreamCam are all popular choices among Twitch streamers due to their high-quality video and ease of use. Ultimately, the best webcam for you will depend on your specific needs and budget. It's recommended to read reviews, compare specs, and also check compatibility with your current setup before making a decision.