Live streaming has become immensely popular in the gaming industry in recent years. As a well-known interactive live streaming platform, Twitch has attracted 140 million unique monthly active visitors in 2022. Everyone can participate in it. If you want to try your luck on Twitch, a good camera/webcam is essential.
Whether you're just beginning your streaming career or looking to refresh your equipment, the webcam you choose will significantly impact the viewing experience and, ultimately, your number of followers and subscribers. If you're considering buying a new camera, here's a list of the best cameras/webcams for Twitch for your reference.
The Top 8 Best Twitch Streaming Webcams/Cameras
1. OBSBOT Tiny 4K: The Best Overall Webcam for Twitch Streaming
OBSBOT Tiny 4K is a market-leading camera and a convincing alternative to the popular Logitech Brio in addition to matching the top brand's 4K resolution, provides AI-guided motors that can pan and tilt the camera lens to frame your face, it uses the camera sensor to its fullest potential. It includes a 160-degree horizontal range and a 90-degree vertical angle adjustment. It has an exceptional dynamic range. It incorporates face-tracking functionality into the hardware and is compatible with gesture controls; it does not require software installation. It is the best webcam for Twitch streaming on the market.
Features of OBSCOT Tiny 4K:
It is suitable for capturing audio of high quality.
Support streaming as with other 4K webcams.
It has an exceptional 4K Ultra HD resolution.
This Twitch streaming webcam includes HDR and sophisticated AI motion tracking.
It has auto-focus and auto-framing capabilities.
It has adjustable settings for diverse scenarios and sleep modes for discretion.
2. Logitech C920
Most Twitch broadcasters believe the Logitech C920 to be the most fantastic all-around camera for broadcasting. It is inexpensive, very dependable, and provides the finest picture quality in its price range. Even if the C920 lacks a handful of the C922's extras, you can still be confident that you're receiving an excellent camera. It performs well on all fundamental criteria and has outstanding 1080p video quality as a Twitch webcam.
Features of Logitech C920:
Resolution: 1080p/30 fps - 720p/30 fps.
1.2x digital zoom.
C920 Twitch streaming webcam has an HD auto light correction.
3. Razer Kiyo Pro
The Razer Kiyo Pro's most apparent selling feature is the light ring. The Kiyo is a streaming camera that is thorough and thorough, comparable in many respects to the Logitech C922. It also supports 720p and 1080p streaming at 30 and 60 frames per second. The fact that the Kiyo has an adjustable light that may be sufficiently bright to make a difference while streaming is a significant advantage. Nonetheless, this best-budget webcam for Twitch is on the pricier end of the spectrum for what it is, and there have been complaints of compatibility concerns with OBS Studio.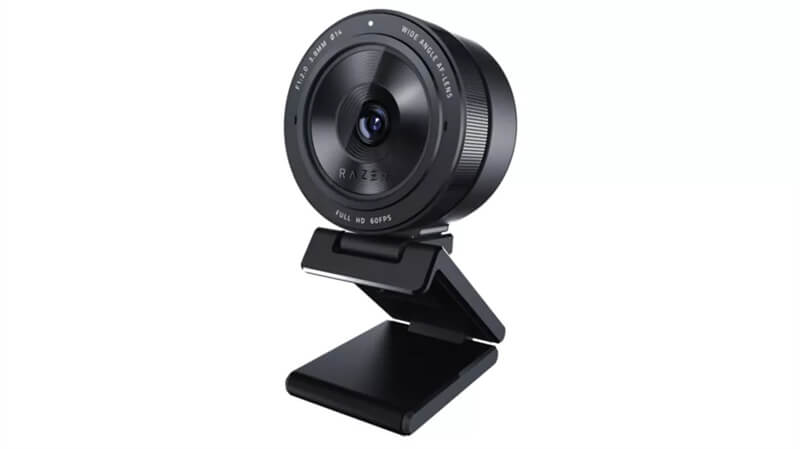 Features of Razer Kiyo Pro:
You get 1080p at 60 fps; 1080p at 30 fps with HDR.
Focus: autofocus
Omnidirectional mic built-in
Type of connection: USB 2.0
4. Logitech C922
When seeing their C922 Stream model, it becomes evident why. Streaming is available in 1080p at 30 frames per second and 720p at 60 frames per second. The camera has two microphones for stereo recording, performs well in low light, and comes with an adjustable Logitech stand. However, the C922 is not a faultless Twitch streaming camera. There is no privacy shutter to cover the lens physically. The background-removal function needs third-party software, so utilizing a green screen is preferable.
Features of Logitech C922:
1080p at 30fps; 720p at 60fps.
Focus: autofocus
Built-in mic: Dual omnidirectional
USB A connection type
5. Logitech StreamCam
Streamers are the primary users of the Logitech StreamCam. It features excellent video quality with 1080p streaming and 60 frames per second. In addition, there is a well-functioning face-tracking functionality and outstanding low-light performance with intelligent exposure. This camera is competent in every way, including the ability to convert between portrait and landscape settings by just rotating it. It is not the cheapest camera available, but its focus on live streaming justifies its price. StreamCam is among the best streaming webcams for Twitch, YouTube, Facebook, and other streaming sites.
Features of Logitech StreamCam:
Maximum resolution: 1080p/60 fps.
Focus: autofocus
Twin omnidirectional mics; stereo or dual mono channels.
Type-C USB 3.1 Gen 1 connection
6. Logitech Brio 4K
Logitech Brio 4K is the ideal camera for streaming in ultra-HD definition on Twitch and for your business video conferencing requirements. In addition, it is excellently designed for professionals and businesses who need the best camera to stream on Twitch. The visual quality is better than that of standard laptops and even business systems. Other notable features include three fields of vision and omnidirectional microphones with noise-canceling technology.
Features of Logitech Brio 4K:
It has a large dynamic range (HDR).
It has integrated optical and infrared sensors.
Brio 4K is compatible with Windows.
It has three predefined viewing areas (FOV).
7. Elgato Facecam
Elgato Facecam is also one of the best webcams for streaming on Twitch. Its design choices make it a niche purchase for content creators. This is our top recommendation if you need a camera for streaming or YouTube videos. Although those in the market for a camera may see the absence of a microphone and focusing skills as a subpar device, such capabilities are often more trouble than they're worth for people who broadcast on Twitch or YouTube.
Features of Elgato Facecam:
It has a varying FOD.
This Twitch streaming webcam has a fixed focal point.
It employs a Sony sensor.
8. Microsoft LifeCam Studio
Microsoft LifeCam Studio is an inexpensive webcam built for business conferences and presentations. Consequently, it is not the most attractive option accessible. It was pretty disturbing since it resembled a CCTV camera from a dystopian nightmare. However, this good camera for Twitch streaming is designed not for aesthetics but for business and professional conversations. It has 1080p recording, 720p video calling, and a wideband microphone for pristine audio. Not bad for a low-cost camera.
Features of Microsoft LifeCam Studio:
A modification is made to the color.
It includes a high-quality microphone.
You can use it with Skype.
Tips & Tricks for Live Streaming on Twitch
Over the last several months, people have approached me for advice on creating a live streaming channel. Therefore, here are some essential tips and tricks for Twitch streaming webcams.
Use a good microphone. The discussion, not the gaming, draws viewers to live broadcasts. Ensure that you do not sound as if you are in a wind tunnel next to a building site. Your microphone doesn't have to be extraordinary; make sure it doesn't have a lot of static and that your voice is audible. Additionally, utilize earbuds or a headset to prevent feedback from speakers.
Maintain a dependable internet connection. Your Internet connection does not need to be lightning-fast, but it must be enough. Ensure your Internet connection is speedy enough to stream your video at 720p or higher.
Get a good webcam. The purpose of live streaming is for the streamer to engage with their audience, and your audience enjoys seeing your face. Streamers using cameras tend to do better than those without. Similar to your microphone and internet connection, your webcam must be adequate. Ensure that the device can record at least 720p and that the recorded content appears fine.
Keep updating the viewer list and say "Hello (insert name here), welcome to the stream" whenever a new user joins. Be kind, answer viewers' inquiries, and pose questions to them. Communicate with them like you would with a person in person. If someone is doing anything that irritates you, mute them and stop the interaction quickly.
Talk when you are streaming. Before you begin broadcasting, initiate a Skype call with a buddy since no one will be seeing your stream for a short moment. If someone enters your stream and no one speaks, they will quickly depart. People are far more likely to hang out in your streams when conversing with someone.
Be consistent. I'm not the greatest at this, but I attempt to arrange a stream. People are more likely to see your stream if you schedule it at a particular time rather than broadcasting whenever.
Be persistent. Streams may be either good or bad, and not all streams will be enjoyable. Someone might join your broadcast and begin to harass you or other viewers. Several issues might arise while streaming. To launch a successful channel, you must persevere despite setbacks.
Conclusion
In short, particular webcams may have driving features you do not need, but others will have functions that you consider essential. If your best camera for Twitch streams Reddit to various websites, you will need to take into account the prerequisites and constraints of each of the platforms that you make use of.
Hence, take your time, browse around at other options, and check to see that the good cheap webcam for Twitch always has the highest possible picture and sound quality.