"Is there a 60 fps webcam?"
Of course. However, a webcam of 60 fps does not always capture 60 fps, and frame rates often linked to the camera's resolution define the video's clarity. For example, a camera may be capable of shooting 60 fps at 720p but only 30 fps at a full 1080p. Depending on the hardware, it may offload computation to the computer's video card or main CPU. Computers that cannot handle high-frame-rate, high-resolution camera input signals cannot output clean streams or video files.
The fewer frames in a shot, the cheaper it is to add and transmit visual effects. More fps imply more details, making the scene seem artificial. That is why most filmmakers choose 24 or 30 fps. On the other hand, a webcam with full HD 1080p 60 fps enables you to catch more action and slow down the photos. Shooting at 60 fps is frequently advantageous in quick-motion projects. It might be in an automobile or fast-food advertisement.
1080p 30 fps Webcams Vs. 1080p 60 fps Webcams
The noticeable difference between 1080p 30 fps and 1080p 60 fps webcam is the double number of frames in a 60 fps video. Regarding framerate, more frames aren't always the natural decision for filmmakers. There is no definitive response to which is superior. It all depends on your position and the subject matter. Choose 60 fps if you want quick action and slow-motion photos. If not, go with 30 fps. If you're mostly generating videos for social media, filming at 60 fps is generally pointless since everything will broadcast at 30 fps.
1080p 30 fps Webcams
While 30 fps webcams are quicker than 24 fps, the difference isn't discernible with the blind eye. The additional information captured by 30 fps might make movie sequences seem more unrealistic, which is why it is not the norm.
However, 30 fps have grown increasingly popular in the digital era and are the standard frame rate for many visual mediums. It is mostly utilized in North American and Japanese television broadcasts. It is also the default FPS in many video games, particularly console games. 30 fps are also the norm for most internet video services, and movies are converted to 30 fps to suit this.
Fortunately, the difference is minor, but it is one of the reasons why films in theatres and streaming services seem somewhat different.
1080p 60 fps Webcams
For live TV and, particularly, live sports, 60 fps are the recommended framerate. There is no need for editing with live television. However, there is often a need to slow down the film, a technique widely employed in live sports.
The slowed-down film seems sharper and crisper, doubling the frames of 30 fps. It gives viewers at home a great view of the incident. Slow-motion highlights would stutter and appear jagged if live sports got captured at 30 fps.
However, there are limitations to how slow you can make the movie, and in circumstances when ultra-slow motion is required, you would have to shoot it at 120 or even 240 fps.
60 fps webcam is a standard framerate for current computer games and is favored by computer players worldwide. While higher frame rates often result in less light gathered in the frame on a video camera, video games are built with enough lighting since everything is on a computer. That is why 60 fps video games seem and feel better than 30 fps comparable settings.
The Best 1080p 60 fps Webcams for Streaming
This section provides the best 1080p 60 fps webcams to choose from for your streaming needs.
1. OBSBOT Tiny 2
OBSBOT Tiny 2 is a great webcam for streaming. It offers a 4K 30fps & 1080p 60 fps resolution and about 90-degree field of view, which is ideal for capturing the streamer and their surroundings. Additionally, it has AI-powered features such as auto-framing and gesture control, which can make streaming more seamless and intuitive. The OBSBOT Tiny 2 also has a built-in microphone and is compatible with popular streaming platforms such as Twitch and YouTube.
Features of OBSBOT Tiny 2:
Dynamic Gesture Control

Ultra Large 1/1.5'' CMOS in Webcam

Voice Control

4K 30 fps & 1080p 60 fps resolution

Auto tracking with auto zoom

Premium Microphone

4x Faster Focusing

Beauty Mode
2. OBSBOT Meet Series
The OBSBOT Meet series webcams are the world's first 1080p 60 fps webcams with built-in virtual background artificial intelligence features. You'll be able to change, replace or blur the background of your video conversations.
Features of OBSBOT Meet Series:
Resolution: Up to 4K@30 fps & 1080p@60 fps
AI Auto-framing
Focus: Autofocus
Virtual Background features
Outstanding HDR effect
Built-in dual Omni-directional microphones with noise reduction
2x/4x digital zoom

Dedicated app

With privacy cover
Easy to set up
3. NexiGo N660P
The NexiGo N660P is also a 1080p 60 fps webcam with autofocus. It is high-quality with 1920 x 1080p, and the built-in stereo microphone includes an omnidirectional microphone that filters out background noise. This cheap 60 fps webcam has a privacy shutter, thus preserving your privacy and security. The 6.5ft USB chord is plenty for any work. Plug it in, and you're ready to go! The NexiGo webcam works with a variety of operating systems.
Features of NexiGo N660P:
Resolution: Up to 1080p@60 fps
Focus: Autofocus
Built-in noise-reduction microphone
With privacy cover
4. NexiGo N980P
Instead of the more common 30 fps, this fixed-focus 1080p camera records frames at a smooth 60 fps. Consequently, with this webcam at 60 fps, you'll seem softer and more alive. The camera also takes a 120-degree angle, which isn't ideal for a home user but may be helpful in a living room or conference room. This camera has received excellent reviews on Amazon, with users appreciating its color balance but criticizing its inability to adjust appropriately.
Features of NexiGo N980P:
Resolution: Up to 1080p@60 fps
120° wide view
Focus: Manual focus
Low light correction
Built-in stereo microphones
5. Razer Kiyo Pro
The Razer Kiyo Pro is another cheap 60 fps webcam option with an adaptive light sensor. It features a 1080p resolution and a high-quality microphone with noise-reduction technology. The original Kiyo's front-facing ring light has been removed and replaced with a more ridged plastic cover, which now serves as protection for the comparatively small lens.
Features of Razer Kiyo Pro:
Resolution: Up to 1080p@60 fps
Adaptive light sensor
Superior low-light performance
HDR-enabled
Wide-angle lens with adjustable FOV
6. Logitech StreamCam
The Logitech StreamCam was specifically for streamers. The streaming webcam of 1080p 60 fps boasts a high video quality of 1080p and a frame rate of 60 frames per second. There's also a good face-tracking function and excellent low-light performance with smart exposure. This Logitech StreamCam 1080p 60 fps camera is clever in every way, including the ability to flip between portrait and landscape orientations by just tilting the webcam. It's not the most affordable camera on the market, but its concentration on live streaming makes it money well spent. The StreamCam is one of the finest cameras for streaming sites such as Twitch, YouTube, Facebook, and others.
Features of Logitech StreamCam:
Resolution: Up to 1080p@60 fps
Focus: Autofocus
Face-tracking technology
Built-in stereo microphone
Excellent low-light performance
7. Logitech Brio 4K
This Logitech 1080p 60 fps webcam provides full-quality streaming, recording, and video calling. A maximum of 30 fps is available for 4K streaming. However, if you are ready to reduce to 1080p, you can stream at 60 frames per second, which is impressive. With the dual microphone and a 90-degree field of vision, you have a high-quality camera for your extremely high-quality broadcasts. The Brio 4K is so fantastic that there isn't anything to complain about. It costs more than a standard 1080p webcam, but that's expected, given that it's a streaming beast.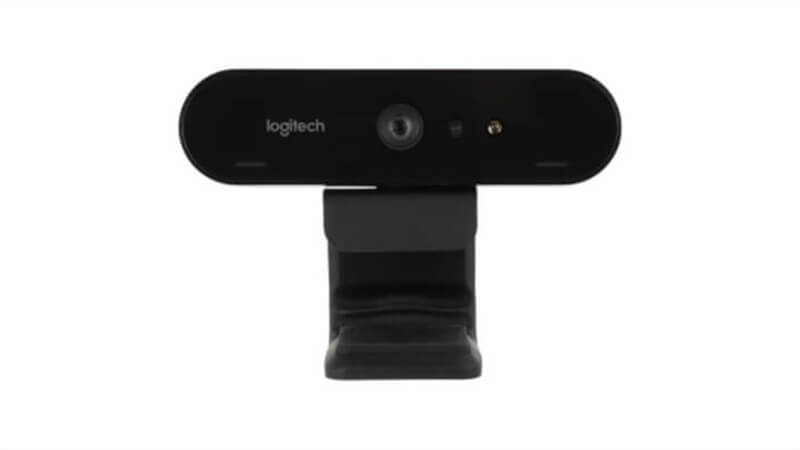 Feature of Logitech Brio 4K:
Resolution: Up to 4K@30 fps & 1080p@60 fps
Focus: Autofocus
Built-in dual Omni-directional microphones
RightLight 3 + HDR
8. Elgato Facecam
The Elgato Facecam is a more specialized option for live broadcasters and YouTubers. It lacks a built-in microphone and autofocus since video content providers seldom use these functions. It also includes beautiful, user-friendly camera software that makes recording and editing movies a breeze. You may also use the Epocam mobile app to transform your phone into a second camera.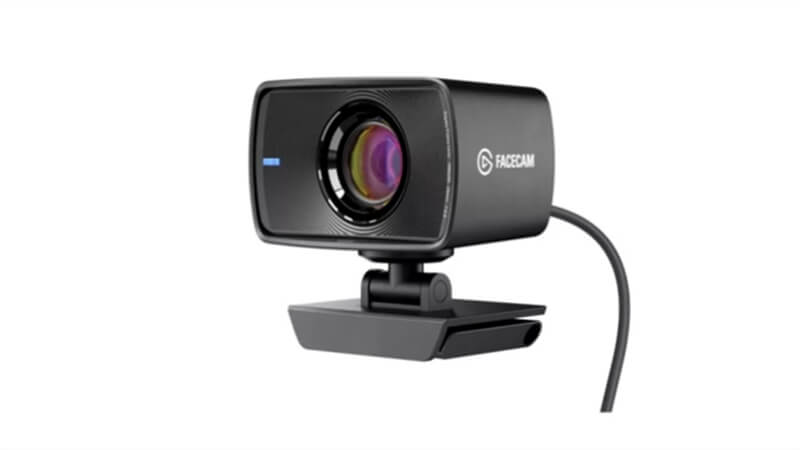 Features of Elgato Facecam:
Resolution: Up to 1080p@60 fps
Focus: Fixed focus
4x digital zoom
The software allows DSLR-like controls
9. Anker PowerConf C300
Anker PowerConf C300 is a 1080p HD webcam developed by Anker, a company known for its mobile charging solutions and other electronic accessories. It is a high-quality webcam that offers a wide-angle lens, a built-in microphone with noise reduction, and a privacy shutter. It's a great option for those looking for a versatile webcam that can be used for video conferencing, streaming, and other online activities.
Features of Anker PowerConf C300:
Resolution: Up to 1080p@60 fps
Focus: Autofocus
Smart AI framing
Built-in dual microphones
With privacy shutter
10. Asus ROG Eye
The webcam Asus ROG EYE is the industry's first webcam with solid built quality. Yes, it's not fast, and it's not flashy, but it's well-made. A glass panel fitted on a rigid plastic casing protects the lens. Its cable is removable and covered in a thick layer of rubber.
Features of Asus ROG Eye:
Resolution: Up to 1080p@60 fps
Focus: Autofocus
Face Auto Exposure
Blue-glass filter
Built-in noise-canceling microphone
FAQs About 1080p 60 fps Webcams
1. What bitrate is 1080p 60 fps?
The optimum bitrate for 1080p video at 60 frames per second is 6000 Kbps. The upload speed needed is 7.4 Mbps.
2. How do I get 60 fps while streaming?
Change the game settings.
Reduce your on-stream output.
Update the graphics drivers.
Close unnecessary applications.
Upgrade your computer.
3. Is 1080p/60 fps good for YouTube?
YouTube encourages and supports 24 to 60 fps videos at a maximum resolution of 8K. Frame rates will vary depending on the kind of material, target audience, and camera equipment.
Conclusion
So, which webcam with 1080p 60 fps do you think would work the best for you? Regarding frame rates, there are many aspects to consider before settling on a speed appropriate for you, and this post determined the best 60 fps webcams from which you can pick the best.