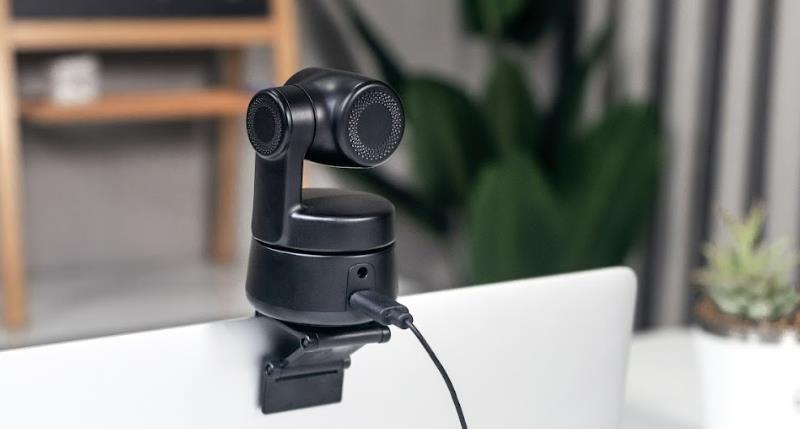 An excellent USB webcam will make you look your best for business, Twitch streaming, or family video chats. Its image sensor is higher than your computer's, so it picks up details better in low light. It's a good purchase if you expect to do a lot of video calls, vlogs, etc. Here's what to know about USB cameras/webcams for PC.
What is a USB Webcam?
In simple terms, a camera connected to a computer through a USB port, often linked to one of those ports on the computer, is known as a USB webcam. The video then gets sent to a computer, where an application on the computer gives you the ability to see the photographs and upload them to the Internet.
The best USB webcams allow you to interact with business partners and customers over the Internet on your workplace PC. Some webcams contain built-in microphones and connect to your computer using any accessible USB connection. You can place a USB webcam for a laptop, often known as an external webcam, anywhere; on top or next to your computer, on a table facing you, or in a distant region.
The Best USB Webcams for PC/Laptops
OBSBOT Tiny 4K
If you have tried working from home previously, you understand the significance of maintaining constant communication with your colleagues. For this reason, picking the best software and technology for replacing face-to-face conversation with online conversation is essential. The OBSBOT Tiny 4K is a revolutionary PTZ webcam driven by artificial intelligence that ensures you always look your best on camera. This 4K USB camera comes with AI tracking, a nice feature for those who walk about a lot during online meetings. It also comes with 4K video quality to ensure your live feeds seem faultless.
The OBSBOT Tiny 4K is a distinctive webcam compared to others on the market. OBSBOT Tiny is a PTZ 4K webcam with a pan-tilt-zoom (PTZ) gimbal and AI tracking. This camera can automatically monitor your movements. You can see this technique in high-end conference cameras. You will also be required to pay a high fee for them. The OBSBOT Tiny 4K is a more cost-effective option for anybody who needs a PTZ webcam to follow their movement throughout a conversation and offer a 4K picture.
Here's the whole list of specifications for the OBSBOT Tiny 4K AI-powered PTZ webcam.
Size: 89.4 x 58 x 58 mm (without mount); 142 x 58 x 58 mm (with mount).
Weight: 147g (without mount) and 176g (with mount).
Max video resolution: 4K@30 fps, 1080p@60 fps, MJPEG, H264.
Supported resolution: 3840x2160, 1920x1080, 1280x720, and 640x360.
Zoom: 4x digital zoom.
Type of focus: AF/MF.
HDR: Yes.
The field of vision is 86 degrees.
Dual Omnidirectional microphones with noise suppression.
Gimbal: 2-Axis gimbal, max control speed: 120°/s.
Ports for charging: USB-C and DC power ports.
Windows 10 or later, Windows 8, Windows 7, and macOS 10.13 or later are system requirements.
Compared to its predecessor, OBSBOT Tiny, the 4K version has several enhancements. The maximum video resolution has increased from 1080 to 4K, enhancing picture quality. Tiny 4K USB webcam for Android offers enhanced digital zoom, autofocus, and HDR.
The packaging is the first indicator that the OBSBOT Tiny 4K is a high-end camera. The package comes in an elegant red and white box with a sturdy carrying case. With such superior packing, during transit, your equipment is safe.
When you open the carrying case, you will discover the Tiny 4K, with the charging cords and the mounting apparatus. The package is a durable shell for keeping or transporting the Tinky 4K. The OBSBOT Tiny 4K is small, lightweight (5.18 ounces without mount), and resilient. It features a circular base and a matte black body. When the camera is active, a green light bar shows up on the front of the base lights. The base's top rotates, allowing the camera to pan left and right.
On top of the rotatable base is a gimbal on which the camera is mounted. The camera can follow moving objects since the gimbal can tilt the camera up and down. The camera's cylinder head has a lens encircled by a red ring. The branding is hardly intrusive, and you will only find the company name on the camera's front. If you're a fan of simple, uncluttered design, you'll love the overall appearance of this camera.
When you unpack your OBSBOT Tiny 4K, it includes the following items:
OBSBOT Tiny 4K camera
OBSBOT transport case
USB-C to USB-C cable
USB-A to DC adapter; USB-C female to USB-A male power cord
Mounted magnet
User guide and warranty card
The Tiny 4K package we got for testing includes a few additional attachments, including remote control and a little tripod. The remote control includes batteries, used immediately upon opening the packaging. We will discuss OBSBOT's extensive array of camera attachments shortly.
OBSBOT Meet 4K
OBSBOT Meet 4K is the first 4K webcam with incorporated AI backdrop protection capabilities. You don't need apps to blur or alter the backdrop of your video conversations; only one touch on the OBSBOT Meet 4K.
The meet 4k camera, with a 1/2.8" Sony 4K sensor and HDR auto-exposure technology, makes the picture seem professional in any lighting. With AI auto-framing function and virtual backdrop capabilities, the OBSBOT Meet 4K is the best solution for having smooth video chats at home and in the workplace. The OBSBOT Meet also supports portrait mode, allowing you to watch ultra-HD 4K video in 9:16 format.
The autofocus function on the Meet Obsbot AI technology always maintains the focus in the center of the picture. When you enable the face focus mode, the device will retain the emphasis on your face instead of the background and modify the bokeh to keep your face distinct and bright.
With a 3-second push, the device will enter sleep mode, and video and audio will pause the recording. You may also customize the device's sleep time by going into the device's settings and selecting "Device Auto Sleep." A privacy shutter is also in the webcam. To achieve physical protection, cover the lens with the privacy shutter.
How Do I Use a USB Webcam?
To correctly configure your USB webcam, you need to:
Step 1: First, connect your external webcam to a USB port on your computer and wait for Windows to install the necessary device drivers.
Step 2: After the installation of the drivers, a bubble will appear in the system tray that says "Installing new hardware", followed by "Your new hardware is installed and ready to use".
FAQs About USB Webcams
1. Can I plug a USB webcam into my phone?
Yes, you can use a USB webcam on Android. The plug-and-play USB cameras, sometimes known as webcams, are supported by the Android platform, which uses the standard Android Camera2 API in conjunction with the camera HIDL interface.
2. Can I use a USB webcam on a tablet?
With the help of the Android Camera2 API and the standard camera HIDL interface, you will be able to link a webcam to your tablet. In most cases, webcams offer UVC drivers, also known as USB Video Class drivers, which allow users to manage the cameras. Using a USB camera for mobile, you can utilize your tablet for lightweight use cases. Such as photo kiosks and video conferencing if it is capable of supporting webcams.
3. Can I use a USB webcam on Android?
Yes, you can use an HD USB camera on Android. You have the choice of connecting your smartphone over Wi-Fi or by USB. However, the latter of these two alternatives will aid in making your phone's battery life last longer.
Conclusion
The USB camera for laptops is only one component of a student's back-to-school setup. It is always in great demand when people begin shopping for school supplies; thus, it is advisable to start searching early. Whether joining college for the first time or returning to school, you will need a webcam suited for work and play. Several of our top selections are on sale, giving you the perfect moment to purchase one of the finest webcams.
However, if you need the best USB HD webcam and how to set it up for your use, check out this guide for more details.