In today's fast-evolving tech world, 4K resolution has become popular in devices like computers, T.V.s, and cameras. Using a digital camera with 4K video means you can view the videos cleanly, and close-ups look smooth. You'll get sharper images and less color issues. Upgrade to the best 4K camera now and choose one from our list of 9 below.
Part 1: What to Look for When Choosing a 4K Camera
The stunning pictures and videos of 4K cameras make you feel present in those surroundings, attracting many to purchase 4K devices.
However, there are some crucial factors to weigh before investing in the best 4K video camera.
1. Frames Per Second (FPS)
For the best 4k camera for filmmaking, pay attention to the frames per second (FPS) at which the camera can shoot 4K. Some cameras manage 4K at 25/30 fps, while pricier options like the GoPro can capture 4K at 60 fps. Choose the FPS that suits your needs best. For instance, 4K is good at a lower frame rate (30fps) with high resolution in film production. Cameras that shoot 4K at 30fps are typically sufficient for beginners.
2. File Storage
Remember that shooting in 4K demands a significant amount of storage space. Go for a camera with a MicroSD card slot to expand Storage. This is crucial because the camera's internal memory might not hold all your content. Using multiple SD cards to organize your work can be helpful. Ensure you purchase memory cards that support 4K footage.
3. Wi-Fi Connectivity
Wi-Fi connectivity is another essential feature in a 4K camera, especially if you wish to share your work with friends and family. Not all 4K cameras offer this feature, and relying solely on the S.D. card can be limiting. Many cameras with Wi-Fi also come with a companion app. Research the app's features—some allow viewing but not editing. Ensure the app supports sharing after editing.
4. Image Stabilization
A 4K H.D. camera with image stabilization ensures your images remain clear and sharp even if the camera moves during capture. While many cameras offer this feature, they might be slightly more expensive.
5. Type of Camera
Consider the type of camera you need. Options include DSLR cameras, action cameras, point-and-shoot, and others that can shoot 4K. Opt for an action camera if portability for activities like extreme sports is crucial. However, if you want DSLR-level picture quality and are less concerned about mobility, a DSLR camera might be the right choice.
6. Controls
Prioritize cameras with quick controls for ease of use. For action cameras, remote control can be a valuable addition to capture images without touching the camera. Also, check for cameras with a straightforward menu and a small LCD screen for previewing your shots.
These factors are critical when selecting a 4K camera apart from your budget. Additionally, your output sources, like a monitor or T.V., must support 4K to view images at full resolution. If you plan on editing, ensure your computer can handle 4K footage. Consider these aspects to well-equip yourself for the best 4K camera that fits your needs and budget.
Part 2: Best 4K Camera for Live Streaming/Video Recording
Here are the nine best 4k cameras for live-streaming videos on any social media platform in 2023.
1. Tail Air - Affordable 4k Camera for Beginners
Launched at $419 in 2023, the Tail Air PTZ streaming camera is the latest from OBSBOT. It is an ideal companion for amateurs who want to start their career as a vlogger or streamers in the video-making industry.
Key Features of Tail Air:
A.I. Auto Tracking follows humans, pets, and objects at a speed of 120°/s.
Reduced noise and a finer image look with 4K streaming.
Gesture control helps you zoom in/out, and start/stop recording easily.
2μm large pixel size and ƒ1.8 aperture captures detail in low-light and bright conditions.
AI Director Grids divide captured video into real-time grids to display the corresponding video signal on Air.
NDI|HX3 for low-latency live streaming video over Wi-Fi, USB-C, micro HDMI, and Ethernet.
2. Insta360 X3 - Compact 4k Camera for Travel Vlogging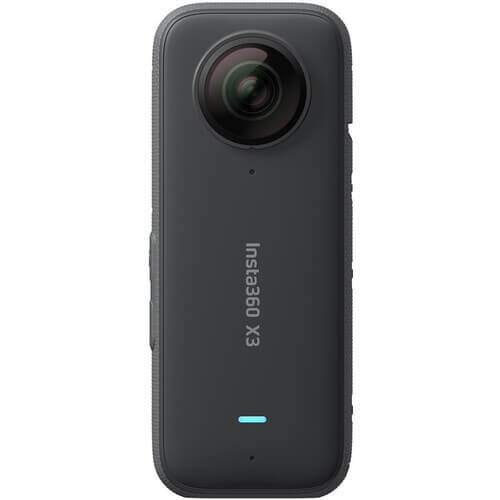 Insta 360 X3 is the best 4k video camera for travel as it is compact and easy to carry. Its affordable price of $566.30 will never let you miss the action. The specs like USB connectivity, SDXC/SDHC flash memory support, a 2.29-inch screen, and a 3x optical zoom redefine action camera capabilities. Don't worry about missing any action; you can choose your preferred angle after the fact using the AI-powered Insta360 app's intuitive reframing tools. Whether snapping 72MP photos, creating mesmerizing 8K time-lapses, or crafting high-quality content, the X3 delivers exceptional results. Say goodbye to shaky shots and hello to professional-quality videos with the Invisible Selfie Stick that disappears from your shots. Achieve impossible third-person perspectives and seamlessly blend your videos for captivating and immersive content.
Key Features of Insta 360 X3:
Take your videography to a new level with 5.7K 360 Active HDR video capability.
Dual 1/2" 48MP sensors for greater clarity and detail in challenging lighting conditions.
Maximum resolution at 4K 30fps or expansive 170° field of view with 2.7K MaxView.
Smooth and stabilized videos with the X3's FlowState Stabilization technology.
Combine horizon leveling algorithms for steady shots even during dynamic motion.
With Me Mode shoot at up to 60fps, add a touch of dynamic motion to your footage.
3. Sony ZV-1 - Best Budget-friendly 4k Camera
The Sony ZV-1 is not just a 4k quality camera; it's your companion for creating stunning vlogs and captivating content at a budget of $749.90. The vari-angle LCD touchscreen flips out horizontally, perfect for selfies and vlogging. Connect with your audience with precise framing and fluid operation. Shoot stunning videos with exceptional clarity in your voice and surroundings. The ZV-1's compact size and lightweight build give mobility for smooth and stable footage on the move. Transfer your creations to your smartphone using Imaging Edge Mobile. Edit and reshape your videos quickly, adapting them to different aspect ratios for various platforms.
Key Features of Sony ZV-1:
Soft Skin mode naturally portrays skin tones for a soft and radiant effect for all skin colors.
3-capsule directional Microphone paired with a windshield for pristine audio.
Product Showcase Setting and Bokeh Switch controls background blur.
Real-time autofocus technology with eye recognition keeps subjects focused.
It provides a seamless and professional look even during dynamic 4K video shooting.
S-Log gamma and a built-in N.D. filter to shoot professional-grade 4K HDR video.
4. Fujifilm X-T4 - Best 4K Video Camera for Recording
The FUJIFILM X-T4 is a hybrid powerhouse that excels by the advanced technology of the X-Trans CMOS 4 sensor, X-Processor 4, and the newly developed compact in-body image stabilization (IBIS) system. With more than 85 years of knowledge in color science, the X-T4 camera embraces Fujifilm's history of famous photographic films. It skillfully combines nostalgia and modern technology, featuring a unique Film Simulation mode. The camera also has the ETERNA Bleach Bypass mode. This mode copies the unique appearance of the well-known bleach bypass film process, creating a look with strong contrast and more faded colors.
It's time to break boundaries and embrace limitless creativity with this mirrorless camera 4k for $1,895.00.
Key Features of Fujifilm X-T4:
Fastest autofocus among APS-C mirrorless cameras at an impressive 0.02 seconds.
Mechanical shutter fires up to 15 frames per second.
5-axis 6.5-stop IBIS, DIS, and ergonomic grip for stability during handheld shooting.
Weather resistance guards against dust, moisture, and temperatures of 14°F (-10°C).
Large-capacity battery keeps your creativity flowing for extended periods.
Full HD/240p high-speed recording, 10x slow-motion effect, I.S. Boost mode.
5. Canon EOS R5 - Best Mirrorless 4k Camera for Video Production
This remarkable full-frame mirrorless camera 4k at $4,216.22 will unlock new levels of creativity and performance, making it a powerhouse for professionals and enthusiasts alike. Its dynamic range, impressive speed, and versatile features make it an exceptional choice for capturing stills and videos. The camera's 8.01 cm rotation and swivel display provide flexible shooting options. Additional perks like the top LCD and A.F. multi-controller make navigating the camera's settings a breeze.
If you aim for top-quality vlogs, EOS R5's tools to create incredibly steady and professional content, even in harsh shooting conditions is the ideal companion.
Key Features of Canon EOS R5:
High resolution and speed with 45 megapixels of up to 20 fps of continuous shooting.
8K RAW video recording at up to 30 fps and 4K video at 120 fps without crop.
Tracks eyes, faces, and bodies, animals so your subjects are always in sharp focus.
Built-in 5-axis image stabilizer offers up to 8 stabilization levels.
The CMOS AF II technology with expandable ISO range from 100 to 51,200.
The electronic viewfinder of 5.76 million pixels for crystal-clear composition.
6. Panasonic Lumix GH6 - Best 4K Camera for Vlogging
The Lumix GH6 redefines what's possible in video recording. With a remarkable video capture resolution of 4320p, the Lumix GH6 guarantees stunning visuals that push the boundaries of cinematic quality. It uses CFexpress Type B cards, allowing non-linear editing without transcoding. Additionally, the camera supports future firmware updates to support DCI4K and FHD ProRes 422 HQ and ProRes 422. Synthesize images from low ISO and high ISO circuits for HDR videos with minimal noise, rich gradation, and vibrant saturation.
You get the complete best 4k camera for live streaming at $1,784.34.
Key Features of the Lumix GH6:
5.7K video recording up to 60p with 10-bit color depth, 4K 120p recording in 10-bit color depth
Audio and autofocus tracking while utilizing the entire sensor width.
Optimize the entire sensor area and eliminate recording time limits for high-quality footage.
13 stops of dynamic range with the innovative Dynamic Range Boost mode.
OIS to keep your videos steady and sharp, even in challenging shooting conditions.
7. Panasonic Lumix S5 II - Best Full Frame 4K Camera
The Lumix S5 II is a powerful digital camera with 4k video. Its premium magnesium alloy body makes it compact and durable. Its splash and dust-resistant construction ensures it stands strong in tough environments, letting you focus on capturing your vision. Experience an industry first with real-time LUT recording for both video and photo modes, up to 6K total video recording time in environments up to 40 degrees.
Key Features of the Lumix S5 II:
C4K 60p/50p 4:2:2 10-bit unlimited recording and 6K 30p/25p 4:2:0 10-bit recording.
Phase Hybrid A.F., 779 AF Points for high-speed, high-precision autofocus.
Active I.S. counters camera shake during video or stills on the move.
24.2MP full-frame sensor, high-resolution 96MP mode, 14+ stops of dynamic range.
Dual Native ISO enables low-light video shooting with minimal noise.
8-direction joystick, free-angle LCD Monitor, and OLED Live View Finder.
8. Nikon Z9 - Professional-grade 4K Camera
For $5,496.95, the Nikon camera 4K, and the Z9's 4-axis horizontal and vertical tilting touchscreen capture shots from various angles. The magnesium alloy shell ensures heat dissipation and cold tolerance down to -10°C/14°F. The weather-sealing safeguards against dust and moisture, further enhanced by the sensor shield and electro-conductive coating. The built-in 2.4 and 5 GHz Wi-Fi for wireless transfers and 1000BASE-T wired LAN for faster-wired transfers. The 4-axis tilting monitor has spectacular image quality in stills and 8K videos. Enjoy Vibration Reduction (V.R.) image stabilization with Synchro V.R.
The NX MobileAir app allows high-speed image transfers via 4G or 5G smartphones, making it a flagship professional 4k video camera for experienced vloggers.
Key Features of Nikon Z9:
45.7-MP stacked sensor, 120 fps, and 8K video, ten times faster EXPEED 7 engine.
Fast scanning speed and 12x faster data readout minimize rolling-shutter distortion.
A.F. sports natural-looking images of sports actions and vehicle motion.
5-axis in-body V.R. and 2-axis lens V.R. for stabilization up to 6.0 stops faster shutter speed with compatible lenses.
Shutter speed of up to 1/32,000 seconds captures even in harsh lighting conditions.
World's first genuinely blackout-free viewfinder with a smooth follow-through at 120 fps.
9. Sony Alpha A6100 - Top 4k Camera with Excellent Low-light Performance
This Sony camera DSLR 4K is your perfect buddy for all low-light video shooting. Priced at $848 on Amazon, its improved noise suppression delivers cleaner images in dimly lit environments requiring high-sensitivity shooting. Enjoy expanded ISO sensitivity up to ISO 51200 for stills. With the skin tone feature for the natural beauty of human skin tones, transform images with improved color reproduction that mimics real-life hues. The APS-C sensor's circuit processing optimizes light collection efficiency. The internal processing and high-capacity buffer memory capture continuous shots at up to 11 fps with after-view or 8 fps for real-time preview, with minimal lag.
Key Features of Sony Alpha A6100:
Fast Hybrid A.F. using the focal plane phase-detection and contrast-detection systems.
Eye A.F. tracks even on partially obscured, backlit, or turned-away eyes.
Fast, precise, auto-detection of animal eyes for wildlife and pet photography.
External microphone jack for serious movie shooting and high-quality vlogging.
Wi-Fi, NFC, and Q.R. capabilities for file transfers and remote control.
Monitor 180° upward tilt and 74° downward tilt for easier framing of subjects.
10. Nikon D850 - Best Nikon Camera 4k
The D850 is the best Nikon video camera 4k, costing $2,799.95, with ultra-high-resolution imaging capabilities and 4K full-frame movies. Shoot in RAW size Large, Medium, or Small, experiencing uncompromised image performance. With extensive weather sealing in both the camera and the optional MB-D18 Multi-Power Battery Pack, shoot for extended periods in any location. Furthermore, the D850 introduces an in-camera focus-stacking mode for remarkably sharp images with extensive depth of field. The camera's USB 3.0 port enables swift data transfer, while the optional WT-7A offers ultra-fast wireless and Ethernet connections. SnapBridge simplifies uploading high-quality JPEGs to your social media or online gallery and geotagging your images. Seize crucial seconds at 7 fps, extendable to 9 fps using the optional MB-D18 Multi-Power Battery Pack. Full-resolution images, even when shooting in RAW.
Key Features of Nikon D850:
45.7 megapixels capture detailed 45.4 MP files at 30 fps with 8 MP resolution.
Full-frame 4K/UHD movies at 30p and full HD movies at up to 120p.
Up to 9 fps burst rates at full resolution with autofocus capabilities.
AF processor's subject recognition for fast-moving small subjects in low light.
Noise-free ISO range of 64–25600, expandable from 32 to 102400.
8K timelapse film in post-production and no mechanical blur at up to 6 fps.
Part 3: FAQs about 4K Camera
Q1. Is 4K the best camera quality?
No, the new 8K is 7680 pixels, and its pixel count is magnified, with four times the pixels of 4K. However, the pixel count doesn't solely determine camera quality but also how these pixels are distributed across both dimensions. In short, 4K is the most prevalent resolution quality.
Q2. What is the best 4K camera for beginners?
The best 4K camera for beginners would be the most affordable recommendation in our list, called OBSBOT Tail Air. Tail Air has all the features you need for vlogging, including its compact design, easy-to-carry features, and gesture control. Also, its budget-friendly pricing is a boon to new vloggers.
Q3. Should I shoot in 4K 30 or 60?
During filming, opting for 4K at 30fps is better. Even if you upload videos at higher resolutions and frame rates like 8K at 120fps to platforms like YouTube, the content gets compressed for faster loading. As a result, 4K maintains its quality better, offering a visual experience of 1080p. On the other hand, prioritize 1080p at 60fps for gaming purposes. This is because the speed of frames per second (fps) holds more significance in gaming.
Conclusion
Finally, we are at the end of your detailed post about the ten best 4K cameras in 2023. We discussed the camera for beginners, the best 4k 60fps camera, and the professional cameras. We picked the nine cameras carefully from various sources so you can get information about several niches.
So, start your channel with a professional 4K vlogging camera that is efficient and easy on-pocket.