"Are there any free alternatives to Zoom?"
Zoom, which integrates video conferencing, online meetings, chat, and mobile collaboration into one convenient platform, has taken the world by storm in recent years due to the covid. The fact that individuals all around the globe are working from home and that humans have a natural need to maintain connections demonstrates how important Zoom is.
Although Zoom can satisfy most of your fundamental business communication requirements, it's not the only capable tool to provide crystal-clear video conferencing and sophisticated online conference solutions. There are also many powerful applications like Zoom, both free and paid. Some of them may do a better job in some ways. If you are looking for some apps similar to Zoom, then you've come to the right place. In this blog, we set forth the best alternatives to Zoom, as well as our top video conferencing tool recommendations, so that you can choose the best solution according to your need.
The Best Zoom Alternatives for Video Conferencing
Here provides a comprehensive review of some of the top video conferencing applications to assist you in identifying the best alternative to Zoom for your specific need.
1. Google Meet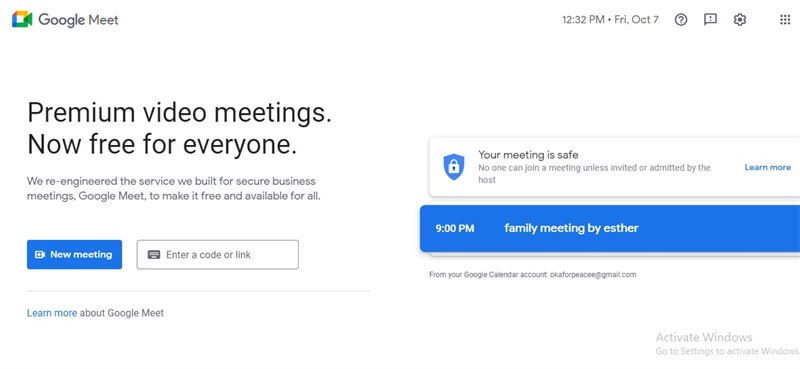 Google Meet is a video conferencing program once known as Google Hangout. The people developed it over at Google. If your crew already has a G Suite or Google Workspace account, downloading this alternative to Zoom is free.
Individuals may utilize the video conferencing and collaboration tool Google Meet to video chat with their family members, even though they primarily designed Google Meet for people in the business world. In addition, instructors may use Meet to set up a digital classroom for their students.
2. Microsoft Teams
Users of Office 365 get access to the cloud-based group chat, a Microsoft Zoom alternative software known as Microsoft Teams. You should consider joining a Microsoft Team meeting if you want to talk to distant teams, have discussions, make phone calls, and exchange files with them. It is an excellent application like Zoom.
There is also a free edition available. However, it does lack many features compared to the expensive version. You are fortunate that Microsoft has begun a trial that will last for the next six months and will pay plants nothing to satisfy the increased demand from the virus.
3. Skype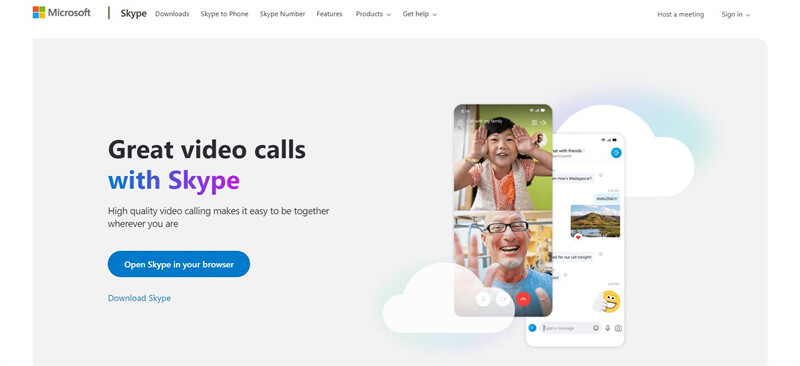 Skype is a well-known and widely used Zoom alternative, a video-conferencing application primarily used for personal video chatting. However, now it has a new function called "Skype Meet Now". You can use it as a piece of software for conducting corporate video conferences.
The new function allows up to fifty users to participate and is entirely free. Do you think that things could get any better? After the host has sent an invitation to the attendees, it is simple for them to join meetings, regardless of whether or not they have an account with the hosting service. On the other hand, registering for a free account gives you access to more services. Thus, it will benefit you.
4. Discord
Another competitor to Zoom that streamlines audio and video, as well as text-based communication with your team, is available in the form of Discord. For a long time, I believed that the only people who could use Discord were gamers. On the other side, I only just learned that millions of individuals use the ability to make video calls all over the globe.
As a result of my study, I found a difference between the constraints imposed by Discord between live conversations and video calls. Their video conference option is open to anybody and everyone. However, their live chat feature mainly gears toward webinars, CEO announcements, class instruction, etc. Despite this, there is a restriction regarding the group size since you are only permitted to include a maximum of ten persons in a video conference at one time.
5. Zoho Meeting
Zoho Meeting is yet another best Zoom alternative that you can find on our list. It enables you to run webinars, online meetings, and broadcast demonstrations. It allows you to attend or start the meeting without requiring you to install the program.
The iOS app is the sole one that will allow you to host the meeting, although the Android app and the iOS app will allow you to participate in discussions. In addition to that, you will get an app extension for the Firefox and Chrome web browsers.
In addition, it provides you the option to record your session in the cloud, download the recordings, or share them with others using a short link. In addition, you may call in using a phone by dialing one of more than 100 local lines or 55 toll-free numbers from various countries.
6. GoToMeeting
GoToMeeting is another web-based video conferencing software that provides an option to join, host or manage online meetings with only one click. Out of all the other Zoom similar apps, this one is, without a doubt, the greatest.
With the entry-level payment plan, you can have up to 150 guests, while the Enterprise plan can accommodate up to 3000 people.
It is compatible with all devices, including mobile phones, personal computers, and desktop computers, and it has built-in compatibility for Cisco, Lifesize, and Polycom devices. In addition, it is compatible with a video conference room system equipped with H.323, and it permits the addition of up to 25 camera streams.
7. Cisco Webex Meetings
This video-conferencing application is called Cisco Webex Meetings, a meeting app like Zoom that enables users to participate in group video conversations, voice calls, and various other activities. This video conferencing tool also delivers real-time translations of your meetings into more than one hundred different languages, which is quite beneficial when you need to jump on international calls in a reality show broadcast through a computer program.
With the recent redesign of Webex Meetings, you now have access to meetings that prioritize video and are more user-friendly and effective. Cisco Webex is used by millions of people worldwide because it helps them operate more efficiently, communicate with people in other locations, and move forward with new ideas. Cisco is the company to go with when you need a collaboration solution that is reliable, adaptable, trouble-free, and intelligent.
8. TeamViewer
TeamViewer is the complete best alternative to Zoom. It is a solution for remote access, remote control, and remote assistance that is compatible with practically every desktop and mobile platform. With TeamViewer, you can log into desktop computers or mobile devices in any part of the globe and utilize them as if you were physically there at each location.
In addition, TeamViewer has a highly secure server architecture, protecting your personal information and your account from being compromised. All passwords are encrypted using the Secure Remote Password protocol, and precautions are in place if brute force assaults are launched.
9. Livestorm

Livestorm is a video engagement platform like Zoom that simplifies the management of all aspects of your in-person or online gatherings, such as webinars and video conferences. Livestorm's browser-based interface makes it a very intuitive tool to utilize. You need to provide a link.
If you want to start a web conference as the host, several web conferencing services would need you to download a file or install their software prior to beginning to set things up. You may skip over this step entirely and instantly use your browser's capacity to host events with Livestorm fully. In addition to that, it functions without difficulty on computers, tablets, and mobile devices. You can dial in even if you are using a phone.
10. Chanty
Chanty is a Zoom alternative platform for team collaboration that allows teams to do more work together. This indicates that you and your team have the potential to be more productive than you were before and effectively fulfill all of your duties.
Chanty is a program released in 2017 that facilitates communication and cooperation between teams. As an alternative to Zoom, its free plan enables users to participate in one-on-one audio meetings and send and receive voice messages. You will need the Business plan, which begins at $3 per user per month if you want to make one-on-one video conversations as well as group audio calls or group video calls with up to 25 participants in each call.
11. Jitsi Meet
Jitsi Meet is open-source Zoom alternative video conferencing software that supports high-definition (HD) video streaming with end-to-end encryption all the way through. You can engage with up to 50 individuals in a single meeting thanks to the free meeting access it provides. You may send participants a link to the event or contact them on the phone to invite them. The participants don't need to register for the platform to participate in the meeting.
Because there is no need to register an account to utilize Jitsi Meet and its other features, it will undoubtedly appeal to extremely Tiny enterprises and startups. The caveat is that every meeting is limited to fifty attendees, and there is no opportunity to upgrade to a premium tier with different capabilities or features.
12. BlueJeans
BlueJeans is an excellent cloud-based video conferencing platform that allows you to perform live video conversations promptly, webinars, conference calls, and online meetings while maintaining high security.
BlueJeans was not on my radar until I started compiling this list of free Zoom alternatives, yet it seems to be a well-regarded application.
Although BlueJeans is not an accessible video communication tool, I decided to give it a shot after reading the following sentence on their website.
"You would never buy a car without test-driving it, and the same should be true for your video meetings platform."
And it worked. Yes, BlueJeans, although not perfect, works in tandem with video call needs and thus falls in our top 12.
That's all about Zoom alternatives. For a better video conferencing experience, we strongly recommend that you pick a capable webcam as well. The following is our top recommendation.
The Best 4K PTZ Webcam for Zoom & Its Alternatives
With its advanced AI auto-tracking and auto-framing capabilities in 4K resolution, OBSBOT Tiny 2 is one of the most powerful 4K PTZ webcams available for Zoom. OBSBOT Tiny 2 is your best option if you perform a lot of video work online, such as video conferencing, video calls, live streaming, vlogging, or other similar activities.
Gesture Control: If you are standing rather than sitting in front of your laptop, you can use gestures to control the webcam's tracking and zoom functions.
Voice Control: Experience effortless control with the OBSBOT Tiny 2 through intuitive voice commands.
AI Auto-tracking: It can track your location during a video conference and automatically follow your movements.
Auto-framing: It moves smoothly while maintaining the subject's position in the frame, which is fantastic. Everything you shoot with it will be sharp and clear.
4K Resolution: The visual resolution of the OBSBOT Tiny 2 is an impressive 3840 x 2160, and it is also capable of recording 4K videos at a frame rate of 30 frames per second. You get a field of vision of 86 degrees and an excellent working 4x digital zoom.
Dual Omnidirectional Mics: Built-in twin Omnidirectional microphones with noise reduction are incorporated into the device.
Conclusion
One of the essential things for contemporary distributed teams is access to a reliable video conferencing platform. And although Zoom is still a service worth using, many free alternatives to Zoom are available. But this brings up an important question: given that there are so many Zoom-free alternatives, which one should you use? Don't fret. Please go through our catalog of video conferencing tools to choose the application that best meets your company's requirements.
And remember, if you want a webcam that can solve your video conferencing need on Zoom or other platforms like Zoom, then you need OBSBOT Tiny 2. This webcam has everything you need for your video when you work remotely.