Are you a new video blogger taking your first steps in content creation or an experienced video blogger looking for the ideal camera upgrade? The need for the perfect vlogging device is critical. Vlogging's dynamic nature demands a camera for a vlog that captures candid moments and unfiltered experiences. It must be a tool that doesn't hinder your creative flow but enhances it.
In the journey of finding the perfect vlogging camera, this guide presents a selection of budget-friendly options that excel in their ability to capture the essence of vlogging. So, without further ado, let's delve into vlogging cameras and find the best options that balance performance and affordability.
How I Picked the Best Vlogging Cameras
To pick the best cameras for content creators, you must look at some basic features and decide on the budget.
Here are Six Factors You Need to Consider:
1. Purpose and Use
Vlogging cameras are perfect for solo content creators. They suit situations where you're holding the camera, using a tripod, gimbal, or vehicle mount. They should help you capture self-shots and the additional footage that adds depth to your story.
2. Autofocus (AF) with Stabilization
Continuously keeping you focused, this feature acts as your camera assistant while you focus on your content. It's common in many cameras, but some do it more effectively than others. An action camera with built-in optical stabilization is a good choice for movement-heavy scenarios. Electronic stabilization is an alternative, but be aware of its limitations. Quick camera movements can lead to distracting "jello" effects.
3. Video and Audio Quality
Aim for 4K recording at 60 or even 120 fps, especially for sports or fast-moving content. Slow-motion enthusiasts should consider at least 1080p at 120 fps. Consider skin tone representation and low light sensitivity. A log profile enhances dynamic range in varying lighting conditions. Higher-end cameras that record 4K with 10-bit colors offer better editing options. Good audio is crucial for viewer engagement. Look for a vlogging camera with a mic, an external microphone port for interviews, and a headphone port to monitor.
4. Battery Life, Size, and Weight
Opt for a camera with decent battery life and dual memory card slots for backup storage. Consider its portability. If you frequently carry it while shooting, especially on a gimbal or tripod, a small camera for vlogging will suit you.
5. Your Budget
All in all, everything comes down to the basics, i.e., how much you are willing to spend considering the features you are getting.
Best Camera for Vlogging under $500
Now, let us explore the most critical section of our article. Yes, the best video camera for vlogging in 2023. We will start with the most affordable vlogging camera list and then move to costlier ones.
1. OBSBOT Tail Air
The OBSBOT Tail Air takes the vlogging channel to the next level, powered by advanced AI technology that adapts to various scenarios. With OBSBOT's cutting-edge AI algorithms, your vlogs will become captivating and professional productions.
Key Features:
AI Auto Tracking: Experience AI-driven auto tracking that tracks humans, pets, and objects at a remarkable speed of 120°/s.
Gesture Control 2.0: Manage your OBSBOT Tail Air effortlessly with intuitive gestures, making video shooting simpler. The in-built gesture commands provide precise zoom adjustments for impeccable shots.
Low-Light Shooting: With OBSBOT Tail Air's true 2μm large pixel size and ƒ1.8 aperture capture 4K videos that are stunning, noise-free footage even in challenging lighting conditions.
Unlimited Extendability: With connection options like USB-C, micro HDMI, and PoE-supported Ethernet, you can integrate Tail Air into your existing vlogging setup.
Live Streaming: Its support for NDI|HX3 ensures high-quality, low-latency live streaming via Wi-Fi and Ethernet.
Price: $419
2. DJI Osmo Action 3
Enhance your shooting capabilities with the DJI Osmo Action 3 camera, one of the top vlogging cameras that equip you for diverse scenarios and creative endeavors.
Key Features:
Experience 4K vivid and natural details with HDR video technology.
Smooth and ultra-level footage, even during extreme activities like skiing, skydiving, and off-road biking.
Designed to withstand your adventures, the Osmo Action 3 boasts a maximum battery life of 160 minutes.
Whether horizontally or vertically, secure your camera in seconds for dynamic shooting perspectives.
Delve into the underwater world with confidence.
With its touch screen, vlog, take selfies, adjust settings, and enjoy crystal-clear playback even when your hands are wet.
Price: $379.99
3. GoPro Hero 11 Black
Unlock the world of high-quality content creation with the GoPro Hero 11. This cutting-edge camera redefines how you capture, share, and relive your adventures. Packed with innovative features, it's your ultimate companion for recording life's most thrilling moments.
Key Features:
Improves photo resolution to an impressive 27MP. The world of the 5.3K 60 video showcases incredibly fluid motion.
Capture expansive landscapes with the widest field of view.
The GoPro Quik app empowers you to zoom, crop, adjust aspect ratios, and more, all while preserving the rich textures and sharpness of your footage.
Emmy Award-Winning HyperSmooth Stabilization.
Price: $579.99
Best Camera for Vlogging under $700
1. Nikon Z 30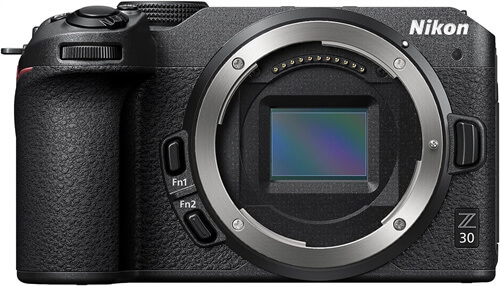 This exceptional mirrorless camera elevates your vlogging game with superior image quality. The Z 30 surpasses smartphones, offering enhanced light, power, and versatility. Whether you're a seasoned vlogger or an aspiring content creator, the Nikon Z30 enhances your storytelling experience.
Key Features:
Experience uninterrupted shooting with the capacity to record up to 125 minutes of continuous video footage.
Stay connected with Wi-Fi and Bluetooth connectivity, enabled by Nikon's SnapBridge app, allowing you to upload content anywhere.
Achieve exceptional audio quality with the built-in stereo mic or external microphone.
Transform your content with ease by flipping the vari-angle monitor forward.
Experience stability with the engineered deep grip, enabling steady handheld shooting—even at arm's length.
Swiftly lock onto the eyes of humans or pets, maintaining sharp focus even as subjects move.
Price: $705.99
2. Canon EOS R50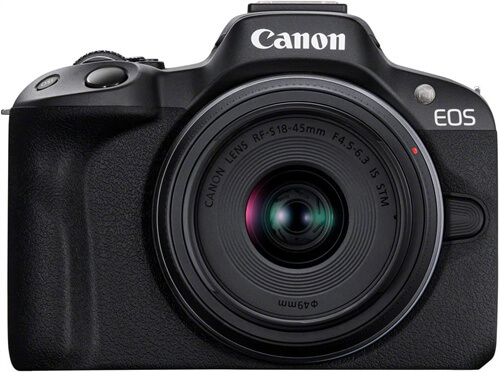 Designed for active vloggers, the Canon EOS R50 is compact and lightweight, featuring a Vari-Angle touchscreen, an electronic viewfinder, and a comfortable grip that fits naturally in your hand. Capture your creative visions seamlessly, whether you're indoors or outdoors.
Key Features:
Harness the power of a high-resolution 24.2 megapixels APS-C sized sensor, allowing you to capture intricate details and control depth of field.
Whether portraits, landscapes, or low-light scenarios, the EOS R50 delivers stunning results without digital mimicry.
Transform your filmmaking journey with UHD 4K 30p video, oversampled from 6K, for remarkable clarity.
Advanced technology recognizes, tracks, and focuses on moving subjects effortlessly, ensuring you never miss a shot, even in dynamic scenes.
Stay connected and share your creations effortlessly by connecting to smart devices via Bluetooth and Wi-Fi.
Price: $680.00
Best Camera for Vlogging under $1000
1. Sony ZV-1
The Sony ZV-1 will capture your best moments in stunning detail. Dive into the remarkable features that make this camera a perfect choice for vlogging, selfies, and more. The ZV-1 is ready to conquer any lighting condition, shade, sunlight, indoors or outdoors; its automatic exposure (AE) ensures your face is well-lit and stands out.
Key Features:
Ideal for selfies, vlogging, and precise framing. Enjoy fluid operation and ensure you always look your best on screen.
Take advantage of a recording moment with the clear recording lamp in front of the camera. This handy feature ensures you're always aware when capturing your content.
Features a deeper-shaped grip for conventional shooting and provides a stable handhold for fatigue-free vlogging and selfie shots.
A Soft Skin mode is available for a smoother, more polished look.
Achieve professional background blur with a single touch.
The compact size and lightweight look of the ZV-1 enhance mobility and deliver smooth video quality even while on the move.
Price: $823.02
2. Fujifilm X-T30
The X-T30 is an excellent vlogging setup for under $1000. With its Camera Remote App, you can transfer images to smart devices, control exposure settings, and remotely release the shutter. Compress pictures down to 3MB during transfer to save data. Via Bluetooth, schedule image transfers when your camera is not in use and receive firmware updates directly to your camera without a computer.
Key Features:
With the 26.1MP and a back-illuminated design, this sensor minimizes noise and extends sensitivity to ISO160.
The unique view of the X-Trans color filter array eliminates moiré and false colors without the need for an optical low pass filter.
Unique Film Simulation interprets colors and tones, inviting you to explore new realms of creativity.
Improved subject tracking elevates the camera's autofocus performance for both stills and impressive 4K/30P video capabilities.
Boasts densely arranged phase detection pixels and advanced algorithms, delivering best-in-class autofocus performance.
Play with a film grain texture, color depth, clarity, sharpness, and highlight and shadow tones.
Price: $899.00
3. Nikon Z50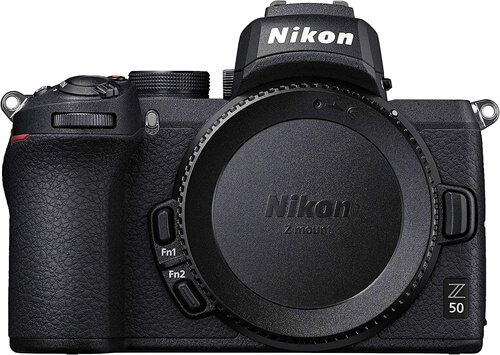 The Nikon Z50 digital camera for vlogging offers an ergonomic design that ensures comfortable handling. With a deep grip and intuitively placed buttons, dials, and touchscreen controls, your camera becomes an extension of your creativity.
Key Features:
Embrace the power of the hybrid AF system.
Capture the magic of moments in motion with 4K/UHD movie recording capability at 30P.
Experience the thrill of shooting slow-motion footage in full HD, free from crop-factor limitations. Create captivating 4K time-lapse sequences right within the camera.
Experience silent operation through the camera's quiet focusing and silent photography mode.
Unleash your artistic side with 20 in-camera effects tailored to photos and videos.
Seize the moment with the fastest shutter speed of 1/4000 second.
Embrace long exposure photography with the slowest shutter speed of 30 seconds, unveiling the beauty of motion and light.
Price: $871.36
Best Camera for Vlogging under $1500
1. Fujifilm X-S20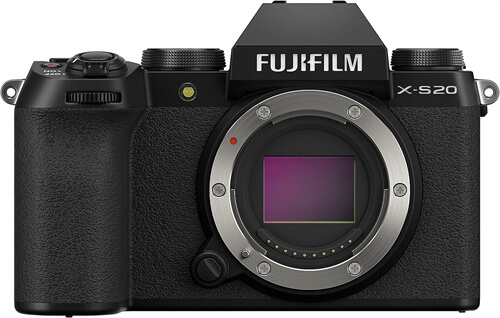 Experience the freedom of a lightweight budget vlogging camera at 491g that fits into your travel bag. Connect with smartphones and remote operation using the FUJIFILM XApp. The X-S20 supports webcam functionality and even offers RAW output via HDMI, expanding your creative horizons.
Key Features:
High-capacity battery guarantees you won't miss a single shot.
Capture steady shots even in low-light conditions with the 5-axis in-body image stabilization system, offering up to seven stops of stabilization.
Create stunning movies up to 6.2K internally at 30P in 4:2:2 10-bit color.
Benefit from 4K/60P video and 1080/240P high-speed video for captivating visual storytelling.
Captures your most remarkable moments, boasting reduced noise and enhanced image quality.
The AI processing technology ensures reduced power consumption and optimized performance.
Track human faces and eyes and automatically detect animals, vehicles, and more.
Price: $1299.00
2. Canon EOS R8
Open the magic of wider views, exquisite bokeh, and greater depth-of-field control. Elevate your creative potential and immerse yourself in a world of artistic expression. Take your creativity to new heights with an image. canon for cloud image processing.
Key Features:
The EOS R8's full-frame CMOS sensor, powered by the DIGIC X processor, delivers stunning images that leave a lasting impact.
Capture up to 40fps in electronic mode and up to 30fps in Burst Mode. Embrace the power of continuous shooting.
Masterfully sharp focus, even in challenging lighting conditions.
Unleash your cinematic prowess with stunning 4K video capabilities. From oversampled 6K to 60p to HDR PQ/HDR Movie options.
Use Wi-Fi, Bluetooth, and UVC connectivity for image transfer and remote control.
Experience the power of Canon Log 3, 10-bit recording, and HDR PQ/HDR Movie modes. Capture up to 2 hours of captivating content and unleash your storytelling potential.
Price: $1499.00
Best Camera for Vlogging under $2000
1. Sony Alpha a7 III
Experience the fusion of a newly developed sensor and an evolved image processor that cater to diverse shooting needs. High-quality imaging capabilities meet technological innovation.
Key Features:
Revel in stunning details and exceptional clarity, capturing your moments with uncompromising precision.
The 5-axis stabilization compensates for camera shake, so your images and videos are consistently steady across various lenses.
Experience colors like never before with enhanced color reproduction that captures the world with natural, faithful-to-reality hues.
Create 4K movies with 2.4 times higher oversampling and exceptional fast hybrid AF.
The impressive eye detection and tracking feature works even when your subjects are backlit, looking down, or partially hidden.
Maintain consistent exposure and color consistency, even in artificial lighting flicker.
Price: $1,830.49
2. Panasonic Lumix GH5S
Stay ahead of the curve with compatibility for the new "LUMIX Tether for Streaming (Beta)" software program for PC. Seamlessly integrate your Lumix GH5S, the best video camera for vlogging into your content creation endeavors. This remarkable camera combines a high-sensitivity sensor, Dual Native ISO technology, and the Venus Engine for a unique vlogging experience.
Key Features:
Capture even the subtlest nuances of graduated skies and sunsets without the risk of banding seen in 8-bit formats.
The Variable Frame Rate (VFR) feature enables recording over-cranked / under-cranked videos in C4K/4K and FHD quality for stunning slow-motion visuals.
The LUT Display function assists exposure and showcases directorial intent, bringing your vision to life.
Explore the brilliance of HDR mode that reproduces the full range of human vision, preserving both bright and dark elements.
Adapts to multiple aspect ratios (4:3, 17:9, 16:9, and 3:2), maintaining consistent focal length across these formats.
The bundled BNC Conversion cable enables synchronization of time codes with external devices, streamlining non-linear timeline editing using footage from multiple cameras.
Price: $1,797.99
Best Camera for Vlogging under $2500
1. Panasonic Lumix GH6
Ensure your footage is steady and smooth with optical image stabilization, offering enhanced stability to your shots. Capture moments in breathtaking detail with a video capture resolution of up to 4320p, enabling you to deliver stunning visuals with unmatched clarity.
Key Features:
Experience the future of video recording with 5.7K 30p internal video capture in ProRes 422 HQ and ProRes 422, a first in the Lumix series.
Utilizing CFexpress Type B cards, this innovation allows non-linear editing without the need for transcoding.
With 5.7K 60p recording in 4:2:0 10-bit, utilize the full sensor area. Enjoy seamless and uninterrupted filming with no recording time limits.
Capture the beauty of motion in astonishing detail with 4K 120p or 5x slow-motion recording in 4:2:0 10-bit. Benefit from audio and autofocus tracking support while utilizing the full sensor width.
The synthesis of images at each pixel from low ISO and high ISO circuits produces HDR videos with remarkable clarity, low noise, rich gradation, and vibrant saturation.
Price: $2,034.02
Best Camera for Vlogging under $3000
1. Blackmagic Pocket Cinema Camera 6K Pro
Blackmagic Camera 6K Pro features a full-size HDMI HDR output, two mini XLR ports for dual audio recording, and a 3.5mm audio input with an integrated speaker and headphone jack. Its high-speed USB-C expansion port connects external accessories such as flash drives and SSDs for longer recording times and efficient post-production workflows.
Key Features:
Empowered by Dual Native ISO technology and a high-sensitivity sensor, the camera achieves exceptional image quality even in extremely low light conditions.
Enjoy the flexibility of capturing scenes in varying lighting conditions with motorized ND filters, offering 2, 4, and 6 stops of light reduction.
Unleash your creativity with a range of filming resolutions, including 5744 x 3024 (5.7K 17:9), 6144 x 3456 (6K), 4096 x 2160 (4K DCI), and more.
Enhance your shooting experience with the optional viewfinder, featuring an OLED color display with diopter adjustments and integrated proximity sensors for precise focusing and monitoring.
Record impeccable audio with four built-in microphones designed to reduce background noise.
Price: $2,499.00
Best Camera for Vlogging under $3500
1. Sony Alpha a7R IV
The Creators' Cloud platform merges advanced Sony camera technology with cloud-based AI. Find a hub for creative work with fellow creators worldwide, from shooting to production, and utilize web, mobile, and PC apps for efficient and innovative solutions. Enjoy wireless and wired connectivity, including 5GHz Wi-Fi for remote shooting and data transfer. USB 3.2 Gen 1 enables smooth wired PC remote shooting. Compositing 16 pixel-shifted images, the Alpha 7R IV camera for vlogs achieves a staggering 240.8MP fidelity.
Key Features:
Experience low noise and remarkable detail, even with high pixel counts.
The in-body 5-axis image stabilization ensures steady shots up to an effective 5.5-stop higher shutter speed.
The optional wireless remote controller is ideal for noise-sensitive environments and vibration-free silent shooting.
Maintain high-speed burst shooting of up to 10fps with a mechanical shutter with remarkable precision.
Experience AI-based Real-Time Tracking for consistent subject tracking, including animal eye tracking.
Price: $2,609.99
Conclusion Part
This section will use a comparison table for the top 14 best cameras for YouTube vlogging in 2023, listed details in the below parts.
| | | | | | | | |
| --- | --- | --- | --- | --- | --- | --- | --- |
| Factors | Fujifilm X-S20 | Canon EOS R8 | Sony Alpha a7 III | Panasonic Lumix GH5S | Panasonic Lumix GH6 | Blackmagic 6K Pro | Sony Alpha a7R IV |
| Max Res. | 4K | 4K, HDR | 4K | 4K, HDR | 5.7K | 6K | 4K |
| Connectivity | USB-C, HDMI | Wi-Fi, Bluetooth | Bluetooth, NFC, Wi-Fi | HDMI, USB 3.1 Type C | Wi-Fi | HDMI | Wi-Fi, USB 3.2, |
| Price | $1299 | $1499 | $1,830 | $1,798 | $2,035 | $2,499 | $2,610 |
FAQ About The Best Vlogging Cameras
Q1. What is the best and cheapest vlogging camera?
The best and cheapest vlogging camera in our opinion, would be the newly launched OBSBOT Tail Air. It offers features like AI tracking, gesture control, excellent audio recording, and compact size and weight. $419 makes it the best budget vlogging camera 2023 for all video-making enthusiasts.
Q2. What kind of camera do YouTubers use for vlogging?
YouTubers of different levels and types of content prefer several cameras for their vlog. For instance, a beginner, mostly recording daily life, lifestyle, etc., may select a mini camera for vlogging. On the other hand, a YouTuber who shares technical or financial perspectives may prefer a fixed-focus camera from Canon, Nikon, or Sony.
Q3. How much is a decent vlog camera?
A decent vlog camera can cost anywhere from $300 to over $3000. It depends on how much you are willing to spend per the extra features you will get.
Conclusion
So, that was about the best 14 cameras for vlogging for every budget. You can now check, examine the reviews online, and pick any one of the listed above. We assure you our list comprises the best vlogging camera of 2023. Our article also shared the features you should consider for purchasing a video camera for vlogging and answered four significant questions that may pique your mind.
Lastly, we hope you had fun reading this post and are now ready to purchase the vlogging equipment for your YouTube channel.