Individuals who share information, entertainment, and expertise through the best content-creator cameras have emerged as a driving force in 2023. Content creators use videos, articles, social media graphics, music, and more to attract diverse audiences. With over 50 million content creators online and 2 million full-time professionals, the influencer marketing industry's value breached $15 billion in 2022. Remarkably, 73% of currently employed plan to get the best camera for content creators in 2023 and transition into full-time content creation in the coming years.
Here we'll introduce the 9 best cameras for content creators, keep reading.
Part 1: Factors to Consider When Choosing Cameras for Content Creators
So, what are the primary factors to consider while buying the best camera for video content creation? Well, here is a list of six such checkpoints for you:
1. Image Quality
Exceptional image quality is paramount for captivating content. Opt for cameras with high-resolution sensors and advanced image processing for sharp and vibrant photos, even in challenging lighting. Low-light performance is crucial, too, so look for a wide ISO range and noise-reduction technology.
2. Camera Type
Decide between DSLR, smartphone, point-and-shoot, and mirrorless cameras. DSLRs offer versatility and professional-level quality, while mirrorless options are compact and lightweight. Smartphones and point and shoot can be handheld and ideal for on-the-go influencers who prioritize mobility.
3. Video Content
If you create video content, consider video resolution (aim for 4K) and stabilization options to ensure smooth, professional-looking footage. Built-in stabilization systems or stabilized lenses can help minimize camera shake.
4. Additional Features
Look for a good camera for content creators with Wi-Fi/Bluetooth connectivity for easy sharing. Plus, an articulating touchscreen for self-portraits, vlogs, and weather sealing for durability in challenging conditions.
5. Future Compatibility
If you're considering interchangeable lenses, assess the availability and cost of additional lenses. Ensure they match your future content needs.
6. Budget
Set your budget and stick to it. While dream gear exists for all, opt for the latest model within your budget. If not, consider the previous version, which might be less priced.
Part 2: Entry-Level Cameras: Affordable Options for Beginners
Now that you know how to pick the best cameras for content creation let us know the affordable options for beginners.
1. OBSBOT Tail Air
The OBSBOT new entrant, the Tail Air camera, is the best budget camera for content creators today. Its PTZ features and price point are a significant attraction to new-age vloggers.
Technical Specifications:
Sensor Size: 1/1.8'' CMOS
Effective Pixels: 8.4 million
Lenses: 8 Optical Lenses
Zoom Range: 4X Digital Zoom
Aperture: ƒ/1.8
Focus: Auto Focus/Manual Focus
Video Resolution: 4K@30/25/24 fps, 1080@60/50/48/30/25/24 fps
Connectivity: Wi-Fi, Bluetooth, USB: 2.0
Pros:
AI Tracking: The revolutionary AI-powered auto-tracking at 120°/s tracks humans, pets, and objects to a professional level while maintaining audio quality synchronization.
Connectivity: Connect via USB-C, micro HDMI, Wi-Fi, or PoE-supported Ethernet. With one click, activate Tail Air as the best video camera for vloggers, like YouTube.
Live Streaming: The NDI|HX3 in Tail Air helps during low-latency streaming over Wi-Fi and Ethernet. This allows real-time audience engagement with perfectly synced audio and video.
Gesture Control 2.0: Quickly connect with your viewers and use simple gestures to control the camera between vlogs.
Low-Light Performance: Tail Air's true 2μm large pixel size and ƒ1.8 aperture work wonders in challenging low-light conditions. What you experience is video clarity, minimal noise, and high audio quality.
Cons:
Only available on Kickstarter.
2. Sony ZV-1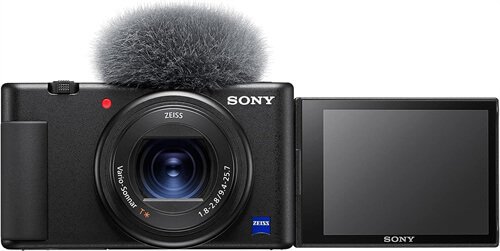 The Sony ZV-1 is a compact and potent beginner's best content creator camera. It has a unique directional microphone adjacent to the flash hotshoe and a fully articulating touchscreen display.
Technical Specifications:
Continuous Shooting Speed: 24 fps
Max Focal Length: 70 Millimetres
Minimum Shutter Speed: 1800 Seconds
Model Year: 2020
Zoom Type: Digital Zoom
Focus Type: Auto Focus
Effective Still Resolution: 20.1 Megapixels
Pros:
Audio: The advanced three-capsule directional mic in the ZV-1 added to the fuzzy windscreen heavily reduces the wind noise and provides clear sound during your vlog recordings.
Video Quality: The ZV-1 excels in 4K up to 30p and Full HD up to 120p shooting. At the same time, its F1.8-2.8 lens ensures remarkable image quality.
Photo/Video Shooting: ZV-1 is a small and portable video camera for content creators. Thus, you do not need to carry other devices along for photography or videography.
Design and Handling: Sony designed the ZV-1 as one of its best adding grip and controls that will support you for multiple shooting positions. You can quickly change to selfies and standard shooting.
Switch Modes: The ZV-1 comes with a memory recall function with which you can move between video and still shooting simply using a switch. You can customize and save your favorite mode settings, like, exposure, photo quality, quick movements, and workflow.
Autofocus and AI Brilliance: Another unique feature of the Sony ZV-1 is its real-time autofocus technology with eye recognition. So, it keeps the eye focused continuously during 4K video recordings that in turn adds to the sharpness of the object. Add to that the touchscreen interface that will help you in every shooting style.
Cons:
Absence of Features: The ZV-1 lacks an electronic viewfinder which is a must during bright sunlight shooting.
3. Canon PowerShot G7 X Mark II
The Canon G7X Mark II is a refined compact camera designed with enhanced usability and improved features. While maintaining its familiar form factor, this best content creation camera offers various upgrades catering to users' needs. The G7X Mark II aims to deliver a better shooting experience, from a more comfortable grip to improved lens control.
Technical Specifications:
Camera Lens: 24mm
Continuous Shooting Speed: 60 fps
Max Focal Length: 100 Millimetres
Model Year: 2016
Zoom Type: Optical Zoom
Focus Type: Auto Focus
Effective Still Resolution: 20.1 MP
Pros:
Comfortable Body and Performance: The improved body with a rubber front grip adds comfort and makes it easier to handle, even with its compact dimensions. Thanks to its DIGIC 7 processor, the G7X Mark II performs better than its predecessor. Faster cycling times, expanded buffer depths, and improved continuous shooting make it a versatile tool.
Lens Ring Rotation: A notable addition is a switch next to the lens that allows users to toggle between the smooth and stepped rotation of the control ring. This feature is handy for quick adjustments, such as aperture control.
Fast and Versatile Lens: Sporting a 24-100mm equivalent f/1.8-2.8 lens, the G7X Mark II offers a 4.2x zoom range. While it maintains good telephoto performance, it also allows for creative shooting thanks to its wide aperture range.
Dependable Autofocus Performance: The camera employs a contrast-detect autofocus system with 31 points. While not the most sophisticated system, it is reliable in various scenarios, delivering impressive autofocus performance.
Excellent Image Quality: With a 20MP 1"-type sensor and a faster DIGIC 7 processor, the G7X Mark II captures highly detailed images, especially when using RAW files. The "Fine Detail" Picture Style preset further enhances image sharpness.
Touchscreen Functionality: The camera's 3-inch display offers intuitive navigation through menus and settings. The Quick Menu is touch-friendly, providing easy access to essential shooting parameters.
Cons:
Limited Video Capabilities: Its maximum video resolution is capped at 1080p at frame rates up to 60fps. Also, the absence of 4K video recording places the G7X Mark II behind competitors regarding video capabilities.
4. GoPro HERO 10 Black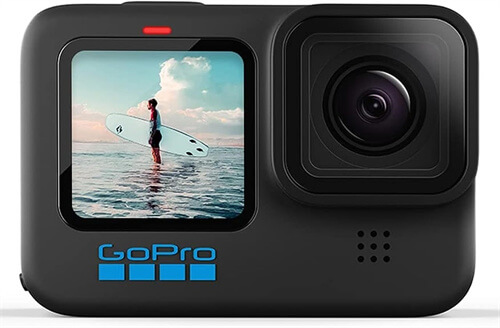 The Hero 10 Black sets a groundbreaking standard in action camera technology. The GP2 "system on a chip" represents a pinnacle of rapid innovation, engineered to meet the exacting demands of new content creators.
Technical Specifications:
Continuous Shooting Speed: 25 fps
Minimum Shutter Speed: 0.01 seconds
Model Year: 2021
Warranty Description: Two-year warranty
Water Resistance Level: Waterproof
Effective Still Resolution: 23 Megapixels
Pros:
GP2 Engine: The Hero 10 Black is powered by the revolutionary GP2 engine, delivering snappy performance, ultra-responsive touch controls, and a doubled frame rate for remarkably smooth footage. This advancement significantly elevates the overall user experience.
High-Resolution Media: The Hero 10 Black captures stunning 23-megapixel photos and records videos in 5.3K resolution at 60fps. The doubled frame rate ensures fluid motion, while features like 8x slo-mo at 2.7K and photo extraction from videos enhance creative options.
Unmatched Image Quality: Expect finely detailed, realistic textures and striking contrast even in low-light conditions. The hydrophobic lens cover repels water, minimizing lens flare and artifacts for superior image quality.
Stabilization with HyperSmooth 4.0: HyperSmooth 4.0 offers improved stabilization that's easily adjustable for optimal results. It includes low-light performance, an extended tilt limit to level horizons, and precisely aligned footage.
Connectivity and Transfer: The Hero 10 Black streamlines the transfer of photos and videos through wireless uploads via the Quik app and rapid wired connections via USB. It also includes automatic cloud storage with unlimited upload capacity.
Cons:
App Performance: Android's "Quik" app frequently disconnects from the camera shortly after pairing. The app constantly pushes for sign-ups and subscriptions.
Part 3: Mid-Range Cameras: Striking a Balance Between Price and Performance
1. Nikon Z50
The Nikon Z50 camera offers a blend of features and design elements, yet certain aspects leave room for praise and critique. Users who explored this camera found the setup process seamless and quickly operational. The camera's overall build and design are solid, leaving a positive impression.
Technical Specifications:
Continuous Shooting Speed: 11 fps
Max Focal Length: 250 Millimetres
Minimum Shutter Speed: 30 seconds
Model Year: 2019
Focus Type: Auto Focus
Maximum Shutter Speed: 1/4000 seconds
Effective Still Resolution: 20.9 Megapixels
Pros:
Simplicity: The initial setup of the Nikon Z50 is straightforward and hassle-free, allowing users to start using the camera swiftly. Despite its capabilities, the Z50 is easy to carry and handle.
Solid Build and Ergonomics: The camera's design and build quality are commendable, creating a durable and impressive impression. The camera's ergonomics are well thought-out, offering comfort during use and adapting to different shooting scenarios.
Image Quality and Performance: The camera produces excellent quality, particularly in low-light conditions. The 20.9 MP resolution is ample for various shooting situations.
Impressive High-ISO Performance: The camera's performance at high ISO levels is notable, allowing for clean and detailed shots even at ISO 800 or above.
Kit Lenses: The included 16-50mm lens provides consistent and superb image quality in a compact package, and the 50-250mm lens offers good performance for its range.
Touchscreen Controls: While touchscreens can be divisive, the Z50's touchscreen controls offer an alternative way to navigate and control the camera's features.
Cons:
Battery and Recording Limit: The camera's 30-minute recording limit and expensive battery can be off-putting for users who require extended recording sessions.
2. Canon EOS 90D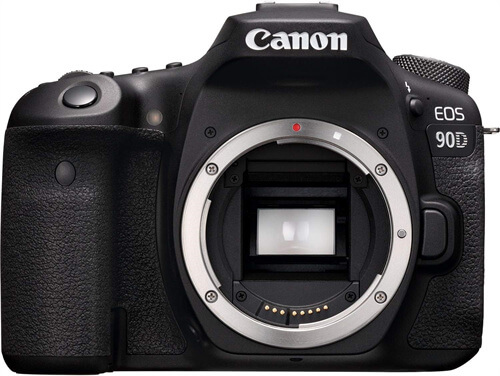 The Canon EOS 90D presents an upgrade from its predecessor, the 80D, offering enhanced performance features, improved video capabilities, and a higher-resolution sensor. This mid-sized best canon camera for content creators maintains a familiar design with a weather-sealed construction, providing durability and ease of use.
Technical Specifications:
Continuous Shooting Speed: 10 fps
Model Year: 2019
Warranty Description: 2-year manufacturer warranty
Zoom Type: Optical Zoom
Expanded ISO Maximum: 51200
Focus Type: Auto Focus
Effective Still Resolution: 32.5 Megapixels
Pros:
Familiar Build: The 90D retains the recognizable Canon DSLR design with a weather-sealed construction, ensuring durability and a comfortable grip.
Powerful Video Capabilities: The camera offers enhanced video recording options, including 4K UHD resolution and Full HD with framerates up to 120fps.
Great Battery Life: The 90D boasts excellent battery life, especially when using the optical viewfinder.
Good Image Quality: Equipped with a 32.5-megapixel sensor, the 90D delivers impressive image quality with fine detail and pleasing colors.
Fully Articulated Touchscreen LCD: The rear touchscreen display is fully articulated and responsive, offering flexibility for framing shots and navigating menus.
Cons:
Lack of In-Body Image Stabilization: The camera does not feature in-body image stabilization, relying on lens-based stabilization.
3. Panasonic Lumix GH5
This best camera for content creators 2023 model became Panasonic's premier micro four-thirds camera. With a 20.3-megapixel sensor free from an Optical Low Pass Filter (OLPF) and Panasonic's most advanced image stabilization technology, it exhibits substantial improvements over its predecessor.
Technical Specifications:
Model Year: 2017
ISO Range: 100
Warranty Description: 1-Year Limited Warranty
Focus Type: Auto Focus
Maximum Shutter Speed: 60 seconds
Effective Still Resolution: 20.3 MP
Pros:
Image Quality and Stability: Its sensor size and the absence of the OLPF deliver exceptional photographic capabilities with remarkable sharpness and detail. With in-body image stabilization and a built-in e-stabilizer, the GH5 provides handheld footage stability. It supports Dual IS with compatible lenses, improving stabilization further.
Video Quality: Shooting Ultra HD 4K at 60 fps results in a 15% increase in sensor area during video recording. It also offers HD 1080p at up to 180 fps, up scaleable to 4K without losing quality.
Low Light and Focusing Performance: The ISO 200 to ISO 25,600 range comfortably shoots up to ISO 3,200 without much loss of detail. Even ISO 6,400 is usable in most scenarios. The 225-point AF system and an improved motion detection algorithm deliver superior performance, especially in single-point focusing. The Depth from Defocus (DFD) technology offers fast AF performance in still photography. Although focusing during video recording can be inconsistent, manual focusing remains reliable.
Display, Viewfinder, and Interface: The GH5's LCD screen offers versatile shooting angles for various situations. The camera inherits an optimized touch-optimized menu system from its predecessor, enhancing user navigation. A help info panel explains selected settings, simplifying the menu for beginners. The touchscreen interface is intuitive and user-friendly.
Battery Performance: The GH5 can deliver up to 400 shots. The power saver mode doubles battery life, enabling nearly 1,000 shots. Continuous 4K 10-bit recording can last over 2 hours and can record indefinitely when connected to an AC adapter.
Cons:
Video: V-Log is not by default and requires a separate purchase with a $100 software unlock code. Shooting above 60 fps in 1080p mode disables AF and audio recordings, and image quality lowers with other issues.
4. Fujifilm X-S20
The Fujifilm X-S20 is a mid-range hybrid mirrorless camera with a familiar 26-megapixel X-Trans 4 sensor with in-body image stabilization. It introduces notable upgrades such as a new processor, larger battery capacity, and improved video specifications. Though its price is noticeably higher, these enhancements make it an attractive option for photographers, videographers, and hybrid creators.
Technical Specifications:
Maximum Webcam Image Resolution: 26.1 MP
Photo Sensor Size: 23.5 x 15.6 Millimeters
Maximum Shutter Speed: 30 Seconds
Effective Still Resolution: 26.1 MP
Optical Zoom: 1x
Connectivity Technology: HDMI
Screen Size: 7.6 Centimeters
Pros:
Landscape Photography Performance: The X-S20 excels in landscape photography due to its impressive APS-C sensor. It offers excellent dynamic range, capturing intricate details in highlights and shadows. The camera's adept noise handling in low-light conditions adds to its versatility in various shooting environments.
Build Quality and Comfort: The camera's build quality is solid, with a combination of magnesium alloy and hard plastic that ensures sturdiness. The command dials are customizable. The hand grip is designed for comfort, accommodating larger batteries, while the thumb rest adds to the ergonomic feel.
Touchscreen Interface and Features: The fully articulated touchscreen is user-friendly, and supports touch autofocus, touch shutter, and video settings adjustments. The F-Log 2 and dedicated 'Vlog' mode simplify access to vlogging settings. The menu system is navigable and customizable, with features such as the 'My Menu' and quick menu enhancing user convenience.
Battery Life and External Power: The X-S20 has a remarkable battery life, thanks to its larger NP-W235 battery. The CIPA-rated 750-800 shots per charge cater to extended shooting sessions. The camera can also be powered externally through a USB power bank or adapter for longer shooting scenarios.
Video Capabilities: The X-S20 shines in video recording with support for 6.2K at 30 fps, 4K at 60 fps, and FHD at 60 fps. It also features output options for 12-bit RAW video in ProRes RAW or Blackmagic RAW with compatible recorders.
Cons:
Autofocus Inconsistencies: The autofocus performance can be inconsistent, especially when not using tracking. In some scenarios, the camera may unexpectedly miss focus or shift between background and foreground.
Part 4: High-End Cameras: Premium Choices for Professional Vloggers
1. Sony Alpha a7S III
The Sony Alpha A7S III is the latest addition to Sony's S series camera lineup, designed to provide the highest level of sensitivity possible. The redesigned structure allows for extended high-quality recording times without overheating concerns. The camera also offers a range of color profiles and parameter controls, allowing for creative control over the look and feel of your shots.
Technical Specifications:
Effective Still Resolution: 12.1 Megapixels
Connectivity Technology: Micro-USB, Wi-Fi, Bluetooth, HDMI (Type D), Multi Interface Accessory Shoe
Screen Size: 3 Inches
Item Weight: 0.7 Kilograms
Video Capture Resolution: 2160p (4K Ultra HD)
Lens Type: Sony E-mount Lenses
Pros:
Impressive Sensor and ISO: The Exmor R 12MP Full-Frame BSI Sensor, combined with the BIONZ XR Processing engine, offers an ISO sensitivity range from 80 to 102400. It is expandable from 40 to 409600.
Versatile Video Capabilities: The camera can capture non-cropped 4K footage up to 120P with 4:2:2 10-bit in H.264. It also supports FHD video at 240fps, making it suitable for slow-motion shots.
Advanced Autofocus: The camera features Fast Hybrid Autofocus, Real-time Eye AF, plus Real-time Tracking AF for humans and animals. The 759-point on-sensor phase decision AF shows Sony's ability to produce high image quality and professional performance in one body.
Stabilization System: With a 5-axis optical in-body image and electronic stabilization system, the A7S III ensures stable shooting even in challenging conditions, making it ideal for run-and-gun videography.
Super-Speed and Storage: Capable of capturing 10fps with full AF operation and storing over 1000 uncompressed RAW files, the dual CFexpress Type A/UHS-II card slots provide ample storage and speed.
High-Resolution Viewfinder and Articulating LCD: The 9.44 Million-dot QXGA OLED Tru-Finder and touch-enabled articulating LCD monitor enhance the shooting experience, providing clear imagery and flexible composition options.
Cons:
Price: The A7S III is costly due to its advanced features, which might make it less accessible for some users.
Size and Weight: While manageable, the A7S III's form factor might be less portable than smaller cameras for some users.
2. Canon EOS R5
The Canon EOS R5 stands as another best Canon camera for content creators, with qualities that cater to the demands of professional photographers and enthusiasts alike. The advanced Digic X image processor achieves burst rates of up to 12 fps with the mechanical shutter and an impressive 20 fps when employing the electronic shutter.
Technical Specifications:
Continuous Shooting Speed: 20 frames per second (fps
Minimum Shutter Speed: 30 seconds
Model Year: 2020
Autofocus Points: 49
Effective Still Resolution: 45 megapixels (MP)
Pros:
Superb Image Quality: With a dynamic range of 14.6 stops, the camera captures detail and color accuracy, especially in well-lit conditions. The camera's 45-megapixel resolution brings remarkable image quality and substantial noise reduction without compromising fine details. The cRaw format efficiently reduces raw file sizes with minimal loss in quality.
Excellent Focus Tracking: The EOS R5 boasts an impressive AF tracking system that utilizes nearly 6,000 AF areas around the DualPixel CMOS sensor. This system captures subjects' eyes and maintains focus throughout shooting, even extending to animal subjects. The AF system covers the entire sensor for consistent performance across the frame.
Sturdy Build: The EOS R5's robust construction and weather-sealing provide durability and protection, ideal for challenging shooting conditions.
Electronic Viewfinder: The EOS R5 features a high-resolution electronic viewfinder with a crisp OLED display, offering both 60 fps and 120 fps refresh rates for optimal viewing.
Articulating Touchscreen: The 3.2-inch touchscreen with a 2.1-million dot resolution fully articulates, providing flexibility for shooting at various angles and during video recording.
Ergonomic Design: The camera's controls have been thoughtfully designed, with a multi-controller joystick replacing the touch bar, ensuring more intuitive and accurate operation.
Cons:
Memory Card Slot Mismatch: A typical SD card slot and a more advanced CFExpress slot might not suit all users, potentially leading to memory card management challenges.
Part 5: FAQs about Cameras for Content Creators
Q1. What camera do content creators use?
Sony ZV-1 is ideal for experienced vloggers and content creators. The only difference between the Sony ZV-1 and its counterpart, the ZV-1F, is the 24-70 millimeter f/1.8-2.8 Zeiss lens. This lens configuration supports versatile applications, making it an excellent point-and-shoot camera and vlogging tool for still photography.
Q2. What camera do YouTubers use?
The Canon PowerShot G7 X Mark III receives high praise from numerous YouTubers, and the reasons are evident. While it might not stand out as the absolute best in any specific aspect, it excels as a versatile all-rounder. It adeptly fulfills the essential requirements of YouTubers, all while being compact enough to be carried anywhere with ease.
Q3. Which camera do bloggers use?
Point-and-shoot cameras suit beginners seeking simplicity and portability. Mirrorless cameras balance quality and portability with creative control and better performance, particularly in low-light situations. DSLRs excel in ultimate image quality, often used by professionals. Modern mirrorless options can match DSLRs' image quality, making them popular among bloggers for their versatility and high-quality results.
Conclusion
Thus, that was about the best cameras for content creators in 2023. We discussed ten industry's best brands along with their specifications, pros, and cons so you can make the right decision. Also, to make it easier, we divided the cameras into three parts according to your skill, beginner, middle, and professional. So, now you have the best video camera for vloggers w.r.t., budget, and features.
Lastly, we hope you liked reading this article and are ready to continue your new journey with the best camera for content creators in 2023.