In today's digital age, video blogging has become a very popular form of content creation. So, if you are new to YouTube, Facebook, or Instagram platforms, and are looking for the best cameras, keep reading. We will talk about vlogging cameras for beginners for cheap in the following paragraphs.
Part 1: Compare Chapter
Camera
Camera Type
Max Resolution
Sensor
Battery
Connection
Price
OBSBOT Tail Air 👍
Compact Camera
4K
1/1.8'' CMOS
90 Minutes
Wi-Fi, USB-C, HDMI, NDI
$419
Canon PowerShot G7 X Mark III
Compact Camera
4K
1.0-inch Stacked CMOS Sensor
30 mins
Wi-Fi
$749.99
Nikon COOLPIX A1000
Compact Camera
4K UHD
1/2.3 CMOS
2.3 hrs
Wi-Fi, HDMI, Bluetooth
$479.95
DJI Pocket 2 Gimbal
Action Camera
4K Ultra HD
1/1.7" CMOS
2.2 hrs


USB-C
$349
GoPro Hero 10
Action Camera
1080p

23.6MP SENSOR

20 mins
Wi-Fi, Bluetooth
$349.99
Panasonic Lumix G100
Mirrorless
4K

17.3 x 13 mm

MOS
10 mins
Wi-Fi, Bluetooth
$797.97
Sony ZV-E10
Mirrorless
4K
Exmor CMOS sensor
13 hrs
USB, Wi-Fi
$699
Canon EOS M50 Mark II
Mirrorless
4K
22.3 x 14.9mm CMOS
30 mins
USB, Wi-Fi, HDMI, HDR, Bluetooth, NFC
$699.99
Canon EOS 80D
DSLR
Full HD 1080p
CMOS
30 mins
USB, HDMI, Wi-Fi
$597
Canon EOS Rebel T8i
DSLR
4K UHD
22.3 x 14.9mm
30 mins
Wi-Fi, Bluetooth
$749.99
Part 2: Tips for Selecting a Cheap Vlogging Camera
1. Consider the types of vlogging Camera:
Action Cameras: Ideal for on-the-go vloggers and adventure enthusiasts, action cameras are compact, rugged, and capture action-packed moments. They are great for vlogging in extreme sports, outdoor activities, and travel. Action cameras are durable, with wide-angle lenses and built-in stabilization.
Mirrorless Cameras: Mirrorless cameras include DSLR benefits with a more compact and lightweight design. They often include flip screens, suitable for vloggers monitoring their shots while recording.
DSLR Cameras: Digital Single-Lens Reflex (DSLR) cameras offer interchangeable lenses, exceptional image quality, and advanced manual controls. DSLR's optical viewfinders allow you to see right what the camera sees through the lens. Many DSLRs also offer flip screens, an excellent feature for vloggers.
Compact Cameras: Compact, lightweight, and easy to use, these cameras are ideal for a hassle-free vlogging experience without compromising on video quality. However, they may not offer the same level of customization as mirrorless or DSLR cameras.
2. Recording Capabilities
Prioritize a vlogging camera that guarantees extended video recording without interruptions. Ensure the camera's capability to avoid overheating and shutting down during video capture, preventing costly inconveniences.
3. Video Quality
Determine whether your vlogging camera should record in 1080p or 4K resolution. While 4K offers higher clarity, consider the compatibility of your editing setup and the viewing devices of your audience.
4. Auto-Focus
Uninterrupted filming necessitates continuous autofocus. A vlogging camera without this feature can lead to time-consuming manual focus adjustments during filming and editing, making autofocus essential for smooth content creation.
5. Low-Light Performance
Choose a camera with low-light solid performance, allowing you to record clear vlogs even in challenging lighting conditions. Adjusting ISO, aperture, and shutter, speed ensures adaptability to varying environments.
6. Good Microphone
Invest in high-quality audio for professional vlogs. External microphones significantly enhance audio quality and minimize wind noise. Ensure your chosen camera supports external microphones and offers sound clarity.
Part 3: Cheap Vlogging Camera -- Compact Cameras
1. OBSBOT Tail Air
The OBSBOT Tail Air is an innovative vlog camera that offers impressive features and capabilities for content creators. It is designed to provide high-quality video footage with ease and flexibility.
Pros:
Cons:
It is not on sale now, you can order it on Kickstarter.
Price: $419
2. Canon PowerShot G7 X Mark III
PowerShot G7 X Mark III is not just a camera; this compact powerhouse can transform your creative vision into a reality. From vlogging on YouTube to dynamic 4K and vertical video capabilities, the G7 X Mark III is your gateway to videos that resonate with audiences worldwide. If you are a vlogging enthusiast or a content creator, this camera can capture your imagination and deliver stunning results.
Pros:
Video Creator's Paradise: Its 4K support and Vertical Video feature craft visually stunning content from unique angles, ensuring your videos stand out.
Pocket-Friendly Design: The camera's compact size and lightweight build make it an ideal choice for remote shoots.
Instant Facial Recognition: The DIGIC 8 Image Processor ensures lightning-fast startup, putting you front and center of every frame. The facial recognition technology captures the full spectrum of expressions in high-resolution video, including 4K and Full HD.
Vertical Video Advantage: Elevate your vlogging game with the Vertical Video feature. Capture compelling vertical angles and shot lengths to add unique value to your content. Shareable on social media platforms and YouTube, this feature lets you engage with your audience like never before.
Wireless Connectivity: Built-in Bluetooth and Wi-Fi capabilities offer seamless connections to smart devices.
Cons:
Expensive: Although the features are vast and unique, the Canon G7 X Mark III is not a cheap vlogging camera for beginners.
Price: $749.99
3. Nikon COOLPIX A1000
The Nikon COOLPIX A1000 packs an incredible punch within its sleek and high-end design. This compact powerhouse has a super telephoto NIKKOR zoom lens and boasts exceptional photo and video capabilities. From versatile low-light performance to rock-steady image stabilization, 4K Ultra HD recording, and creative modes, the COOLPIX A1000 is a proper all-in-one camera that offers immense potential.
Pros:
Impressive Zoom Capability: The COOLPIX A1000 features a 35x optical zoom NIKKOR lens with macro capabilities and a wide range of vlogging options, from wide-angle vistas to super telephoto close-ups.
Low-Light and Active D-Lighting: Captures sharp, detailed images even in challenging lighting conditions, so your vlogs show balanced, true-to-life tones.
4K Ultra HD Videos: Record stunning 4K Ultra HD videos with full stereo sound, allowing you to capture and relive moments with exceptional clarity and detail.
RAW Format Support: Capture uncompressed RAW (NRW) images for easier editing and post-processing, allowing you to achieve your desired look without compromising image quality.
Creative Modes and Manual Controls: Choose from preset Creative Modes and apply various effects to your images. The P/S/A/M dial provides manual control options for personalized settings and creative freedom.
Cons:
Limited Wi-Fi Compatibility: The built-in Wi-Fi capability is compatible only with select iPhone, iPad, iPod touch, and Android devices running the Nikon SnapBridge application.
Price: $479.95
Part 4: Cheap Vlogging Camera -- Action Cameras
1. DJI Pocket 2
Meet DJI Pocket 2, the tiny yet mighty camera that puts the power of creation in the palm of your hand. Designed for portability and ease of use, DJI Pocket 2 lets you capture unforgettable moments with cinematic flair, all in the blink of an eye. DJI Pocket 2's Story Mode's automatic camera movements, transitions, and music transform your footage into cinematic mini-movies.
Pros:
Quick and Single-Handed Capture: One-second startup time ensures you never miss a fleeting moment. Effortlessly capture photos and videos with just one hand, keeping the action alive and unfiltered.
High-Definition: Capture sweeping landscapes and group selfies easily using 180° and 3×3 panorama modes. Built-in 3-axis motorized gimbal ensures smooth and stable footage even during high-intensity activities.
Outstanding Low-Light Performance: DJI Pocket 2's gimbal technology delivers clear, detailed nighttime shots that smartphones struggle to achieve.
Crystal-Clear Audio: Four built-in microphones with DJI Matrix Technology reduce wind noise and enhance audio quality, delivering immersive soundscapes.
User-Friendly: DJI Pocket 2 offers advanced features with simple point-and-shoot functionality, making high-quality content creation accessible to everyone.
Cons:
Small Screen: The touchscreen interface is compact, which might limit ease of use for users with larger hands.
Price: $349.00
2. GoPro Hero 10
Experience a new era of speed, responsiveness, and enhanced quality with the groundbreaking GP2 engine. This game-changing "system on a chip" is purpose-built for GoPro's demanding standards, delivering snappy performance and ultra-responsive touch controls. Prepare for an unmatched visual journey as the GP2 engine doubles the frame rate, setting the stage for remarkably smooth footage that redefines your content creation.
Pros:
Revolutionary GP2 Engine: With lightning-fast performance, ultra-responsive touch controls, and double the frame rate, Hero 10 sets new standards for smooth and immersive footage.
High-Res Photos and Videos: Elevate your visual storytelling with remarkable 23MP photos and 5.3K video resolution at 60fps. Experience the thrill of double the frame rate, capturing every detail with stunning clarity and seamless motion.
Unmatched Image Quality: Immerse yourself in fine detail, lifelike textures, and breathtaking contrast, even in challenging low-light environments.
Seamless Connectivity: Choose between wireless uploads via the quick app or lightning-fast wired transfers using USB. With the convenience of unlimited cloud storage and hassle-free auto uploads, your content is secure and accessible.
Cons:
Advanced Learning Curve: The extensive features and capabilities of the GoPro Hero 10 may require a learning curve for users new to action cameras or advanced photography.
Price: $349.99
Part 5: Cheap Vlogging Camera -- Mirrorless Cameras
1. Panasonic Lumix G100
The Lumix G100 is a remarkable camera offering an array of features that elevate your content to the next level. With its impeccable performance and exceptional portability, this camera is your perfect companion for vlogging and content creation. Capture, transfer, edit, and upload your videos with stunning video quality and crystal-clear audio, making every moment come to life.
Pros:
High-Resolution 4K Video: The Lumix G100 delivers smooth and high-resolution QFHD 4K 24p/30p videos in 3840x2160 resolution, ensuring your videos are sharp, detailed, and visually captivating.
Versatile Touch Monitor: The 3.0-inch free-angle touch rear monitor allows you to achieve dynamic shots from any angle.
Advanced Image Stabilization (IS): Whether on the move or shooting in challenging conditions, the advanced IS of the Lumix G100 ensures that your footage remains clear and steady, adding a professional touch to your content.
Frame Marker and Composition Control: The Frame Marker feature provides indicators for popular aspect ratios; 1:1, 5:4, 4:5, and 9:16, helping you maintain precise composition while recording.
OZO Audio Integration: The Lumix G100 offers audio tracking that auto-adjusts recording range and direction, resulting in clear and pristine audio, even in noisy environments, interviews, speeches, and selfies.
User-Friendly for All Levels: It's designed with an intuitive interface, making learning and cultivating your content creation skills easy.
Cons:
Limited Lens Options: While the Lumix G100 has a 12-32mm F3.5-5.6 Lens, the range of compatible lenses might be somewhat limited compared to other camera systems.
Price: $797.97
2. Sony ZV-E10
Equip your ZV-E10 with a wide-angle lens that showcases you and your surroundings. From stunning selfies against vibrant cityscapes to natural backdrops, your audience will be with you on your vlogging adventures. The fixed focal length lens also provides a smooth, natural background blur that beautifully accentuates your subject against the scenery. It's particularly effective for creating an eye-catching visual effect in low-light environments.
Pros:
Super Close-Ups and Details: Discover the art of macro photography with a dedicated macro lens. Dive into the intricate details of your subject, whether it's a stylish accessory or a delectable meal, and reveal the captivating beauty that often goes unnoticed.
Far-Away Action and Zooming: Capture distant landscapes, scenes, or action with impeccable detail using a telephoto lens. Whether you're documenting your travels or everyday experiences, the telephoto lens adds depth and drama to your storytelling.
Extensive Lens Selection: From specialized lenses for cinematic effects to versatile everyday choices, you can tailor your setup to match your unique style and storytelling needs.
One-Touch Background Blurring: Achieve professional-level bokeh effortlessly by toggling background blurring with a single button press.
Slow and Quick Motion: The ZV-E10's S&Q mode captures slow-motion footage at 4x slower than real-time or quick-motion sequences up to 60x faster. Add a cinematic touch to your content without the need for post-editing.
Cons:
Battery Life for Video Recording: While the ZV-E10 offers impressive battery life for still photography, extended video recording sessions may require careful management to ensure continuous shooting.
Price: $699.00
3. Canon EOS M50 Mark II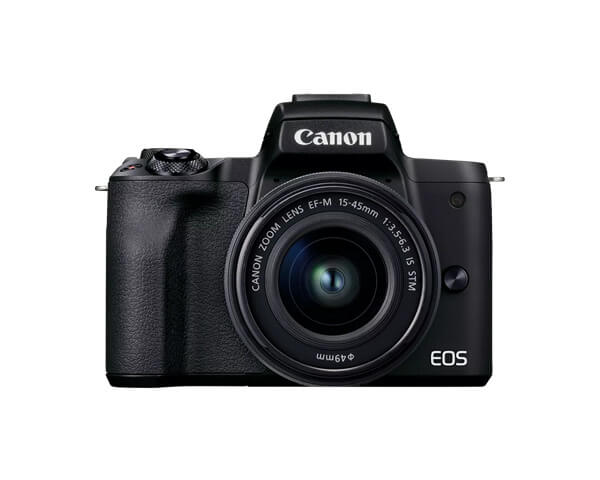 The Canon EOS M50 Mark II Bundle is a comprehensive solution for content creators seeking a powerful and versatile camera setup. This bundle empowers you to bring your creative visions to life with enhanced autofocus, streamlined live-streaming capabilities, and accessories. Whether you're an aspiring vlogger or an experienced content creator, the EOS M50 Mark II Bundle is your tool for crafting captivating visual stories that captivate and engage your audience.
Pros:
Performer with Enhancements: Delivers impressive image quality with a 24.1 Megapixel CMOS sensor plus the DIGIC 8 image processor. Including 4K UHD 24p and HD 120p for slow-motion video ensures you have the tools to create captivating visual stories.
Enhanced Autofocus: The autofocus system ensures faster subject tracking. Eye Detection technology recognizes eyes and faces from greater distances, even during video recording.
Versatility for Content Creators: Built-in Wi-Fi allows seamless livestreaming and compatibility with EOS Webcam Utility software provides an effortless webcam alternative. The camera's vertical shooting capability complements traditional horizontal framing, while clean HDMI output ensures high-quality streaming for your audience.
Cons:
Limited AF Frame Number: The maximum number of AF frames depends on the selected image aspect ratio.
Price: $699.99
Part 6: Cheap Vlogging Camera -- DSLR Cameras
1. Canon EOS 80D
The Canon EOS 80D is a versatile cheap vlogging camera to empower your creativity, capturing fast-paced sports action, creating captivating portraits, immersing yourself in stunning landscapes, or venturing into street and travel photography. With its exceptional features and innovative technologies, the EOS 80D ensures outstanding results in diverse shooting scenarios, even in challenging low-light conditions and dynamic movie-making settings.
Pros:
Precision Auto Focus System: This advanced technology allows you to achieve razor-sharp images, even in challenging lighting environments.
High-Speed Continuous Shooting: This feature is ideal for spontaneous sports and wildlife photography, allowing you to seize dynamic actions in a series of super-sharp images.
Versatile Auto Focus Compatibility: Maintain an accurate Auto Focus performance across various photographic scenarios.
Customizable Controls: Empower you to review settings and make quick adjustments, tailoring the camera to your unique shooting preferences.
Exceptional Low-Light Performance: Achieve consistent and accurate exposure in diverse lighting conditions, ensuring precise metering for exceptional image quality.
Cons:
Limited Shooting Speed: While the EOS 80D offers a quiet continuous shooting mode at three frames per second (fps), some users may desire a higher speed for discreet photography.
Price: $597.00
2. Canon EOS Rebel T8i
This Canon vlog camera for cheap, Rebel T8i is a versatile DSLR that perfectly balances being beginner-friendly and offering advanced imaging capabilities. Tailored for first-time photographers yet equipped for more demanding tasks, this camera packs various features designed to empower your photography and videography pursuits.
Pros:
High-Resolution and Wide ISO Range: Combining a 24.1MP sensor and DIGIC 8 processor ensures impressive image quality and fine details in photos and videos.
Advanced Autofocus: The 45-point all cross-type phase-detection AF system, along with Dual Pixel CMOS AF, provides accurate and swift focusing, even in challenging scenarios.
UHD 4K Video: Capture stunning UHD 4K videos at up to 24 fps.
Vari-Angle Touchscreen: For creative composition from various angles, making it ideal for photography and vlogging.
Wireless Connectivity: Built-in Wi-Fi, NFC, and Bluetooth facilitate quick and effortless image sharing between your camera and compatible devices, as well as remote camera control.
Stabilized Footage: Stabilize video recordings by reducing the appearance of camera shake, resulting in smoother and more professional-looking videos.
Cons:
Limited Frame Rates: While the camera supports UHD 4K video recording, the frame rate is limited to 24 fps, which may not suit those seeking higher frame rates for certain video projects.
Price: $749.99
Conclusion
Hence, those were the top 10 good cheap vlogging cameras of 2023. Our list was a wholesome pack of the best DSLR, compact, mirrorless, and action vlogging cameras for beginners for cheap.