Now, even for big and medium-level photographers, capturing great photos in low light can be tough without the best low-light camera. Sometimes, even full-time pros struggle to get clear and creative shots.
Thus, in this article, we'll share our advice to help you choose the best low-light cameras. Keep reading.
Part 1: What is a low-light camera?
A low-light camera, often called a high-sensitivity camera, is a special video camera designed to excel in low-light environments. These cameras utilize digital image sensors with exceptional sensitivity, dictating the light needed for high-quality images.
Part 2: Benefits of Using Low Light Camera
The best low-light cameras empower photographers and videographers to capture exceptional moments and scenes that are difficult or impossible with traditional cameras.
Here are some advantages:
Low Light Performance: The camera captures clear and detailed images in settings with low light. It can maintain the mood and ambiance of the scene without overexposing or introducing harsh lighting. Plus, it captures stunning nightscapes, star trails, and other nocturnal scenes with remarkable clarity.
Less Noise: Ultra low-light cameras often come with advanced noise reduction techniques. Thus, you get cleaner and less grainy images even in dimly lit environments.
Reduces Dependence on Flash: These cameras are less dependent on artificial lighting, which is useful when a flash is disruptive or unwanted.
Part 3: Best Low Light Camera for Content Creator 2023
This section will list camera for night photography options for 2023. We will include famous brands and their models with prices so you can pick the best low-light digital camera on a budget.
With the newly launched AI tracking camera from OBSBOT, follow subjects at a rapid 120°/s, whether humans, pets, or objects. Gesture Control 2.0 ensures seamless shooting, managing zoom, and more. With premium optics, adjustable parameters, and stunning images, this camera excels in low-light conditions. Elevate your content creation and redefine your visual storytelling with OBSBOT's innovative technology.
Pros:
True 2μm large pixel size and ƒ1.8 aperture capture more light and reduce noise in low and bright-light conditions.
Shooting in 4K @ 30fps or 1080p @ 60fps with HDR and AI enhancement.
Connect with NDI|HX3 for high-quality, low-latency live streaming via Wi-Fi and Ethernet.
The Obsbot Start App adjusts image parameters from anywhere.
The best budget low-light camera is under $500 for beginners.
Price: $499.00
2. Sony Alpha a6000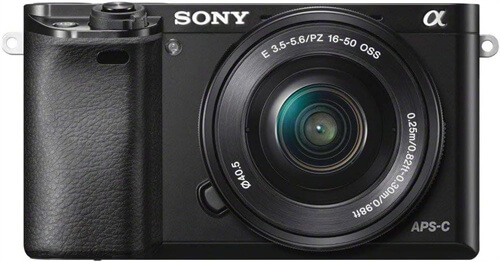 With the best low-light mirrorless camera, experience true-to-life imagery, reduced noise, and brightness in photos and videos. Seamlessly control via Wi-Fi, HDMI, or NFC from your smartphone and swiftly access shooting modes and settings with dual dials and a control wheel. Its seven customizable buttons out of 474 functions help shoot cinematic Full HD 1920 x 1080 at 24p or seize action at 60p and 60i.
Pros:
ISO range of 100 to 25000, boosted by a 20% increase in sensitivity compared to the NEX-7 in low-light.
Gapless on-chip lens structure guarantees ultimate image quality and light sensitivity.
Pop-up flash and the standard hot shoe provide additional lighting options.
A super compact mirrorless camera, half the size and weight of conventional DSLRs with the same APS-C image sensor.
100% frame coverage and wide viewing angle, this EVF displays scenes in rich tonal detail and gradations.
Price: $489.50
3. Panasonic Lumix G7
The Lumix G7 introduces a game-changing feature - 4K video technology that ensures no moment goes unnoticed. Capture perfect photo moments from 4K videos, preserving memories in amazing detail. This low-light compact camera offers intuitive access to essential functions. Control aperture and shutter settings with front and rear dials for quick adjustments.
The G7 provides three distinct 4K Photo modes:
4K Burst: Capture a continuous stream of shots.
4K Burst S/S: Begin and end a burst at your command.
4K Pre-Burst: Initiate shooting one second before the shutter release for 60 frames for that perfect shot.
Pros:
With 4EV, low light autofocus captures clear subjects even in moonlight.
The tilt/swivel touch display further enhances your viewing experience.
Intelligent auto focusing [AF] that tracks subjects based on color, size, and motion vector.
Swift and precise focus lock to shoot confidently without fearing blurry results.
Depth-From-Defocus (DFD) Silent Auto Focus (AF) technology powers high-speed continuous at up to 6 fps.
Price: $497.99
4. Nikon D5600
Ready to be creative with different NIKKOR lenses? They make your pictures look amazing with cool background blur and strong contrasts. You can send your photos to your phone or tablet quickly using SnapBridge. Make cool Full HD videos with great colors and clear sound. The camera has a special HDR mode for pictures with lots of details. Look through the viewfinder to focus better and block out bright sunlight. Get excited to make incredible photos and videos easily!
Pros:
Large sensor, built-in flash, and ISO 6400 in Night Landscape Mode ensure exceptional photo and video quality in low-lit environments.
An impressive battery life of over 970 shots per charge for shooting all day.
Use your smartphone as a remote camera control to capture distant portraits and creative shots.
Access and store your images securely on Nikon Image Space, eliminating worries about picture storage.
Adjust settings, focus, and compose shots from various angles with the high-resolution swiveling touch display.
Benefit from 39 autofocus points and fast-paced action at 5 fps.
Price: $483.99
5. Apple iPhone 14 Pro
Starting at $999 for 128GB, the iPhone 14 Pro is the best low-light smartphone camera. Craft professional-quality videos easily, showcasing smooth, steady handheld shots with the Action mode. The TrueDepth 12MP camera, Dynamic Island feature, advanced bokeh, and Depth Control capture stunning selfies and Animoji, Memoji, and Night mode.
Pros:
The 48MP Main camera, sensor-shift optical image stabilization, and 100% Focus Pixels ensure clarity in low-light conditions.
It supports 4K HDR at 30 fps to HDR video recording with Dolby Vision at up to 4K and 60 fps.
Vibrant visuals, adaptive refresh rates up to 120Hz, HDR display, and True Tone for an exceptional viewing experience.
Price: $999.00
6. Canon EOS R6 Mark II
The DIGIC X image processing engine enhances image stabilization, processing, and video capabilities with reduced noise and grain. Experience precise subject detection with the Canon low light camera in identifying people, small animals, cars, motorcycles, horses, trains, and aircraft, ensuring you never miss a moment. Capture breathtaking 6K oversampled uncropped 4K movies at up to 60 fps or high-frame-rate Full-HD video at up to 180 fps without worrying about overheating.
Pros:
Full-frame CMOS sensor, 24.2 effective megapixels for day or night, indoors or outdoors in low-light settings.
Electronic shutter for shooting up to 40 fps at 20MP with improved subject detection.
Record constant video with up to 6 hours of continuous full-HD video recording.
Connect and share with the USB Type-C9 port, built-in 5GHz Wi-Fi, and Bluetooth 5.
3.0-inch, 1.62 million dot Clear View LCD II Vari-angle Touchscreen to shoot on the go.
Charge with the USB Power Adapter PD-E or keep it powered as a webcam with improved battery life.
Price: $2,499.00
7. Nikon D780
From capturing action to time-lapse sequences and captivating 4K videos, this best low-light Nikon camera has a robust yet agile body. It has an advanced 51-point AF system for precise subject detection and tracking powered by a new AF algorithm. This technology ensures sharp acquisition and real-time tracking through the optical viewfinder.
Pros:
ISO range of 100-51200 for low-light performance, producing clean and sharp images in various lighting conditions.
Backside illumination CMOS image sensor with 24.5 effective megapixels captures intricate details.
The first Nikon D-SLR to incorporate focal-plane phase-detection AF.
Eye-detection AF adds a captivating dimension to portrait photography, making your subjects come to life.
Shutter speeds from 1/8000 to 900 seconds freeze fast-paced moments or capture gradual movements.
4K UHD/30p recording and HDR (HLG) support, and Full HD/120p for slow-motion videos.
Price: $2,196.95
8. Sony A7S III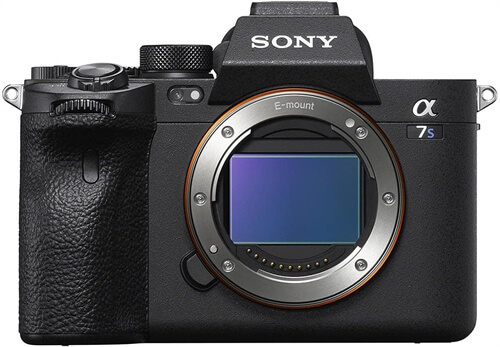 The Sony low light camera combines speed, expanded ISO up to 409600, wide dynamic range of up to 15 stops, and ultra-low noise for 4K movie shoots. The newly developed image sensor and processing engine improve color reproduction, particularly for skin tones and texture depiction in still images. The support for HEIF image file format brings superior image quality and compression efficiency, along with 10-bit color. You can capture High Dynamic Range still images in HLG mode.
Pros:
Autofocus at dim lighting conditions as low as EV-6, making subjects visible even to the naked eye.
Capture details in low-lighting conditions with expanded ISO settings while shooting in 4K at 120p slow-motion.
Advanced on-sensor phase-detection autofocus with high-quality E-mount lenses accurately tracks your subjects.
Adjustable AF Transition Speed and AF Subject Shift Sensitivity to smoothly switch subjects or create dramatic focus effects.
The Σ shaped graphite heatsink dissipates heat five times more effectively for extended recording times.
Record directly in 10-bit depth and 4:2:2 color sampling for post-processing, compositing, and image grading flexibility.
Price: $2583.70
9. Nikon Z 6II
The Dual EXPEED 6 of Nikon Z6II supercharges image processing, gives more space for your shots, and boosts overall performance. Make awesome 4K time-lapse movies with full-res stills and share instantly with the SnapBridge app. Create moments with its stunning viewfinder and optically great lenses with 10-bit N-Log or HDR recording, and minimal blackout.
Pros:
Low-light and Intelligent Eye-Detection autofocus up to 900-second exposures and automatic focus shifts in half the available light.
5-axis VR image stabilization up to 5 stops in 5 directions (yaw, pitch, roll, X, and Y for smooth handheld shooting.
Deep grip design, balanced weight distribution, sturdy build, and Magnesium Alloy skeleton.
Wide-Area AF (L) Mode for sharp eye focus and mix up to 10 shots while shooting or later.
4K UHD with 60p, 120p Full HD footage, playable at 30p, 25p, or 24p.
Price: $1,696.95
10. Nikon D850
The D850 from Nikon, in Mode 1, achieves up to 6 fps continuous shooting at 45.7 MP, in Mode 2 captures approximately 8.6-megapixel DX images at around 30 fps for up to 3 seconds. Use Touch AF, Touch Shutter control, and navigate menus. Pinpoint AF ensures precise focus placement during live-view shooting.
Nikon's exclusive AF engine ensures high AF performance for swiftly moving subjects. Capture 16:9 4K Ultra HD (3840x2160) video in full-frame magnificence.
Pros:
Base ISO of 64 (expandable to ISO 32) offers exceptional image quality across various lighting conditions.
153 focus points, 99 cross-type sensors, and an AF processor with NIKKOR lenses, even in low-light conditions down to -4 EV.
Backside illuminated (BSI) FX-format full l-frame CMOS image sensor, 45.7 megapixels, and no optical low-pass filter.
Swift continuous shooting at around 9 fps, and 4K UHD video recording.
The tilting touchscreen LCD screen simplifies capturing shots from high and low angles.
Capture 8K time-lapse movies of up to 9,999 full-size stills in Silent Live View Mode for sharp results and minimum shutter vibration.
Price: $1,685.01
Part 4: FAQs about Low Light Camera
Q1. Are full-frame cameras better in low light?
Yes. Full-frame cameras have larger sensors that can capture more light. Additionally, the pixels on these sensors are also bigger. These factors collectively enhance the camera's performance in low-light situations. For instance, autofocus operates more efficiently, eliminating the need for prolonged hunting. Moreover, the larger sensor and pixels capture images of superior quality across the board.
Q2. Are medium format cameras good in low light?
Yes. Medium format cameras excel in delivering images of exceptional quality. They hold a distinct advantage in image quality, including low-light performance and dynamic range. The merits of medium-format digital cameras include sensors with higher resolution, superior low-light capabilities compared to conventional 35mm DSLRs, and an expanded dynamic range.
Q3. What camera is better in low light?
High-sensitivity cameras effectively transform low-light images into high-quality outputs, essential for cameras designed for low-light scenarios. Responsivity, a term interchangeable with sensitivity, is an imaging device's efficiency in converting photons from dimly lit scenes into intricate, detailed images.
Conclusion
Hence, content creators, are you ready to advance with the best low-light camera for your photography this festive season? We share a wide range of benefits when you choose the best low-light smartphone camera. Also, apart from listing our take on the top 10 cameras with low light, we shared a few FAQs and their answers.
So, start your new content creation journey and post mesmerizing videos and images from today.