In 2023, the vlogging setup has become pivotal for sharing experiences and stories. With 25.2% of global Internet users regularly tuning into vlogs, this format has solidified its position as a preferred content choice.
Vlogging builds genuine relationships and trust with viewers, and as you would agree, YouTube's status is the second-most visited website globally. Furthermore, vlogs hold great promise for marketers as a high return on investment. As top YouTubers consistently earn substantial incomes, buying a vlogger camera kit can be a creative outlet and a potentially profitable venture.
So, if you are ready to start vlogging, let us learn about the must-have vlogging tools for beginners in the below parts.
Part 1: The Camera Needs of Beginner Vloggers
Your choice of camera for vlogging will impact how your content looks. Here, we explore factors when determining the perfect video blogging equipment, particularly for beginners.
1. Budget
Money matters play a pivotal role. While premium cameras are tempting, budget-friendly options can produce impressive outcomes. Numerous vlogging cameras offer exceptional performance without straining your wallet. Nevertheless, investing in a higher-tier camera is prudent if vlogging is poised to become a business endeavor.
2. Image Clarity
A base of vlogging is image quality. Opting for a camera with 4K resolution is optimal, as it bestows unparalleled clarity and detail to your visuals, ensuring a captivating viewing experience.
3. Audio Excellence
Audio quality is as vital as video excellence. Seek cameras equipped with multiple microphones to capture pristine sound. Exceptional audio drastically elevates video quality, underscoring its significance.
4. Size
Portability holds immense importance, especially for vlogging enthusiasts on the move. Prioritize lightweight, easily transportable cameras. Seamless portability empowers effortless video creation regardless of your location.
5. Software Ease of Use
The bundled software merits consideration. Many cameras include editing software, a boon for new editors. Opt for user-friendly software that encompasses necessary features, streamlining your editing process.
6. Compatibility
Future-proof your setup by checking accessory compatibility. Ensure the vlogger equipment list supports accessories like lenses, filters, and external microphones. This adaptability will better your vlogging toolkit as you evolve.
Thus, thorough research via your unique requirements in a vlogging journey will excel in viewer engagement on your online channels.
Part 2: Types of Cameras Suitable for Beginner Vloggers
This section will outline the ten most popular camera types for vlog camera setup.
1. Smartphone
Smartphones offer up to 4K resolution and are versatile tools favored by beginners, professionals, street photographers, and content creators. Editing apps and instant online sharing further make them attractive for YouTube starters.
2. Compact Cameras
Compact cameras offer a vlogging setup better than smartphones with user-friendly, lightweight, point-and-shoot functionality. Well-suited for YouTube videos, and vlogs, where portability and ease of use are vital, they can come with 4K capabilities and require no interchangeable lenses.
3. DSLR Cameras
These professional digital cameras deliver high-quality imagery, versatile for portrait, commercial, and creative projects. With interchangeable lenses, customization options, and affordability, DSLRs are be young professionals with diverse budgets.
4. Mirrorless Cameras
Mirrorless cameras resemble DSLRs but are compact, lightweight, without the internal mirror, and silent in operation. They excel in travel, wildlife, and street videography. However, they are more expensive than DSLRs and require additional accessories.
Which Vlogging Camera Kit for Beginners is the Best?
Compact digital cameras, a stellar alternative to High-End DSLRs, compact cameras are also YouTube vlogging cameras. These tiny gems have improved autofocus systems, versatile profile presets, and a small form factor for convenient, high-quality image capture.
Part 3: Recommended Vlogging Cameras for Beginners
We have tested and picked 4 vlog cameras for beginners, below is the list:
1. OBSBOT Tail Air
The OBSBOT Tail Air is a vlogger's dream camera. With its advanced AI technology, it automatically tracks your movements to keep you in frame at all times. You can control it with simple hand gestures and even use voice commands for a hands-free experience. It records in crystal-clear 4K resolution and has image stabilization for smooth footage. You can also live stream directly from the camera, making it easy to connect with your audience in real time.
Pros:
Auto-tracking: The Tail Air uses advanced AI technology to automatically track your movements, ensuring you always stay in the frame without the need for a camera operator.

Gesture control: With the Tail Air, you can control certain functions simply by making hand gestures. This makes it easy to start and stop recording or take photos without having to touch the camera.

4K Resolution: The Tail Air records in stunning 4K resolution, delivering sharp and detailed footage. It also supports HDR10, enhancing colors and contrast for more vibrant visuals.

Live streaming: Whether you want to share your vlogs in real-time or engage with your audience, Tail Air has built-in live streaming capabilities, making it simple to connect directly with your followers.

Outstanding Low-Light Performance: Experience exceptional low-light performance with the OBSBOT Tail Air's true 2μm large pixel size and ƒ1.8 aperture. In challenging low-light conditions or bright environments, capture stunningly detailed footage with reduced noise.
2. Smartphone + OBSBOT Me:
If you are new to starting a YouTube channel and need a cost-saving solution, here we recommend you use a smartphone and OBSBOT Me to record videos. This innovative AI-powered Phone Mount is specifically designed to help beginners effortlessly capture stunning footage without any prior expertise or experience. With its intelligent tracking system and advanced features, OBSBOT Me ensures that you're always in focus and perfectly framed, no matter where you go or what you do.
Pros:
Versatile Tracking: Whether vlogging your vibrant life, dancing freely, or participating in conference calls, this intelligent device maintains your focus, providing an uninterrupted, captivating visual experience.
Freedom in Content Creation: OBSBOT Me frees you from needing a dedicated cameraperson as a YouTube vlogging kit. Record your exciting life and express yourself with any app you choose.
Vlogging Made Easy: Dance, speak, or engage without constraints as OBSBOT Me becomes your vlog companion, ensuring you're showcased from every angle, anytime, anywhere.
Effortless Selfies and Videos: With a simple gesture or a button press, OBSBOT Me's AI-powered tracking ensures seamless recognition, simplifying the process of capturing selfies and videos.
Compact and Adjustable: OBSBOT Me features a foldable design for easy storage and movement, and it can be mounted on a tripod, providing adjustable angles and heights for enhanced convenience.
Cons:
Indoor Vlogging Focus: It excels in indoor vlogging scenarios and is better suited for controlled environments rather than outdoor location work.
3. Canon PowerShot G7 X Mark III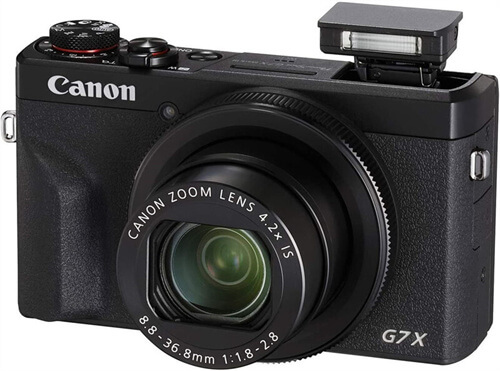 For new vloggers, the G7 X Mark III's well-defined grip and rubberized body enhance secure handling, while the compact design helps movement. Despite polycarbonate construction, the camera's metal crafting of the control ring and thoughtful design contribute to a premium feel. With a 30fps Raw Burst mode and in-camera raw processing, this vlogging setup provides significant value compared to pricier alternatives.
Pros:
Compact and Versatile: The camera's lightweight build and ergonomic design make it perfect for on-the-go photography, quickly slipping into pockets when not in use.
Sensor Advancements: This larger sensor size provides a significant advantage over smartphone cameras by capturing more information. The improved autofocus and shooting speed make it a reliable choice, capable of capturing short bursts at an impressive 30fps in RAW format.
Fast and Adaptive Lens: This feature ensures shooting in low-light conditions remains easy, reducing the need for high ISO settings. The camera excels even in challenging settings, delivering quality images without excessive noise up to ISO 1600.
Connectivity and Shooting Capabilities: The camera's wireless and Bluetooth connectivity allow sharing and control. While it records default 1080p video at 30fps or 60fps, users can access the 4K recording option from the menu.
Live Streaming and Added Value: Canon's significant addition to the G7X Mark III is the live streaming capability for content creators. While some may view this as a gimmick, it offers real value to YouTubers and influencers, enhancing their content creation experience.
Built-in ND Filter for Quality Enhancement: The camera includes a built-in three-stop ND filter, enhancing the quality of photos captured in intense lighting conditions. This feature ensures improved contrast, clarity, and overall photo quality.
Cons:
Limited Comparison: The G7 X Mark III lacks an electronic viewfinder (EVF) and a more advanced autofocus (AF) system.
No Hotshoe for Microphones: The absence of a hotshoe restricts the attachment of external microphones for vloggers.
4. Sony ZV-1
The Sony ZV-1 vlog camera set boasts the advanced 20.1MP sensor with DRAM for stunning image clarity and detail, while the large aperture 24-70mm1 F1.8-2.8 ZEISS Vario-Sonnar T lens delivers superior optical performance.
Pros:
Autofocus: Benefit from the Fast Hybrid Autofocus and Real-Time Eye Autofocus, ensuring your subjects are sharp and well-defined, even during fast-paced scenarios.
Versatile LCD Screen and Bokeh Control: The side flip-out 3.0" LCD screen offers convenient selfie composition and tilts up and down, enabling flexible framing for various shooting angles.
Optimized Exposure: The automatic exposure (AE) intelligently tracks faces, guaranteeing well-lit subjects even in varying lighting conditions. Experience optimized color rendition with enhanced skin-tone reproduction, ensuring lifelike visuals.
Enhanced Audio: Capture exceptional audio quality with the forward-directional onboard microphone and detachable windscreen. Including a standard 3.5mm mic jack and MI shoe expands your audio possibilities.
Steady Footage: Minimize shake, even during dynamic movements or walking, resulting in smooth and stable footage. Additionally, transition focus from faces to objects with the Product Showcase Setting.
Cons:
Narrow Lens Range: The lens' focal length may not capture wider scenes.
Part 4: Tips for Improving Vlogging Skills
Now you know about the equipment needed for vlogging. So, let us unlock the secrets of producing high-quality videos, attracting substantial views, and, if you choose, generating revenue from your vlogs.
1. Keep it Interesting
Over time, vloggers may slip into monotonous routines. So, consider trimming your vlogs' length and focusing solely on captivating content. Add prevailing social media trends to your vlogs, like:
Humor
Travel Chronicles
Enchanting Animal Encounters
Embracing Life's Setbacks
Engaging Challenges: Dares, Trends, Pranks
Immersing in Sports
Testing Products or Debunking Myths
Sharing Tutorials: Makeup, Fashion, Culinary Arts, Music, Gaming
Check content from popular YouTubers and put your unique spin on their challenges or concepts.
2. Collaborate and Use Social Media
Form collaborations with fellow vloggers, driving subscriber traffic between both channels. These joint efforts can help expand your network within the vlogging community. Use your vlogs to promote your social media profiles and announce new content. Engage with followers, respond to comments, and strategize posting times for more engagement.
3. Talk to the Camera, Keep it Steady
As you gain comfort with addressing the camera as your audience, your viewers will start liking you. If appearing on camera poses reservations, adopt a voice-over approach with suitable vlogging microphones. Resolve shaky clips by practicing filming techniques, such as stabilizing your posture and grip, minimizing camera movement, and using gimbals.
4. Add Clickbait, Music, and Transitions
While clickbait titles can draw initial traffic, they may lead to disengagement and backlash. So be authentic. Add different transitions and music to your vlogs. Look for "No Copyright Sounds" on YouTube to discover many royalty-free tracks, keeping their usage policies paramount.
5. Engaging Introduction and Conclusion
Your vlog's opening and closing moments are vital, as many viewers make quick judgments. Opt for a compelling introduction that offers a preview of forthcoming highlights—likewise, craft an outro feature linked to related vlogs, a subscription prompt, and your logo.
6. Be Regular
Commit to regular posting, even if it is a weekly update. A consistent schedule encourages viewers to subscribe, and they remain engaged with your fresh content. You can also create a content queue by filming, editing, and scheduling videos ahead of time.
Conclusion
Hence, that was a complete tutorial for new vloggers. You now know about the best vlogging equipment, how to choose one, and tips on becoming a better creator. We also listed the four best vlogging equipment for YouTube that you must have, including cameras and phone mounts.
So, when are you starting your new YouTube channel with the best compact vlogger camera kit? Please let us know how you found this guide and if you think compact cameras are better than other types for vlogging needs.