Technological advancements have drastically changed how and where we conduct business meetings. Virtual meetings have become crucial for companies that want to expand, globalize, and maintain strong relationships with partners, suppliers, internal teams, investors, and clients. With the increase in remote work, the need for instant and on-demand communication, and the globalization of businesses, it is advisable to invest in a wide-angle conference room camera.
This blog will acquaint you with the best conference room cameras/webcams on the market. Now let's look into the details.
The Best Conference Room Webcams/Cameras in 2023
This section will briefly review the best video conference cameras/webcams for both small and large conference rooms.
1. OBSBOT Tiny 2
While there are many webcams available on the market, the OBSBOT Tiny 2 is a great option for conference rooms. It offers a 4k resolution and a wide field of view, which is ideal for capturing multiple people in a room. Additionally, it has AI-powered features such as auto-framing and gesture control, which can make video conferencing more seamless and intuitive. The OBSBOT Tiny 2 also has a built-in microphone, it's a versatile and high-quality webcam that can enhance the video conferencing experience in conference rooms.
Features:
Ultra large 1/1.5" CMOS for clearer, more vivid images

Hands-Free voice control

Magical gesture control

Designed for group meetings, desk mode, whiteboard mode

Dual omni-directional microphone with noise reduction

All-Pixel Auto Focus

Compatible with most video conferencing platforms
Price: $329.00 (the price is for reference only)
2. OBSBOT Meet 4K
The best wide-angle webcam for the conference room is the OBSBOT Meet 4K. Its Auto-framing features an ultra-wide FOV and cutting-edge AI technology that helps fine-tune your video to fit the way you have the outstanding video conferencing experience.
The finesses highlight and Auto-exposure make your video footage appear fantastic and professional in any background and light. And the option of a blurred background or a green/blue screen background is available due to the presence of an integrated AI chip. Even you can choose an image to change the background of your video meetings.
Features:
Up to 4K ultra HD resolution & HDR
AI-powered Auto-framing
Intelligent Auto Focus & Face Focus
AI Virtual Background features
4x digital zoom
Different modes for various scenarios: Single Mode, Group Mode, Portrait Mode, Sleep Mode
Dedicated software
With a privacy cover
Compatible with most video conferencing platforms and certified by Zoom
Price: $199.00 (the price is for reference only)
3. Logitech ConferenceCam Connect
Logitech ConferenceCam Connect is one of the unique Logitech cameras for conference rooms. It's portable and designed for huddle spaces and home offices, so you can use it anywhere in the office or the world. For your next video conference call, this device is a sure bet. Beyond its award-winning design, Logitech ConferenceCam Connect is easy to use, anyone can set it up for video conferencing.
Features:
All-in-one design with USB plug-and-play connectivity
High-end glass lenses & 1080p Full HD resolution
Tabletop installation with rechargeable battery
Remote control to increase privacy
4x digital zoom
Auto Focus
2x omnidirectional microphone
Price: $499.99 (the price is for reference only)
4. Huddly IQ
With a 4K sensor, wide-angle lens, and optional microphone array, the Huddly IQ conference room webcam ensures that everyone can see and be heard. The camera gives room statistics and automatically frames people. Huddly IQ ensures that absent participants are acknowledged, and everyone is given a seat at the table. Using the mounting bracket, you can mount Huddly IQ above or below the display in the conference room. Regardless of screen size, it fits precisely. Itis perfect for flexible collaboration, BYOD, fixed installations, and any platform because it is USB-powered.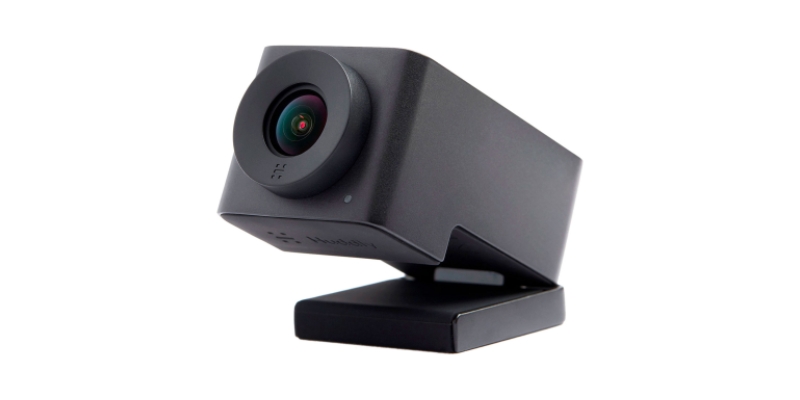 Features:
150-degree FOV ultra-wide-angle lens
1080p 30 fps video output
Auto-flip feature of 180 degrees
Lossless digital zoom
Genius Framing
High-quality scaling and dewarping
Flicker elimination
Automatic white balance
Optical aberration correction
3D noise reduction
Price: $794.99 (the price is for reference only)
5. Mevo Plus
Mevo Plus has a portable design with fantastic flexibility. It is among the most portable options available, also lightweight and functional in a variety of lighting conditions.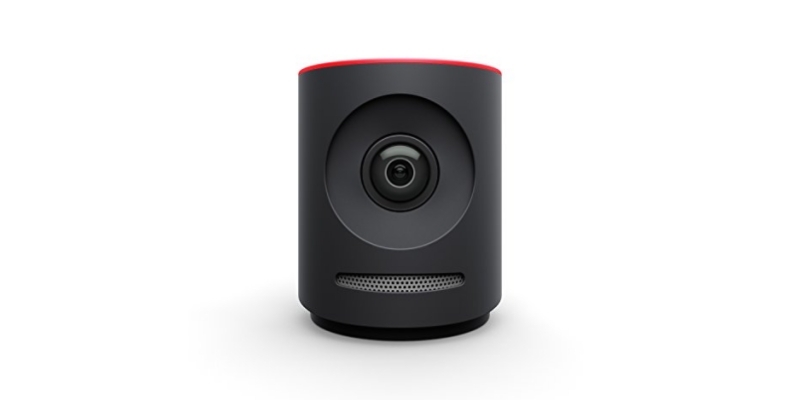 Features:
Stream videos to Twitter, Facebook, YouTube, Periscope, and Vimeo
Over Wi-Fi or LTE, full HD 1080p is accessible from almost anywhere
Cut, pan, and zoom with ease
All-glass lens at 150 degrees and a Sony 4K/12MP CMOS sensor
Integrated stereo microphones
256 GB memory card included
Price: $429.99 (the price is for reference only)
6. Jabra Panacast
The Jabra PanaCast is a video conferencing camera that covers all participants. You get a complete 180° coverage for a realistic perspective of all participants with three 13 MP cameras and real-time video stitching. It can record in "panoramic" 4K quality, which isn't entirely genuine 4K but is still quite impressive and has more pixels than most other conference cameras.
Features:
A wide-angle webcam ensures a great video experience
Full 180° coverage for a natural view
Certified for use with Microsoft Teams and compatible with Zoom and more
High resolution
Easy to cover a whole room
Automatic zoom system
Price: $495 (the price is for reference only)
7. eMeet Meeting Capsule
This conference room camera has a 360-degree rotation that lets viewers see the entire space. The AI tracking technology uses an algorithm to frame the primary speakers through voice, face, and feature recognition. Images of the split primary speakers and the entire audience are visible simultaneously. Unhappy with a standard wide-angle camera's limited ability to see from a single fixed angle? Select it to increase participation because your clients and workers will feel more involved in the video call.
Features:
All-in-one conference room camera
360° panoramic 1080p FHD camera
AI-powered autofocus
5 video modes for various situations
90dB Hi-Fi speaker
8 omnidirectional microphones
Price: $699.99 (the price is for reference only)
8. Kandao Meeting Pro
Kandao Meeting Pro is an AI-based 360° video conferencing system, sound as a standalone video conferencing terminal. You can start a conference quickly by connecting to a screen using HDMI without requiring an external computer. Install the video conferencing software and use it immediately on Kandao Meeting Pro due to its built-in Android system and excellent user interface.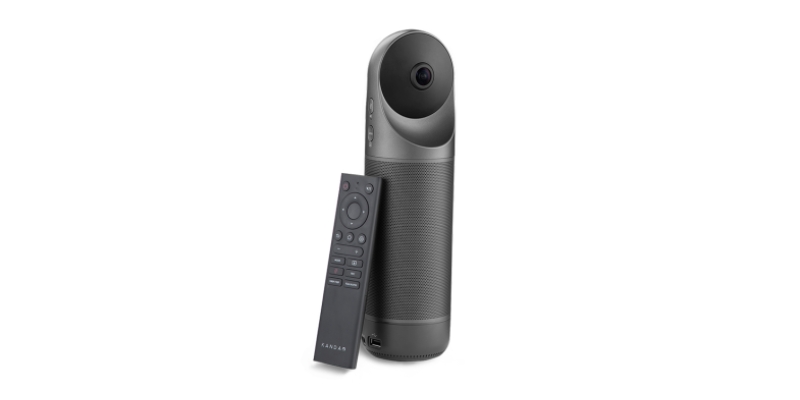 Features:
360-degree omnidirectional microphones make it the best webcam for conference rooms
Unique Hi-Fi speaker
AI algorithm support system
Standard 1/4 screw hole for setting on desk or holder
External SD cards
Equipped with an Ethernet LAN, USB, HDMI, and Wi-Fi
Elegant and compact appearance
Price: $809 (the price is for reference only)
9. Owl Labs Meeting Owl Pro
The Owl Labs Meeting Owl Pro is a wireless webcam for a conference room. It enables two paired Meeting Owls in big rooms to identify the active speaker and modulates speaker loudness for an optimal remote listening experience.
Features:
360° camera with 1080p output resolution
Automatically focus its attention on the speaker
Smart zooming
360° outward-firing three-speaker system
Works with all popular video conferencing software
Price: $999 (the price is for reference only)
10. Logitech Rally
Rally is the best standalone Logitech meeting room camera, featuring an Ultra-HD imaging system and a premium industrial style. It delivers superior performance in professional meeting spaces of all sizes and shapes thanks to its advanced optics and ground-breaking technologies.
Logitech Rally offers incredibly crisp video, great color, and exceptional optical precision at resolutions up to 4K, thanks to an Ultra-HD imaging system. Even in low-light or backlit environments, Logitech's RightLight technology optimizes light balance to highlight faces and produce natural-looking skin tones.
Features:
Sleek product design with up to 4K UHD resolution
Automatic camera control
Adaptive pan, tilt, and zoom
Excellent light and color optimization
Beamforming microphone array
Price: $1,399.00 (the price is for reference only)
What Should You Look for in a Conference Room Webcam/Camera?
Here is a list of what to look out for when you want to get a meeting room webcam.
Every company aims to make the most significant investments for workers among the numerous video conferencing devices on the market. A company's budget is a crucial deciding point for your purchase choice for a conference room webcam.
The resolution you choose will depend on the size of your conference room and the number of participants, as well as the specific needs of your organization.
720p is a commonly used resolution for webcams, including those used in conference rooms. It provides a clear and detailed video image that is suitable for small to medium-sized conference rooms. However, it's worth noting that 1080p (Full HD) is becoming more common and it is also a good choice for a conference room webcam.
You can capture an even better viewing angle for participants in remote meetings using a wide-angle lens. A wide-angle conference room camera for meetings will make it possible to fit additional team members without squeezing them close together.
Microphone and Audio Quality
Particularly for the meeting host or organizer, a universal conferencing solution that includes video, audio, and speakers can be a lifesaver. Setting up audio and video during meetings takes extra time. Instead, seek a "plug and play" video conference camera, which means the device will function right after being plugged in.
A trio of speakers arranged in a circle and the best video conference camera for a large room can help improve audio throughout. You can be positive that no matter where you sit, you will be able to hear everything well.
Zoom and pan features are important for a conference room webcam because it provides flexibility and control over the video image, ensuring that all participants are visible and the conversation is inclusive. This is especially useful in larger conference rooms where the camera may not be able to capture the entire room in one shot.
FAQs About Video Conferencing & Conference Room Webcams
1. What are the basic requirements for video conferencing?
The basic requirements for video conferencing include:
High-resolution conference room webcam
A reliable internet connection
Video display screen
Microphone
Video conferencing software
Adequate lighting
2. How do I connect my webcam to a conference room?
Here are the steps to connect a webcam to a conference room:
Step 1. Plug in the webcam: Connect the webcam to your computer or laptop using the USB cable provided.
Step 2. Install any necessary software: If the webcam came with software, install it on your computer. Some webcams may automatically install the necessary drivers when they are plugged in.
Step 3. Check the webcam settings: Open the settings or preferences of your video conferencing software and make sure the webcam is selected as the video input source.
Step 4. Adjust the webcam position: Position the webcam so that it captures the entire conference room and its participants.
Step 5. Test the webcam: Start a test call or meeting to make sure the video and audio quality is satisfactory.
Step 6. Additional settings: Some webcams may have additional settings such as zoom and pan that can be adjusted in the webcam's software or in the video conferencing software.
It's worth noting that some conference room cameras can be connected to the network directly, you can use the web interface of the camera to adjust the settings and angle and connect it to the video conferencing software.
Also, make sure that the webcam is compatible with the video conferencing software you are using, and check the manufacturer's instructions for specific setup instructions.
3. Where do I put my camera for video conferencing?
When setting up a camera for video conferencing, it's important to position it in a way that captures the entire conference room and its participants. Here are some tips on where to place the camera:
On top of a monitor or display: Placing the camera on top of a monitor or display can help ensure that the camera is at eye level with the participants, making it easier to see and hear them.
On a tripod: Using a tripod to position the camera can help ensure that the camera is stable and at the right angle to capture the entire room.
In the center of the room: Placing the camera in the center of the room can help ensure that all participants are visible on the video call.
On a wall mount: Wall-mounting the camera can help save space and provide a higher angle to capture the entire conference room.
Make sure that the camera is pointing towards the seating area, and that the camera angle is not too high or too low.
Consider the lighting: Make sure that the room is well-lit, and that the participants are not backlit so that the image is clear and easy to see.
It's also important to consider the privacy of the participants, you can use a privacy shutter if the camera has one, or you can use a privacy screen to cover the camera when not in use.
Conclusion
Hence, when choosing your conference room webcam, there are several things to consider. The camera's resolution is very significant. Even though you probably won't require outstanding 4K quality for your conferences, getting at least Full HD will significantly improve the video experience for those in attendance and ensure that everyone can see what they need to if a presentation is going on.