Until recently, the webcam incorporated into most Apple devices, such as MacBooks, offered only a low-resolution 720p broadcast. Remote and work-from-home workers and creative professionals need a reliable, high-quality, feature-rich alternative. With the best webcam for Mac, you'll look more professional on Zoom, YouTube, and Twitch. If your built-in webcam's low-quality picture holds you back, buy an external one.
The most advanced MacBook webcams have improved over time to fulfill the requirements of an ever-evolving market. They are now a standard fixture in every home, office, or dorm room, as many professionals work from home or adopt a hybrid setup. Plus, since more students are taking online classes, they have also become an essential instrument for content creators, streamers, and influencers. This guide will provide the best webcams for MacBooks to choose from.
Do All Webcams Work with Mac?
Although not every webcam is compatible with a Mac, most newer models are. Additionally, every webcam discussed in this article is suitable for use with a Mac. The best webcam for MacBook Air now supports USB webcams, and users do not require a driver downloaded from the manufacturer's website to use them. Because of this, some specialized features will not function if the maker does not expressly state that the product is compatible with a Mac. In some situations, you might need an adapter to be able to plug a USB-A cable into a USB-C port.
The Best Webcams/Cameras for Mac
If the year 2023, you need a new webcam for your Mac computer or a webcam that is superior to your MacBook or iMac, you have several options. One of the most prominent brands of webcams includes an advanced artificial intelligence face-tracking feature integrated directly into the hardware.
OBSBOT Tiny 2
The OBSBOT Tiny 2 webcam is the best 4K PTZ webcam for Mac. It matches the leading brand's 4K resolution and uses AI-guided motors to pan and tilt the camera to frame your face. The horizontal range is 150 degrees, while the vertical is 90. Built-in face-tracking works with gesture controllers right out of the box, without installing software. The OBSBOT WebCam program for macOS offers manual picture quality adjustment and fine-tuning features.
Features of OBSBOT Tiny 2:
It is well worth the cost of a 4K webcam, as well as the best Mac webcam for recording in excellent quality.
With gesture control, you can simply put your hands up, and the camera will follow you wherever you go.
It is equipped with a voice control function, you can change preset position, and zoom in/zoom out with voice command, which helps you deliver a seamless streaming experience.
Unique gimbal design.
This webcam for Mac can zoom in up to four times for a closer look.
It comes with a powerful AI auto-tracking feature with auto-framing.
Capable of multi-streaming platforms like OBS, Twitch, Youtube, etc.
OBSBOT Meet 4K
The OBSBOT Meet 4K is the world's first 4K webcam with built-in background-protecting artificial intelligence features. It is one of the best cameras for Macs, and you don't need any additional apps; all it takes is a touch on the OBSBOT Meet 4K. You'll be able to replace or blur the background of your video conversations.
Features of OBSBOT Meet 4K:
In any light, the new "Meet 4K" camera makes the image look professional.
It has AI auto-framing and virtual background functions.
It is an excellent solution for video calls at home or the office.
The webcam has a built-in privacy shutter.
4x digital zoom
Resolution: 4K UHD
AI Auto-Framing and AI Auto-exposure for Virtual Background HDR
4K@30 fps and 1080p@60 fps are possible.
Portrait video capture with a foldable mount and built-in mic
Logitech C920
Because it is a very reliable and affordable alternative, the Logitech c920 Mac is frequent among the best webcams available. This camera has a high-quality image and boasts a resolution of 1080p. Although, it does not have the more advanced functions in our top two choices.
Features of Logitech C920:
It is accessible to owners of the MacBook 2021/2022 laptops or the iMac 2021.
The 1080p camera built into these machines will provide more outstanding quality.
It outperforms previous 720p cameras and is a good option for desktop Mac PCs that lack a webcam.
Razer Kiyo
The Razer Kiyo for Mac is another 1080p option with an integrated ring light. This could be helpful while traveling with a MacBook, as the lighting may not be adjustable. The light makes it feasible to operate a webcam with no other lights. You can use the camera when camping or ghost hunting.
Features of Razer Kiyo:
It incorporates a ring for adjusting the light's brightness, providing straightforward and tactile controls.
It is a decent webcam but cannot compete with Apple's 1080p FaceTime camera.
Logitech StreamCam
The Logitech StreamCam for Mac will not only have your back when video conferencing, video chatting, and live streaming your games. This 1080p webcam features various options for content creation, including auto-focusing, smart exposure, facial tracking, a frame rate of up to 60fps, and a flipped design so you may take images and films in 9:16 format. You can set it on a tripod and uses USB Type-C for faster and more efficient video transfer.
Features of Logitech StreamCam:
It has fair autofocus and exposure.
It has facial recognition enabled by artificial intelligence.
Logitech StreamCam features a 9:16 ratio.
It has electronic picture stabilization built in.
It uses a USB Type-C connection.
Logitech Brio 4K
For your workplace video conferencing needs, the Logitech BRIO for Mac 4K may be the webcam with ultra-HD resolution. Moreover, it is exquisite for professionals and businesses that require sturdy instruments. The image quality is superior to everything else on a standard laptop, including business laptops. Additional features are worth noticing, such as its three fields of view and omnidirectional microphones with noise-canceling technology.
Features of Logitech Brio 4K:
It possesses a wide dynamic range (HDR).
Integrated optical and infrared sensors are present.
It supports Windows Hello.
It has three preset fields of view (FOV).
Elgato Facecam
The Elgato Facecam may be in second place overall, but its design choices make it a specialized purchase that favors content creators. It is our recommendation if you require an external webcam for Mac. Meant for streaming or creating YouTube videos exclusively.
The decision to omit a microphone and autofocus capabilities will make the camera appear subpar to those seeking a webcam. But for those broadcasting on sites like Twitch and YouTube, these features often bother more than they're worth. Consequently, the FaceCam is superbly tuned for the streaming community, with some of the best webcam software we've ever seen.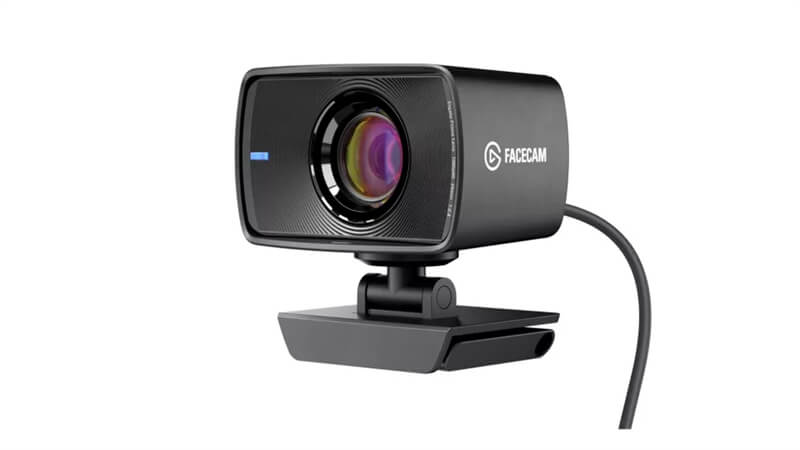 Features of Elgato FaceCam:
FaceCam has a varied FOD.
It has a fixed emphasis.
It employs a Sony sensor.
Microsoft LifeCam Studio
The LifeCam Studio is not the most aesthetically pleasing external camera for MacBook, but not intended to be. Instead, it is designed for business conferences and presentations, featuring 1080p recording, 720p live video calling, and a wideband microphone for crystal-clear audio.
This serious peripheral demands a strong PC for maximum settings, but that does not imply it lacks frills. For example, it features 360-degree rotation and Microsoft's TrueColor technology, which automatically adjusts exposure to keep you well-lit.
Features of Microsoft LifeCam Studio:
It includes a color-correcting function.
It has a high-fidelity microphone.
It works well with Skype.
It has a broad field of view.
This webcam for Mac has a wideband microphone for improved voice quality.
How to Connect an External Webcam to MacBook?
You can use your MacBook to connect an external webcam by following these two steps.
Step 1: First, plug a USB cable into the appropriate camera to install the camera's driver and enable it.
Step 2: Enter the other end into one of the USB ports on your MacBook.
That's it! You are ready to use the external webcam on your MacBook Pro/Air.
Conclusion
The best webcam for MacBook Pro has evolved to meet the needs of an ever-changing market. They're now indispensable tools for influencers, streamers, and content creators. If you have a certain niche requirement, odds are there's a webcam designed for it. On the other hand, a Dedicated Mac-compatible webcam offers a quicker alternative, as they are simple to clip on. You can also leave it attached to a monitor or tripod. The aforementioned OBSBOT Tiny 2 camera for MacBook pro will substantially boost over the 1080p webcams incorporated inside the MacBook, iMac, and even the new Studio Display.