In today's digital landscape, the integration of video communication has become increasingly prevalent in both professional and personal spheres. As we navigate a world that relies heavily on virtual interactions, a reliable USB camera for PC has become more critical than ever before. Whether you need it for video conferencing, live streaming, online gaming, content creation, or staying connected with loved ones, a USB camera can significantly enhance your visual communication experience.
In this article, we will explore the industry's best external cameras for computers by detailing their features, specifications, and more. We aim to provide valuable insights and recommendations to help you find the ideal USB camera to elevate your visual communication capabilities.
Part 1: Advantages of Adding a USB Camera to Your PC
So, why is adding a USB camera to a PC good? Well, adding an external camera for PC serves multiple advantages, like:
Enhanced Visual Communication
Adding a USB camera to your PC opens up a new realm of visual communication possibilities. While engaging in video conferences, virtual meetings, or online collaborations, a USB camera for PC allows for face-to-face interactions, enabling you to convey emotions, body language, and non-verbal cues more effectively.
High-Quality Imaging
USB cameras deliver high-quality imaging, allowing you to capture and transmit clear and sharp video footage. With advanced technologies such as high-resolution sensors and improved image processing, these cameras offer impressive video clarity, ensuring you're visible in the best possible light during virtual interactions.
Improved Performance
USB cameras often have features like autofocus, auto white balance, and low-light correction, ensuring you consistently appear well-focused and properly exposed, even in challenging lighting conditions. This attention to detail enhances your overall visual presentation, making your communication more engaging and professional.
Broad Compatibility and Availability
USB cameras are versatile and widely compatible with various operating systems, including Windows, Mac, and Linux. Additionally, they are readily available in the market, with diverse options to suit different budgets and requirements. This accessibility and compatibility make it convenient to find a USB camera that seamlessly integrates with your PC setup.
Portability and Flexibility
USB cameras are inherently portable, allowing you to easily use them across multiple devices or move them between different locations. It helps when switching between your home office and a co-working space or using the camera with other computers, and its compact and lightweight design facilitates convenient mobility and flexibility.
Thus, a USB computer camera can unlock a range of advantages to elevate your virtual interactions, making them more immersive, professional, and impactful.
Part 2: 10 Best USB Camera for PC in 2023
Here, we will talk about the ten best USB cameras for PC that you must try in 2023:
1. OBSBOT Tiny 2
The OBSBOT Tiny 2 is a feature-packed USB computer camera with exceptional application performance. Its 4K resolution delivers crystal-clear imaging, allowing you to present yourself during video calls and live-streaming sessions vividly. With AI-powered tracking technology, the camera automatically follows you, keeping you centered in the frame at all times. Furthermore, its wide-angle lens ensures a broader field of view, capturing more of your surroundings. The OBSBOT Tiny 2 is a premium choice for those seeking top-tier image quality and advanced tracking capabilities.
Specifications:
Resolution: Ultra-large 1/1.5" CMOS
Voice control and gesture control
Effective pixels: 50M
Field of View: Wide-angle lens
Auxiliary Functions: Gesture Control and Voice Control
ISO: Dual Native for Day and Night
Microphone: Built-in dual omnidirectional mics with noise reduction
Pros:
USB 3.0, with a ten times faster transmission speed and broader bandwidth.
Beauty Mode smooths your skin and brightens your eyes in just one second.
The wide-angle lens captures more of your surroundings.
Suitable for various applications, including video calls and live streaming.
Take two pictures simultaneously to eliminate the time difference with PixGain HDR.
All-Pixel Auto Focus Technology, a remarkable improvement over PDAF.
Cons:
Higher price compared to some common USB cameras. If you need a high-quality and AI-powered USB camera, this is the top choice.
2. OBSBOT Meet 4K
Another standout USB webcam for PC from OBSBOT is the Meet 4K model. This camera is designed for professional use, offering remarkable 4K video quality and advanced features to enhance your video conferences and presentations. With its AI-powered auto-framing technology, the camera automatically adjusts the frame to keep you focused even as you move around. The OBSBOT Meet 4K also supports HDR imaging, delivering vibrant and detailed visuals. It's an excellent choice for top-notch video quality and professional-grade features.
Specifications:
Zoom: 4x Digital
Auto-Framing: AI-powered
Resolution: Up to 4K@30fps & 1080P@60fps
Focus: Auto-Focus
Microphone: Dual omni-directional microphone
Pros:
Make your device's sleep time customizable with "Device Auto Sleep".
Ideal for professional use and presentations.
Stable magnetic mount with more choices of position angles.
Cons:
Expensive compared to some other USB cameras. However, it provides you with unmatched features and quality.
3. Microsoft LifeCam Studio
The Microsoft LifeCam Studio is a trusted USB camera that balances performance and affordability. It features 1080p HD video resolution, ensuring clear and detailed visuals for video calls and recordings. With its TrueColor technology, the camera adjusts exposure for bright and vibrant colors, even in challenging lighting conditions. The LifeCam Studio also includes a high-fidelity microphone, clearly capturing your voice. It's a reliable choice for users seeking a versatile USB camera that delivers solid performance without breaking the bank.
Specifications:
Lena: Wide-angle glass element
Technology: ClearFrame for smooth, detailed video
Required OS: Windows 7, Vista with Service Pack 1 (SP1) or higher, Windows XP
Microphone: Built-in high-fidelity
Pros:
Use pivot 360 degrees and point the camera anywhere.
TrueColor technology enhances color and exposure.
Built-in microphone captures clear audio.
Affordable price point.
Compact and portable design.
Cons:
Limited compatibility with non-Windows operating systems.
Lower frame rate compared to some other USB cameras.
Relatively basic feature set compared to higher-end models.
4. Razer Kiyo Pro Ultra
The Razer Kiyo Pro Ultra is a high-end USB camera for professional streaming and content creation. It boasts the largest sensor in a camera, delivering sharp, detailed video at 1080p resolution. The camera adjusts to varying lighting conditions with its adaptive light sensor, ensuring optimal image quality. The Kiyo Pro Ultra also features a versatile lens with a customizable field of view, allowing you to capture the perfect frame for your content. With its impressive specifications and Razer's reputation for quality, this camera is a solid choice for demanding streamers and creators.
Specifications:
Sensor: Ultra-large 1/1.2″ Sony Starvis 2
Quality: HDR and True Bokeh Effect
Field of View: 82°- 72°
AI: Advanced Face Tracking Autofocus and Auto Exposure
Lens: Custom, Ultra-large F/1.7 Aperture Lens
Image Resolution: 8.3 Megapixels
Pros:
Winner of 8 "BEST OF CES 2023" awards.
Features like zoom, pan, tilt, ISO, shutter speed, and more.
Maintains maximum image fidelity to get you pure, uncompressed optics.
Seamless compatibility with Windows and Mac systems.
Solid build quality and brand reputation.
Cons:
The lack of a built-in microphone requires a separate audio solution.
Limited compatibility with Linux or other operating systems.
Higher price range compared to entry-level USB cameras.
5. AVerMedia Live Streamer CAM 313
The AVerMedia Live Streamer CAM 313 is a budget-friendly USB camera with reliable performance for live streaming and video content creation. It provides 1080p Full HD resolution at 30fps, ensuring sharp and detailed video output. The Live Streamer CAM 313 features a built-in microphone, eliminating the need for an additional audio source. With its affordable price and straightforward functionality, this USB camera for PC download suits beginners and casual streamers.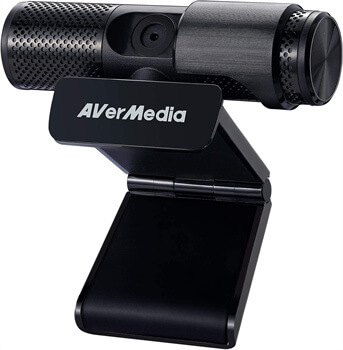 Specifications:
Type: USB 2.0 FHD Webcam
Video mode: MJPEG and YUY2
Compatibility: Windows, Mac, Chrome
Image sensor: 1/2.7" CMOS sensor, 2MP
Microphone: Dual built-in
Pros:
An affordable price point for budget-conscious users.
The 360-degree swivel for easier calling and recording at every angle.
Pair it up with CamEngine software to use advanced features like Portrait Enhancement, Effects, Filters, and more.
Built-in privacy shutter keeps you safe from any hacker attacks when not in use and protects the lens with a snugly fitting cover.
Cons:
You need to download CamEngine to use advanced features.
Less robust build quality.
Not compatible with other operating systems.
6. Creative Live! Cam Sync 1080p
The Creative Live! Cam Sync 1080p is an affordable USB camera that offers excellent value for its price. It delivers crisp and clear 1080p Full HD video resolution, ensuring sharp visuals for video calls and recordings. With its built-in microphone, you can enjoy convenient audio capture without needing an external microphone. The Live! Cam Sync 1080p is compatible with various operating systems and features a compact and portable design, making it a practical choice for users.
Specifications:
Resolution: Full HD 1080p at 30fps
Privacy lens cover
Support: Creative USB camera app for PC Windows 7
Field of view: 77°
Microphone: Dual built-in
Mounting options: 360° horizontal rotation and 30° vertical tilt
Pros:
Affordable price with good value for money.
Use the webcam quickly and easily, with no driver installation.
The longer cable (1.8m / 70 inches) connects easily to your computer.
Plug-and-play functionality for quick and hassle-free setup.
Cons:
Limited features for Mac users.
Compatibility with Linux may vary.
Narrow field of view compared to some other USB cameras.
7. Logitech Brio Ultra HD Webcam
The Logitech Brio Ultra HD Webcam is a premium USB camera with top-of-the-line features and exceptional video quality. Its 4K Ultra HD resolution provides incredibly sharp and detailed visuals, perfect for professional streaming, video conferencing, and content creation. The Brio is equipped with RightLight 3 technology, which intelligently adjusts to different lighting conditions, ensuring optimal exposure and color accuracy. Additionally, it offers HDR for enhanced contrast and vibrant colors. The advanced features and excellent performance makes the Logitech Brio ideal for demanding users.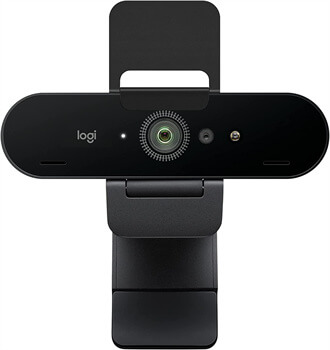 Specifications:
Digital zoom: 5x
Focus type: Autofocus
Compatibility: Windows, Mac
Camera megapixel: 13
The diagonal field of view (dFoV): 90°/78°/65°
Microphone: dual integrated omnidirectional mics with noise-canceling technology
Pros:
Certified for Skype for Business, Microsoft Teams, Zoom, and Google Meet and works with Cortana, Windows Hello, and other popular applications, including BlueJeans, GoTo Meeting, Pexip, and RingCentral.
The high frame rate of up to 90 fps.
Powered by optical and infrared sensors, Brio delivers quick and safe facial recognition for Windows Hello.
The Logi Tune Desktop app simplifies personal device control and customization.
A flippable lens shade included with Brio protects the lens and assures privacy.
Cons:
Higher price range compared to entry-level USB cameras.
Infrared sensor technology for Windows only.
It may require additional software installation for advanced features.
8. AVerMedia Live Streamer CAM 513
The AVerMedia Live Streamer CAM 513 is a professional-grade USB camera designed for live streaming and content creation. Its 4K Ultra HD resolution offers impressive video quality, ensuring stunning visuals for your streams and recordings. Equipped with a Sony EXMOR sensor, the CAM 513 delivers excellent low-light performance, allowing you to produce high-quality content even in challenging lighting conditions. With its wide-angle lens, you can capture a larger field of view, which is ideal for showcasing your setup or engaging with your audience.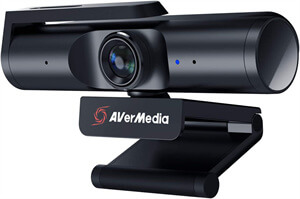 Specifications:
Resolution: 4K Ultra HD
Sensor: Sony® Exmor R™ 4K CMOS
Field of view: Diagonal 94°
Focus method (Lens Type): Fixed Focus
Image resolution: 8 Megapixels
Microphone type: Stereo built-in microphones
Pros:
USB 3.0 plug-and-play connectivity.
Protect your privacy with the handy swivel-arm privacy shutter design that lets you easily cover the lens with one hand.
With the 360-degree swivel design, adjust the shooting angle whenever needed.
The built-in flexible mounting clip, 360° swivel, and 1/4" thread for tripod attachment.
The CamEngine features advanced functions: AI Auto-Framing, ePTZ, Noise Cancellation, and more.
Compatible with video collaboration platforms, including Zoom®, Microsoft Teams®, Google Meet®, Skype®, OBS®, and more.
Cons:
Due to differences in Mac CPU performance, video, and audio may result out of sync at 4K resolution.
Higher price range compared to entry-level USB cameras.
Advanced features may require additional software or configuration.
9. Logitech C920
The Logitech C920 is popular among users seeking a reliable and versatile USB camera for PC. Its Full HD 1080p resolution delivers clear and detailed video output for video calls, streaming, and recording. The C920 features automatic light correction, ensuring well-exposed visuals even in varying lighting conditions. It also comes with dual stereo microphones for high-quality audio capture. With its broad compatibility and user-friendly design, the Logitech C920 is a dependable option for many users.
Specifications:
Resolution: Get 1080 p/30 fps - 720p/ 30 fps
Focus: Autofocus type
Built-in mic: Stereo
Camera Megapixel: 3
The diagonal field of view (dFoV): 78°
Microphone: Dual stereo microphones
Pros:
The five-element glass lens records razor-sharp images and clear colors.
Two microphones on each side capture more realistic sound from a broader range of angles.
Wide compatibility with Windows and Mac systems.
Logi Tune webcam software adjusts settings like zoom and field of view to present you in your best light.
The affordable price point for its features.
Cons:
Limited field of view compared to some other USB cameras.
Lack of advanced features for professional use.
10. Huddly IQ
The Huddly IQ is a premium USB camera combining high-quality video output and advanced AI capabilities. It offers 150-degree ultra-wide-angle video with 4K resolution, ensuring a broad field of view and stunning image quality. The external camera for desktop computers features integrated AI technology for intelligent framing, auto-zoom, and enhanced video conferencing experiences. With its sleek and compact design, the Huddly IQ perfectly fits modern workspaces, providing top-notch video performance for professional users.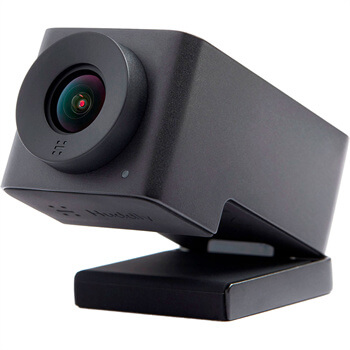 Specifications:
Resolution: 4K
Field of View: 150-degree ultra-wide-angle lens
Dynamic Light Optimization
180-degree Auto-Flip: automatically provides the correct view when mounted upside down
Microphone: five-element beamforming microphone array
Pros:
Wide-angle image is dewarped and perspective corrected in real-time for immersive video output.
AI technology enables intelligent framing and auto-zoom features.
Compatible with Windows, Mac, and Linux systems.
Sleek and compact design for modern workspaces.
Easy plug-and-play setup.
Premium build quality and attention to detail.
Cons:
Higher price range compared to entry-level USB cameras.
Advanced AI features may require specific software compatibility.
Part 3: How do I use a USB camera on Windows?
Now that you know about the top 10 best USB cameras for PC, here's a simple 6-step guide on how to use a USB camera on Windows:
Step 1: Connect the USB Camera to Your PC
Connect the USB camera to an available USB port on your Windows PC using a USB cable. Ensure that the camera is securely connected.
Step 2: Install the Camera Driver (if necessary)
In most cases, Windows will automatically detect and install the necessary drivers for your USB camera. However, if your camera requires specific drivers, follow the manufacturer's instructions before installing them.
Step 3: Open the Camera App
Tap the "Start" menu and search for the "Camera" app. Once found, click on it to open the Camera app.
Step 4: Check Camera Permissions
If prompted, grant the Camera app permission to access your camera. This step ensures that the camera app can utilize the USB camera for capturing images and videos.
Step 5: Configure Camera Settings (if desired)
You can adjust settings such as resolution, exposure, focus, and more within the Camera app. Explore the settings menu and make any desired adjustments to suit your preferences.
Step 6: Start Using the USB Camera
With the Camera app open and the USB camera connected, you can now start using your USB camera on Windows. You can take photos, record videos, and engage in video calls or conferences using applications that rely on your camera.
Note: The specific steps may vary slightly depending on your version of Windows and the camera model you are using. If you encounter difficulties, refer to the camera's user manual or the manufacturer's support resources for further assistance.
Conclusion:
Thus, that was our detailed guide on the best USB camera for PCs in 2023. We also discussed six significant advantages of choosing an external camera for a desktop computer and ended the article with simple steps to mount a USB cam.
Once again, we urge you to try our main-recommended USB camera for desktops, the OBSBOT Tiny 2 and Meet 4K, for fantastic recording and streaming and ease of use. We are sure that Tiny 2's unique beauty mode, gesture, and voice control will mesmerize you.