Webcams with remote control have become famous for seamless video calls, live streaming, and content creation. So, if you are on a budget or not but need high-end features, we have compiled a comprehensive list of the four best webcams with remote for your PC or Mac.
We'll explore top-notch webcams with remote control for clear still images and dynamic motion videos for all your online interactions.
Part 1: The Benefits of Webcam with Remote Control
Webcams with remote control capabilities have revolutionized online interactions, offering numerous benefits for users across various domains. These cutting-edge devices empower users to experience new convenience and flexibility during virtual communication and content creation.
Let's explore the advantages of these advanced webcams and understand how they elevate the online experience.
1. Precise Camera Adjustments with Remote Control
The combination of remote control and zoom functionality allows users to precisely adjust the camera's angle and focus without physical contact. Whether in a video conference, live streaming, or creating content, the remote control zoom feature enables you to frame shots perfectly and focus on essential details effortlessly.
2. Seamless Pan and Tilt Functions on Remote-Controlled Webcams
With the best remote control webcam featuring pan and tilt capabilities, you can easily navigate the camera horizontally and vertically from a distance. This seamless movement ensures you capture every angle and object of interest during presentations, virtual tours, or other online activities.
3. On-the-Go Flexibility and Camera Control
The real-time adjustment options provided by remote-controlled webcams cater to on-the-go professionals, content creators, and educators. Whether you're in a meeting, conducting a virtual tour, or shooting outdoors, you can comfortably modify camera settings without interrupting the flow of your activity.
4. Accessibility and Empowerment
Integrating remote control zoom capabilities makes webcams more accessible to individuals with limited mobility. This empowering feature ensures that everyone can actively participate in online activities and fully utilize the webcam's potential.
5. Reduced Camera Vibrations and Noise
Remote webcam with optical zoom enables smoother camera movements without physical contact, eliminating vibrations and unwanted noise. This results in more stable and professional-looking video content and enhances the quality of video calls.
Part 2: 4 Best Remote Webcams You Should Know
Here are the top 10 best webcams with remote that you should consider for a seamless webcam experience.
1. OBSBOT Tiny 2
OBSBOT Tiny 2 is a 4k webcam with a remote control that combines cutting-edge technology with intelligent features to take your webcam experience to new heights. Its advanced sensor ensures sharper and more vibrant 4K video quality, even in low light. The revolutionary autofocus capability enables the device to deliver four times faster focusing in any lighting condition. With voice and dynamic gesture control, OBSBOT Tiny 2 provides a hands-free experience that lets you easily manage your webcam settings. Experience the future of webcams with OBSBOT Tiny 2 and enhance your online presence effortlessly.
Key Features:
Enhances light sensitivity, delivering high-quality, noise-free images in low-light conditions.
Introduces various modes like desktop, whiteboard, portrait, and group mode to cater to different scenarios such as meetings, presentations, live streaming, and teaching.
Compatible with PC, laptop, Mac, and tablet, and suitable for various applications such as video calls, conferences, Skype, Zoom, FaceTime, Teams, TikTok, etc.

By simply using voice control, you can effortlessly control various functions of the webcam, such as zooming in and out or switching preset positions. This intuitive control system adds convenience and ease of use to your recording or streaming sessions.

Setting up the OBSBOT Tiny 2 is a breeze, thanks to its plug-and-play compatibility. Simply connect it to your device via USB and you're ready to start recording or streaming. This seamless integration eliminates the need for additional software installations or complex setup processes, making it accessible for users of all skill levels.
Price: $329
2. Insta360 Link
Insta360 Link, the advanced webcam that elevates your online communication experience. With high resolution and standout HDR, you'll always look your best in lighting conditions. The AI-powered 3-axis gimbal design ensures you stay center stage, while versatile modes like DeskView, Whiteboard, Overhead, and Portrait optimize presentations and content creation. Control with simple hand gestures, enjoy intelligent noise cancellation, and make precise adjustments using the Link Controller desktop software. Certified for Zoom and compatible with major video conferencing software, Insta360 Link enhances every meeting.
Key Features:
Easily control the camera's functions with simple hand gestures, making adjusting settings without physical contact convenient.
The HDR mode easily balances highlights and shadows, ensuring a more dynamic and visually appealing video output.
Benefit from swift and precise focusing capabilities, allowing for sharp and clear images during conferences or video calls.
The camera employs artificial intelligence to track subjects, ensuring you are always centered, even when moving.
Enjoy the flexibility of different shooting modes, catering to various scenarios and requirements for a seamless video conferencing experience.
Price: $299.99
3. NexiGo N970P 4K Webcam
NexiGo N970P is the ultimate remote camera for a computer for seamless online communication. With automatic facial recognition, it intelligently tracks and zooms, ensuring perfect framing based on the number of participants. Enjoy crystal-clear HD images and videos, even in low light conditions. The built-in omnidirectional mics guarantee clear audio from every angle. Enhance virtual meetings and presentations with this cutting-edge webcam that delivers superior video quality and top-notch audio performance.
Key Features:
Easily adjust the camera's field of view remotely, allowing you to pan, tilt, and zoom without physically handling the camera.
The camera features AI-powered framing, automatically tracking and framing the subject keep you focused during video conferences and presentations.
Enjoy superior video quality with high image resolution, providing sharp and clear visuals for a more professional and immersive video experience.
The camera is equipped with noise cancellation technology, reducing background noise and ensuring clear and uninterrupted audio during meetings and calls.
Price: $169.99
4. Zoomable PTZ 4K Webcam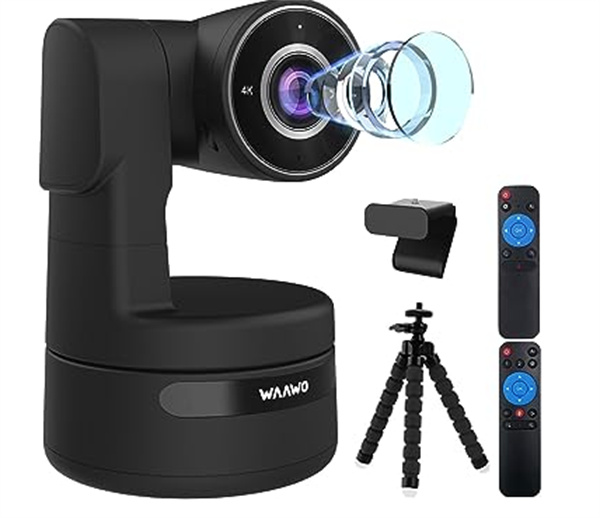 Experience the mesmerizing world of ultra-HD video quality from the comfort of your home with Zoomable Webcam's exceptional 4K video capabilities. This cutting-edge webcam offers superior video quality; its indoor radio microphone ensures clear audio during video conferences and online classes. With AI Auto Framing, the camera smartly adjusts the field of view for optimal positioning, while the remote control enables precise rotating and zooming. The plug-and-play feature ensures hassle-free setup and the webcam is compatible with various computer systems and video calling software.
Key Features:
Enjoy crystal-clear audio with the integrated indoor radio microphone, ensuring clear communication during meetings.
Take complete control with the remote for precise camera position and zoom level adjustments.
Hassle-free setup! Our camera seamlessly connects via plug-and-play, saving you time and effort.
Works effortlessly with mainstream computer systems and video calling software, ensuring compatibility with your preferred platform.
Stay ahead with its upgradable webcam version and access the latest features and improvements.
Price: $149.99
Part 3: How to Use Webcam with Remote Control?
Get to know the seamless integration of the best remote control webcam functionality to access AI modes for smoother presentations. Unlock the full potential of your webcam with the convenience of remote control.
A 4k webcam with remote control, like the OBSBOT Tiny 2, is a seamless and convenient experience.
Step-by-Step Guide to Making the Most of its Intelligent Features:
Put two batteries into the remote control.

Plug the USB receiver into your computer.

Connect OBSBOT webcam to your computer.

Open OBSBOT WebCam, and enable remote control in the [System Setting].
Working Principle:
The light indicator at the top of the remote, called the status indicator, tells you if the device OBSBOT Tiny 2 is in use and active.
The Power Button is below the status indicator for switching ON/OFF Tiny 2.
The next button, 1/2/3/4, helps you choose the device with multiple webcams.
The Preset button PI/P2/P3 presets the camera's position.
The next button is a big round button [Gimbal Control] used to move the camera Up/Down/Left/Right to face the desired direction.
The center Gimbal Control resets the camera to the initial position.
The next is the Zoom button. It has a + sign to Zoom in and a - sign to Zoom out.
The next is the Track button used to turn on/off the Human Tracking (Disable Auto-Zoom by default).
The Close-up button turns on/off the Human Tracking and Auto-zoom simultaneously.
The Desk Mode button turns on/off the Desk Mode.
The Hyperlink is the button between the "CloseUp and Desk Mode buttons.
Click to select the Hyperlink, double-click to open the Hyperlink, and long press to switch between open windows.
The Hand button turns on/off the Hand Tracking.
The Laser –Whiteboard button holds to enable the laser, and double-click to execute or exit the Whiteboard Close-up.
The PageUp button turns on or exits the full screen. Click to page up and long press to execute or exit full screen.
The PageDown button turns on or exits the black screen. Click it and long press to run or exit the black screen.
This way, using the set commands on your OBSBOT Tiny 2, you can effortlessly control your remote webcam with this versatile remote controller. Enjoy a hassle-free and practical webcam experience with the power of remote control at your fingertips!
Conclusion
Thus, webcams with optical zoom and remote-control capabilities offer many advantages that enhance online interactions and content creation. So, invest in the best remote-control webcam, like the OBSBOT Tiny 2, and elevate your online experience. With precise camera adjustments, on-the-go flexibility, and enhanced engagement, redefine how you connect and collaborate in the digital world. The OBSBOT Tiny 2 is the best remote webcam with 4K video capabilities, an advanced sensor, and rapid auto-focus, even in low light conditions. The remote-control functionality grants effortless access to AI features, including auto-tracking and voice control, providing a hands-free and convenient experience.