In today's digitally driven world, webcams have become a staple for effective communication. Whether you're an entrepreneur, a student, or an avid gamer, buying a webcam unlocks new avenues for interaction. Unlike built-in cameras on laptops or smartphones, USB-C webcams offer superior video quality, improved audio capture, and versatile positioning, enhancing your online presence.
These web cameras with USB-C capability also stand out due to their advanced features, like adjustable resolution settings, auto-focus capabilities, and low-light correction. These attributes provide an edge in professional settings, online classes, or during gaming marathons. Further, some of the best USB-C webcams today feature plug-and-play operation and universal compatibility.
So, are you ready to make your digital interaction seamless and more personal by opting for a USB-C webcam that suits your needs?
Part 1: What's USB-C Webcam?
A USB-C webcam utilizes a USB-C connector for data transfer and power delivery. USB-C, also known as USB Type-C, is a versatile and reversible connector increasingly popular in modern devices due to its numerous advantages. Unlike traditional USB-A connectors with a standard rectangular shape, USB-C connectors are small, compact, and symmetrical, allowing for easy insertion and a more user-friendly experience.
USB-C webcams are compatible with various devices, including laptops, desktop computers, tablets, and smartphones. Its connection provides faster data transfer rates, translating to higher-quality video streaming and improved performance during video calls and content creation. Additionally, USB-C can deliver power to the webcam, sometimes eliminating the need for an external power source.
The adoption of USB-type C webcams is due to the growing demand for better video communication tools, especially with the rise of remote work, online meetings, virtual events, and live streaming. Their versatility improves performance, and their easy compatibility with modern devices makes them popular in content creation.
Part 2: The Benefits of Using a USB-C Webcam
A USB-C webcam offers several benefits. Let us get to know each of them one by one:
1. Faster Data Transfer
USB-C technology supports higher data transfer rates for smoother and higher-quality video streaming during video calls and content creation.
2. Power Delivery
Webcam with a USB C cable can draw power from the connected device, reducing the need for an additional power adapter and simplifying the setup.
3. Reversible Connector
The symmetrical design of the USB-C connector ensures easy and hassle-free insertion, eliminating the frustration of trying to plug it correctly.
4. Wide Device Compatibility and Versatile
USB-C is a standard connector in many modern devices, making it compatible with laptops, desktops, tablets, and smartphones. These webcams can help with video conferencing, live streaming, online content creation, and gaming.
5. Enhanced Image Quality
USB-C webcams produce better image sensors and optics, providing clearer and more detailed visuals for video calls and content creation. Many of these webcams have advanced low-light performance features for clearer and more visible video in dimly lit environments.
6. Compact, Portable, and Easy Setup
Webcam type C is usually smaller and more portable, so taking the webcam on the go is convenient. Besides, they are easy to set up and use, with many of them being "plug and play" devices that require no additional drivers or software installations.
In short, these benefits of using a USB type C webcam make it future-proof, i.e., investing in a USB-C webcam ensures compatibility with upcoming devices and technology advancements.
Part 3: Top 10 Best USB-C Webcams You Should Know
Now that you realize the benefits, let us explore the top webcam with USB Type C in this section.
1. OBSBOT Tiny 2
OBSBOT Tiny 2 is undoubtedly one of the best USB-C webcams, with a reliable auto-focus feature that adjusts its focus to keep the subject sharp, even during dynamic video scenarios. This cutting-edge webcam offers comprehensive functionalities, like stunning 4K resolution, that deliver sharp and detailed videos for professional-quality video calls and content creation.
Features:
Voice Control: OBSBOT Tiny 2 supports several in-built voice commands to control the camera settings and functionalities hands-free. These include zoom closer, zoom further, three position-changing commands, track me, and more.
Magic Gesture Control: Control the camera by making simple hand gestures, an effortless natural way to adjust the four times zoom, select/cancel target, and dynamic zoom.
Dual Mics Omnidirectional with Noise Canceling: The built-in dual microphones capture high-quality audio from all directions but with noise-canceling technology. So, you only get clear and crisp sound during video calls and recordings.
Beauty Mode: Enhance your appearance on the webcam by applying subtle digital touch-ups for a perfect professional look during video conferences.
AI-Tracking: The webcam utilizes advanced artificial intelligence to automatically track the speaker so the video stays centered and focused during movements.
Whiteboard and Desk Mode: Click a button on the App to adjust and crop the image for a perfect desk view to present your ideas. Use the remote controller, and capturing your whiteboard content becomes a breeze with OBSBOT Tiny 2. Aim the remote at the whiteboard and press the designated Whiteboard button to frame the shot automatically, center on the whiteboard as the main focus.
Thus, the OBSBOT Tiny 2 is an outstanding choice for anyone needing a high-quality 4k webcam USB C with a sturdy metal mount for easy and secure attachment to a laptop or monitor for stable video capture.
Price: $329.00
2. iMiSES USB C Webcam
With its remarkable 4K resolution, the iMiSES USB C webcam ensures crystal-clear meetings and live streams. Showcase your game live with this webcam, leave your employer astonished during online conferences, and provide your audience with an ultimate visual experience, setting yourself apart from other live streamers. Its conference webcam microphone can pick up sounds to 16 feet away, ensuring everyone in the meeting room can be heard.
Features:
When not in use, the USB C webcam's privacy cover blocks the lens and mutes the audio, safeguarding against potential privacy breaches. Additionally, the privacy cover guards the lens against dirt and debris, maintaining the camera's video clarity throughout its life.
The advanced AI technology automatically adapts the field of vision, color, and brightness based on the number of people in the meeting, ensuring natural lighting.
With AI tracking and autofocus, this 4K webcam effortlessly follows and focuses on people in motion. Please note that the AI function is only 2K or lower quality.
This conference webcam seamlessly works with Zoom, FaceTime, Facebook, Skype, YouTube, and more.
Price: $36.99
3. Logitech StreamCam
Stream and record in stunning Full HD 1080p at 60 fps, ensuring sharp, lifelike video with seamless motion. Enjoy the convenience of autofocus, with a focus range from 10 cm to infinity, or opt for the face-based autofocus feature when using Logitech Capture. The StreamCam's premium glass lens guarantees vibrant and true-to-life image quality, while the smart auto-focus system ensures crisp details in every shot. The 5 ft (1.5 m) USB-C 3.1 cable offers a reliable connection.
Features:
Experience the benefits of auto-framing, which keeps you perfectly centered in the shot, even as you move around.
Intelligent exposure adapts to varying lighting conditions, ensuring you always look your best.
Stream effortlessly to popular platforms like Twitch and YouTube, utilizing well-known live streaming software such as OBS, XSplit, and Streamlabs OBS.
Enjoy versatility with landscape or portrait modes, and mount the StreamCam on your monitor or standard tripod for the ideal framing.
The fast USB-C connection guarantees stable and reliable HD video quality for all your streaming and recording needs.
Grab more control with the Logitech Capture software, which automates focus, exposure, etc., for a better streaming experience.
Price: $139.99
4. Elgato Facecam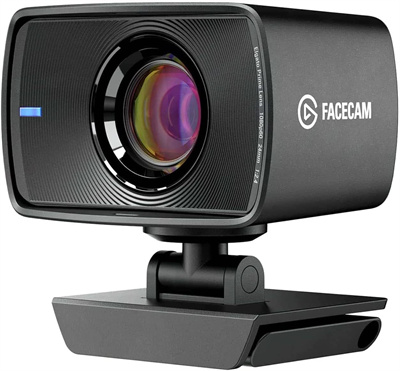 Elgato Facecam brings pro-grade optics and cutting-edge technology to a compact form factor, ensuring you look amazing in every video. It delivers stunning, uncompressed video output with exceptional clarity and detail with a high-quality lens and an advanced image sensor. With onboard memory, your preferred image settings are conveniently recalled on any computer you use.
Creating the best webcam involves focusing on what truly matters, so the fuse pro camera technology with plug-and-play convenience leaves audio to your dedicated microphone for optimal audio performance. So, embrace the next level of webcam performance with Facecam.
Features:
The eight all-glass elements, featuring an f/2.4 aperture and a 24mm focal length, deliver studio-quality optics for superb video results.
The Camera Hub feature enables easy, on-the-fly adjustments. Dial in your desired field of view, fine-tune saturation, sharpness, and contrast, or select shutter speed, exposure, and color temperature. Alternatively, let auto mode handle the settings while you focus on your audience.
The ISP (Image Signal Processor) inside Facecam optimizes highlights, corrects shadows, and enhances colors, producing vibrant yet natural visuals. Whites and darks are balanced to maximize detail while keeping noise minimal, ensuring unbelievable image quality day or night.
Experience true 60 FPS with Facecam, redefining FHD webcams' expectations. Bid farewell to grainy footage and lag as you present yourself in stunning 1080p resolution at a fluid sixty frames per second.
The uncompressed YUV video results in best-in-class latency and zero artifacts, guaranteeing a smooth, high-quality streaming experience.
Price: $149.99
5. Dell UltraSharp Webcam
The Dell webcam with USB C boasts top-tier quality with a 4K HDR video capture resolution, making it ideal for high-definition video conferencing and content creation. Its exceptional connectivity via USB ensures smooth and reliable communication with your devices. The webcam's low light special feature guarantees impressive performance even in challenging lighting conditions. With a 2.7-inch screen size and a camcorder-type design, it offers a user-friendly and versatile experience. The privacy cover, a valuable inclusion, ensures your privacy is protected when not in use. With a zoom lens type and a maximum aperture of 2f, Dell's webcam lets you focus on the details while producing stunning visuals for your online interactions. With Dell, connect with confidence.
Features:
Equipped with a 4K Sony STARVIS CMOS sensor, it captures abundant light, resulting in clear, vivid, and vibrant video clarity that enhances your virtual experience.
The webcam's Image Signal Processing optimizes picture quality even in challenging lighting conditions, ensuring superior visuals at all times.
AI Auto Framing keeps you perfectly centered on the screen, making sure you stay the focus of attention during your video calls.
Enjoy digital zoom and precise auto-focus capabilities. Select your preferred view from versatile options, including 65°, 78°, and 90°, providing the full picture and optimal framing.
Certified for Microsoft Teams and Zoom and compatible with other leading UC platforms, this webcam ensures seamless integration with various video conferencing applications.
Price: $199.99
6. Lenovo UHD 500 Webcam
Operating the Lenovo UHD 500 Webcam is a breeze with its user-friendly design and functional mechanical mechanism. Real-time image feeding and streaming through your computer network make virtual interactions seamless. Compliant with Windows Hello 4. X, this webcam provides fast and secure facial recognition, for an extra layer of security to your device.
Elevate your virtual meetings and communication with the Lenovo UHD 500 Webcam, and experience the power of superior video quality and enhanced user convenience.
Features:
Immerse yourself in the brilliance of pixel-perfect high-definition FHD 1080P video, elevating your video conferencing and content creation to a professional level.
Enjoy effortless automatic login, courtesy of the webcam's facial recognition technology, providing a convenient and secure way to access your device.
The plug-and-play USB connectivity ensures easy setup, allowing you to start instantly without complex configurations.
Capture everything around you with the wide-view 75° lens, and have precise control over your frame with 360° pan/tilt options so that no aspect of your environment misses.
Your privacy is well-protected with the Lenovo UHD 500 Webcam's premium-quality internal slicing privacy shutter, allowing you to safeguard your personal space when not in use confidently.
Price: $128.00
7. Poly Studio P15
Experience the premium 4K video calling confidently, knowing you'll be seen and centered on camera with automatic framing. The Studio P15 captures brilliant colors and delivers sharp, crisp images, showing you at your best with its 4K resolution. Take control of your video with the integrated privacy shutter, ensuring your privacy is always safe. Enjoy pristine clarity and rich sound with the powerful integrated speaker featuring acoustic suspension and a passive radiator. With the advanced multi-microphone array, your voice is clear, even in noisy environments.
Enjoy a high-quality and convenient video conferencing experience with the Studio P15 from Poly.
Features:
Embrace the power of Poly MeetingAI, packed with intelligent, AI-powered features that create a virtual workspace where your audience can focus on you.
The Studio P15 is highly adaptable for various uses, making it a versatile video conferencing solution. It suits home offices, micro huddle/focus rooms, telehealth sessions, and distance learning.
Compatible with PC and Mac, the Studio P15 works seamlessly with Zoom, Microsoft Teams, and other video conferencing services.
Free up PC ports with dual USB ports for your Poly wireless headset adapter and other peripherals.
Price: $449.99
8. NexiGo N970P
The Sony CMOS sensor delivers an impressive 3840x2160 UHD resolution at 30 frames per second. Immerse yourself in vivid imagery with outstanding clarity, vibrant color rendition, and crisp details, thanks to the low noise CMOS that ensures super high SNR imagery even in low light conditions. Save specific settings to the webcam for immediate recall, even when switching between PCs or devices. The built-in OSD menu effortlessly adjusts all image parameters without software installations. With NexiGo's product algorithms and firmware stored and executed within the webcam hardware through edge computing technology, you can rest assured of top-level data security and privacy protection.
Features:
Experience advanced face detection AI that automatically frames the video according to the number of people in the meeting, ensuring the video's focus remains centralized.
Take control of your video calls, Turn the webcam off, zoom in or out, and more effortlessly with the remote, even from a distance.
The 10X digital zoom in the NexiGo N970P webcam allows gradual zooming in or out with a press of a button (Note: Please ensure turning off the auto-framing function and closing the OSD menu before using the zoom function.)
The noise-canceling technology removes the ambient sounds that could interfere with communication, so the speaker's voice is heard loud and clear within a distance of up to 6 meters.
The webcam is plug-and-play, requiring no additional drivers, and is ready to use within a minute or less on any compatible device.
Price: $189.99
9. WYRESTORM 4K Webcam
Experience true 4K resolution at up to 30fps with the FOCUS 210 webcam, delivering crystal-clear video and an immersive face-to-face meeting experience. You get smooth virtual interaction for seamless communication and collaboration with your boss and teammates. The auto framing intelligently detects attendees within its field of view (FoV) and automatically centers everyone into the frame. The presenter tracking feature smartly detects and follows the moving presenter for dynamic presentations, enhancing the conference experience.
The WYRESTORM 4K webcam guarantees a smooth and professional video conferencing experience.
Features:
The remarkable 120° ultra-wide field of view guarantees that everyone in the meeting room is visible. Say goodbye to the embarrassment of crowded faces before a small FoV.
The webcam ensures straightforward voice pickup within a distance of up to 5m/16ft, providing everyone's voice is heard loud and clear.
Enjoy a 2-year warranty and 24/7 global service and support with this FCC and CE-certified USB-C webcam.
Additionally, you can download the App for AI tracking and video configuration for added convenience (download on our official site or contact tech support).
The attached lens cover effectively guards your privacy and protects the camera lens from dirt and debris.
Price: $169.99
10. Logitech BRIO 501
Experience advanced image quality with the Full HD 1080p webcam resolution, ensuring outstanding clarity during meetings so everyone can see you. Auto Light Correction (RightLight 4) technology intelligently adapts to the lighting in your environment, guaranteeing clear visibility even in low-light conditions. Auto-Framing (RightSight) takes the hassle out of positioning the camera during meetings. It centers the video camera on you, allowing you to stand and move freely without leaving the frame.
Elevate your video conferencing experience with the advanced features of this best webcam USB C, ensuring impeccable image quality and effortless customization for a superior virtual meeting experience.
Features:
Show Mode enables you to effortlessly showcase your work or objects on your desk. You can tilt the webcam up or down with a single hand to achieve the perfect angle.
Experience crystal-clear audio even in noisy surroundings, thanks to the dual noise reduction microphones that filter out background sounds during calls.
Protect your privacy between meetings by rotating the integrated webcam privacy shutter to block the camera completely.
The 90-degree field of view provides extra space to move around during your video calls or accommodate a second person.
Pair your webcam with Logi Tune to easily zoom in or out, mute the microphone, adjust color and image resolution, manage auto-frame settings, and set automatic updates for seamless control.
Thus, that was our list of the top 10 webcams, including some of the best USB C webcams for Mac, for amazing quality output for all your streaming needs.
Part 4: How to Use a USB-C Webcam on a Laptop
Now, let us see how to connect, mount, test, and use a USB-C webcam on a laptop.
How to Install a Webcam:
Step 1: Power Up Your Computer and Connect the Webcam
Ensure your computer is on and the operating system is fully loaded. Plug the USB cable from your webcam into an available USB port on your computer. USB ports are on the back of desktop computers or the sides of laptops.
Step 2: Automatic Driver Installation (Windows 8, 10, and above)
Newer operating systems, like Windows 8, Windows 10, or Windows 11, should recognize the webcam automatically and install the necessary drivers. If not, see below.
Manually Install Webcam Drivers (Optional)
If your operating system doesn't automatically install the webcam drivers, visit the manufacturer's website and download the required drivers. Install the downloaded drivers on your computer.
Step 3: Optional Software Installation
If your webcam comes with a CD containing software, you can install it to add additional features to your webcam.
How to Mount the Webcam:
Position the webcam in front of you at the same height as your face while sitting. The ideal place to mount the webcam is at the top of your computer monitor. Most webcams come with an adjustable clamp that secures the webcam against the back of the monitor. Place the webcam on the monitor and adjust the clamp to your preference. Point the webcam at your face when properly mounted.
How to Test the Webcam:
Press the Windows key or click Start.
In the Windows search box, type "camera."
Select the Camera app option from the search results.
The Camera app will open, and the webcam will display a live video of yourself on the screen. Adjust the webcam to center your face on the video screen.
Use the Photobooth app located in your Applications folder to test your webcam. The App allows you to take photos or videos using the attached webcam.
Use the "cheese" utility available in most package managers. For example, to install it on Debian, Ubuntu, or Linux Mint, use "sudo apt install cheese." To activate the webcam on motion detection, you can use the "motion" utility with "sudo apt install motion."
How to Use the Webcam:
After connecting and installing the webcam on your computer, you can use it for video conferencing on popular services and software like Microsoft Teams, Skype, Webex, and Zoom. Click the video camera button on the service or software to activate the webcam and share live video during a video conferencing call. Depending on the platform, the live video sharing may begin immediately or show a preview before starting the sharing process. Enjoy smooth video communication with your webcam on video conferencing services and software.
Conclusion
Thus, we listed the best ten USB-C webcams in the industry today. We included a range of webcams with different features, including cheap, affordable, and expensive ones. You should once again go through the list and jot down the ones close to what you need. However, if you want our opinion, we recommend the OBSBOT Tiny 2 as the best webcam for Macbook Pro, USB C, and other operating systems.
So, which is your favorite among all the type C webcams above?