YouTube is the most used online platform where you can create an account, and add and share videos worldwide. The site has millions of users and more than 35 hours of video are constantly being uploaded every minute.
So, if you want to get famous and tap on trending videos, it's essential to find the right webcam for YouTube video recording, follow us to get the best YouTube webcams.
Part 1: Benefits of Using an External Camera for YouTube
Want to achieve your best look during YouTube vlogging? The right YouTube live camera can be a game-changer for your channel if used correctly.
Laptop cameras do not give the best result during video recordings. It needs more quality and resolution for clear communication. What you get is grainy pictures, poor lighting, awkward angles, and shadows. So you will need an external webcam for video creation.
Here are four reasons why an external YouTube webcam is better.
1. Superior Quality
Camera recorders for YouTube have higher resolutions than built-in laptop cameras, so you get better picture quality for video recording apps. With more pixels, your image, facial expressions, and referenced documents are clearer to the viewer.
2. Enhanced Flexibility
Unlike fixed built-in laptop cameras, external webcams for YouTube let you adjust positions for the best real-time angle. Tilt or reposition the webcam effortlessly to capture multiple angles.
3. Improved Lighting
Laptop camera lighting is often low for online content streaming. External webcams with unique light-enhancing technology brighten your face even in rooms with insufficient natural light. Record from various locations without compromising your appearance.
4. Added Features
Valuable features like autofocus, digital zoom, and noise cancellation are rare in built-in laptop cameras. These features ensure you look your best and communicate clearly with colleagues and friends during video conferences. Some webcams even include microphones for better audio clarity.
Hence, an external webcam is the best bet if you plan to launch your YouTube channel.
Part 2: Key Features to Look for in a YouTube Webcam
Fellow YouTubers! The best webcam for YouTube videos will depend on how much you're willing to spend and the features you require. So, let's break down some essential specs to help you find the ideal web camera.
Here's what you should focus on and how they impact your stream's quality:
1. Resolution
This one's crucial! The resolution determines your video quality. Higher resolution means more pixels, resulting in better video. While 4K sounds impressive, a high-quality 1080p camera can do wonders for your stream without breaking the bank.
2. Field of View
The field of view refers to what the camera captures. A wide-angle view is perfect for multiple people or showcasing an entire room, while a narrower view suits those recording themselves.
3. Lens Quality
Glass lenses produce superior video quality compared to plastic lenses. Though they may cost a bit more, they're worth the investment if you want top-notch visuals.
4. Frame Rate
Frame rate is the number of images a webcam captures per second. A smooth streaming experience requires an adequate frame rate, so consider 30fps, 60fps, or 90fps cameras.
5. Low-Light Performance
Lighting can make or break your video quality. Look for webcams with good low-light performance, as they'll adjust to different lighting conditions effortlessly.
6. Autofocus
While not essential, autofocus in your webcam can significantly improve video quality and save you time. It automatically adjusts the lens for the best image without you lifting a finger.
Note: Go for webcams with auto-adjusting sensors, especially if you're new to YouTube streaming and want to avoid the fuss with complex lighting setups.
Part 3: Top YouTube Webcams for Content Creators
Here are the ten best web cameras for YouTube videos for an excellent video recording/streaming experience.
1. OBSBOT Tiny 2
OBSBOT's newly launched Tiny 2 webcam has reclaimed its position as the best on the market, offering significant improvements across the board. With a superior sensor and outstanding image quality, it is a favorite choice for streamers. The webcam's tracking capabilities and remote control add a touch of magic, making it a standout performer. In addition, the OBSBOT Tiny 2 has a smart and compact design that is quite different from its previous generation.
Pros:
Sensor Upgrade: The Tiny 2 has a 1/1.5-inch sensor and f/1.9 aperture, making it one of the most impressive webcams in image quality and low-light performance.
Tracking Capabilities: The webcam's gimbal allows smooth panning and tilting, ensuring users remain centered in the frame during streams. The tracking feature works effectively, allowing some freedom of movement while still keeping the subject in focus.
Gesture and Voice Controls: OBSBOT introduces gesture controls, enabling users to interact with the webcam through hand movements. Additionally, the Tiny 2 supports voice controls, allowing users to operate various features, including zoom and tracking, using voice commands.
Sleek Design and Build Quality: The Tiny 2 boasts a smaller and lighter design, featuring a metal-like structure that enhances its overall appearance. It comes with a hard-shell travel case, ensuring safe and convenient portability.
Software Enhancements: With the OBSBOT Webcam software, users can access additional features, including beauty modes, filters, background blur, and body appearance adjustments, further enhancing the streaming experience.
Cons:
Price Tag: While the OBSBOT Tiny 2 offers impressive features, its price might be high for some users. However, the quality and performance justify the cost, especially for those who want top-notch YouTube streaming capabilities.
Price: $329
2. OBSBOT Meet 4K
The OBSBOT Meet 4K is a compact and lightweight camera recorder for YouTube that stands out with its design and impressive video capabilities. Its luxurious feel and new features set it apart from the competition. Despite its small size, the webcam delivers sharp and detailed 4K resolution videos, making it an excellent choice for Mac and Windows users. The device requires no initial setup and is plug-and-play, making it easy for YouTube users of all experience levels.
Pros:
Auto-Tracking: AI-powered auto-tracking enables the camera to automatically follow and focus on the speaker or active participants in a meeting or presentation. This eliminates the need for manual camera adjustments and ensures that the subject remains in focus.

Background Blur or Virtual Backgrounds: These features allow users to either blur the background behind them or replace it with a virtual background, adding a level of privacy and customization to the video feed.

Compact and Lightweight: Weighing only 2.54oz and measuring 56 x 44 x 32mm, the OBSBOT Meet 4K is smaller and lighter than most webcams, making it highly portable and convenient.
Magnetic Mounting: The webcam has a magnetic mount, allowing it to snap onto the support in landscape and portrait orientations easily. Combined with auto-orientation, this feature ensures smooth and effortless adjustments for different shooting angles.
Cons:
Overheating Concern: Due to its small size, the webcam tends to get hot after prolonged use.
Price: $199
3. Logitech 4K Pro
YouTube has become essential to our daily lives, whether for podcasts, online classes, or sharing stories. However, nothing dampens the experience more than poor video quality, leaving us struggling to discern facial expressions and crucial details. Thankfully, the Logitech 4K Pro Webcam is here to revolutionize how we interact in the virtual world. With its cutting-edge 4K HD resolution and advanced features, this webcam promises to elevate video calls to a new level, providing crystal-clear clarity and unmatched video.
Pros:
Impressive Video Quality: The stunning 4K HD resolution produces incredibly sharp and detailed images, capturing every nuance and color with unparalleled precision. This webcam ensures every speaker looks their best on screen.
Sharing and Video Recording: The Logitech 4K Pro Webcam provides smooth and professional playback for asynchronous presentations and recorded content. Gone are the days of choppy and pixelated video; users can now enjoy ultra-smooth playback on YouTube videos and online courses with a polished and professional touch.
Frame Rates Up to 90fps: The fluidity of video is vital during video streaming, especially when gestures and movements come into play. With frame rates of up to 90fps, the Logitech 4K Pro Webcam captures motion exceptionally smoothly, ensuring users' movements appear natural and dynamic.
RightLight 3 Technology and High Dynamic Range (HDR): Its RightLight 3 technology intelligently adjusts exposure, compensating for challenging lighting scenarios like backlighting or dimly lit rooms. Combined with high dynamic range (HDR) capabilities, this webcam ensures you always appear in the best light, like a pro, even in the most demanding environments.
Crystal-Clear Audio: The dual-integrated omnidirectional microphones effectively capture voices from up to one meter away. Moreover, the webcam's advanced noise-canceling technology filters out background disturbances, ensuring that your voice takes center stage, even in noisy environments.
Cons:
High Price Point: The Logitech 4K Pro Webcam is pricier than other webcams on the market, making it less suitable for budget-conscious users.
Bulky Size: The size may be challenging when mounting on specific monitors or laptops, potentially limiting portability.
Price: $199.99
4. Razer Kiyo Pro
The Razer Kiyo Pro aims to address a longstanding issue with webcams: achieving good low-light video quality with a built-in ring light. Despite being twice as expensive as the Kiyo and lacking a built-in light, the Kiyo Pro is a superior YouTube webcam. With a better low-light sensor, impressive auto exposure, and excellent noise reduction, the camera captures clear facial images even in dimly lit environments. Moreover, its improved microphones deliver superior audio quality.
Pros:
Low-Light Performance: The Kiyo Pro excels in low-light environments, delivering sharp and well-exposed video without requiring a built-in ring light. It captures natural skin tones and balanced colors even in dimly lit settings, outperforming the original Kiyo's built-in light, which often causes overexposure.
Exceptional Audio Quality: Unlike its predecessor, the Kiyo Pro features vastly improved microphones, capturing voices with clarity and fullness. Although some room echo is present, the overall audio quality is impressive, making it ideal for video calls and content creation.
Versatile Monitor Clip Design: The Kiyo Pro has a flexible monitor clip that securely attaches to various monitors and laptops. With adjustable angles and a thumb screw for locking the horizontal angle, users can easily position the camera for the best view.
Sharp and Smooth Video Recording: Record 1080p video at up to 60 frames per second with sharp and smooth motion, even in full light. Additionally, it offers HDR recording at 30 frames per second, providing excellent visual quality.
Cons:
Pricey: Compared to other webcams on the market, the Kiyo Pro comes at a higher price point, which may deter budget-conscious buyers.
Bloated Synapse Software: Adjusting settings for the Kiyo Pro requires using Razer's Synapse software, which is complex and less streamlined.
Price: $199.99
5. AVerMedia Live Streamer CAM 513
The AVerMedia Live Streamer CAM 513 initially had poor image quality in various lighting conditions upon its launch. However, a substantial firmware and software update has addressed some of these issues. This review delves into the webcam's performance under low, moderate, and studio lighting, highlighting improvements and remaining challenges.
Pros:
Improved Image Quality: The firmware and software update has notably enhanced the image quality, making it much sharper and clearer in various lighting situations.
Versatile Software Control: The updated AVerMedia CamEngine software now allows for separate adjustments of exposure and gain. So, users have greater control over webcam settings. A significant advantage is that The software can persist settings even when unplugged or after the system restarts.
Wide Field of View and Dynamic Range: The AVerMedia Live Streamer CAM 513 has the widest field of view on the market, offering excellent coverage. Its dynamic range is also commendable, capturing details effectively.
Cons:
Poor Color Reproduction: Despite the improvements, color accuracy remains a significant drawback. The webcam struggles to reproduce accurate skin tones, often introducing unwanted color shifts to the image.
Performance in Moderate Light: While the image quality improves in moderate lighting conditions, the colors still appear off. It is less competitive than other webcams available for YouTube content creation.
Price: $169.99
6. Microsoft LifeCam Studio
The Lifecam Studio is one of the best webcams for vlogging, a significant upgrade from its predecessors and other in-built webcams. Microsoft claims to have improved various aspects, and the image quality is noticeably better than that of older models.
Pros:
Improved Image Quality: The Lifecam Studio captures sharper and more detailed images than older Lifecam models and built-in webcams. The photos show reduced chromatic aberration and better legibility, making it ideal for various applications.
Native Widescreen Aspect Ratio: With a native widescreen aspect ratio, the webcam provides a better viewing experience during video calls and webcasts, fitting well on modern widescreen displays.
Tripod Mount and Versatility: Adding a tripod mount on the foot of the webcam adds versatility, allowing users to use it on a tripod for communal webcams or attach it to a GorillaPod for creative angles. It also enables easier positioning with laptops.
Cons:
Autofocus Issues: The Lifecam Studio sometimes struggles with autofocus, frequently focusing on the background rather than the subject. Manual focus adjustment is available but can be inconvenient during video recording.
Limited 1080p Support: Although the webcam has a 1080p sensor, few video chat services fully utilize its capabilities. Users may only fully benefit from the high resolution once more platforms support it.
Size: The Lifecam Studio is less portable than smaller webcams. There may be better options for users seeking a compact webcam for on-the-go use.
Price: $99.95
7. Lenovo 500 FHD Webcam
The Lenovo 500 FHD Webcam (4XC0V13599) is a cutting-edge USB Video Class (UVC) compliant video camera designed for seamless YouTube video streaming applications on desktop and laptop systems. This webcam guarantees exceptional video data transfer with HD quality, operating flawlessly through a high-speed USB interface in Full HD mode. Its user-friendly design and functional mechanical mechanism create an outstanding user experience, making it a reliable and convenient digital video device.
Pros:
High-Definition FHD 1080P Video: The Lenovo 500 FHD Webcam delivers pixel-perfect high-definition video quality to enjoy crystal-clear visuals during video calls and conferences. Engage in YouTube presentations with exceptional clarity and detail.
Effortless Facial Recognition Technology: With its built-in facial recognition technology, this webcam offers effortless automatic login capabilities. It enables secure access to your computer system through Windows Hello.
Plug-and-Play USB Connectivity: Set up the Lenovo 500 FHD Webcam with its plug-and-play USB connectivity. Simply connect it to your computer through the USB interface, and it will be ready for immediate use.
Wide View and Pan/Tilt Controls: Capture everything around you with the webcam's wide 75° lens during video recordings. The 360° pan/tilt controls offer flexible adjustment options, allowing you to position the webcam precisely for the best viewing angle.
Image Digital Zoom 4X: The Lenovo 500 FHD Webcam features a digital zoom function to magnify images up to four times their original size. This feature lets you focus on specific details during video conferences or presentations, enhancing visual clarity and engagement.
Cons:
No Built-in Microphone: Unlike many modern webcams equipped with an integrated microphone, this webcam requires users to rely on an external microphone or the audio input of their computer system for audio capture.
Limited Frame Rate (30fps): Another notable drawback is the webcam's limited frame rate, capping at 30 frames per second (fps). While this frame rate is generally acceptable for basic video calls and conferencing, it falls short for live streaming or recording high-motion content.
Price: $127.96
8. Anker PowerConf C300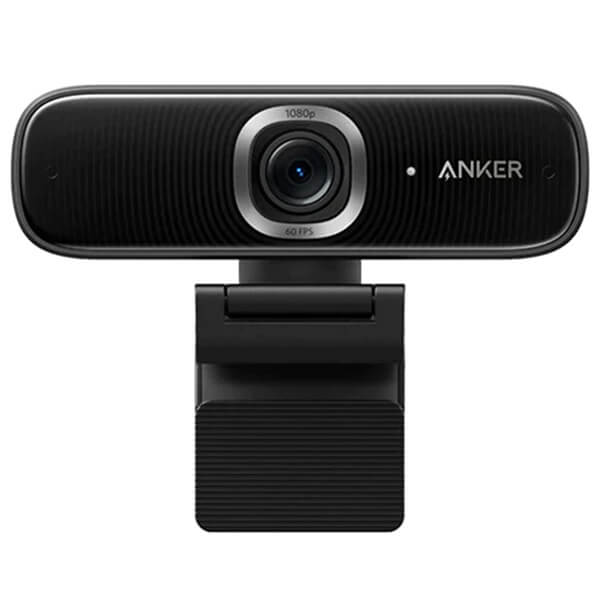 Anker, the well-known peripheral manufacturer, has ventured into the video conferencing market with its AnkerWork line, introducing the PowerConf C300 webcam. The Anker PowerConf C300 is a robust webcam for video recording in small rooms and group meetings. While it might not be the best for individual users seeking a more focused frame, it offers outstanding video quality and audio performance.
Pros:
Wide Field of View: The PowerConf C300 offers a 115-degree lens, significantly wider than most webcams in the consumer-priced range, making it ideal for capturing large conference rooms and accommodating multiple people in the frame.
High Video Quality: As a 1080p webcam capable of capturing at 720p or 360p at 30 or 60 frames per second, the C300 delivers sharp and detailed video quality, presenting well-exposed images even in well-lit rooms.
Excellent Low-Light Performance: The webcam excels in low-light environments, producing well-exposed videos with clear details, ensuring that faces are adequately illuminated and visible even in darker settings.
Integrated Dual Microphones: The C300 has two built-in MEMS microphones that effectively limit echoes and reduce background noise, producing clear and full audio for video calls.
Versatile Connectivity: The webcam is compatible with Windows (7, 8, and 10), plus macOS (10.13 and above).
Cons:
Overly Wide Angle for Individual Users: While the wide 115-degree lens is excellent for group settings, individual YouTube users might find it too broad.
Limited Control Software: The AnkerWork software allows users to adjust settings like resolution, frame rate, and color balance but doesn't offer comprehensive capture and streaming capabilities.
No Optical Zoom: The absence of an optical zoom lens limits the camera's adaptability for users who prefer a narrower field of view.
Price: $129.99
Part 4: Setting Up and Using Your YouTube Webcam
Once you have purchased your choice of YouTube webcam, it is time to set it up and start recording.
Here are six simple steps to guide you through your first YouTube video:
Step 1: Connect and Instal
Connect the YouTube webcam to your computer using the provided USB cable.
Allow the webcam to automatically install drivers (if necessary) or download and install the required software from the manufacturer's website.
Step 2: Position and Adjust
Position the webcam on a stable surface or mount it on your monitor using the provided clip or stand.
Adjust the webcam settings using the manufacturer's software, fine-tuning brightness, contrast, resolution, and frame rate.
Step 3: Test and Frame
Open a video conferencing or recording application to check if the webcam is recognized and functions properly.
Ensure you are well-lit and comfortably positioned in front of the webcam, adjusting the angle and framing as needed.
Step 4: Record and Live Stream
Launch your preferred video recording or live streaming software (e.g., YouTube Studio or OBS Studio).
Set up the video title, description, and privacy settings.
Start recording or go live to capture your content.
Step 5: Review, Edit, and Publish
After recording or streaming, review the video to ensure the quality meets your expectations.
Edit or trim the video using video editing software if needed.
Finally, upload the clip to your YouTube channel. Now, begin engaging with your audience by responding to comments and feedback.
These six steps will help you effectively set up and use your webcam for YouTube to create and share content with your viewers.
Conclusion
Thus, that was everything on how to use webcams for YouTube video recording and streaming. We shared some insights on the top 10 best webcams and also what factors make the OBSBOT Tiny 2 the best web camera for YouTube videos. So, are you ready for your first live YouTube video? Well, practice using our recommended webcams and see the difference yourself.
Enjoy! Make new YouTube shorts and videos with your new YouTube streaming camera.