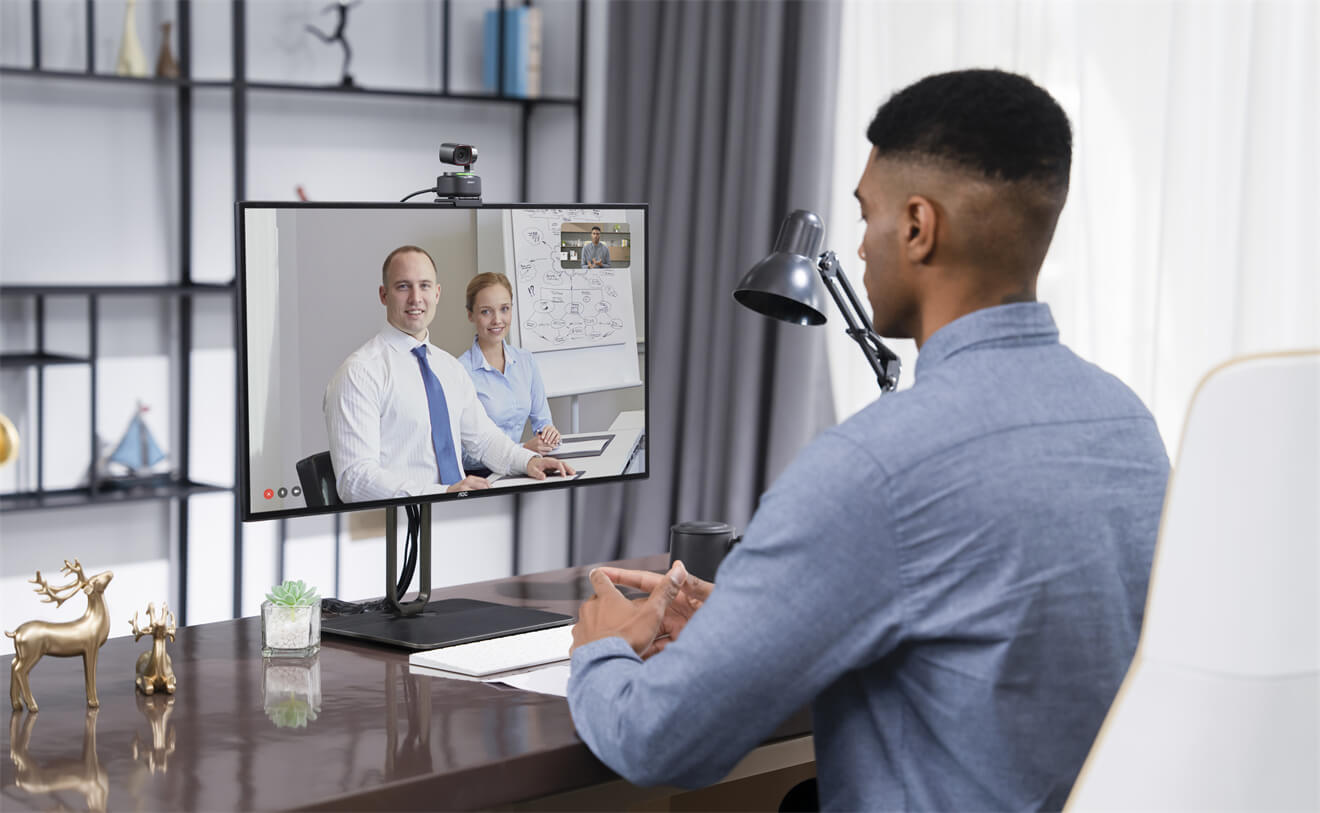 Do you know if webcams come with microphones? Not sure? Well, some webcams include integrated microphones. You can incorporate microphones, sold separately from PCs, into the webcams. Laptops, smartphones, and tablets have webcams and microphones. The market is saturated with webcams with microphones and speakers, making it difficult for purchasers to choose the ideal one for their requirements. Your purchase depends entirely on the type of application you intend to use for this device. This post will analyze the best webcams based on the microphone type. This article provides a guide for purchasing a new webcam with a built-in microphone for all applications.
Presently, 640x480 is the minimum acceptable resolution for a camera, but we must also search for a microphone with enough performance. The increased quality of these aspects also raises the price range for the item. However, if you are desperate enough to invest in a high-quality camera, you should review the information below. Here, you can pick the perfect best webcam with a microphone for your requirements.
Part 1: Are Webcams with Mics Good?
Yes, webcams for PC with a mic come in handy for video calls and Internet chatting as it records photos of the person or item in front of it and records sound with their in-built microphone.
Here are a few benefits of a webcam with a mic.
Benefits of a webcam with microphone:
It features a built-in camera for shooting photos and movies and live broadcasting on social networks like Facebook, Instagram, etc.
The collected picture and audio are then sent over the Internet via the network card on your computer (or wireless adapter).
You get accessible communication with relatives and friends.
With a webcam with a microphone during Skype or Google Hangouts talks, others can see your appearance while listening to your voice.
You may create and share internet videos of yourself singing or playing an instrument.
If you are an avid gamer, this camera is ideal for broadcasting live gameplay sessions.
This camera features an integrated microphone, eliminating the need to purchase one separately.
Part 2: Which Webcam with Mic is Best for a PC?
The webcam with mic and speaker picked provides excellent quality and spans the whole price range, which allows everyone to choose something that meets their financial and otherwise demands.
1. OBSBOT Tiny 2 PTZ Webcam
The OBSBOT Tiny 2 will improve your remote meetings and desktop vlogging with gesture-controlled tracking and excellent 4K picture quality. The OBSBOT Tiny 2 computer camera with microphone is a no-brainer for fitness or dance instructors, teachers, or anyone who must move about during Zoom or other video conversations. The pan and tilt functions are almost as good as hiring someone to film the video for you. It's ideal for live videos or recording videos for social media tales and reels. It is the best webcam with dual microphones and noise cancellation.
Features of OBSBOT Tiny 2:
Resolution: Up to 3840 x 2160 in 4K
Rotation: 150°
Connection: USB C, USB C to USB A adaptor
Wide Angle Lens: 90°
It is excellent image quality and skin color sound quality, even from a distance
It works effectively in low-light conditions
Good angles extend from the ground to the ceiling
It has a controlling gesture
Zoom up to 4x
Swivels and pans with you
Motion mode is useful for quick motions
Headroom setting prevents your head from being cut off
It uses a portrait mode aspect ratio, useful for removing backgrounds
It comes with a carrying case
Microphone Type: Built-in dual Omni-directional mics with noise reduction
2. Boom MEZZO
The Boom MEZZO webcam and microphone is a 4K Ultra HD camera that can record 30 frames per second. Additionally, it has an electronic PTZ and built-in AI features, some of which include very rapid auto-framing. An advanced image signal processor (ISP) creates a vibrant and well-balanced picture. In terms of brightness and color layering. These images also have a high resolution. The MEZZO will give you a compelling experience during your video conference sessions. It has an intelligent camera to create better meetings.
Features of Boom MEZZO:
Ultra HD 4K@30fps
Wide angle 90° field of view
4K glass lens with HD sensor
ePTZ 10x
Advanced AI auto-framing technology
High-quality SONY CMOS sensor
Multi codec: H.264, H.265, MJPEG, YUV2
Advanced focus technology
Low light optimization
Easy install
USB Plug & Play
Microphone Type: Two built-in high-sensitive mics.
3. AnkerWork B600 Video Bar
The AnkerWork B600 Video Bar is a high-end external webcam with a basic design and aesthetic accents to make it stand out. The gadget is composed mainly of plastic, but it has a stylish metal edge around the front and fabric on the sides. Overall, it's well-built and visually beautiful.
Unlike many high-end webcams, the AnkerWork B600 PC camera with microphone has a light bar, microphone, and speakers. This implies that you can replace a multi-device conferencing system with a single camera, simultaneously reducing the number of peripherals hooked into your computer. The light bar may also be a privacy flap if you want to go off the camera fast. If you don't like the built-in microphone and speakers, there's a USB-A connector on the camera that you can use to connect an approved Anker headphone.
Features of Ankerwork B600 Video Bar:
7.09 x 1.81 x 1.5in Dimensions (18.01 x 4.6 x 3.81cm).
Weight: 0.66 pound (299g).
2 x USB-C (data and charging), 1 x USB-A (sound).
5MP (2K resolution) camera with up to 30FPS.
Viewing angles: 65 degrees, 78 degrees, and 95 degrees.
Focus: Intelligent Auto Focus.
2 × 2W speaker
Microphone Type: 4-Mic Array with AGC/AEC/ANC.
4. AverMedia PW515
With AverMedia PW515, you can use the built-in universal mounting clip or a quarter-inch threaded stand for mounting. The screw and clip mounts have protective rubbery pads to avert scratching. However, it doesn't come with a desktop stand, so you'll need to buy a quarter-inch stand separately to fit your needs. The AverMedia PW515 webcam with a good microphone doesn't feel particularly extravagant. The camera comes encased in a rectangular, plastic exterior that looks and feels well enough and seems durable.
Overall, the build is perfectly serviceable. Though not too impressive, it doesn't look like a budget webcam you'd find on electronic store shelves. At a little more than 5-inches wide, 2-inches deep, and 2-inches high, it's wider than tall. But, the camera's low height makes it a bit annoying to use freestanding, so you need to clip it to the monitor or stand.
Features of AverMedia PW515:
Sony® STARVISTM 4K CMOS image sensor
Maximum resolution/frame rate: 3840x2160 at 30 frames per second; 1920x1080 at 60 frames per second.
8 Megapixel image resolution
Viewing Angles: 100° (D), 92° (H), 60° (V).
Autofocus is the focus method (lens type).
UVC 1.0 MJPEG, YUY2, and NV12 formats
Mic: Dual Omnidirectional Stereo Microphones
Pickup distance for microphone: 3 m/9.8 ft.
Mounting options include a monitor clip, a desktop stand, and a tripod thread.
Image processing includes 3D noise reduction, high dynamic range, auto framing, and gesture recognition.
Dimensions: 130 x 58.1 x 56.75 mm/5.12 x 2.29 x 2.23 in (W x D x H).
Size: 190 g/6.70 oz.
A large field of vision.
Image Optimization Using AI.
Microphone Type: Dual Omnidirectional Stereo.
5. Microsoft LifeCam Studio
Microsoft LifeCam Studio is meant to provide flexible and comfortable handling with its specifically designed rubber mount that can be attached to any monitor or screen. It has an H.264 processing unit, which provides high-quality video creation at 1080P resolution.
You'll be glad to know that the Microsoft LifeCam Studio USB webcam with microphone has TrueColor technology and supports ClearFrame technology to ensure high-quality content. Its outstanding audio and video capabilities make it an excellent option for use with Windows live calls, picture galleries, and movie maker-like application platforms.
Because of its excellent focus and built-in High-Fidelity microphone, experts recommend this camera. You can transport this compact camera device to various places, and the extended USB connection allows users to fix it anywhere. This camera works flawlessly with Skype-like chat software; however, it does not behave well on Apple systems.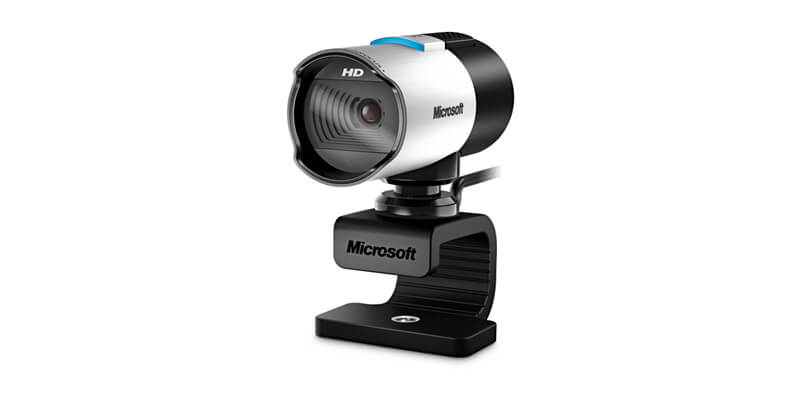 Features of Microsoft LifeCam Studio:
The color modification in this webcam with a microphone is a breeze.
It includes a high-quality microphone.
It may be useful with Skype.
It provides an expansive vision in all directions.
It works by using a wideband microphone.
Microphone Type: Built-in Hi-Fi mic
6. NexiGo N660P
The NexiGo PC camera and microphone are one of the best webcams for work. It is for individuals who want a webcam that offers a bit more than simply high-quality video and audio. Because it has a frame rate of 60 fps, the NexiGo N660P camera has a more fluid appearance and is less jerky than other webcams.
Features of NexiGo N660P:
The NexiGo N660P Webcam has an image resolution of 1920 x 1080p and has automated white balance and exposure management.
The two stereo microphones inside the device are omnidirectional and equipped with noise-canceling technology to filter background noise. It is ideal for online instruction, blogging, conferencing, live streaming, video chatting, and gaming, among other applications.
It applies a privacy cover to the camera to safeguard your privacy and security. When you wish to utilize the camera, open the privacy cover and shut it when done.
The 6.5-foot USB cable is plenty for any work; plug it in, and you're ready to go —no need to download or install any complex driver software.
NexiGo webcam with mic is compatible with several operating systems, including Windows 7/8/10/11, Mac OS 10.6 or later, Linux 2.6.24 or later, Chrome OS 29.0.1547 or later, Ubuntu 10.04 or later, and Android 5.0 or later (with supported video-calling clients)
Microphone Types: Dual microphones
Part 3: FAQs About Webcams with Microphones
1. What is a webcam with a microphone?
A camera with a microphone is a device that enables video calls and internet chat. It contains a built-in camera to take images, record movies, and broadcast live social media.
2. How will I know if my webcam has a mic?
Here are a few ways to know if your webcam is with a microphone.
For Windows 11/10:
Press the Windows key, then enter Control Panel in the Windows search box.
Alternatively, visit the Windows 10 Start menu and go to Windows System > Control Panel.
Click Hardware and Sound in the Control Panel.
In the left navigation menu, choose Hardware and Sound, then click Manage audio devices towards the center-right area of the screen.
Tap the Recording tab at the top of the window that displays. If you have a microphone, you will see it in the center portion.
If there is more than one input device, you may change between them by choosing one and then clicking the Apply and OK buttons.
For macOS:
Tap the Apple symbol on the menu bar to enter the Apple menu, then choose System Preferences.
In the System Preferences box, click the Sound icon.
Click the Input tab in the Sound menu. If you have a microphone, you will see it in the center portion.
If you have several input devices (microphones), you may switch between them by simply clicking a different device.
3. Do I need a separate mic with a webcam?
Even if your computer has a built-in microphone or a webcam with a microphone, a separate microphone usually provides better audio quality. If your microphone has a circular plug, plug it into the appropriate audio socket on your computer. Most computers have two sockets: one for microphones and one for speakers.
Conclusion
The fact that other cameras did not reach the best webcam with a mic list does not suggest that they are worthless. This list will surely be helpful to you, regardless of whether you are considering participating in video conferences or wish to utilize your camera for streaming. We started with webcams that had a higher PC camera and mic. From there, we moved on to cameras with a quality equivalent to the earlier models but a fairer mic quality. Do share your pick with us in the comment section, although we recommend again trying the Obsbot Tiny and sharing your experience.