PTZ cameras/webcams are equipped with motorized stands for remote or automated operation. In recent years, their popularity has soared. Whether it's a Zoom meeting with presentations or any other video conferencing situation, having a good PTZ camera that can pan and tilt to follow you can greatly enhance the overall experience, especially when you want to showcase the whole environment.
This article will assist you in getting a Pan/Tilt/Zoom camera for your requirements. Below are the best PTZ cameras/webcams for you to pick from. These cameras offer a wide field of view, high resolution, and advanced features such as pan and tilt capabilities, making it easy to capture the entire conference room and its participants.
What Is a PTZ Webcam/Camera?
A PTZ (pan-tilt-zoom) webcam or camera is a type of camera that can be controlled remotely to adjust the position of the lens in different directions (pan, tilt) and to zoom in and out. This allows the user to remotely control the field of view of the camera, making it useful for surveillance or live-streaming applications.
Camera presets are often kept on the camera and maybe remembered to move the camera robotically to a particular place. Preset one, for example, is a zoomed-in photo of a position on stage, while preset two could be a wide-angle view of a crowd.
Pan-tilt-zoom cameras enable camera operators to easily remember numerous places within their environment. They are often in high demand because they are helpful for various applications, including live video production, sports broadcasting, video conferencing, telemedicine, and security.
Top 10 Best PTZ Webcams/Cameras for Video Conferencing & Live Streaming
We've tested some of the most versatile and practical USB PTZ cameras on the market and provided you with the information you may need to pick between them.
1. OBSBOT Tiny 2
OBSBOT Tiny 2 is a distinctive PTZ webcam compared to others on the market, with a gimbal design. This camera can automatically track your movements. You can see this technique in high-end conference cameras. Compared to them, the OBSBOT Tiny 2 is more cost-effective for anybody who needs a PTZ webcam to follow their movement throughout a conversation in 4K resolution.
Features of OBSBOT Tiny 2:
Resolution: 4K@30 fps, 1080p@60 fps, MJPEG, H264
4x digital zoom
AI-powered Auto tracking, Auto-framing & Auto Focus
The field of vision is 86 degrees
Dual omnidirectional microphones with noise reduction
2-axis gimbal, max control speed: 120°/s
Advanced gesture control
Magic Voice Control
2. Canon CR-N300
The Canon CR-N300 pan-tilt-zoom webcam has 4K UHD resolution, a 20x optical zoom, Hybrid Auto Focus, and numerous IP streaming and control protocols. It makes content creation and streaming simple, and you can engage your audience in new ways. It's the ideal choice for various productions.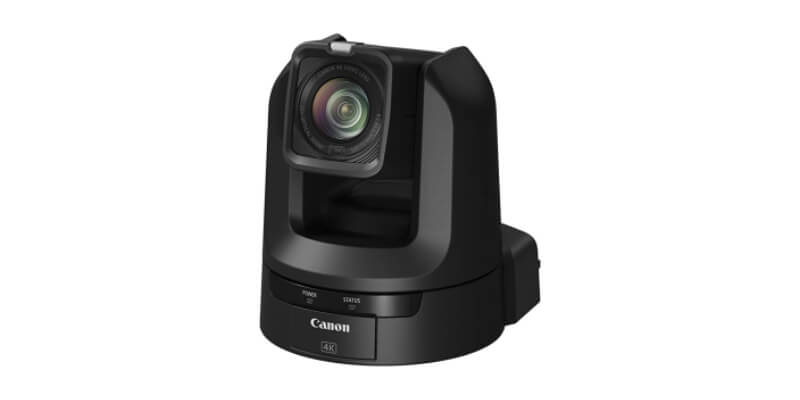 Features of Canon CR-N300:
Razor sharp 4K imagery
20x optical zoom for incredible flexibility
IP streaming and control to help transform your productions
Hybrid AF for exact focus
Flexible connectivity for your workflow
Compact for easy installation
3. Canon CR-N500
Canon's new PTZ camera, which has an optical zoom equivalent of 25 to 382mm and image stabilization, is excellent for filming a low-staff, high-quality production. Log 3 and wide dynamic range meet modern broadcast requirements, so you'll be able to create 4K at 4:2:2 10-bit, much like a high-end camcorder. Fast focus and facial tracking also contribute to a professional appearance.
You'll also have no trouble distributing your stuff. The back is so densely packed with connections that it will be too much for many. Dual XLR audio inputs and a genlock socket are unique in this category, but they may win it a live gig specialization.
Another bonus is the microSD card slot, used for future upgrades rather than for recording, which seems a bummer. For this and the series of cameras, you can route the footage via the output and control through Canon's Windows software or their RCI-100 joystick controller. Because of the built-in NDI, you may also use the camera in network settings ranging from CCTV to broadcast.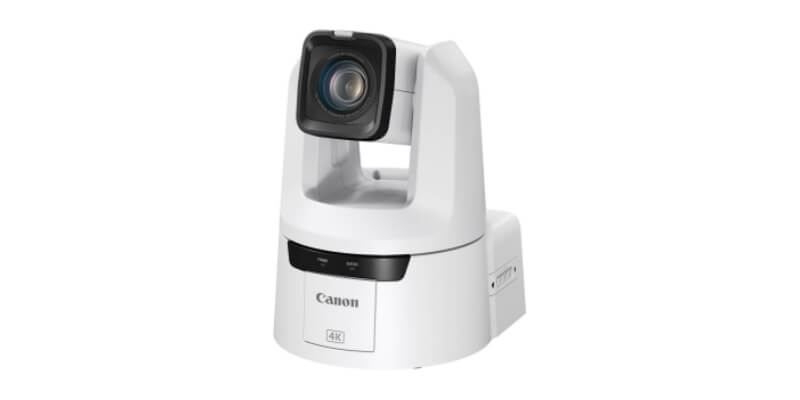 Features of Canon CR-N500:
Zoom: 15x
Resolution: Up to 4K
Frame rate: 60 fps at 1080p / 30 fps at 4K
Field of view: 5.7 to 73 degrees (broad)
Connectivity options include Ethernet (PoE), HDMI, BNC, RS232 passthrough, and RS422
Built-in ND filters
Multiple modalities for tracking the faces of people
1-inch dual-pixel CMOS
4. Panasonic AW-UE50
The AW-UE50 is an outstanding camera that, owing to the incorporation of IP, USB-C, and SDI video output, is well-suited to the demands of contemporary broadcasters. It's tiny, with a discreet dome-like form and a 24x optical zoom, and operated with a single (PoE+) connection.
Because of the broad-angle field of vision (74.1 horizontal at the wide end), smaller venues aren't a barrier, and several control solutions are available. Its near-silent motor system amazes with its finesse. Furthermore, the dark UI makes it possible to operate the camera from the web interface without disturbance.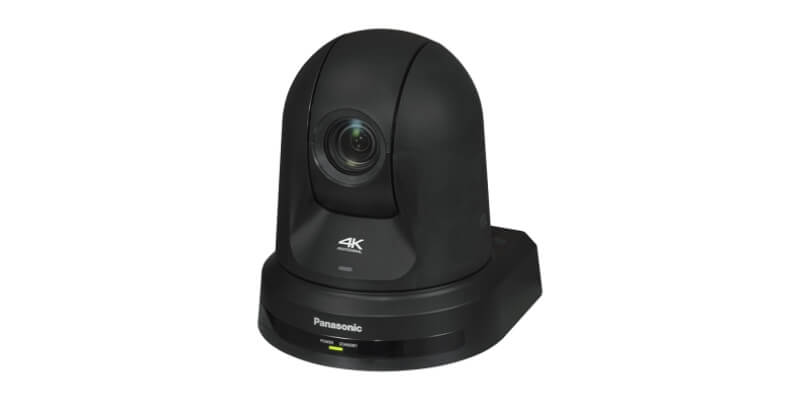 Features of Panasonic AW-UE50:
4K or 1080p resolution
24x optical, 28x digital in 4K, or 36x in 1080P zoom
At 4K, the frame rate is 25/30fps
74.1-degree field of vision
USB, HDMI, Ethernet, RS-422, and SDI-3G connectivity
5. PTZOptics 20x-SDI Gen2
This pan tilt webcam's 4.4-88.5mm lens and 20x zoom capabilities are ideal for face-to-face and group meetings. It performs effectively in low-light thanks to a fast f/1.8 - f/2.8 lens aperture and 0.5 minimum lux illumination at f/1.8. Broad dynamic range and 2D and 3D noise cancellation improve conferencing. The camera is open source, so developers may configure it using HTML instructions.
The camera features 3D-SDI, LAN, HDMI, composite, RS-232 input/output, and an RS-485 connection. The combined result is only 480i/576i, and you can use concurrent SDI, LAN, and HDMI outputs at the exact resolution. The camera's LAN output may transmit two H.264 or H.265 RTSP signals, one in HD and one in SD, or a single MJPEG signal to CDNs, streaming services, and other destinations. There's also a 3.5mm audio port for embedding audio into the LAN stream to offer audio and video. The LAN port only supports streaming and control, not PoE. Connect external devices for sophisticated conferencing instead of streaming from the LAN port. There's also a USB 2.0 connector for firmware upgrades.
Features of PTZOptics 20x-SDI Gen2:
3G-SDI output for broadcast conferences
1080p HD video at up to 60/50 fps
LAN, HDMI, and composite outputs, RS-232 input/output, RS-485 port
SDI, LAN, and HDMI connections are all active and programmable using HTML instructions
20x zoom lens with a focal length range of 4.4-88.5mm
f/1.8 - f/2.8 lens aperture 0.5 minimum lux illumination at f/1.8 Wide dynamic range
1/2.7" 2.1MP CMOS sensor
Noise cancellation in two and three dimensions
LAN, ONVIF, and RS-232 through VISCA instructions
NewTek TriCaster software lets you control several cameras
64 presets (or 255 via RS-232) with 0.1° accuracy
Mount using a desktop or ceiling bracket
6. Sony SRG-300H
The SRG-300H has a Sony EXMOR sensor and can operate at 1.4 LUX (f/1.6). Sony's XDNR digital noise reduction and 30x optical zoom create streaming-friendly quality. Sony's mechanism retains focus as you zoom, giving you a more professional-looking video than many PTZ systems, which need to seek after zooming. Lockable SDI connections are available for broadcasters (the Sony SRG-300S).
The ceiling, desktop, or tripod mounts are fine, and the picture mirroring switch is convenient. The design sits more subtly in a business atmosphere (or reality TV set) than others, and style-conscious users may choose black or white. Overall, this PTZ webcam is a great system that doesn't dishonor a beloved brand. It shows in construction and operation (even the IR remote feels robust).
Features of Sony SRG-300H:
1080p resolution
30x optical zoom
59.94 frames per second at 1080p
65(wide) degree field of vision
HDMI, Ethernet, RS232 passthrough, RS422
Both analog and digital remote-control systems (VISCA)
7. NewTek NDI HX PTZ3
NewTek NDI HX PTZ3 is at the forefront of NDI. It can transmit video across a network with little delay. Additionally, it utilizes less bandwidth than earlier NDI protocols. Additionally, it has SDI and HDMI outputs for local monitoring.
This PTZ webcam has a 1-chip 1/2.86" CMOS sensor, a 20x optical zoom lens, and a horizontal field of sight of 3.2 to 60 degrees. You may send over HD video up to HD video at 60 fps with a single Ethernet connection. The NewTek NDI HX PTZ3 is our top-recommended NDI PTZ.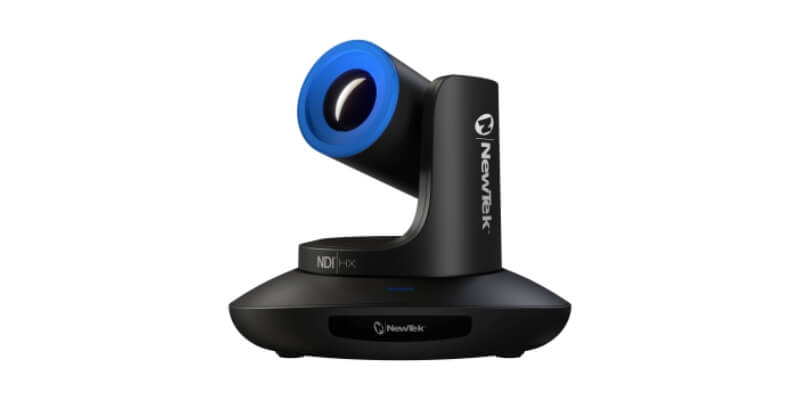 Features of NewTek NDI HX PTZ3:
Provides NDI|HX3 support
Professional XLR audio connection support for complicated equipment
Only one ethernet cable is required for audio and video, PTZ control, and tally
Support version 5 of NDI
There is a smooth, motorized pan-tilt-zoom operation and preset selection
NDI provides integrated and automated tally support
Native HD video format supports up to 1080p 60 fps
The PTZ3 has a 20x optical zoom, a 2x digital zoom, and smooth pans and tilts
For professional audio equipment, the PTZ3 incorporates an XLR to the mini-XLR converter
8. BirdDog EYES P400
The BirdDog EYES P400 PTZ web camera is an excellent option if you want a powerful zoom. It has a rapid f/2.0 20x optical zoom lens, a 12x digital zoom, a 30x SRZ (Super Resolution Zoom) in 4K, and a 40x SRZ in HD.
The BirdDog EYES P400 has an 8.5MP Sony CMOS backlit sensor inside and simultaneous 6G-SDI, HDMI, and NDI output. The BirdDog EYES P400 provides the most satisfactory zoom experience of any PTZ on the market.
Features of BirdDog EYES P400:
4K NDI videos with Color Pro Tools
Advanced performance in low-light conditions
NDI, 6G-SDI, and HDMI output for interoperability with various workflows
The Genlock port allows many cameras to sync without needing frame buffers
Precision pan, tilt, and zoom with a 20x optical zoom, a 12x digital zoom, a 30x Super Zoom in 4K, and a 40x Super Zoom in 1080p
Operate options include IR, RS-232/422/485, VISCA, and IP; the optional BirdDog PTZ keyboard controller can control up to 255 cameras
1/2.5" 8.5MP Sony CMOS Backlit Sensor
9. Honey Optics 20x
The Honey Optics 20x conference & broadcast camera with optical zoom can output up to a 2160p 60 feed simultaneously through HDMI, SDI (1080p), NDI HX2, or IP outputs (NDI and IP use the same RJ45/Ethernet connector). The NDI protocol, developed by NewTek, provides low-latency access to audio and video devices located anywhere on your network for multiple A/V applications. You will not be limited to sources directly related to one system.
Features of Honey Optics 20x:
Sony CMOS Sensor: 1/1.8′′ CMOS, 8.42 MP
4K at 60/50/30/25 fps, 720p at 60/50/30/25 fps, and 1080p at 60/50/30/25 fps
F6.25mm to 125mm lens, f/1.58 to f/3.95
20x optical zoom
60.7-degree field of view
AGC ON, Min Lux: 0.5 Lux at F1.8
1/30s to 1/10000s shutter speed
SNR: >=55dB
Mirror & Vertical Flip: Pan Movement Supported: +/-170 deg
Tilt Rotation: 90 degrees up and 30 degrees down
10. Sony BRC-X1000
The BRC-X1000 can handle event television, sports, or whatever. It has a one-inch, back-illuminated Exmor-R CMOS sensor, 9.3-111.6mm optical zoom, and or 2.8 at the wide end. Pan/tilt and zoom speeds are remotely adjusted. Sony's "Clear Image Magnification Technology" raises the zoom to 24x in HD or 18x in 4K without sacrificing clarity. The camera features a menu-switchable ND filter and is excellent in low light.
The PTZ webcam with remote can save 100 preset locations, but that's usually plenty. Front and rear tally lights ("live" lights) with adjustable brightness, user upgrades, an IR remote, ceiling brackets, mounting screws, and cable clamps are also included.
Features of Sony BRC-X1000:
4K zoom/optical 12x, digital 24x
59.94@1080p/30@4k
Wide angle: 64.6
HDMI, Ethernet, RS232/RS422
4k video quality
Large sensor measuring one inch
How to Setup a PTZ Webcam for PC?
The installation of different PTZ webcams may vary, but they are similar. Here we set the OBSBOT 2 PTZ webcam as an example to show you the detailed steps of setting up a PTZ webcam for a PC.
Step 1: Connect the OBSBOT Tiny 2 to your computer with the included USB-C data cable.
Step 2: The camera will begin the installation on your device immediately. Please wait a few seconds for the camera to complete it.
Step 3: Now you can use any popular video call platform to receive streaming, such as Zoom, Microsoft Teams, Skype, and Google Meet.
FAQs About PTZ Webcams/Cameras
1. Why are PTZ cameras so expensive?
They are more costly than static cameras since they include three separate motors that allow the camera to pan, tilt, and zoom. They also offer the capability to operate the camera remotely. There are also interior heating and cooling systems. The PTZ web camera has a lot of cutting-edge technology. Furthermore, it is built to be long-lasting.
2. What is the difference between a PTZ and an IP camera?
A PTZ camera is a type of camera that can move and zoom, while an IP camera is a camera that can send and receive data over a network or the internet. The coverage area of a PTZ camera is much bigger than an IP camera. PTZ cameras can easily move since they can pan, tilt, and zoom. However, IP cameras do not have this capability.
3. How do I choose a PTZ camera?
When choosing a PTZ camera, there are several factors to consider:
Resolution: The resolution of the camera determines the level of detail in the image. A higher resolution will provide more detailed images, but it also means that the camera will require more storage and network bandwidth.
Zoom: Consider the level of zoom that you require. Some cameras have a larger zoom range than others, which can be useful for capturing images from a distance or for zooming in on specific details.
Field of View: Field of view (FOV) is the area of the scene that the camera can capture. A wider FOV can be useful for monitoring larger areas or for tracking moving objects.
Control options: Consider whether you want a camera that can be controlled remotely via a web interface or a mobile app, or whether you want one that can be controlled using a joystick or other physical controls.
Compatibility: Make sure the camera is compatible with your existing network infrastructure and software.
Cost: PTZ cameras can vary greatly in price, so make sure to research different models and compare their features to find one that fits your budget.
It's important to take into account the specific needs of the environment and the purpose of the camera, as well as the budget available to make the right choice.
Conclusion
PTZ webcams are in high demand because you may use them for various applications, including live video production, sports broadcasting, video conferencing, telemedicine, and security. There are many choices available in the market, but they vary in quality and price. For the best budget PTZ webcam, we recommend the OBSBOT Tiny 2 webcam.