The role of professional pan-tilt (PTZ) cameras has become crucial in modern meetings. However, selecting the ideal PTZ 4k conference webcam demands requires thoughtful and informed decision-making. So, we've compiled a few tips and a list of the top 6 mini PTZ webcams in this article.
Part 1: Pros and Cons of PTZ Cameras
PTZ video conference cameras, which are known for their adjustability and often portrayed in Hollywood movies, offer many advantages and disadvantages. Here's a comprehensive look at the pros and cons of PTZ conference cameras.
Features and Advantages of PTZ Cameras:
1. Large Field of View
PTZ cameras offer expansive coverage, effectively monitoring vast areas, making them an ideal complement to fixed cameras to ensure comprehensive recording.
2. Motion-Based Auto Tracking
Auto-tracking capabilities allow PTZ cameras to autonomously follow moving objects, which is particularly useful in low-activity environments like museums.
3. Time-Based Auto Scan
PTZ cameras can automatically scan predefined areas at scheduled intervals, enhancing coverage without manual intervention.
4. Remote Camera Control
PTZ cameras can be adjusted remotely, enabling users to modify the field of view without physical presence.
5. Zoom Capabilities
Optical zoom functionalities facilitate clear capture of distant subjects, such as whiteboard graphs or faces, enhancing overall image quality.
Disadvantages of PTZ Cameras:
1. Shorter Lifespan
The intricate mechanics of panning, tilting, and zooming make PTZ cameras more susceptible to wear and tear. Thus, a shorter lifespan than fixed cameras.
2. High Cost
The expense associated with PTZ cameras, plus the need for multiple units to cover larger areas, can increase the costs.
3. Latency Sensitivity
Sometimes, PTZ conference room cameras may delay real-time control, i.e., delays between command and actual response.
Where PTZ Cameras Are Commonly Used:
Mini PTZ conference webcams work excellently in various settings, including guard stations, supermarkets, airports, churches, museums, construction sites, online teaching, presentations, and expansive outdoor areas. The features and ease of use of the PTZ webcams make them a worthy investment to date.
Part 2: 6 Best Mini PTZ Conference Cameras You Can Buy
At last, we are here to share the best attributes of the six mini PTZ conference webcams and cameras of 2023.
1. OBSBOT Tiny 2
The OBSBOT Tiny 2 is a remarkable AI-powered PTZ 4k conference webcam, introducing a new era of excellence in video conferencing, content creation, and live streaming. Loaded with many intelligent features, like beauty mode, this webcam redefines visual communication.
Pros of the OBSBOT Tiny 2
Whiteboard and Desk Mode: In Whiteboard Mode, the webcam intelligently enhances whiteboard content during presentations or educational sessions. Desk Mode optimizes the view for tasks involving documents or objects on your desk, making it ideal for demonstrations and online workshops.
Magic Gesture 2.0: With the enhanced Magic Gesture 2.0 feature of the OBSBOT Tiny 2, camera control becomes as simple as hand movements. Trigger commands by waving your hand, such as zooming in or out four times zoom, and selecting/canceling a target without manual intervention or software controls.
Voice Control: Enjoy hands-free operation with the Voice Control feature of OBSBOT Tiny 2. Execute functions effortlessly through voice commands, including starting or stopping recording, zoom adjustments, and more, providing a convenient and efficient user experience.
AI-Tracking: Driven by advanced AI technology, OBSBOT Tiny 2 intelligently detects and tracks your movements, ensuring you remain centered and focused during presentations, hybrid classes, or live streams.
Auto Focus: Bid farewell to blurry images, thanks to the precise and rapid auto-focus feature of OBSBOT Tiny 2. The webcam automatically adjusts focus, guaranteeing crystal-clear video quality even in dynamic environments.
Omni Directional Dual Mic with Noise Cancellation: Equipped with high-quality built-in omnidirectional dual microphones featuring noise cancellation, OBSBOT Tiny 2 delivers crisp and clear audio output for video calls, presentations, or classroom recordings.
So, if you're a content creator or a professional seeking seamless communication, OBSBOT Tiny 2 offers a user-friendly metal mount design. Effortlessly attach the webcam to your monitor, laptop, or tripod to quickly start your conference calls on Zoom and other platforms.
Price: $329
2. Logitech PTZ Pro 2
The Logitech PTZ Pro 2 webcam brings premium optics and lifelike video quality to the forefront, creating a sense of presence as if you're all in the same room, no matter the physical separation. This advanced webcam showcases enhanced image resolution, color reproduction, and optical precision. Designed to excel in large meeting rooms, auditoriums, and classrooms, the PTZ Pro 2 offers versatile capabilities.
Pros of the Logitech PTZ Pro 2 Webcam
Premium Camera Lens: With a 90° diagonal field of view, it captures expansive shots or focuses on speakers, presenters, and visual aids using its flexible pan and tilt controls. The 10x zoom lens with autofocus ensures precise framing and exceptional clarity for remote participants and recording systems.
Versatile Mounting Options: PTZ Pro 2 has mounting hardware for tabletop and wall mounting and features a standard tripod thread for added flexibility.
Camera Presets: Enjoy effortless transitions between different camera settings using the three presets, allowing you to save and smoothly switch between pan, tilt, and zoom configurations.
Application Compatibility: Certified compatible with Skype® for Business and Teams, PTZ Pro 2 is also compatible with other popular applications like BlueJeans, Broadsoft, Fuze, Lifesize Cloud, Vidyo, and Zoom®, making it a versatile choice for various conferencing platforms.
Easy Plug and Play: Connect it to your conference room computer or laptop via USB, and you're ready to roll. Compatible with video conferencing applications on Windows and Mac computers, this PTZ video conference webcam seamlessly integrates with any audio system or speakerphone.
Remote Operation: The convenience of remote operation is at your fingertips with the handheld remote control; pan, tilt, and zoom to capture every detail of your conference room, auditorium, classroom, or workspace. Additionally, the PTZ Pro 2 works remotely using downloadable software.
Experience the power of the Logitech PTZ Pro 2 webcam and elevate your video conferencing and communication endeavors to a whole new level of excellence.
Price: $499.00
3. Tongveo Conference Camera
The TONGVEO HDMI conference camera is a versatile powerhouse designed to elevate your live streaming, online conferences, and worship services to a new level of excellence. Its impressive range of features ensures a seamless and professional video experience that caters to various user scenarios.
Pros of the TONGVEO HDMI PTZ Camera:
10X Optical Zoom and Wide-Angle: Experience the brilliance of a crystal-clear HD1080P 60fps image with a 10X optical zoom lens and a 77°FOV wide-angle. Superior white balance and exposure modes enhance the vividness of the video, ensuring exceptional quality even in challenging lighting conditions. Its quick movement between presets, and effective handling of extreme brightness range make it ideal for streaming church services and worship sessions.
Multiple Connectivity Options: This camera offers flexibility by simultaneously outputting video through USB, HDMI, and IP streaming media. With Ethernet transmission capabilities of up to 100 meters, setting up the camera becomes effortless. Whether it's video conferencing, education, live streaming, broadcasting, or worship services, the TONGVEO HDMI PTZ Camera has you covered.
Professional Live Streaming: Equipped with PoE and Ethernet compatibility, this camera ensures secure and low-latency video content transmission to online streaming services. It maintains the integrity and quality of the video throughout the transmission process, making it a reliable choice for live streaming, video conferences, and event recording.
Seamless Control: Take charge of your camera through various methods, including the included remote control, a standard PTZ camera joystick (RS485 or RS232 interface), or popular conference software (UVC1.1). Compatible with Windows 7-11, XP, Vista, Mac 10.4 or higher, and various conferencing platforms like Zoom, Skype, Google Hangouts, and more, the camera provides convenient control options.
Variety of Mounting Options: You can place it on a desk, monitor, wall, tripod, or even upside-down in-ceiling. It comes with essential accessories, including a DC 12V power adaptor, IR remote control, manual, USB 2.0 cable, and brackets with screws.
Customer Support: Additionally, you can rely on a responsive customer service team to address your queries within 24 hours.
Experience the future of live streaming and conferencing with the TONGVEO HDMI PTZ Camera, a comprehensive solution to meet your diverse needs.
Price: $405.95
4. Fomako PTZ Camera
The FoMaKo FMK20SDI is a state-of-the-art conference camera with PTZ that redefines the standards of video conferencing, live streaming, broadcasting, education, and worship services. With its remarkable features, the Fomako PTZ Camera brings a new level of excellence to your visual communication.
Pros of the FoMaKo FMK20SDI PTZ Camera:
Total HD Clarity: Equipped with a high-quality 1/2.8-inch CMOS sensor, the FMK20SDI delivers an exceptional Full HD resolution of up to 1920x1080 with a frame rate of up to 60fps.
Leading Auto Focus: The camera features fast, accurate, and stable auto-focusing technology that guarantees sharp and well-focused images, even during dynamic movements.
Low Noise and High SNR: Thanks to its low noise CMOS and advanced 2D/3D noise reduction technology, the FMK20SDI achieves a super high Signal-to-Noise Ratio (SNR) for increased image clarity and minimal noise.
Multiple Compression Standards: Support for H.264 and H.265 video compression and audio compression formats like AAC, MP3, and G.711A enables fluent and clear motion video, even under low bandwidth conditions.
Versatile Recording and Storage: The USB 2.0 interface allows real-time video and audio recording and storage using U disk storage, providing flexibility for your content management.
Gravity Sensor and Auto-Flip: The built-in gravity sensor supports the PTZ auto-flip function, ensuring smooth and accurate camera movements. Installation is made easy, and the camera adjusts seamlessly.
Additional Pros:
Price: $571.39
5. Yealink UVC84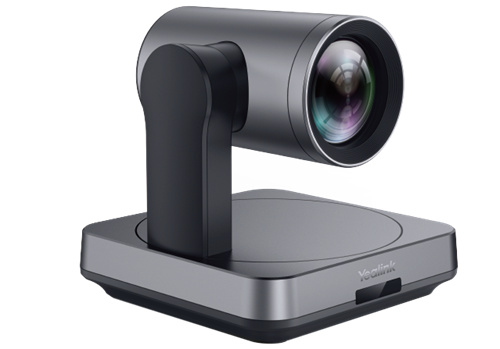 Yealink UVC84 is a PTZ 4k conference camera tailored for medium and large conference rooms, designed to provide an impeccable display quality that captures every detail with precision. With its advanced features, the UVC84 offers a true-to-life communication experience by faithfully reproducing every aspect of your interactions. Control the UVC84 via remote control or Yealink's camera control plug-in software for enhanced collaboration during meetings. Its innovative ID design and versatile installation options make the UVC84 ideal for any professional meeting environment.
Pros of the Yealink UVC84 Webcam
4K Video Quality: With its 4K video output, the UVC84 delivers exceptional sharpness and smoothness, providing a vivid and true-to-life video experience that accurately captures every detail and color.
Integrated Audio: Seamlessly integrate the UVC84 with Yealink's VCM34 array microphone or VCM38 ceiling microphone, and the Yealink Soundbar, for an outstanding audio experience that complements its premium video quality.
Optical and Digital Zoom: Enjoy the flexibility of 12x optical zoom and 3x digital zoom, coupled with an 80° field of view, ensuring that every participant in a medium or large meeting space is visible.
Auto Framing: The UVC84 features an excellent auto framing feature, liberating you from manual PTZ control. This lets you focus more efficiently on the meeting's content and discussions.
Flexible Installation: With its revolutionary new ID design and multiple installation options (conference table, TV top, wall, ceiling, TV stand, or tripod), the UVC84 adapts seamlessly to various professional meeting spaces, catering to your specific needs.
Easy Setup: UVC84 offers a hassle-free setup and USB plug-and-play functionality, ensuring a smooth and streamlined experience from the moment you begin your meeting.
Experience the Yealink UVC84 and elevate your conference room interactions to higher quality and efficiency.
Price: $999.00
6. Aver VC550
The AVer VC550 brings a new dimension to collaboration, revolutionizing how you conduct meetings, presentations, and discussions. With its remarkable features and exceptional audiovisual capabilities, the VC550 is your ultimate conferencing companion for efficient, engaging, and productive interactions.
Pros of the AVer VC550 PTZ Conferencing Camera:
Superior Audiovisual Quality: The VC550 introduces AVer's Scalable Speakerphone technology, a groundbreaking innovation that adapts seamlessly to mid to large rooms. With 4K dual-lens technology and 24X total zoom, the camera ensures precise and clear views of meeting spaces and participants.
Automated PTZ Functionality: Equipped with an AI lens, the VC550 offers automated Pan-Tilt-Zoom (PTZ) functionality, providing a comprehensive view of meeting attendees. The Smart Gallery feature intelligently captures each participant for enhanced clarity during remote viewing.
Scalable Speakerphones for Versatility: The VC550 delivers a premium audiovisual experience complemented by daisy-chain technology. Expand your setup by adding up to four microphones or two speakerphones, ensuring comprehensive coverage in mid to large rooms.
Advanced Noise Suppression: Say goodbye to background distractions. The VC550's FONE540 technology effectively suppresses unwanted sounds, guaranteeing impeccable audio clarity for uninterrupted communication.
Crystal Clear Audio Communication: The FONE540 with double-talk detection ensures that every word is heard clearly. Engage in conference calls that emulate face-to-face conversations, minimizing misunderstandings and repetition.
Price: $1699.00
Part 3: FAQs About Mini PTZ Conference Camera
Q1. Can Zoom control a PTZ camera?
Yes, Zoom can control PTZ (Pan-Tilt-Zoom) cameras. This feature enables users to remotely adjust the camera's pan, tilt, and zoom functions directly from the Zoom interface during video conferences, meetings, or webinars.
Q2. Can Teams control a PTZ camera?
Yes, Microsoft Teams can control PTZ (Pan-Tilt-Zoom) cameras. By connecting a compatible PTZ camera to the Teams platform, users can remotely control the camera's pan, tilt, and zoom functions during video meetings and conferences.
Q3. Do I need a controller for a PTZ camera?
Yes. Controlling PTZ cameras will be quick and easy with a controller, like an IR remote, joystick, and software. IR remote controls typically provide a restricted range of fundamental functions to command the camera and retrieve presets.
Besides, using the OBSBOT Tiny 2, you can control your mini PTZ conference webcam via gesture 2.0 and voice. It also comes with a remote to access all your required features easily
Q4: Can a PTZ camera follow motion?
Automatic target tracking is not a feature in all PTZ cameras. Only advanced Pan Tilt Zoom cameras, like the OBSBOT Tiny 2 offer the convenience of Auto-tracking capabilities. Using a standard web browser, you can manage this unique feature through the camera's web interface, voice, and gesture control.
Conclusion
Hence, that was about the best mini PTZ conference cameras of 2023 that we came across. Our list included high-end PTZ USB cameras and the highly recommended OBSBOT Tiny 2 due to its exceptional features.
So, which one of the six choices is your favorite mini PTZ conference camera? We assure you that you will be satisfied with the performance of any of these as we especially curated them for you.