Webcams are essential tools for content creators and streamers using OBS (Open Broadcaster Software). Their high-quality video-capturing ability and live streaming enhance the viewer's experience. Integrating multiple webcams with OBS allows you to engage your audience more effectively through face-cam reactions, professional presentations, and interactive content during broadcasts.
We've compiled a list of the top 8 webcams for OBS you should be aware of if you're considering making a new webcam purchase.
Part 1: What to Look for When Choosing A Webcam for OBS?
A high-quality webcam is vital while live broadcasting or recording video footage using OBS. It improves the overall visual experience while also letting your viewers see you clearly and interact with your material.
Here are the main aspects you must consider when selecting a webcam for OBS.
1. Resolution
For clear and detailed video output, look for webcams with a high resolution, such as 1080p or even 4K. Your stream or recording will appear sharp and professional with a greater resolution.
2. Framework Rate
A webcam with a greater frame rate, especially one that can record at least 30 frames per second (fps), will produce lag- and choppiness-free, fluid, and smooth video playing.
3. Low Light Performance
Webcams that operate well in low light will allow you to preserve video quality even in poorly lit places. To record clear footage in various lighting situations, look for features like low-light correction or improved sensitivity.
4. Autofocus
An autofocus-enabled webcam can be quite useful. It guarantees that you maintain focus even if you move during your stream or video, giving you a polished and expert appearance.
5. Compatibility
Check that the webcam you select is an OBS Studio webcam, a well-known streaming program. To avoid any compatibility problems, look for webcams that specifically state that they are compatible with OBS.
Thus, improve the quality of your OBS streams or recordings by checking these variables to find that perfect webcam that satisfies your needs.
Part 2: Best Webcams for OBS Live Streaming
Here we come to the most interesting part of this article. Yes, you made the right guess. We will detail our list of the top 8 best webcams for OBS, starting with the best one.
1. OBSBOT Tiny 2
Enhance your live stream setup with the OBSBOT Tiny 2 AI-Powered PTZ 4K Webcam. This powerful webcam offers a range of impressive features that will revolutionize your video stream experience. You can effortlessly adjust the pan, tilt, and zoom functions with remote software control. Also, the omnidirectional dual microphones with noise canceling features offer the best crystal clear sound during live events.
Features:
One standout feature of the OBSBOT Tiny 2 is its voice control functionality, which adjusts camera settings and angles with simple voice commands. The hands-free capability frees streamers from manual adjustments, ensuring they focus on their content.
Gesture control is another remarkable feature of the OBSBOT Tiny 2. With a wave, you can prompt the camera to select/cancel the target and start dynamic zoom or zoom four times, offering emotional and engaging shots without additional equipment.
The AI-tracking feature is a game-changer for solo streamers. The webcam uses advanced artificial intelligence to automatically follow subjects in the frame, keeping them centered and focused, even when moving around.
Auto-focus ensures sharp and clear visuals, reducing blurriness during fast-paced live streams or presentations.
The easy metal mount provides stable and hassle-free installation on various setups, like landscape, portrait, downward, and up-side-down shooting, whether a desktop monitor or a tripod.
All these impressive features at an affordable price make the OBSBOT Tiny 2 the best webcam for OBS studios and a compelling choice for content creators who wish to elevate their OBS live streaming experience to new heights.
2. NexiGo Iris
Setting up professional-quality live streaming has always been challenging. But with the NexiGo Iris, a Zoom webcam for OBS, you can set a new standard that elevates your video experience. Equipped with a 1/1.8-inch Sony_STARVIS sensor, it excels in low-light conditions and offers a wide dynamic range, ensuring exceptional image quality. The 10-element all-glass lens minimizes distortion, capturing your true self on camera. This webcam goes beyond the ordinary with AI-powered framing, tracking, and built-in flash memory. Conveniently controlled by the included remote, these features are just a button press away.
Features:
Unmatched in performance, the NexiGo Iris offers hardware-based optimization for the best video codec, supporting uncompressed 4K video output via HDMI and up to 1080p at 60fps through the USB port.
No software installation for top-notch video quality, thanks to the onboard flash memory that allows you to save and recall three different image settings instantly.
With intelligent AI, automatic framing, and tracking functions ensure you always have the best angles during video calls.
The Picture-in-Picture mode adds a new dimension, letting you present live shows, with the option to showcase a small frame highlighting your face alongside a larger, customizable frame that can zoom in as you prefer.
Additionally, the webcam's ten programmable positions facilitate quick adjustments with pan, tilt, and zoom functionality, making the NexiGo Iris an indispensable tool for seamless and engaging video streaming.
3. PAPALOOK PA930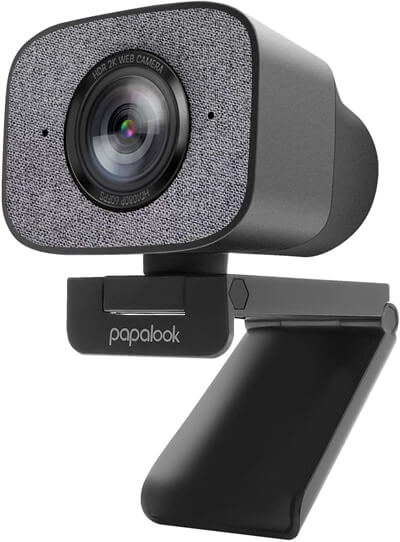 With professional HDR technology, this webcam OBS enhances brightness to create a more realistic visual experience at a low price. It also elevates picture contrast and expands the color gamut, faithfully reproducing real-world visuals and delivering an impressive visual impact to users.
It supports 2K resolution in both video and images, offering Quad HD 2560*1440P at 30fps and Full HD 1920*1080P at 60fps. You can easily switch between different frame rates and resolutions, from 30fps to 60fps, and between 1080P and 720P, using the frame rate switch button at the top of the camera.
Features:
These built-in microphones use noise-reduction technology to capture sound from all directions to minimize circuit and background noise.
With a larger aperture, the webcam's fixed-focus lens enables it to gather more light, thus reducing distortion and higher image quality, especially in low-light environments.
The USB 2.0 port offers an easy setup without additional drivers.
Papalook is compatible with Windows XP, Windows 7, Windows 8, Windows 10, Mac OS 10.6, Android V5.0, and Chrome OS, providing a smooth and secure online video experience.
Additionally, the package includes a new privacy cover and tripod, adding to the overall convenience and versatility of the Papalook PA930 webcam.
4. Logitech StreamCam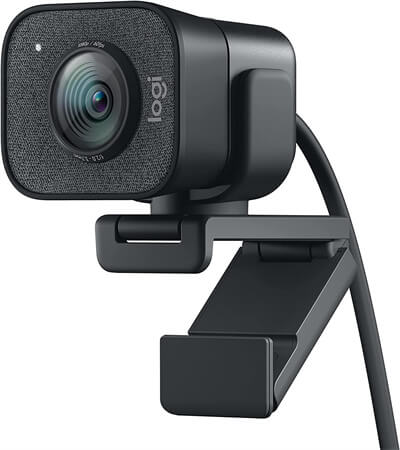 Logitech, a global leader in technology peripherals, delivers innovative solutions to enhance your digital experience. Its reliable and user-friendly products cater to diverse needs, empowering users to create, communicate, and connect easily.
Experience Full HD 1080p at 60 fps with the best Streamlabs virtual webcams for professional-quality live streaming and sharp, natural recording with seamless motion. The autofocus system allows for precise focus from 10 cm to infinity or face-based autofocus using Logitech Capture. Enjoy true-to-life image quality with vibrant details courtesy of StreamCam's premium glass lens and smart auto-focus technology. The 5 ft (1.5 m) USB-C 3.1 cable ensures a stable connection.
Auto-framing keeps you perfectly centered in the shot, even as you move around, while intelligent exposure adjusts lighting for optimal visuals in any environment.
Features:
Stream effortlessly to popular platforms like Twitch and YouTube using Open Broadcaster Software (OBS), XSplit, and Streamlabs OBS, as StreamCam is compatible with these live streaming software.
Choose landscape or portrait modes and mount StreamCam on your monitor or a standard tripod for the perfect framing.
Enjoy reliable and stable HD video quality with a fast USB-C connection during your streams and recordings.
Unlock powerful features: Logitech Capture software, automating focus, exposure, and more, enhanced control over your content creation process.
5. Aobocco Streaming Webcam
Specifically crafted and optimized for professional live streaming on popular social gaming and entertainment platforms such as Twitch, YouTube, Xbox One, Streamlabs OBS, Xsplit, Mixer, Skype, Facebook, and Vlogging. Experience full 1080P HD video quality and premium autofocus, capturing every exciting detail during your streams and delivering true-to-life video recordings.
Customizing your background is a breeze, adding a unique and immersive touch to your live-streaming content and attracting and engaging more fans. Stand out from the crowd and make your streams more distinctive with this feature-packed webcam.
Features:
Leveraging advanced H.264 encoding compression technology, this webcam delivers smooth HD video with minimal bandwidth consumption, occupying only 50% of video storage space. This results in faster and smoother HD video experiences for you and your audience.
The built-in ring light enhances your live streaming, allowing you to adjust brightness with a simple touch, presenting you with a perfectly exposed image. No additional lighting equipment is required, making it ideal for beauty make-up streams and more, elevating your professional image.
The webcam boasts two built-in microphones, capturing rich stereo audio, while the improved 360° rotation camera ensures you find the perfect angle, even without a tripod.
This webcam is a plug-and-play solution compatible with Windows, Mac, Android, Linux, Ubuntu, Chrome OS, and more.
Enjoy the added peace of mind with a 2-month refund and 1-year warranty.
6. Elgato Facecam
The Elgato Facecam is a cutting-edge 1080p60 True Full HD webcam designed for live streaming, gaming, video calls, and more. It is equipped with an f/2.4 24mm Prime Lens and boasts all-glass studio-quality optics, ensuring remarkable image clarity. The webcam features a Sony STARVIS CMOS Sensor optimized for indoor use, delivering exceptional performance in various lighting conditions.
With its impressive features and top-notch performance, the Elgato Facecam is a must-have tool for content creators seeking a true professional-grade webcam experience.
Features:
With an advanced image engine, the Elgato Facecam provides uncompressed video without any artifacts, offering stunning 1080p resolution at a fluid sixty frames per second.
Its high-speed circuitry and USB 3.0 interface guarantee low-latency transfers of image data.
The Elgato Facecam is compatible with OBS, Zoom, Teams, and other popular software.
The webcam requires Windows 10 (64-bit) with an Intel or AMD CPU, or macOS 11.0 with an Intel or Apple CPU, and USB 3.0 or higher.
7. Logitech BRIO Ultra HD Pro
Logitech Brio, although expensive, is the most advanced business webcam for OBS with its ultra HD 4K video capabilities and various innovative technologies. The webcam delivers crystal-clear video with outstanding resolution, frame rate, color, and detail, complete with autofocus and HD 5x zoom. It has Ultra HD 4K video at 30 fps, HD 1080p at 30/60 fps, and HD 720p at ultra-smooth 30, 60, or 90 fps, guaranteeing sharpness, fluidity, and exceptional detail.
Experience the pinnacle of video quality and advanced features with Logitech Brio, your ultimate solution for professional business webcams.
Features:
With three field-of-view presets, frame your video perfectly. Choose between a 65° Diagonal for ideal eye contact and face-to-face conversations, a 78° Diagonal for revealing more of your surroundings while maintaining eye contact, or a 90° Diagonal for displaying physical objects and whiteboard content.
Brio excels in any lighting condition, ensuring you always look your best, thanks to RightLight™ 3 and HDR technology that automatically adjusts to highlight what's most important – you.
Additionally, Brio features two integrated omnidirectional microphones with noise cancellation technology, capturing audio clearly up to a meter away without amplifying background noise, resulting in clear and natural-sounding conversations.
The webcam's optical and infrared sensors enable fast and secure facial recognition for Windows Hello so you can sign in with just a glance.
Simplifying personal device control and customization, the Logi Tune desktop app, available on select models, including Brio, provides zoom, manual focus, color adjustments, and firmware updates without intruding on your screen, ensuring seamless video collaboration.
Certified for Skype for Business, Microsoft Teams, Zoom, and Google Meet, Brio also supports Cortana, BlueJeans, GoTo Meeting, Pexip, RingCentral, and other popular apps, offering unmatched versatility for various collaboration scenarios.
8. Razer Kiyo Pro
The Razer Kiyo Pro is an uncompressed Full HD 1080p webcam that delivers smooth, vibrant, professional-quality video at 60FPS. Perfect for streaming, gaming, video calling, conferencing, and online school, it offers a versatile experience. Customize the visual space to suit your needs with three field-of-view options (103°, 90°, 80°).
Equipped with an adaptive light sensor, the Kiyo Pro adjusts to the lighting condition, ensuring picture-perfect clarity in any environment. Its superior low-light performance reduces graininess and brings out details, allowing you to shine even in darker settings. Unlike 4K webcams that rely on professional lighting gear, the Kiyo Pro's light Sensor performs exceptionally well in various conditions.
Experience professional-quality video with the Razer Kiyo Pro, a reliable and high-performance webcam that elevates your streaming and communication to the next level.
Features:
The wide-angle lens with adjustable FOV allows you to find the perfect visual space on the camera. Its large aperture and customizable field-of-view options keep you always framed perfectly. You can make adjustments using Razer Synapse.
With its lightning-fast USB 3.0 connection, the Kiyo Pro delivers a powerful 5GB/s camera signal, ensuring maximum video performance without compression. Enjoy smooth and high-quality video output.
Activate HDR at 30FPS to make your stream vibrant and captivating, with a full spectrum of vibrant colors. HDR enhances your video's dynamic range while correcting over and underexposed areas, resulting in visually stunning content.
So, these were the top 8 webcams for OBS that will deliver amazing quality output for all your streaming needs.
Part 3: How To Add a New Webcam to OBS
This section will share quick and easy steps to add a webcam to OBS. Let us begin.
Step 1: Add Webcam to PC
First, connect your webcam to your computer and create a scene.


A source for a scene must include a webcam. You can proceed to the next stage if you already have a scene prepared. If not, position your cursor to the bottom left corner and press the + symbol.
Step 2: Video Capture Device
Add a video capture device as a source in step two.

A sources tab exists at the right of the scenes tab. Drag your mouse to there, then down to the plus sign that appears there. Then select "Video Capture Device" by clicking it.
Click "Add Existing" if you have already used this webcam in OBS. Click "Create new" if not. You can give the source whatever name you like, but it works best to provide it with the same name as your webcam. Ensure that the "Make source visible" checkbox is selected.
Select OK.
Step 3: Select the Webcam
Choose your webcam from the device drop-down option.
There you go, your webcam is added for live streaming on OBS.
Note: If your webcam doesn't display an image when you click it, check if another program uses it simultaneously.
Additionally, confirm that it is not in use in the same scene (or another OBS scene) with a different name.
Thus, you can add webcam OBS and start streaming on your favorite channel with the above information.
Conclusion
Thus, our article about the OBS multiple webcams comes to an end. We hope you enjoyed reading about the nine best OBS webcams that can help you take your channel to the next level. Besides, for new streamers, we also share OBS how to add a webcam quickly in just three steps. Please test and try the steps once before starting your Twitch live stream, etc.
Finally, we recommend the OBSBOT Tiny 2 as the best webcam for OBS as it offers value for money. Its unique features and affordable pricing makes streaming a breeze for personal and professional use.