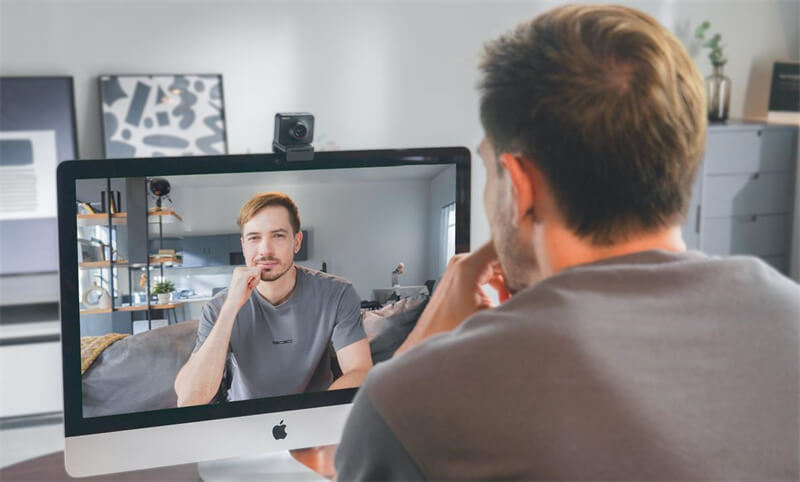 Webcams are devices included in your laptop or tablet or can be used as separate devices hooked up to your desktop. Most webcams have a modest 720p or 1080p quality, and it is possible now to get 4K ones.
Computer software controls the HD 1080p webcam. Some webcams include physical shutters that may be slid over the lens to address privacy issues. It makes it physically impossible to activate the camera remotely and record images or videos without the owner's consent. However, there is no onboard storage for pictures nor a physical control button for a full HD web camera.
What is a Full HD Webcam?
Full HD webcams, as well as webcams defined in terms of 1080p quality, use a widescreen aspect ratio of 16:9. 1080p is the best available (and most likely integrated into the best computers) until 4K Ultra High Definition becomes available.
The resolution is in megapixels when it comes to webcam full HD with a "regular" (3:4) aspect ratio, such as the sensor in a DSLR camera. While this is already a standard resolution for the finest televisions, it's unlikely you'll be able to achieve it with a primary camera. The "p" is an abbreviation for "progressive scanning." 720p, for instance, really refers to a resolution of 1280x720 pixels, where 1280 denotes the number of horizontal pixels and 720 represents the number of vertical pixels. A 720p screen will scan 921,600 pixels (1280x720) every 1/60 of a second using progressive scanning. Previous CRT displays employed interlacing (moving between odd and even lines per frame), but advanced scanning delivers a superior image. The greater the number of pixels successively scanned on-screen, the higher the video quality.
Which Webcam Has the Best Quality?
OBSBOT Tiny 4K
The OBSBOT Tiny 4K is a revolutionary AI-powered PTZ webcam that will always make you appear at your best on camera. The best full HD webcam comes with an AI track that is an excellent tool for anybody who has to get up and walk about often during online meetings. The 4K video quality ensures that your live feeds appear immaculate. What more does the OBSBOT Tiny 4K have to offer? Discover more in our evaluation of this webcam.
The setup is as simple as it gets: attach the Tiny 4K to your laptop or desktop through a USB-C connection, and you're ready to go.
OBSBOT Tiny 4K Webcam has a magnetic attachment that allows you to position the camera on top of your PC at the same height as your face. The magnetic mount technique works well with both laptops and desktop PCs. However, it may seem a touch hefty on smaller devices such as the MacBook Air. Nonetheless, the mount will keep your camera firmly affixed to your PC and even includes a self-adhesive strip for a more permanent installation.
If you wish to keep the camera separate from your display, you may put it on your desk or elsewhere using a tripod. You may use one of the OBSBOT tripods designed exclusively for the Tiny 4K or any other regular tripod you have lying around.
The OBSBOT Tiny 4K charges itself through USB-C once attached to your PC. The next step is to download the OBSBOT TinyCam program to operate OBSBOT Tiny and access its full capability. To guarantee that the software is up-to-date, you may obtain an electronic version of the user manual and the most recent firmware from the official OBSBOT website.
Let's look at the specifications for the OBSBOT Tiny PTZ webcam.
As its name, the OBSBOT Tiny 4K can record video at 4K quality. It provides four times the pixel density of 1080p and enables you to zoom in without drastically lowering video quality. The 4x digital zoom will still produce a 1080p video, which is beneficial for filming a presentation utilizing a real whiteboard across the room.
The OBSBOT Tiny's default configuration is to capture video in full HD 1080p 30fps webcam resolution at 30 frames per second. We recommend it if you're utilizing Tiny 4K for live streaming or basic video calls. The 4K Ultra HD (UHD) lens will allow you to capture crystal-clear footage.
You may utilize the HDR function to improve the light-dark balance and enhance the colors when recording video in a low-light setting. By default, the HDR option is off. You may activate it using the TinyCam program. Tiny 4K also has features like auto-exposure and smart white balance, which assist you in making the subject of the video seem beautiful in any lighting situation.
You should know a few more automated features while using the OBSBOT Tiny 4K webcam full HD. One of them is auto-framing. This feature uses AI to identify objects in the camera's field of view and automatically focus on them. It can be helpful when there's more than one subject in your video (like when you're showing different objects to your audience). Perhaps, you want the camera to switch between them. If you wish for the OBSBOT Tiny to just focus on your face, use the TinyCam app to switch to face mode.
Another of its AI feature is auto-tracking. OBSBOT Tiny 4K uses a future-gen AI tracking algorithm to lock on a target (you) and automatically follow them. If you suddenly change your position during a stream, don't worry about staying in the shot since the Tiny 4K will keep the focus on you. The camera's movement is surprisingly smooth, even when moving at a fast pace, like dancing or doing sports.
Speaking of fast actions, if you're filming a dance class or delivering a presentation with movement, switch to a higher frame rate – 1080p at 60 fps to bring down the resolution and reduce motion blur.
In addition to AI tracking, you can specify a tracking target and zoom in and out using gestures. While Tiny 4K webcam full HD employs basic gestures as controls, getting them to function takes some practice. You may use two gestures: a handwave to instruct the camera to establish your face as a target for tracking, plus an L sign to zoom in and out.
The key here is to ensure that the camera sees and recognizes your movements. The front light strip becomes green when you turn on the Tiny 4K. When you make the motion, wait for the LED strip to turn blue, indicating a recognized gesture.
OBSBOT Tiny 4K has omnidirectional twin microphones with noise suppression. The audio quality is good, but it won't compete with the best gaming headphones on the market. Use a different microphone for streaming or gaming for the best sound quality. If you don't have an external microphone, you may use the built-in mic on the OBSBOT Tiny 4K. Also, your colleagues on the other end of the Zoom or Skype conversations won't complain.
OBSBOT Meet 4K
OBSBOT Meet 4K has a 1/2.8" Sony 4K sensor and HDR auto-exposure technology, resulting in a professional-looking image in any setting. The OBSBOT Meet 4K is the best choice for conducting seamless video conversations at home and work, thanks to its AI auto-framing feature and virtual background capabilities. Portrait mode is also supported by the OBSBOT Meet, letting you view ultra-HD 4K video in 9:16 format.
The device will enter sleep mode after a 3-second push, and the video and you will pause the audio recording. The Meet OBSBOT web camera full HD AI technology's autofocus feature keeps the focus in the middle of the image.
You may also change the device's sleep time by going into the settings and choosing "Device Auto Sleep." The webcam also has a privacy shutter. Cover the camera lens with the privacy shutter to provide physical protection. When you activate the face focus option, the device will maintain the focus on your face rather than the backdrop and adjust the bokeh to make your face distinct and bright.
FAQs About Full HD Webcams
1. What is a good webcam resolution?
The majority of current webcams only enable high-definition video capture. A video capture resolution of min 720p or higher is preferred. A 1080p webcam full HD is preferable, and they are becoming more widespread and less expensive.
2. Are all 1080p webcams the same?
Without a doubt, not all 1080p webcam full HD is created equal. As a result, if you are seeking the right camera to complement your streaming or Skype sessions, you might choose the OBSBOT Tiny 4K.
3. Is a 2K webcam better than a 1080p?
Higher-pixel devices often provide crisper video recordings and higher-quality photos. Furthermore, because of the difference in pixels, you zoom an image in on a 2k full HD webcam video. It retains greater clarity than a 1080p video.
4. Is Full HD 4K?
Full HD is sometimes known as UHD or 4K. This resolution is becoming more prevalent in TVs, media players, and video content. The majority of current webcams only enable high-definition video capture with a video capture resolution of 720p or higher. A cam full HD 1080p is preferable, and they are becoming more widespread and less expensive.
Conclusion
There are also standalone web cameras with full HD 1080p that connect to your computer through USB. These external cameras may be added to a desktop computer or used to replace the built-in webcam on a laptop. A standalone webcam 1080p full HD is a high-quality camera that attaches to the top of a computer monitor and often comes with a tripod mount.
The OBSBOT Tiny 4K, on the other hand, is a terrific selection if you're looking for a full HD 1080p webcam. It has fantastic tracking skills and PTZ functions that can follow you when you're moving or delivering a presentation.